Six Feet Under and Full Blown Chaos at Headliners.
By Eddy Metal
Ultra-heavy metal monsters Six Feet Under ( Metal Blade Records ) and NYC's Full Blown Chaos put on a great show at headliners on February 16. Infamous vocalist Chris Barnes of Six Feet Under and Cannibal Corpse Fame led the attack in true death metal style. His voice has been called "mouth farting" by some lame magazines, because of the lowness of the man's vocal tones, but I think he is a talented, original vocalist who has made a name for himself being so original. Six Feet Under is not my favorite, but I like them enough to own two CDs and support them when they come to town.
Unfortunately, I was unable to see the first two bands because I was, um, involved with my girlfriend, but I managed to show up right when NYC's Full Blown Chaos ( Jailhouse Records ) was setting up. If you haven't heard them, go buy the CD right now, because this is some good s**t! Old school thrash mixed with a little hardcore, New York style, from guys who look like they should work in a tattoo studio. The Louisville metal scene crowd loved this band like know I did.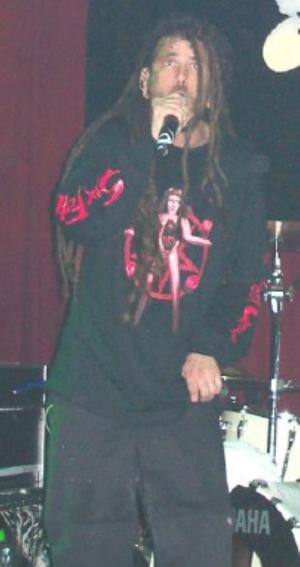 ix Feet Under vocalist Steve Barne. Photo by Eddy Metal
Apparently they have been getting good response elsewhere, too, because they have recently been on tour with Sepultura, Superjoint Ritual and Hatebreed! "Bloodflow" and " Apocalypse" were the crowd's favorites. I suggest you picking up their CD Prophet of Hostility if you like the brutal stuff with monster riffage and excellent drumming, because the Italian Facci brothers have that covered in aces.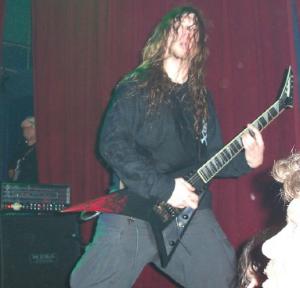 SFU guitarist Steve Swanson. Photo by Eddy Metal
Six Feet Under is on tour to support their newer CD Bringer Of Blood and played tracks off the new one, including "My Hatred," "Murdered In The Basement" and "When Skin Turns Blue," as well as older classics as "Human Target" and "Beneath A Black Sky." Chris Barnes was in fine form with the vocal lows and screeching highs, but he was a bit upset at the turnout, even saying to the crowd " are you awake, Louisville?" I admit the SFU guitar riffs aren't the hardest to play, but there is a meatiness in the tone that other guitarists wish they had. Former Massacre Guitarist Steve Swanson does a fine job, considering he hardly does any solos. I don't think he needs them, to be honest. And former Death bassist Terry Butler is the man when it comes to bass playing Altogether this was a death/thrash metal feast for those with the courage to appreciate the originality of such music. I commend Terry Harper & Headliners for having the nerve to book such a show and Black Frank for getting the word out as best he can.