Cowboy Corner
"Country's Night to Shine"
Final preparations are being made for "Country's Night to Shine," the 39th Annual Academy of Country Music Awards, which will be handed out May 26 at the Mandalay Bay Resort & Casino in Las Vegas. Superstar Reba McEntire, the ACM's "Leading Lady" (a title the red-headed diva earned last year as the all-time top winner of the Top Female Vocalist title), will fulfill the hosting duties for the seventh time. In addition to hosting, McEntire will also perform during the three-hour gala, along with the reigning Entertainer and Top Male Vocalist of the Year, Toby Keith, plus Lonestar, Martina McBride and Montgomery Gentry.
Alan Jackson leads the pack of nominees with eight nods, including Entertainer of the Year, Top Male Vocalist, Single Record of the Year and Song of the Year for "It's Five O'Clock Somewhere" and "Remember When," and Vocal Event of the Year and Video of the Year for "It's Five O'Clock Somewhere" along with Jimmy Buffett. Brooks & Dunn and Toby Keith trail Jackson with five nods a piece.
Fans will have the opportunity to watch the 39th Annual ACM Awards ceremony live on CBS-Television on May 26 at 8 p.m..
Congratulations to all the nominees!
Willie Nelson Releases Two Special CDs
The 71-year-old "Red-headed Stranger," Willie Nelson, is busier than ever these days and equally as eclectic as ever, proof being his two brand-new albums. Late last month, Nelson released a "labor of love," an instrumental jazz album titled Nacogdoches. This album, which was recorded in the East Texas town of Nacogdoches five years ago, was sparked by mandolin player Paul Buskirk. Nelson says, "I was coming in off a tour and Buskirk called me and told me some bad news he'd had and he said he just `felt like pickin'.' I went to go back to Nacogdoches from Austin and Buskirk had put together a bunch of great musicians. We just sat down and started playing." Sadly, Buskirk died of cancer in 2002.
Nacogdoches contains 19 tunes, including "San Antonio Rose," "Stardust," and "Walkin' My Baby Back Home," and can be purchased online at www.willienelson.com or at Texas Roadhouse restaurants (the chain which is sponsoring Nelson's current tour).
Nelson's second exciting new release hits stores May 4. Willie Nelson Live at Billy Bob's Texas was recorded live last October in the famous Texas bar and will be released as a twenty-tune CD and a thirty- tune DVD. Fans will be treated to live performances of favorites "Beer for My Horses," his recent smash duet with Toby Keith; "Crazy" (which Nelson himself penned); "The Great Divide"; "Mammas Don't Let Your Babies Grow Up to be Cowboys"; "Whiskey River" and many, many more.
Dolly On Hand for Dollywood's 19th Season Opener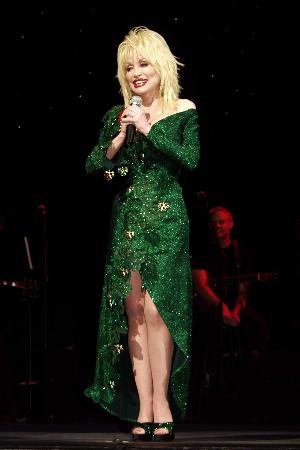 Michael Stout
Dolly Parton
On April 3, the unmistakable Dolly Parton returned home to Pigeon Forge, Tenn. for the 19th season opening of her Smoky Mountain theme park, Dollywood. Parton herself introduced the park's brand new, $7 million wooden roller coaster, Thunderhead. Although she refused to ride the coaster herself for fear of losing her wig, her fingernails and her makeup, she promised that it is the "wildest ride in the woods." The impressive coaster takes its riders on a 55 mph ride that includes a 100-ft. drop and the world's first "fly through" station where the coaster travels through the station at nearly 40 mph above the awaiting riders' heads.
In addition to Thunderhead, Parton introduced her park's fourth annual Festival of Nations, which runs through May 9. This must-see festival includes hundreds of performers from China, Czech Republic, Ecuador, Germany, India, Ireland, Russia, Scotland and Trinidad, as well as mouth-watering traditional foods from Asia, Germany, Mexico and Poland.
If you've never had the opportunity to visit Dollywood, you should treat you and your family to some true Smoky Mountain "homespun fun." Not only does the park include thrilling rides, it also features local craftsmen and artisans, lip-smacking country cuisine, unique shopping and music for fans of all genres, including country, Bluegrass, gospel, rock `n roll and traditional mountain music.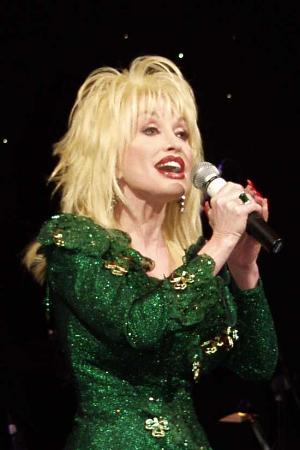 During my recent visit to Dollywood during Opening Weekend, I had the opportunity to ask Parton about reports that she had denied FOX-TV's hugely popular American Idol pop star challenge program permission to use her classic "I Will Always Love You" for contestants to sing. Parton humorously replied, "I doubt that-I'll do anything for money. It's true they'd have to pay me. I don't know anything about that-I doubt it very seriously though `cause people sing it everywhere, all over the world. Even Saddam had it over there as a theme song with people singing it and me and her both [Whitney Houston] were kinda upset about that. But, no, I'm sure that's not true." So, let's keep watching and see if one of the AI hopefuls belts out "I Will Always Love You" in the future.
Country Mega-stars Headed to Town
International country-crossover superstar Shania Twain is headed to Louisville this month with her highly anticipated Up! Tour. The size 2, Canadian-born multi-platinum selling artist will perform hits from The Woman in Me, her breakthrough sophomore album, Come on Over and her most recent release, Up! Opening the May 19 show in Freedom Hall will be fellow Canadian band Emerson Drive of "I Should Be Sleeping" fame.
The hugely popular Country Stampede will once again be held at Sparta, Ky.'s Kentucky Speedway June 3-6 with headliners Terri Clark, Reba McEntire, Clay Walker and Darryl Worley. The entire schedule is as follows: Thursday, June 3: 4:30 p.m.-Colt Prather, 6 p.m.-Andy Griggs, 7:30 p.m.-Mark Chesnutt and 9:30 p.m.-Joe Diffie; Friday, June 4: 1 p.m.-Harry Luge, 3 p.m.-Lane Turner, 5 p.m.-Chris Cagle, 7 p.m.-Neal McCoy and 9 p.m.-Chris Ledoux; Saturday, June 5: 1 p.m.-Shevy Smith, 3 p.m.-Dierks Bentley, 5 p.m.-Darryl Worley, 7:15 p.m.-Terri Clark and 9:30 p.m.-Martina McBride; and Sunday, June 6: 1 p.m.-Cowboy Crush, 2:30 p.m.-Craig Morgan, 4 p.m.-Rushlow, 6 p.m.-Clay Walker and 8 p.m.-Reba McEntire. One-day general admission tickets cost $50, while four-day general admission tickets run $75. VIP tickets, which include reserved seating, meals, beverages and parking for Friday, Saturday and Sunday cost $375, while Reserved Seating tickets for Friday, Saturday and Sunday cost $175. For more information or to purchase tickets, log on to www.countrystampede.com or call 1-800-795-8091 or (785) 539-2222.
After making "Mountain Music" for 25 years, country supergroup Alabama has decided to hang up their microphones and guitars and retire from the road. Randy Gentry, Teddy Gentry, Jeff Cook and Mark Herndon will bring their Farewell Tour to Freedom Hall on June 17 to say goodbye to their Louisville fans and to play their classic hits one last time.
Carlene Carter Arrested
Forty-eight-year-old Carlene Carter, the daughter of country legends Carl Smith and the late June Carter Cash and step-daughter of the late Johnny Cash, has had her share of run-ins with the law in the past few years, including her most recent arrest just last month. Carter was incarcerated in Sumner County, Tenn. outside of Nashville on April 1 after reportedly failing a mandatory drug test. This violates the eighteen-month probation she was given last September, which stemmed from a 2001 arrest in New Mexico for possession of heroin. In December 2002, Carter was charged with identity theft after filling two prescriptions for an anti-depressant in the name of Francis Reidy III, a boyfriend who had passed away the previous month. Just last year, another boyfriend, Grammy Award-winning bass player Howie Epstein, was found dead from a drug overdose.
Carter, who is known for the early 1990's hits "I Fell in Love" and "Every Little Thing," could face two to 12 years in prison stemming from all these charges. The Cash family recently released the following statement: "The past several months have been traumatic for Carlene and the entire Carter and Cash families. We regret the current situation that Carlene faces and we will be supportive of her in overcoming the current challenges."
Country Wax Statues on the Auction Block
John Hobbs, the disappointed owner of the Music Valley Wax Museum of the Stars in downtown Nashville, is fed up with the country music industry. He has put his entire 55-figure wax collection on the auction block via the Internet on eBay, or he is willing to sell the entire collection out-right for $750,000. The eBay auction will close on May 7. If he can't get his undisclosed reserve price for the collection, Hobbs said he will sell the figures individually to the highest bidders on eBay. The collection includes wax images of stars including Johnny Cash, Little Jimmy Dickens, Alan Jackson, Ernest Tubb and Conway Twitty, many clothed in actual stage costumes donated by the artists themselves and holding actual instruments the artists played.
Hobbs recently stated, "I hope somebody will buy the whole collection and put it somewhere that appreciates country music more than Nashville does these days. It's a sad thing, but that's the way the city has changed....I hate to see country music get wiped out, but that's the way it's going." He blames the decreasing interest in country music and in his museum on the 1997 closing of the Opryland theme park and the shift of the Nashville tourism focus to attractions such as the Tennessee Titans.
Strait, Jackson & Buffett to Take Texas by Storm
Three of the biggest names in music today will converge on Dallas' Texas Stadium on Saturday, May 29 for a once-in-a-lifetime concert event. George Strait, Alan Jackson and Margaritaville's own Jimmy Buffett will share equal billing to showcase some of their biggest hits and fan favorites, both alone and together. Although Strait and Buffett have never recorded a duet together, Jackson has enjoyed great success dueting with each of the other two gentlemen, including the 2000 smash hit "Murder on Music Row" with Strait and the 2003 hit "It's Five O'Clock Somewhere" with Buffett. These three powerhouses have sold a combined 120 million records and have scored more than 80 number one hits.
Strait recently said, "The three of us have talked about doing this for some time. We've had the pleasure of working with each other before and not only do we enjoy each other's music, but we have a lot in common. Sharing the same stage will be a great time for us as well as the fans. The only drawback will be choosing which songs to do and which ones we have to leave off."
Although no mention has been made that this concert will be televised or recorded for a live CD and/or DVD, I wouldn't be surprised if news of any or all of these possibilities were released in the near future as this will be a historic musical event. Keep your eyes and ears open for these possibilities.
Well, that's it for yet another month. Always remember: "Keep your boots shined up and your hat on straight, `cause country music is comin' your way."