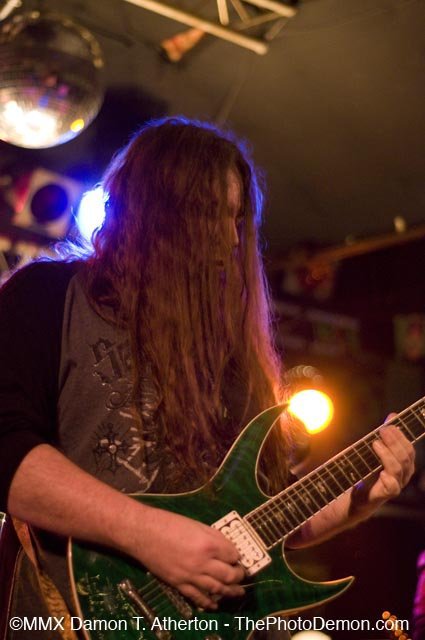 News From the Pit
I know this sounds kind of lame, but I really feel I have to thank all of you for the way you have supported me and the writing that I do for LMN. It's really quite overwhelming.
In Louisville history, I don't think there is another rock writer who has had the courage to write about the subjects that I write about. I merely tell the truth, no big deal. But a lot of you seem to like the "tell it like it is" approach and the truthfulness that has become my trademark writing style. Many of you come up and tell me that my column is their favorite. And every time I hear that, it puts a big smile on my face and makes me feel appreciated bigtime.
And yeah, I guess I do expose the weasels in this town. People out of line, or that need a serious wake up call, or bands that think they are above everyone else, yet still haven't been signed, and last but not least, promoters or people in the scene just in it to hook up their close buddies. These cheesy individuals deserve to be exposed.
Summer is almost here and there will be many local shows! And yours truly will be there to review, mingle and get all the info that I can muster concerning all of you Louisville bands and fans. So don't be shy, come up and say "hi," or something.
And don't forget to email any news or cool information you think this scene would like to hear about, to me at Eddymetal1@aol.com.
I'm here for all you demented and sick mofos, don't you ever forget that!
The Metal Grapevine
Flaw CD To Be Released On May 4: The long-awaited second release entitled Endangered Species will be available on May 4! I suggest you buy it. It is some good chit! See review in this issue.
Mushroomhead, Twisted Method, Soil and Dope coming To Expo 5! On Monday, May 10 there will be a wild show going on at Expo 5. Expo 5 is apparently back and running again. Showtime is 6 p.m. and tickets are around fifteen dollars, I believe.
Hopefully we can get more people out there this time. Don't be afraid of 7th Street, people! Being around crackheads, strip joints and scrubby people ain't that bad. Hell, I live by Churchill Downs myself!
Expo 5 is a cool venue, check it out, dammit!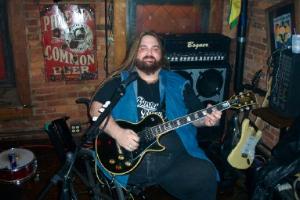 Dave Ernspiker of The Big Rock Show at Phoenix Hill Tavern

A Slew O' Shows @ Pappy's: Feast your eyes, my dysfunctional friends, on the slew of metal shows going on at Pappy's on old Third Street in the month of May. This is some brutal stuff. It's metal-o-rama! I may have to take my lazy rump out there sometime real soon. Yeah, I know it's kind of far out, but if I can deal with it, then so can you fans of the wicked stuff.

What The Hell Is Probot? Chris Allman of 100.5 the Fox hooked me up with this. Thanks bro. It seems Dave Grohl, the former drummer of Nirvana, current vocalist and guitarist for Foo Fighters, has just put out a cool new CD. No it's not Foo Fighters, thank god. Nor is it Nirvana. (that would be a miracle)

The project is called Probot. Apparently Mr. Grohl is a serious metal fan and historian because he contacted several metal icon vocalists to participate in the recording of this eleven-track, all-out metal CD. Dave wrote a bunch of metal tunes with certain vocal heroes of his just in mind for the part. And they agreed. This list of names may shock you. It did me.

Lemmy of Motorhead, Max Cavalera of Soulfly/Sepultura, Cronos of Venom, Tom G Warrior of Celtic Frost, Mike Dean of COC, Lee Dorian of Cathedral and King Diamond of Mercyful Fate/King Diamond. Nirvana meets King Diamond? Whoa!

I NEVER thought I'd see that!

Stand out tracks to me are "Red War," sung by Max Cavalera, "Shake your Blood," sung by Lemmy and "Sweet Dreams, sung by the nuts in-a-vice-voiced King Diamond.

This is a pretty decent recording. The riffs are fat and the hookiness is there. Check it out to hear some of metals most original vocalists.

False's New Bassist: Mike Hebert, formerly of Engrind, is the new bassist for False. Mike is an excellent bassist and should kick False into double overdrive!

After The Fall Seek Vocalist: Established band looking for male lead singer 21 or over, will make exception based on talent and experience. Must be dedicated to making two or more practices a week. Must have decent vocal range and be able to sing with harmonies. We have plenty of material, as our previous singer was not involved in writing process. Songwriting and arrangement skills are welcome and would be a plus. We are currently shopping our music and we're hoping to find a replacement, A.S.A.P., to avoid having to cancel shows that we already have booked. This is not a hobby. A singer that is dedicated and has a good work ethic is what we're looking for. Please, serious inquiries only. - - Reply to atf502@aol.com

with your name, a way to contact you and any other info.

Eclectic Acquires Sponsors! Eclectic, along with their management, WiseSmith Management, have signed an endorsement deal with the worldwide company Eminence Speakers, located in Eminence, Kentucky. Vice President of WiseSmith, Doc Smith and Chris Rose of Eminence Speakers believe this partnership is a win - win for Eminence and Eclectic. (Eddy: You lucky bastards!)

Bassist And Drummer Needed! Melodic rock band seeking open minded drummer and bassist to play original music. Must have own equipment and able to practice on the weekends. Seeking serious inquiries only please call 724 - 8514 Amanda or 558 - 1591 Matt.

Upcoming Shows

Expo 5

Monday May 10 Mushroomhead, Dope, Twisted Method and Soil. 6 p.m. $15

Oscar Brown's

252 E. Market Street.

Saturday May 1 Derby day blowout with 105.1 WLRS. 7daysun, Common Ground, Evil Engine # 9, High Road Crown and Doubting The Obvious.

Tini Bikini Contest (Hosted by Trixie Girls)

1st Place: $250 and a WLRS Package

2nd Place: $100 and an Oscar Brown's Package.

105.1 WLRS Will Be Broadcasting Live From Oscar Brown's!

Pappy's

Saturday, May 1 - Assisting Sorrow, Incursion502, False and Summer Dying. 8 p.m.

Sunday, May 3 - Soilent Green, Incursion502, Kallus, My Own Victim, Voices Of Aggression and Redboxnow.

Friday, May 7 - My Own Victim and Drill187 (NC) .

Saturday, May 8 - Incursion502, False and Violenza.

Monday, May 10 - The Black Dahlia Murder, Cattle Decapitation, Watch Them Die, Ghost Rider Black and Among The Fallen.

Friday, May 14 - Crimson Orchid (Maryland) .

Saturday May 15 - The Exhaustion Method.

Saturday May 22 - Eternal Ruin (Maryland) , Mangled Atrocity, Abominant, Incursion502 and Kallus.

Friday May 28 - From Within, Violenza and Institution.

Saturday May 29 - Fill Dirt and Poetry Of The Dead.

Saturday June 12 - Assisting Sorrow, Ghostrider Black, Skeleton Witch and Kallus. 8 p.m.

Phoenix Hill Tavern

The original rock showcase series, on the first Friday of every month in the Roof Garden.

Friday May 7 - Never CD release party with Intheclear, Month Of Sundaze, After The Fall (Hopefully) and Doubting The Obvious. 8 p.m.

Friday June 4 - Summer Meltdown Show with False, Incursion502, Luther (Mammoth Cave) , Kallus and Assisting Sorrow. 8 p.m.

Uncle Pleasants

The Louisville Music News Music Showcase.

Saturday May 15 Luther (Mammoth Cave), Never and Intheclear.

Union Station

Saturday May 15 - 7DaySun

Outtatownerz and Otherz

Saturday May 15 @ Sudsy Malone's at 2626 Vine St Cincinnati, OH. - Katana, Assisting Sorrow, Clatter and Elusive Travel.

Saturday May 8 @ Jaycees in Madison, IN. - 7DaySun

Props Of the Month

I'd have to give this month's props to Jillian's and Scott Clark for booking more local bands there than they ever have. I guess they wanted to get more "local" like the Phoenix Hill has done more recently. Now if we could only get them to book some heavier, less commercial sounding bands, that would be even cooler.

There are way too many talented musicians in this scene that don't want to have a top three radio hit, that should be playing Jillian's also. Demented is a good thing!

It is a real nice venue, but seeing the same commercial locals playing over and over again is starting to get on my nerves. lol.

I'd like to see Luther, Kallus or Incursion502 open up for a heavy national act there. Or maybe have a marathon metal fest? Two days and sixteen bands?

Hear me, Scott Clark? I darest thou!

You can dooooooo it! So do it.