Bluegrass Beat
Leaves are falling, rain has been falling, temperatures are falling. Be careful. With all of this stuff falling, don't let it fall on you or, worse, be careful you don't fall. A lot has happened this past month. Looking back, looking ahead, the holidays are moving in swiftly and then the cycle starts all over again.
Goodbye to IBMA and Friends
It depends on your viewpoint, I guess, but another loss for Louisville when IBMA packed up and pointed the bus to Nashville. In the long run, it could be a loss for bluegrass. I have heard only a handful of fans and or artists say they are glad to see it in Nashville. An overwhelming majority of folks I have talked with are not happy campers or pickers.
I am just curious as to what incentive was offered, compared with incentives offered other groups, to keep IBMA here. Looking back, there are several examples of banishing bluegrass from the area. The Kentucky Fried Chicken bluegrass festival was going strong when we came to Kentucky, and was referred to as the world's largest. When, for whatever their reasons were, KFC decided to stop sponsoring the festival, it was only a year until it was over, done, and erased from the scene.
A fine and growing festival at Otter Creek Park `doomed' to become among the best in the country was actually just doomed. There were a lot of international attendees coming. What's with it, Louisville? I share with many fans a dim view of the future of bluegrass, IBMA way, in Nashville. I said goodbye to many friends that I may not get to see any more.
Off to MATFH
After two days at IBMA, I was off to The Museum of Appalachia Tennessee Fall Homecoming (MATFH), Norris, Tenn. It was just the ticket for an uplift of spirits. This year, in addition to many longtime friends, fans and pickers, we met some new friends, fans and pickers.
Raymond Fairchild, the banjo picker who plays the theme for my Sunday Bluegrass show, was finally scheduled on my stage for the first time this year. Five-time world champion banjo picker draws a crowd around.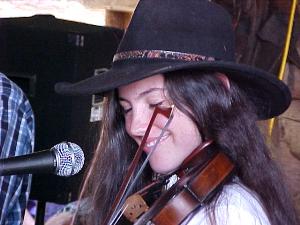 Photo By Berk Bryant
Raymond introduced me to a young lady, Abigail Moore, who he has named "The Little Indian Princess." In her mid-teens, this young lady has the "right stuff," She plays fiddle, she sings a good song, she quickly wins audience approval, and she does it all with the right attitude and dedication. Her performance is a traditional performance. Selection of material, stage presence and as of now two CDs. She is off to a good start. You will be hearing her on my show.
Met some folks new to me at MATFH this year, and some with interesting and surprising results.
Indoor Bluegrass
Fall is right here upon us and the outdoor festival season is about over, at least for most anywhere except maybe Florida. But festivals do go on with a number of wintertime indoor festivals, so when you need a festival fix, check out some of the indoor shows.
Sunday Bluegrass Play List
A bit of information regarding my Sunday Bluegrass Show: At times, folks have asked me about a play list. For a couple of months now, each show has been posted on the WFPK website. Here's the way to find it: Go to the website (WFPK.ORG) and click on "Program Guide." Scroll down to "Sunday Bluegrass with Berk Bryant" and click on it. A page will open with my information, and near the top click on "View play list
..." for the play list of the last program. List contains song, artist and recording label.

One such group was Jussi Syren and the Groundbreakers. I did not hear them play at MATFH, but in looking around I stopped at their table. The fellow "manning" the store at the time was very limited with his English. I was thinking he said they were from Greenland. I left my card with them. A few minutes later, the leader of the group caught up with me and brought me a CD. He said the other fellow's English wasn't too good and mentioned he wasn't up on PR. As you can imagine, I really didn't know what to expect from this recording. A really great surprise as the first notes were struck. These guys are good.

The first cut from their CD that I played brought a highly complimentary caller regarding the banjo player. The CD title is "Sea of Changes" and has a video on it. Nicely done. The video is of one of the songs, "Life of A Steel Driving Man." Not the John Henry you would expect. In looking over the insert, I believe now the group is from Finland. You never know when a surprise, and a nice one, is going to sneak up on you.

One is good and two is even better. The second CD, by a group called NUGGET, is one I picked up at IBMA, and is titled "East of Kentucky." And east it is. Their contact, whose name I can't even get close to pronouncing, is in Vienna, Austria. Surprisingly good, although not all the cuts on this recording are really what I can use on my show. Those that do fit will be played. These are both fired-up groups, and you will just have to listen.

SCHEDULE ...

Or as a friend used to say, "shedjul." I told him one day I was almost late for work and when he asked I told him I got behind a "shule" bus. This has nothing to do with the listings, so let's get to them.

SHEPHERDSVILLE: Nov. 5, David Parmley & Continental, plus a Bluegrass Cardinals reunion. Nov. 12, Bille Rena & Cumberland Gap. Nov. 26, Bluegrass 101. Dec. 3, David Davis & The Warrior River Boys.

SCOTTSBURG, IND.: Nov. 5, Jim Smoak and the L. A. Honeydrippers. Nov. 19, Larry Stephenson Band. Dec. 3, Alley White & Reynolds Station Band.

Hide Your Turkeys

Thanksgiving Day is coming around this month. This special day is a day to reflect, to gather with family and give thanks. Thanks for what we do have and not be overclouded by what we do not have. A time for sharing and being thankful that you have something to share. I think I've found out that the more you share of anything, the more you have to share.

OK, boys and girls of all ages, this is about all I can think of to share this time. Keep tuning in to Sunday Bluegrass, Sunday nights from 8-11, WFPK 91.9 FM. If you would like a warmup for the show, join my buddy Michael Young for Roots & Boots. He starts at 6 and runs right up till I move right in and continue with Sunday Bluegrass. Thank y'all, and be careful.