Fear Runs Rampant in Louisville
Fear seems to be in the air lately, especially on South 4th Street's famous Haunted Hotel. Many familiar faces in the local music scene man this scary spot every year. This year's lineup included the following coming from bands (past or present) such as Incursion, Mellignatow, Kallus, False, 1080 and more...
• Van Avery (production director/set designer)
• Nick Houpt (set designer)
• The Pete, A.K.A. "Mosh Pit Pete" (actor)
• Tim Holder (actor)
• Jeremy Robertson (actor)
• Brian Hart (actor)
• Cliff Whitehead (actor)
• Gezuz (actor)
• Donnie Hardin (actor)
• Chris "Mongo" Miller (who was featured on the cover of Velocity during the stint of writing this column; congratulations!) I cannot remember the name of his band, but what I heard of it was pretty good!
Did I leave anyone out? Hope not...
I got a chance to check out the Hotel a few weeks ago and it was well worth the wait in line. It only makes sense to hire some the local metal musicians in this town to take part in a gig like this; they have experience performing in front of people already and have a lot of anger to get off their chests. It's a win-win situation. Here's what Van had to say about it:
"Well, I'm the one who hires everyone and to be honest, I think the best people to get for a haunted house are the crazy f**ks. No one is as crazy as our metal scene. I hire who I think will go buck wild on your ass if you walked into our house... crazy insane f****rs! What better crowd to scare the s**t out of your whole family?"
I asked him about some of the most memorable moments of this year's performances and he had some interesting stories to tell...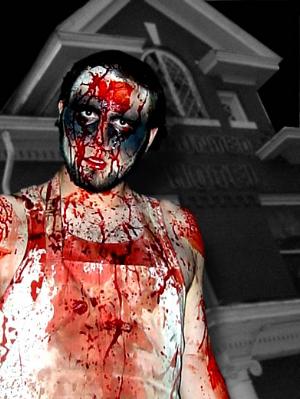 " We get everything at the hotel from people p***ing their pants, to puking, to straight up having a heart attack! One girl p***ed herself so bad, it looked like her friends helped out and p***ed on her as well. For some reason, people seem to think it's a good idea to close their eyes and take off running towards a wall. I don't think they thought it was a good idea after they where released from the hospital with stitches in their forehead... that has happened twice as a matter of fact! One funny thing- we have a room called "The Puker" where a guy is throwing chunks into a barrel. We have had two people hurl (as soon as they walk into that room) from the sound of him throwing chunks. I would say that room is an accomplishment."
Well, congratulations to those guys on a great job this year! The house was a blast, especially considering that we were one of the last groups to go in on a Saturday night. It is no easy job to keep up the energy level all night long. I would loose my voice after one night working there, so I cannot imagine what it must be like every weekend in October.
However, it does have a slight impact on the scariness of the house when you know half of the staff. In the first room of the Hotel, a masked man jumped out at us, who happened to have unmistakable ass-length dreadlocks, much like Cliff! Who could it be? The world may never know... It doesn't matter though, Cliff and the rest of the guys know how to scare you whether you recognize them or not. These guys can intimidate you without makeup or special effects, so imagine what it is like putting this many metal heads in a haunted house! Go see their bands perform live to see what I mean.
The group began work this year in August to prepare for the Halloween season. Veterans of the Haunted Hotel include members of Incursion, Mosh Pit Pete and others. On a Friday or Saturday night, attendance of the house can range up to 1000 people or more. Thursdays and Sundays are slower, but not that slow. The place is a lot of fun, so if you missed out this year, don't make the same mistake next Halloween season...
The fear doesn't stop here. In real life, there is fear to be found in all places, thanks to the daily dose of "fear-sandwiches" the media stuffs down our throats. One result that I attribute to the talk of terror 24/7 in the news is a trickle effect to the common people in their everyday lives. It seems everyone has a "no trust" attitude these days. It affects you more than you think. Just look around and take notice. For instance, did you know gas stations all of a sudden seem to be enforcing dress codes? I went in to buy a doughnut at a nearby gas station and was yelled at over wearing my hoodie inside. I asked why I needed to take it off and was told, "That's how robberies happen." I thought to myself, "No, I am pretty sure desperate/crazy people with guns are how robberies happen." Maybe I am wrong. I know this has happened to people besides me, so before you wear your favorite local band hoodie into a store, be prepared to be treated like a criminal. Fear is rampant at the moment.
But I digress...
There is a show this month that I want to mention that is for a good cause. On November 13 at the Bulldog Café in Fairdale, a benefit show for the surviving children (ages 4 and 8) of Jackie Hamblin will be held. Jackie was killed in a car accident in Crothersville, IN on August 1. Mike from Red Box Now has assembled this fundraiser on their behalf.
There will be several items given away in raffles throughout the night that were donated by labels such as Roadrunner, TVT Records and Century Media. These items include autographed merchandise like CDs, T-shirts, posters, etc. What bands can you win items from? Here's the list: Slipknot, Machine Head, Soulfly, Sevendust, Default, Snoop Dogg, Lil Jon, Shadows Fall, Lacuna Coil, Arch Enemy and Meshuggah... sound good? Everyone gets a free raffle ticket with a paid admission and additional tickets are 10 for $5. Not bad at all...
The doors will open at 6 p.m.; the show begins at 7 p.m.. The lineup (in no particular order) is Red Box Now, Flatlyne, Incursion, Surviving Thalia, Violenza, Forsythe and the Exhaustion Method. John Wells from MSD will be a special guest host for the evening. The price is a meager $7 to get in. For more information on the show, email me at rocklowdown@insightbb.com and I will get you in touch with the right people.
I have been keeping up with the presidential campaigns for the first time ever this year and encourage everyone to go vote on November 2! I have always been apathetic about voting because of the Electoral College system, but I at least have to voice my opinion and try to have an influence on the outcome. As they say, "If you don't vote, don't bitch." Do it, people! You'll feel better afterwards. (I think.)
That's all for this month. November promises to be an interesting one. Send me your thoughts, ideas, complaints and credit card numbers at rocklowdown@insightbb.com. Rock on, Louisville!