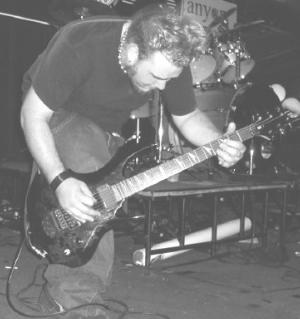 Eryk Howell
Name: Eryk Howell
Band/Former Bands: Kneden, Dhampyr, Harlet, and of course the rockin' High School jazz band. Now currently playing lead guitar in Violenza.
Age: 20
Instrument: Lead guitar
How Long On Instrument: 5 years and counting.
Equipment: Peavey XXX Half Stack, Ltd F-200, Ltd Viper-301, Ltd H-207 and my custom that I built myself, all run through Monster cables to my Digitech multi-chorus, Digi-delay, Boss TU-2 tuner, Crybaby and last but not least Weeping Demon wah pedals.
Influences: My family, whatever I'm listening to at the time and my brothers and band mates.
First Gig: My first gig was playing in my high school auditorium at a battle of the bands with some friends of mine. We played nothing but covers and then at the end of the night I never got a cut of the prize money. A whole five bucks!
Hobbies: I read a lot, Stephen King is the s**t and so is Terry Brooks, I also play video games, hang with my bros and work on my guitars.
Favorite Movies: I would have to say Dawn of the Dead (both versions) and anything else zombie related.
Favorite Food: Mainly anything slightly spicy, or anything different!
Favorite Place: My favorite place would have to be New York, I mean where else can you walk around and see so many different cultural influences and meet so many different people. And it's also where you see the best musicians. You know the guys sittin' on the street corners jammin' out? Those guys are the best.
What I'm Listening to Nowadays: Infectious Grooves, John 5, Pulse Ultra, Steve Vai, Stevie Ray Vaughn, Joe Satriani, Frank Gambale, Jeff Beck... and a lot more too various to mention.
Coolest Thing I've Done: Been a part of such a talented band and family. I couldn't have done it without my brothers Rych, Charlie, JT and Josh and last but not least my mother and father for supporting me. If it wasn't for them I wouldn't be anywhere and I would have a boring life. Those guys make every moment a cool one.
Most Embarrassing Moment: When we were playing a show, a guy jumped on stage and started trying to booty dance with me. That scared me pretty bad and embarrassed me as well.