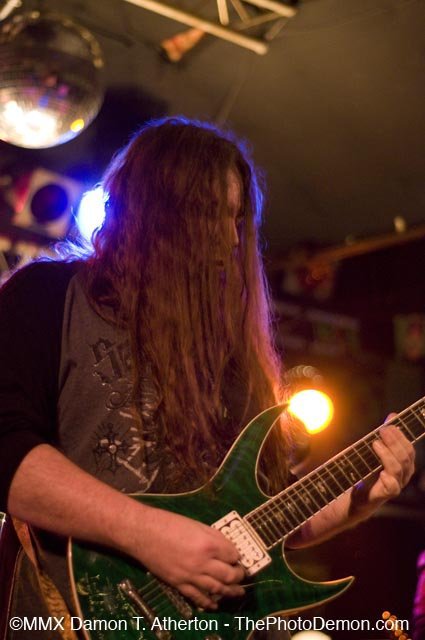 News From the Pit
War has been declared! I have been hearing nothing but bad stuff about 4th Street Live! How is this yuppie gathering helping our local original musicians? It's not. In fact, I, along with many others, think it is hurting this scene. But I'm not the only one who doesn't dig the vibe. Hell, even a friend of mine who is well respected in the radio business, which promotes the place, admitted that it was a bunch of BS. Another friend of mine, a singer for a top Louisville cover band, who played down there recently stated, "I wasn't impressed with the snooty, cookie-cutter, mall-like atmosphere. The sound sucked and it reminded me of Circle Center in Indianapolis, which I hate. And to top that off, they almost wouldn't let me in to play my own show! Just because I dress a little wild."
One thing that truly bugs me is that police seem intent to run off crowds on Bardstown road and a few other venues and hangouts! It seems the city will do anything to get people down to 4th Street Live!, even if it means doing the wrong thing and running off crowds elsewhere, at clubs that do support local rock.
If you are in the mood for some good old-fashioned, ball-busting rock or metal, then you should know that you won't find it at 4th Street Live!. Chances are, you will leave there with a feeling of utter cheesiness, Commercial cheesiness of the highest order.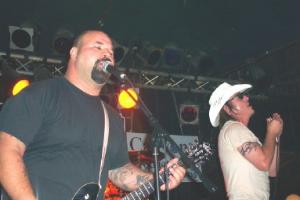 Photo By Eddy Metal
Yeah, it may be nice and classy, but what about our rock scene? Are we to be left out? There are too many good underground, unsigned bands around here, that aren't getting the chance to play there. The qualifications to play there are: you have to play commercial-sounding music that your whole family can enjoy. That would be about five or six bands in this whole scene. And any band, no matter how good they are, that is a bit wild and has more of an edge, is left out. Frankly, this makes me want to vomit.
Louisville is very well known for it's original rock scene! Flaw, My Own Victim, Primer 55, Tantric, Days Of The New and old school thrashers Kinghorse are great examples!
And the idea that the scene responsible for spawning such musicians is being left out, like a diseased animal, is ludicrous! This project was never to benefit the bands and musicians, as announced. Well, maybe if you play blues, covers, or acoustic rock, it does. In my opinion, yeah, we needed something downtown, just like this, to bring people back downtown for some good times. But to have these rich a**-holes blacklist us, is a bunch of crap. Money is the only thing that they seem to care about, and I doubt they will change anything unless we show that we will not be pushed aside, lied to and put up with basically being ignored! That is why I am now saying, "everybody, boycott 4th Street Live!!" Who needs an expensive stuck-up mall-like atmosphere anyway? They can have their lame concerts of has-been bands, (KC and the Sunshine Band is coming soon, see?) And they can play the blues `til the cows come home.
As a musician, I feel slighted and angered by the disassociation of our "real" rock scene, by 4th Street Live! And the beyond low attempts to bring in business to 4th Street Live!, by having police running off customers and casual strollers on Bardstown Road and several other venues and hangouts around town, is beyond low, even for a politician! I got an idear. I'm gonna have a little experiment. My big rear is going to actually go down there and see for myself how they supposedly treat rockers such as me, like crap. I'm gonna mess with them a bit.
They want high class? Ok fargers, here it comes - I'm going to wear my exorcist tee shirt with Linda Blair projectile-puking green pea soup, my camo pants, black Doc Martins combat boots, a few chains hanging, evil jewelry and a leather trench coat, topped off with sixteen inches of multi colored hair! They'll love me!
I'll hafta get by the dress code somehow. No Problem. I'll just have a business suit fitted over everything, then when I get in past security, with one zip, out pops a longhaired freak. Then the fun begins. Stay tuned for the cheesy results next month!
And remember, "F**k 4th Street!"
The Metal Grapevine
Flaw Breaks Up! The band known as Flaw is no more. Sadly, another very talented band from Louisville has broken up. Rumors are that a few of them weren't getting along. Add to that some recent label complications and what you have, ultimately, is disaster.
I very much admire what they have done in their seven-year stint. They did very well, putting out two good albums that were quite a bit different than the Limp Bizkit trends of the day. Good luck to those guys in future musical projects.
Drowning Pool and Candiria Coming! Wow, this is a big show! Drowning Pool at Headliners? Sweet. Those Spotlight guys kick ass. We love you, you f***kers!
And opening will be jazz-core freaks Candiria. It's jazz unlike anything you've ever heard. Unreal musicians. The show is Wednesday, November 10 at Headliners.
Fear Factory Coming! F*** yeah! This band smokes. On Thursday November 18, Fear Factory will be at Jillian's. Another big props goes out to Jillian's for booking this brutal Southern California band. Their new CD is all that. I'm looking forward to hearing the new stuff live. It's unconfirmed, but I think Lamb Of God will be opening the show. See you there!
Ministry Coming! On Thursday December 9, Ministry will be in town at Jillian's! So all you superfreaks be sure to attend! This should be wild.
Evil Engine # 9 Set To Explode! New versions of the tunes "Thorn" and "Anxiety" are now completed. The classic EE# 9 tracks were produced by Pete Thornton (Cold, Shinedown and Limp Bizkit) and mastered by Rodney Mills (Stone Temple Pilots, Rage Against The Machine.) Songs can be downloaded off CDBaby .com in November.
For more info, contact www.evilengine9.net
Original Music Cut From PHT: I have learned that almost all of the original music is to be cut from the Phoenix Hill Tavern, except the shows I promote, the Original Rock Showcase Series. I know they weren't happy with the lack of promoting by the bands.
You have to promote your bands, period.
As I have said before, bands have gotten lazy nowadays and when that happens, there are usually repercussions. This is one of them.
Maybe if some of you bands promise to promote the f***k out of the shows you play there, things will change back.
Changes In Assisting Sorrow: Assisting Sorrow has once again gone through lineup changes. Ginger is no longer in the band due to differences on a personal level, and second guitarist Anthony is out of the band. Things just were not working out with him. Its nothing personal at all and there are no hard feelings. Replacing Ginger on vocals is ex-Gaebalein/Assisting Sorrow drummer Jim Higgins. Guitarist Anthony has been replaced by ex-Gaebalein Guitarist Jesse Gregory.
The Buzz On Violenza: I admit it. When I first saw this band, I wasn't very impressed.
Almost a year later, I have changed my mind. I recently saw them and the change they have went through, is amazing. Constant gigging and practicing has paid off, as the band has come into its own. The songwriting is better and people are starting to really notice this band of young guys. Do yourself a favor, go see these guys.
Juan Leaves Fail To Falter: Bassist Juan Chavolla has left the band on good terms and wishes his former comrades the best of luck. Look for Juan's new project in a few months.
Upcoming Shows
Headliners Music Hall
Wednesday, November 10 - Drowning Pool, Candiria and TBA. (hopefully a local)
Rustic Frog
Friday, November 19 - Evil Engine # 9
Phoenix Hill Tavern
The Original Rock Showcase Series, on the first Friday of every month, in the Roof Garden.
Friday, November 5 - Flatlyne, Never The Man, Otium and Wasted Days.
Saturday December 3 - Face The Day, Month Of Sundaze, Luther, Jefferson County Drunktank and 7DaySun. 8 p.m.
Tailgaters
Friday, November 5 - Face The Day, Factor 9 and From Within.
Outtatownerz and Otherz
Saturday, November 20 at the Sun Valley Community Center: Turkeyfest: featuring Evil Engine # 9, MSD, From Within, Violenza, Otuim, My Finest Hour and Sinckwhole (IL) .
Props Of The Month
This month's props go out to Charlie the Painter. Aside from painting, this guy has been supporting this scene going on a few years now. He has been helping WLRS with the local music stuff, putting on several shows and getting sponsors to buy radio ads for the shows. Which is something we need more of.
Charlie has lately been putting on shows at Kelly's Lounge and the Bulldog Cafe. Kelly's has never had much interest in original music, until Charlie talked to them.
It makes me glad that there are people in this scene like Charlie. It takes a lot for me to trust and like someone, because I am generally a untrusting person. Charlie is one of the few people doing shows in this scene, I feel I can trust.
Charlie is not in it for the money, but for the scene and to have a good time.
Keep up the good job, Charlie!