I've Got A Mind To Ramble
Sweet Sixteen's Birthday Party
B.B. King sang, "There's nothing in this world I wouldn't do for you" about his Sweet Sixteen. Since the Kentuckiana Blues Society turned sixteen this year, we are going to throw a `wang dang doodle' for our members at Lisa's Oak Street Lounge near Swan Street on November 20. Back in 1988 the KBS first started meeting at the Rudyard Kipling about the time the first Garvin Gate Blues Festival got organized. Throughout these sixteen years, the society has survived with its Blues Cruises, Unsigned Blues Competitions, Sylvester Weaver Awards and monthly newsletter, Blues News. This well deserved celebration will start with an annual meeting at 7:15 p.m. to reconfirm the same slate of officers from last year: Brenda Major - President/Treasurer, Debbie Wilson - Vice President/Webmistress and Martha McNeal - Secretary. This is an opportunity for members to get informed and provide input about what the society is doing. Following the necessary business comes the fun with two outstanding bands and lots of pizza. The Stella Vees, winner of this year's KBS competition, will start at 7:30 p.m. Jason Lockwood, the band's lead guitarist and singer, said they have been recording at Jeff Carpenter's studio during October laying down some tracks for their first CD. The band's retro jump/swing style of blues will be a nice contrast to Lamont Gillispie and 100 Proof Blues who play the Chicago style. Lamont will start at 10 p.m. and has been the official house band at Lisa's for the Wednesday jams and Saturday performances. This free Sweet Sixteen Party is pay back time for all the KBS members. Non-members are also welcome for just a $3 cover and maybe you will become a new member.
Preachin' the Blues
I've wanted to write about John `Preacher' Stephens for some time but only had bits and pieces of information about this colorful and obscure local bluesman. His story is still sketchy and I hope someone will add some more details. Stephens was born in Louisville on September 25, 1923. He was known around his neighborhood as `Preacher' because he once delivered a eulogy for his dog, which was a little mutt according to singer George Burney. Preacher's early musical experience started when he played spoons in jug bands. Waldorf King, a veteran trumpet player and raconteur of Louisville's musical history, remembers when a group of musicians were jamming at the 637 Musicians Union at Ninth and Chestnut. Preacher found an old tuba in the corner and started blowing on it. He took the instrument home and began playing it at the clubs. Besides the A-flat tuba, Preacher was self-taught on the baritone saxophone, valve trombone and trumpet. Brazzle Tobin's April 9, 1952 article in the Louisville Defender tells of Preacher struggling around town the past ten years, guest-starring with Carl Ellis, Cliff Butler, George Burney and Edgar Brooks bands. Nineteen-fifty-two started off as a very good year for Preacher. When Harry Heatter opened his House of Fun club on 15th St. and Madison, he asked bass violinist John Wickliffe to organize a band to play six nights a week. Wickliffe got a combo of Billy Madison on piano and drummer Eddie `Duke' Landers. Preacher was added as the featured trumpeter and blues singer. Their original four-week gig drew such capacity crowds that Heatter booked them for another eighteen weeks. Their blues ballads and jump tunes were so original that through Cliff Butler they got to record with United Records in Chicago on February 18. Somehow United changed John Wickliffe to Johnny Wick's Swinging Ozarks to make him more marketable. The United recording session is preserved on Pearl Records PL-13, a subsidiary of Delmark, called Jockey Jack Boogie. This LP was issued in 1986 and you can hear Preacher singing on "Big Horn Blues," "Jockey Jack Boogie," "Glasgow K.Y. Blues" and "Hey Pretty Baby." There is a lot of session chatter and "Jockey Jack Boogie" may be the only boogie woogie with tuba solos ever recorded. The liner notes provide little information about Preacher, saying "He reportedly still lives in Louisville but we have been unable to contact him." John Wickliffe composed "Jockey Jack Boogie" in honor of a popular radio D.J. on WLOU whose show ran from 10 a.m. to noon Monday through Saturday. Wickliffe turned over the leadership of his band to Preacher and moved to New York, getting involved in journalism and the Urban League. Preacher later recorded for the Bihari Bros (RPM 414) "So Far Away" and "Whoopin and Hollerin." Also, Cliff Butler rerecorded a more down-home revision of Preacher's "Glasgow Kentucky Blues" on his Blue Grass label with Rick Debow on alto sax. The flip side has "Ol' Time Blues" with Joe Debow on harmonica. The record label actually has the Debow brothers mixed up. My favorite is "Unemployment Blues," which pairs Preacher singing with the Foree Wells combo backing him. The lyrics, written by Clinton Coleman, are as low down as you can get:
"Times are getting harder, I can't find a place to hang my hat
And the gal who said she loved me, she done took up the welcome mat.
Times are getting harder, I can't find a job no more
That old employment office has a full sign on the door."
According to Waldorf King, Preacher liked to tell the story about the smallest and shortest gig they did together in the early `50's. The union got a call for some musicians to play at the old railroad station at 7th St. and Main. Preacher and Waldorf arrived with their trumpets ready to perform. The manager had second thoughts and paid them $25 apiece and the gig was over.
During the `50's Preacher joined the Henry Miles Jug Band as spoons player. Henry had played fiddle with Earl McDonald's Ballard Chefs from 1928 until Earl died in 1949. Henry took over the band and kept it together as one of the last survivors of the Louisville jug band era. During the 1964-65 World's Fair in New York, Preacher went with the Henry Miles Jug Band to play at Madison Square Garden. Different states featured various local musicians. Jonah Jones was there and he said this "old time jug band from Kentucky tore the house down."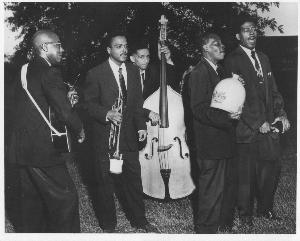 Photo By Ben Ingram
Local guitarist Ed Chestnut Sr. recalled when he, Henry and Preacher were invited to play at the Smithsonian Folklife Festival in Washington, D. C. in 1973. They stayed for a week performing on several stages in the mall. He said Preacher "got lit up" several times while they were there.
In the late 50s, before the demise of Walnut St. to Urban Renewal, bands and groups like the Elks Club, would march down Walnut St. from 6th to 13th St. on Sunday. Preacher would be in the mix, either pounding a drum or blowing his trombone. In the 80's, Preacher played a bass drum in a marching band organized by Thomas Fletcher for the New Castle Festival in August. George Burney sang with Preacher at the Cotton Club in Cincinnati and the Tisket A Tasket in Louisville. Once, when Preacher asked for a raise at that local club, they got fired on the spot.
The first Midnight Ramble at the Kentucky Center for the Arts in 1985 was organized by Ken Clay and had Ray Johnson as the musical director. Ray, Mary Ann Fisher, Donna Mason, the Moonglows and Preacher were featured. Clay said "During rehearsals, Preacher had to be released from the hospital and still wore his wrist band, but he really wanted to perform." Johnson remembered Preacher almost had to stop because of shortness of breath during the show.
Preacher was an excellent "shade tree mechanic who liked to work on the engines and bodies of old cars. Johnson said he once put a Ford engine in a Mercedes Benz and Burney recalled Preacher drove a hearse around town that said on the side "Don't laugh, your daughter may be in here."
Everyone I've talked to said Preacher was kind and had a wonderful sense of humor, but according to Johnson it was "dark and backward." Preacher often quipped, "I'll baptize your liver." In his younger days he was a sharp, dapper dresser but as his health deteriorated, he became more disheveled. Preacher's life came to a tragic end on July 23, 1993. He had been suffering from cancer and was terminally ill. His behavior became erratic and despondent and his limitations enraged him. He was living in an apartment in the 2000 block of W. Market and threatened a neighbor with a shotgun. When the police arrived Preacher fired at them. They returned fire and he died at 69 years. A neighbor said "he was ready to die, for his cancer had eaten away at his sanity and crushed his soul." Preacher may not have been the greatest horn player but his bluesy shouting voice was his greatest asset. Listening to the vocals on his records reminds me of Eddie "Cleanhead" Vinson's raspy, hoarse style of singing. Services were held for Preacher on July 31 and he was buried in Louisville Cemetery. His wife and several stepchildren survived him.
"Preach," thanks for the memories.