Louisville Rock Closeup
Name: Juan Chavolla
Age: 23
Instrument: Bass
Band/Former Bands: Fail To Falter, Hollow point, Brewha
How Long On Instrument: 10
Equipment: Ampeg SVT-4, Ampeg 6x10 Classic, Warwick Corvette Standard 5, Warwick Corvette Proline 5, Schecter Diamond series 5, Sabine tuner pedal.
Influences: Jeremy Warren, Flea, Mike Dean, Rex, Les Claypool, Dirk Lance, Vince Hornsby
First Gig: 1996 at the Stephen Foster Amphitheater, I worked there when I was younger. They had a talent show and we decided to do it. I was so nervous. We just played one song but it seemed like eternity.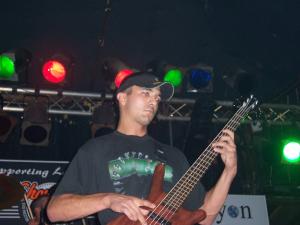 Hobbies: Fishing, 4:20, Supporting local music, cold beer with friends, trying to play out as much as possible.
Favorite Movies: Casino, Full Metal Jacket, all Pantera home videos and Scarface.
Favorite Food: Shrimp fajitas, Hot wings
Favorite Place: The stage, Ameca Mexico
What I'm Listening to Nowadays: Sevendust, Damageplan, C.O.C, 40 Below Summer, Down, Pantera And Lynyrd Skynyrd.
Coolest Thing I've Done: Went to Ozzfest 2001 in Pontiac Michigan for three days with Josh Boone and the guys from Flaw. Camped out in the parking lot and partied my butt off backstage with DOWN, Ill Nino and Hatebreed. Had a weeklong hangover when I got back.
Most Embarrassing Moment: Got way to drunk a time or two and made a total ass out of myself.