News From the Pit
Wow, what a summer! I got to go to Miami and the Keys, hiking in the mountains of Virginia and I got to see an incredible concert at Ozzfest. (See review in this issue) I admit it. I'm a lucky bastard.
The only bummer is what's happened to our metal scene, here lately.
I recently looked in my little black band book to find a few metal bands for a show and there were hardly any left. All the band breakups have taken their toll on this once-great metal scene of ours. Therefore, now, the Louisville metal scene is wide open.
So to any new up and coming metal bands out there: now is the time to really go to work and promote the heck out of your band, because we are in dire need of some really good metal bands to fill the void left by so many of the top metal bands that have broken up. We need to get the metal scene back to what it was.
There have been many positive things that have happened that will benefit this metal scene: several new venues are booking Louisville music; LRS staged their band battle and conclusion at LRSFest and even an ALL AGES venue is soon to be kickin'.
Yesterday, I went to LRSFest 2004 at Waterfront Park and had a good time while I was there. The place was full of scantily clad women, which certainly makes LRS fest a good thing. Bands featured were Chevelle, Finger 11, Flaw, Chronic Future, Jackson Sneed, Intheclear, Fill Dirt, Flatlyne, Never The Man, My Finest Hour, Yardsale and Elysium.
Flaw was sounding good as usual and I got to see a few new bands, Elysium was good, but Yardsale wasn't quite me, I'm afraid. There were lots of people there and everyone seemed to have a great time. I wish there were a few heavier bands there though. Just like last year, the crowd seemed to want to hear some heavier stuff.
I even heard some people complaining, saying that it should have been called "Mellofest." Props to Triple X Lex (who seemed to be running the show), Davey and especially Charlie the Painter, for being so kind to yours truly. Boy, Triple X really ended up being a major thorn in the side of 100.5 the Fox, especially after the success of LRS fest.
The Metal Grapevine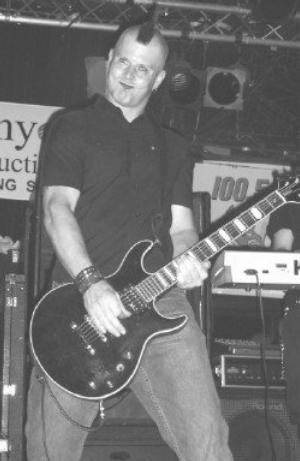 Photo By Eddy Metal
Kittie, Crisis and Otepcoming! It's chick vocalist metal night on Tuesday October 12 at Headliners Music Hall. All female thrashers Kittie will be in town with special guests Otep, Crisis and Louisville's own Forsythe. Three of these national metal acts have brutal female singers! That should be very interesting, indeed. Tix are 13 bucks and it starts at 7 p.m.
House Of Music Grand Opening Postponed!Sorry folks, but there have been a few minor difficulties in getting the venue going. The real grand opening will be on October 1. The real fun will start on this date. Who do you contact at House of Music for booking or questions? Kentuckytalentbuyer@yahoo.com or 1-502-448-0291
LRS Band Battle Winner: The official winner of the LRS band battle is Intheclear. Congrats to Andy Paul and the rest of the guys.
No More Mudd?I have learned that Mudd has been let go from LRS. I like the people from LRS, but why would they fire Mudd? Mudd has been an extremely laid back and cool dude and very helpful to this scene! The guy was not scared to try new Louisville music. He kinda reminded me, of - me! Only thinner ... and black.
New bands got a chance to be heard, when Mudd was around. Heavier bands got a chance when Mudd was around. And there was always a lack of fighting and drama, when Mudd was around. Which was a good thing.
I don't know the situation surrounding this, but I think LRS should give Mudd his job back. Many people like Mudd and want him back. Besides, LRS wouldn't want to lose him to that other station! The way I see it is: Radio is filled to the rim with backstabbing, two-faced people. Mudd wasn't like that. Perhaps that is why so many people liked the cat. We need people like that representing the scene. `Nuff said.
Lexington's Face The Day:OK, I had heard a lot about this band and was anxious to finally see them. It was worth the wait! These guys are on to something here.
I shall now take you back in time a few years to the late 90's, when three bands from Lexington were playing out in Louisville quite a bit. Anyone remember the hardcore metal band, Crone?
Well, Ryan, the big dreadlocked bassist from Crone, is now the bassist for Face The Day.
And does anyone remember Lexington blues style metalists Blue Honey? Jeff, the longhaired, Indian-lookin' dude on vocals, now sings for Face The Day.
Finally, does anyone remember Lexington groovemonsters, Groovezilla?
Weeeeeeeell, The former Groovezilla drummer, Chad Gravitt, is now the drummer for Face The Day. My point? This is a band with massive talent and potential. It's kind of a "best of Lexington" band.
Their music reminds me of punk/alternative with a dash of metal. They do a blistering version of Billy Idol's "Rebel Yell." Their stage presence and image is formidable also. Kind of reminds me of a Lexington version of MSD, a little. Make no mistake: these guys are much more experienced musicians and will soon make some big noise in this scene. Check them out while you can. More at www.facetheday.net.
Eclectic Gets Serious Airplay!The band Eclectic is doing well outside Louisville also, apparently getting airplay on over 200 stations, including stations in California, New York, Minnesota and Colorado. Support this great Louisville band. Their site is at www.eclecticville.com.
Flaw Being Shopped: According to manager Scott Frazier, several record labels are now looking at Flaw. Hopefully, they will get a good deal. All you Flaw fans should keep your fingers crossed for the guys.
Ill Nino, Incursion and Flatlyne:Wow, what a good show! Incursion502 opened up the show with a crushing set of originals. It's probably the best I've heard them in a long while, maybe ever. Flatlyne then kicked some serious rear, too. I am so glad they decided to drop the Korn sound. They sound so much better. Then Ill Nino totally rocked out. It was my first time seeing them and I was very impressed. The singer was very good and gave it 100%, even though the crowd was a bit thin.
Thanks to Headliners, Bill Barringer and Terry Harper for arranging this cool show.
Gasket's New Website: The metal band Gasket has a new website they'd like for you to check out. Freewebs.com/gasketfans. It's butt-kicking redneck metal! check it out.
Absence Of Faith's New CD: Louisville's Goth industrial rockers Absence Of Faith have just put out their third CD. For more info, contact eroxthis@aol.com.
Farewell To Kings CD Release Party: Don't miss the Farewell to Kings CD Release Show with a special guest - All Access. Saturday, October 9 at the Knights Of Columbus Hall in Scottsburg, IN.
Sane Anonymous Finishes CD: The band Sane Anonymous has finished their first CD, called Semi-Cide. Look for it at the bands upcoming shows.
Fans of AC/DC, or old-time metal like Accept and Motorhead, will like Sane Anonymous, so check out this relatively unknown band, they are damn good.
Violenza To Record: The band Violenza is set to record a full length CD. Look for it in a month or two.
Assisting Sorrow Seeks Singer: The band is looking for a singer who likes brutal technical stuff. Interested? Email chris@assistingsorrow.com.
Upcoming Shows
Headliners Music Hall
Tuesday, October 12 Brutal Female Vocalist Extravaganza: featuring three national recording artists with female singers. Not just regular singers, psychotic death-metal singing: Kittie, Crisis, Otep and Louisville's own Forsythe. Don't miss this! All are welcome to buy me beers!
Phoenix Hill Tavern
The Original Rock Showcase Series. On the first Friday of every month, in the Roof Garden.
Friday, October 1 Never, 16 Penny Nail, Boozer and Violenza.
Friday, November 5 Flatlyne, Never The Man, Otium and Wasted Days.
Twice Told
Saturday, October 30 "Halloween Party" with Breckinridge, East 146, From Within and Sarcasm. (NY)
OuttatownerzandOtherz
Farewell to Kings CD Release Show with special guest - All Access. Saturday, October 9 at The Knights Of Columbus Hall in Scottsburg, IN.
Props Of The Month
This month's props go out to Scott Cox and the Factor 9 guys. Why? First of all, their website has been my favorite local band site for a long time.
Secondly, everybody who is anybody in this music scene, gets on the message board and talks about all kinds of music related topics. The truth is: I get quite a bit of information off of the site.
If a band needs shows, or if someone needs a replacement guitarist, or drummer, or if you want to promote a show, well, this is the place to go.
I'm pretty sure guitarist Scott Cox designed the site. He did a good job.
A lot of people visit and get informed on this site. It has been a wonderful asset to our music scene! So thanks to the Factor 9 guys for hooking us up with a cool site to visit and find out what the hells going on.
Check out Factor 9 and their cool site, at www.factor9.net.
Final Note
Ok freaks, I'm outta here till next month. So if you want to be sure to get your info, show dates, or whatever printed. MAKE SURE that I get the necessary information.
I am not chasing you fargers around! You got to send dat chit to me. If you would like to write me and say "F*** off," please do so. A chuckle every now and then is a good thing.Eddymetal1@aol.com