I've Got A Mind To Ramble
Festival Finale
Madison Ribberfest
The blues festival season concluded with the Ribberfest in Madison, IN on August 20 and 21, followed by Blues To The Point in Carrollton on September 10 and 11. A prerequisite for all of these festivals is that they must be near water, either a lake or river. Both of these events are held on the edge of the scenic Ohio River and the weather was perfect, especially considering how hot it can be in the Ohio Valley this time of year.
I arrived on the second day at the Ribberfest, right where the food vendors lined Vaughn Drive and where the barbecue competitors were set up on Broadway by the Brown Gymnasium. The stage faced a large, dished-out lawn area where the crowd was spread out in an array of colorful folding chairs and umbrellas. There was a row of VIP corporate sponsor canopies along the back of the lawn, but they were too far away to appreciate the music up close.
I got a chance to see Greg Schaber and High Street again, as he had performed this May at the Cave Run Blues Festival. He had the same trio, with Ron Esposito on bass and Jeff Dobbins playing drums. Schaber showed his mastery of his slide guitar on "Mojo Boogie." He always likes to close with his theme song, "Jim Beam Blues." Greg said, "I wrote the song when I was 21-years-old and the words have remained the same - except for the price of the bottle."
At 6:30 p.m., fifteen hot air balloons lifted off on the Kentucky side of the Ohio River, chasing the hare balloon. Just as quickly, they out of sight beyond the ridge.
Kid Ramos is a short stocky guitarist with biceps bigger than Matt Murphy's.. His black hair is combed into an exaggerated pompadour, maybe to make him appear taller. His stature is plenty big enough when he plays his guitar. Kid hunches over his instrument and squeezes some of the sweetest sounds out of his guitar. He uses no frills, just straight ahead blues licks with a west coast feel. Kid's technique is not playing the most notes per minute but placing each note exactly in the right place. His early experience performing with James Harmon during the Eighties and playing with the Fabulous Thunderbirds during the Nineties has paid off. Kid doesn't sing, he just plays. Lynwood Slim did the singing and played harp. The two started playing together in 1990 with a group called Big Rhythm Combo. Lynwood collaborated on Kid's first CD, Two Hands One Heart, in 1995 and he has also been a guest on all of Kid's subsequent CD's on Evidence Records. They complimented each other perfectly, trading riffs back and forth.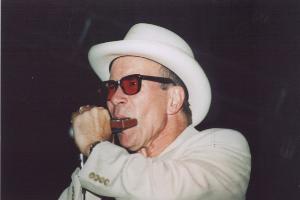 Photo By Keith Clements
Mark Hummel covered the blues spectrum with samples of Chicago, West Coast jump, rock and roll and New Orleans styles. His Blues Survivors included Charles Wheal on guitar, Steve Wolf on bass and Marty Dodson drumming. These musicians had also backed up Kid Ramos. Mark tore into an extended version of "Willie and the Hand Jive" using the full range of his harp and played both rhythm and lead on "Love Shock." Many of his songs were from his latest and first live CD, Blowin' My Horn.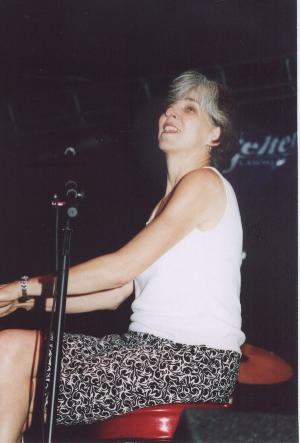 Photo By Keith Clements
Marcia Ball opened her set with "Rockin' is My Business" and rockin' she did for the rest of the evening. Most of the crowd had left their chairs and gravitated to the front of the stage. Marcia said she has been trying to quit smoking for the past three months and asked them not to stop blowing smoke up to the stage. Pat Boyack has been her lead guitarist for several years and he did a scorching solo on "Kiss Me Baby." Marcia has such a great repertoire of so many ballads, blues and boogies it is like going down memory lane when she does her show. Aside from a brief attack of the gnats rising up out of the grass at sundown, this was the most memorable day of this season's blues festivals.
Blues To The Point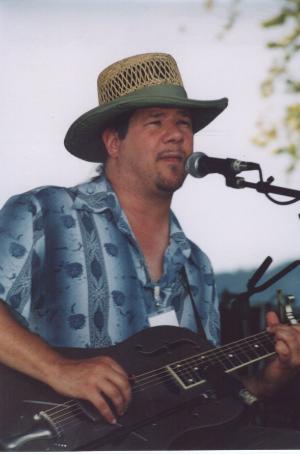 Photo By Keith Clements
After ten years you would think the organizers of a blues festival would have things down pat. Not so. When I arrived at Carrollton on Saturday at 3 p.m. the music, which was to begin at 1 p.m. had not started. Apparently the sound crew did not show up and someone had to fill in at the last minute. I heard the sound system wasn't working very well the night before. There were no festival T-shirts or hand out flyers about the lineup. There were only three food vendors and if it weren't for a group of 32 people from the Toledo Black Swamp Blues Society the small audience would have been much smaller. The KBS brought their own canopy and set up their booth next to the Hot Dog King, Sonny Horn. Sonny was a trip with his chef's hat and Superman shirt and especially his stories. He had been the doorman at Buddy Guy's Legends and was a pallbearer at Junior Wells' funeral. He kept us entertained when things got slow. After over a two-hour delay, the Blues Cruisers opened, doing only a 45-minute set to pick up some time. Their act was similar to their show at the KBS competition. Eric Noden did a nice solo acoustic set, playing a pre-war style of blues. He alternated between his metal body guitar and keyboards, playing classics like "Can't Be Satisfied" and "Walkin' Blues." He even added a kazoo on a jugband song, "Mama Gonna Tear It Down." Eric played the title track from his recent CD, Midwest Blues, where he sings about leaving Ohio where he was raised and going to Chicago where he currently lives. He has performed at Buddy Guy's Legends and the Chicago Blues Festival. It was a pleasant surprise listening to his dexterous fingerpicking guitar style.
Rick Hall and The Blues Healers was a full band from Toledo with horns and B-3 organ. Rick played lead guitar and switched to steel guitar on "I Got My Eye On You." They were celebrating the CD release party at the festival. Hot Rod and the Blues DeVilles is lead by Rod Cave on guitar and vocals. Rod grew up in Louisa, Kentucky, but he now lives in Columbus, Ohio. This close-knit band includes Manny Manuel on bass, Andy Morse playing guitar, Steve Walker pumping the organ and TuTu Jumper, a powerhouse drummer, who threw his sticks out to the crowd at the end of the set. They did several originals including "Feelin' Pretty Good For The Shape I'm In" and "VooDoo Woman."
There have not been many bandleaders who play trombone since Tommy Dorsey, but Big James and the Chicago Playboys hit the stage running with "Da Blues Will Never Die." Big James believes in it because those words are tattooed on his right arm. Big James has paid his dues, first listening to Andrew B.B. Odum outside the Southside clubs in Chicago as a teenager. At nineteen, he joined Little Milton's band and then played with Albert King. He later traveled all around the world in Buddy Guy's Blues Band on the House of Blues Barnburner Tour. Big James has recorded two CDs, Funkin Blues and If It Wasn't 4 Da Blues, on the Jamot Music label. These were the sources of many of the songs they sang during their set. James Montgomery propelled his tight band with his sliding trombone and gritty shouting style of vocals. This high-energy show band is loaded with plenty of drive and showmanship. All of the musicians were in sync doing a two-step shuffle to the beat, especially the bass player, the newest member of the band. They meshed original songs with covers, playing nonstop and ended with an encore of "Shake, Rattle and Roll."
When headliner Guitar Shorty came on, it was nearly midnight and the audience had dwindled to half its original size. Before Shorty's set, I asked him to autograph a picture I had taken of him at the 2001 King Biscuit Blues Festival. It was barely a month after the 9/11 tragedy. He performed at that festival wearing red, white and blue pants with stars on one leg and stripes on the other and he had an American flag attached to the neck of his guitar. As he signed the photo, we realized it was September 11. Shorty opened by walking through the audience up to the stage playing his guitar. He played a variety of red guitars, which contrasted with his blue flame shirt. Shorty took a long solo on "I Wonder Who's Sleeping In My Bed," again joining the few fans that remained on the dew-drenched lawn. He sang "Old School" from his latest Alligator CD, Watch Your Back, which had a familiar SRV riff. Shorty paid tribute to his brother-in-law Jimi Hendrix with "Hey Joe." Too bad there wasn't a bigger crowd present to appreciate this little giant of the blues.
If the Blues To The Point Festival expects to be around for another decade, they need to straighten up their act as a courtesy to the acts they book.