Bluegrass Beat
It's been kinda hard to decide what season, exactly, this summer has been so far. Some days cooler than "normal," some days plenty hot and some days just can't make up its mind. Wonder what we have to look forward to this Fall and following. Uh, tell you what, let's not go there; keep pleasant thoughts, like bluegrass festival thoughts and such.
Milan Music
One such thought goes to Milan, Mich., last month. It was pretty cool (cool, as in the temperature) for the most part. I had a chance to meet, see and hear a group I had heard so much about.
All too many times when everybody that comes along tells you what a great act so-and-so is, that you've got to see this bunch, etc., when you do you often wonder what all the fuss is about. I had heard all of this, read much of the same and decided to look forward to the arrival and performance of the Cherryholmes Family. Well, if you have seen them I'm sure you know they not only lived up to what "they" say but they proved it. A most interesting family and top-notch. Very impressive.
I found out something else about them that is much to their credit. To me, too often a group will put on a show that right there on the stage will sell them to you, you go to the record table, get that CD or whatever and play it and wonder, is this the same group, playing the same music we just heard? With a Cherryholmes CD, YOU get what you witnessed that sent you running to the table when they got off.
The youngsters are home-schooled, smart, polite and have the energy of that battery bunny in overcharge. Molly Kate and brother Brody "BJ" are the fiddlers and can play with the big boys. "Smiling" Skip handles his part _ guitar part _ with confidence. Cia Leigh, oldest of the young'uns, a banjo picker sho' nuff. Sandy Lee, mandolin "mom," and Jere "pop" round out this highly talented group. You will be hearing them on Sunday Bluegrass. You've go to see this group - now you've got me saying it. Anyhow, THEY won't disappoint you.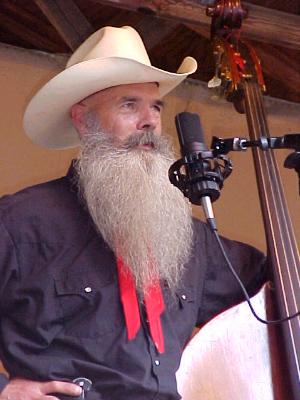 Jere Cherryholmes
There were a lot of good folks, good shows and good friends there. If I leave any out, my apologies. J.D. Crowe was there. I always like to see J.D. on a show, enjoy brief chit-chats.
The Osborne Bros. were on hand. Dana Cupp is still playing banjo for them. You may or may not know, Sonny had a shoulder operation back in October, I think he said. Still doing some recuperating and as a result not playing.
Joe Isaacs was there with Dan Jones performing. Dan says he and Steve Day, presently with David Parmley and Continental Divide, are going to come in to the station for Sunday Bluegrass before too long. GOOD.
The lady from Martha White, Rhonda Vincent, was pleasing fans. Carolina Road, nominated IBMA emerging artist of the year, Bob Paisley was a huge hit with the crowd. The spirit of bluegrass was alive and well.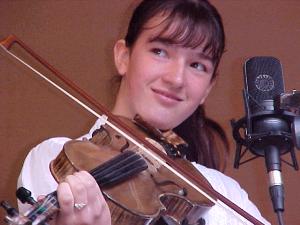 Molly Kate Cherryholmes
As is the case occasionally, some acts request schedule changes and other acts come willingly to the rescue when they can. In this case Bob Paisley was on last Thursday night and that meant 11 p.m.-plus getting through, packing up and leaving. They had to be in Vermont next afternoon. Carolina Road accepted the challenge and made the switch. This was greatly appreciated although it didn't let Carolina Road get away as soon as they were hoping to. Larry Stephenson, Lewis Family, S&S Express and Wild Fire all made for a great weekend.
John Hartford Tribute Cruise?
Word is now there is a good possibility of a John Hartford Tribute Cruise on the Belle during this, the last IBMA World of Bluegrass in Louisville. There are some details to be worked out and if all goes well with these it will go. I will keep you posted as I get information on a yea or nay. Let's all kinda keep our fingers crossed for this one. One little sneak peek: Laurie Lewis has already contacted me to be included. We shall see.
As I write this, it is August 19, 2004, a bad e-mail day. By the time this is on the street, I suppose most of you will know this. For the few who haven't heard, Charlie Waller of the Country Gentlemen died yesterday, August 18, 2004.
I met and saw Charlie a number of times but, unfortunately, I never had the chance to really get acquainted with him. We know his music and the great group, The Country Gentlemen, he put together. One that has lasted and is listed among many bluegrass fans' favorites.
Another distinctive bluegrass voice has left us, never to be heard down here except from the many CDs, LPs and even some 45s that contain more than a few "standards." It is almost a must for a band to know "Fox On The Run" and for many to know "Bringing Mary Home." Gone, sadly so and missed. Forgotten? Not on this show.
The Show Must Go On _
And here are some of the ones you may want to attend.
_ WEST POINT, KY _ MUSIC RANCH USA _ September 4, Labor Day Weekend Blast: Last indoor cookout of the year @ 5 p.m. Texan Adele Little returns. Meet a band led by Michael Goodman. The Classics are off Labor Day.
Saturday. September 11 _ Stephanie Lambring is back. September 18 _ Joel Fry, Ohio, will guest.
_ VINE GROVE, KY - 5TH Annual Bluegrass Festival _ September 24-25. Friday, 6:30 p.m. _ Billie Renee & Cumberland Gap, Temperance Road and more. Saturday, 12:45 p.m. _ David Peterson & 1946, Lynwood Lunsford & Misty Valley Boys, James Reams & the Barnstormers, Bluegrass 101, Kentucky Wind and more.
Don't Miss Out_
Probably enough of this for now. Make the most of the festivals left. If you need a reason to go or if you should say I've seen them, back up a couple of paragraphs. Especially those favorites, see them when you can; it could be their last time ._.. or yours. Be sure to hook up on Sunday Bluegrass, 9_11 p.m. every Sunday. WFPK 91.9 FM and streaming audio to the world.
Just like July 4, be CAREFUL and sensible Labor Day weekend.