Cowboy Corner
Country Stars Turn to Politics
As the November Presidential election draws nearer, more and more country stars are speaking out for their nominee of choice and some are even blatantly speaking out against the nominee's competitor. Yes, Natalie Maines and the girls, a.k.a. the Dixie Chicks, are striking again. The Texas trio will be performing six concerts alongside James Taylor as part of the "Vote for Change" tour targeting voters who "will derail the right-wing Republican agenda by defeating George W. Bush and electing Democrats up and down the ticket."
Although Maines gave birth to her second son, Beckett Finn Pasdar July 14, she, Emily and Martie will hit the road October 1 in Pittsburgh, followed by Cleveland October 2, Detroit, October 3, Iowa City, Iowa October 5, St. Louis October 6 and Tampa October 8. Recently speaking about this politically motivated tour, the Chicks said, "As concerned mothers, women and most importantly, concerned Americans, we are compelled to do what we can to inspire other voters to get involved in this year's election. We hope our participation in the `Vote for Change Tour' will be a catalyst for positive change." Maines further stated, "A change is in order. There's never been a political climate like this, which is just the opposite of me as a person and what I believe in."
Country music will be well represented during the Republican National Convention, which began August 30 in New York. Country sweetheart Sara Evans was scheduled to perform on the main stage on the second night of the convention. Brooks & Dunn, The Gatlin Brothers, Lee Ann Womack and Darryl Worley are also scheduled to perform for the Republican Party backing President George W. Bush during the convention.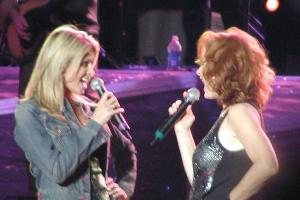 Linda Davis and Reba McEntire sang a duet at their State Fair show. Photo by Mike Stout
Ricky Skaggs and friends are going the more generic, non-partisan route urging country fans to get out and vote during the November elections. Skaggs held a press conference last week to kick off the campaign titled "Your Country Your Vote," being joined by the likes of Billy Dean, Marty Raybon and Josh Turner. These artists, as well as Collin Raye, Blake Shelton, Randy Travis, Lee Ann Womack and Darryl Worley have also contributed tracks to a compilation CD inspired by the Civil War titled America Will Always Stand.
Nelson's Farm Aid Heads West
As the child of a self-employed family farmer, my hat's off to the "Redheaded Stranger," Willie Nelson and his tireless efforts to help farmers across our great land. Nelson recently announced that the "Farm Aid 2004 Presented by Silk Soymilk" concert to raise funds to help "keep family farmers on their land" will be held September 18 at the White River Amphitheatre on the Muckleshoot Indian Reservation in Auburn, Wash. Nelson will be joined by co-founders John Mellencamp and Neil Young, as well as board member Dave Matthews. More entertainers will be announced soon. Although no official announcement has been made, keep your eyes and ears open for information regarding CMT airing this historic concert live as it often has in the past.
"It's a great time for Farm Aid to head to the West Coast," Nelson recently said. "Washington is home to more than 35,000 farm families working to provide us with safe and healthy food. We're proud to honor their contributions and recognize the Northwest region as a leader in building family farm food systems."
Since its inception in 1985, Farm Aid has raised an amazing $26 million to aid America's family farmers.
Carolyn Dawn Johnson Tops CCMA Nominees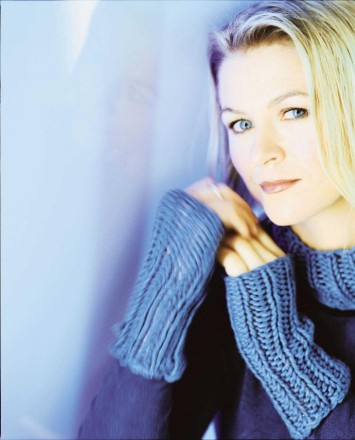 Carolyn Dawn Johnson
When the nominees for the 2004 Canadian Country Music Association Awards were recently announced, Carolyn Dawn Johnson received a whopping seven nods. She will vie for the fan-voted Kraft Cheez Whiz Fans' Choice Award, Female Artist of the Year, Album of the Year and Record Producer of the Year (along with Dann Huff) for Dress Rehearsal, Single of the Year and CMT Video of the Year for "Simple Life," and SOCAN Song of the Year for "Die of a Broken Heart."
Terri Clark has had a big year this year and her four nominations, including Female Artist of the year, two for Single of the Year and the Fans' Choice Award, are proof. Shania Twain will vie for the Fans' Choice Award, Female Artist of the Year and the SOCAN Song of the Year.
And the nominees are: Kraft Cheez Whiz Fans' Choice Award: Terri Clark, Doc Walker, Carolyn Dawn Johnson, Jason McCoy and Shania Twain; Female Artist of the Year: Lisa Brokop, Terri Clark, Carolyn Dawn Johnson, Beverley Mahood and Shania Twain; Male Artist of the Year: Paul Brandt, George Canyon, Aaron Lines, Jason McCoy and Deric Ruttan; Group or Duo of the Year: The Corb Lund Band, Doc Walker, Emerson Drive, The Good Brothers, Poverty Plainsmen and The Wilkinsons; Chevy Trucks Rising Star Award: George Canyon, Samantha King, Aaron Pritchett, Deric Ruttan, Tera Lee and J.R. Vautour; and Roots Artist or Group of the Year: Blackie and The Rodeo Kings, The Corb Lund Band, Kathleen Edwards, The Good Brothers, Sean Hogan and Jimmy Rankin.
Album of the Year: Deric Ruttan, Carolyn Dawn Johnson's Dress Rehearsal, Doc Walker's Everyone Aboard, Jason McCoy's Sins, Lies and Angels and Aaron Pritchett's Something Goin' On Here; Top Selling Album: Alan Jackson's Greatest Hits, Keith Urban's Golden Road, George Strait's Honkytonkville, Toby Keith's Shock `N Y'all and Kenny Chesney's When the Sun Goes Down; Single of the Year: Terri Clark's "Girls Lie Too," Terri Clark's "I Wanna Do It All," Carolyn Dawn Johnson's "Simple Life," Beverley Mahood's "The First Day (You Wake Up Alone)," and Doc Walker's "The Show is Free"; SOCAN Song of the Year: Carolyn Dawn Johnson's "Die of a Broken Heart," Shania Twain's "It Only Hurts When I'm Breathing," Paul Brandt's "Leavin'," Chris Cummings' "Lucy Got Lucky," Jason McCoy's "Still," and Doc Walker's "The Show is Free"; and CMT Video of the Year: Emerson Drive's "Last One Standing," Paul Brandt's "Leavin'," Gil Grand's "Run," Carolyn Dawn Johnson's "Simple Life," and Jason McCoy's "Still."
The 2004 CCMA Awards will be held September 13 in Edmonton, Alberta, Canada. American fans can catch the awards ceremony live on Country Music Television.
Reba Sets New Record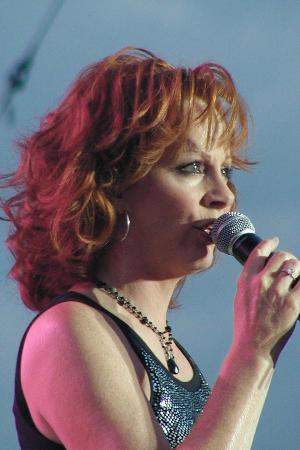 Reba entertained at the 2004 Kentucky State Fair. Photo by Michael Stout
The incomparable Reba McEntire has had an illustrious career over the last 2 ½ decades, but she's far from being put out to pasture. The redheaded fireball continues to make great music and even continues to break records. The second single from her Room To Breathe CD, "Somebody," recently topped the Billboard country singles chart, making it her 22nd #1 single. As if that weren't enough, she broke the record for the longest span of chart-topping singles for a female country artist. She first hit #1 back in 1983 with "Can't Even Get the Blues." Although she has enjoyed great success as a Broadway actress (in "Annie Get Your Gun") and she continues to ride a hugely successful wave on the small screen with her sitcom Reba, country music is where her heart is. She recently stated, "I am thrilled to have a number one song and I am equally thrilled to call country radio my family. I enjoy all the places my career has taken me, but country music is and always will be my home."
I had the opportunity to catch up with Reba and take in her concert at the Indiana State Fair last month in Indianapolis. Much different than the Reba we have all grown to know and love on the concert stage, there were no dancers, no costume changes, no props and no pyrotechnics-just music. And it was incredible. Although the 90-minute show only included one relic prior to the 1990's ("Whoever's In New England"), the set list read like a greatest hits CD or two. She never sounded better, she was truly in her element despite the absence of the glitz and glamour we've grown accustomed to and she had pal Linda Davis with her singing harmony to boot (and, yes, they even performed the Grammy winning single "Does He Love You"). The Hoosier crowd was even treated to Reba's first live performance of her brand new single, the tender "He Gets That From Me," which nearly moved Reba to tears.
Reba's still got it going on! You go girl!!!!!
Hot New Releases
Record store shelves are filling up with plenty variety of country music for the upcoming Christmas shopping season. Travis Tritt released his long-awaited Honky Tonk History CD, which includes "The Girl's Gone Wild," just last month. Another recent addition to store shelves was the highly anticipated new record by Tim McGraw & The Dancehall Doctors, Live Like You Were Dying, which includes the chart-topping title song.
Alan Jackson has been busy these days and not just having a highway renamed in his honor (a portion of I-85 in his hometown of Newnan, Ga.). The lanky Grand Ole Opry member has been busy wrapping up his brand new album, titled What I Do. The disc will be released September 7 and includes Jackson's current single, "Too Much of a Good Thing," as well as six additional self-penned tunes and seven non-Jackson penned songs.
Fans of international superstar Dolly Parton (myself included) will be rushing to their favorite record store come September 14 when the Country Music Hall of Famer releases a live CD and DVD. Each, titled Live & Well, will include two discs worth of classic and newer Bluegrass-tinged Parton music recorded live at Dollywood in December 2002. Included in these must-have collections are Parton's two entries in the recent list of The American Film Institute's Top 100 Movie Songs list: "I Will Always Love You" (Whitney Houston's rendition from The Bodyguard) at #65 and "9 to 5" from Parton's 1980 debut movie of the same title at #78.
As the month progresses, keep your eyes peeled for new releases by the country wonder from Down Under, Keith Urban and one of country's hottest trios, Rascal Flatts. Urban's Be Here includes the hit "Days Gone By" and will be available September 21. Rascal Flatts' third album, Feels Like Today, will be released September 28 and includes the title track current single.
"The Cowboy," George Strait, has accomplished an incredible feat by topping the country singles charts 50 times and now fans will be able to own all 50 of those songs in a two-CD set. Strait's 50 Number Ones will hit stores October 5 and will include all his #1 singles ranging from 1982's "Fool Hearted Memory" to 2002's "She'll Leave You with a Smile." Also included will be Strait's current single, "I Hate Everything."
Toby Keith fans will want to add their favorite singer's greatest hits album to their Christmas list this year. The disc, which will be available November 9, includes Keith's newly released single, the up-tempo party song "Stays in Mexico."
Mindy McCready Busted for Drugs
If you think back far enough, you'll remember country blonde bombshell Mindy McCready. Remember "Ten Thousand Angels" and "A Girl's Gotta Do (What a Girl's Gotta Do)"? How about "Guys Do It All the Time"? She was once engaged to Superman, that is actor Dean Cain. Yea, I knew that would jog your memory. Well, it seems McCready is in a little trouble with the law these days. She was arrested August 5 for submitting a fraudulent prescription for the highly addictive painkiller Oxycontin at a Brentwood, Tennessee pharmacy. She was charged with one count of prescription drug fraud and her bond was set at $10,000.
Well, that's it for September. Always remember: "Keep your boots shined up and your hat on straight, `cause country music is comin' your way."