Here's something we don't have often in Louisville, an album release concert: Chris Tomlin will be releasing his new album, Arriving, on September 19 at Southeast Christian Church! Tomlin and his band will lead worship at the Vine, Southeast's informal Sunday night worship service and will make the new CD available at that time as well - before it hits stores on September 21.
Tomlin, a worship music veteran, is best known for writing such songs as "Forever," "Wonderful Cross," "Enough," and "Famous One." His latest project includes the song "Indescribable," which is getting airplay at Christian radio in town. Arriving is Tomlin's third album, following the widely successful and critically acclaimed Not to Us.
This will not be the first time Tomlin has been at the Vine. He performed twice last year with his band and once with the Passion Tour. However, even when he isn't there in person, Tomlin's presence is felt at the Vine - his songs are a regular part of the weekly worship service.
The concert will take place on Sunday, September 19, in the Main Sanctuary of Southeast Christian Church, at 6:30 p.m. Doors will open at 6 p.m. There is no charge for admission. The church is located at 920 Blankenbaker Parkway in Louisville (it's pretty hard to miss).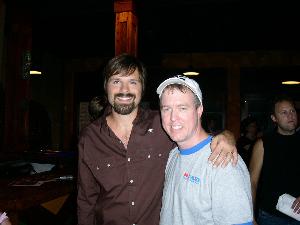 Mac Powell of Third Day and Chris Crain at the Louisville Palace
Avalon was just here for the State Fair and, believe it or not, they will back next month for another Louisville concert appearance. This time they'll appear with Mark Schultz and ,Matthew West at Evangel World Prayer Center.
Here's a quick look at what's happening with each artist:
According to their website, Avalon has a full slate of tour dates ahead, all the way into May of 2005. They'll also be making numerous television appearances this fall.
The U.S. Army, with the assistance of Schultz, launched a new program this summer, dubbed "Be Safe - Make It Home," targeted at servicemen and women. The program educates soldiers about potential hazards, most notably from operating motor vehicles and informs the general public about the need to support servicemen to "Be Safe."
Schultz's song "Letters From War" is the centerpiece of the awareness campaign. Schultz and the Army were scheduled to produce a music video, training video and Public Service Announcements, all featuring the song, to be used in educating soldiers and the general public of the Army's high-rate of accidental fatalities.
"Statistically, this has been a rough year for Army accident casualties," said Brigadier General Joseph Smith. "In an attempt to reverse this trend, the Secretary of the Army initiated the "Be Safe" campaign to educate soldiers, with the end of result of keeping them alive and well. We want our troops to be safe and make it home when participating in everyday activities that can lead to accidents such as driving, swimming and biking."
A key element in the campaign is a newly created safety video that will be shown to all troops. The video and other materials will also be available to Department of the Army Civilians, defense contractors and family members.
"I am very much honored to team with the U.S. Army in this campaign to save soldiers' lives," said Schultz. "I am thrilled to do anything I can to show my total support for our troops and to help keep them safe both abroad and at home."
Following the release of his debut CD, Happy, Matthew West made radio history this year as his first single, "More," held the No. 1 position on R&R's Christian AC chart for eight consecutive weeks. In addition to his extensive touring, he is also an established songwriter who has written for such artists as Billy Ray Cyrus, Rascal Flatts, Point Of Grace, Rachael Lampa and Salvador, among others.
"Matthew is a gifted communicator, songwriter and storyteller who has a unique ability to touch individual hearts with his music even when he is playing before a large crowd," shared Leigh Ann Hardie, Sparrow Records VP of Artist Development and Marketing. "It is an honor and privilege to adopt Matthew West into the Sparrow family. His music has a broad appeal and is sure to inspire listeners both inside and outside of the church."
Matthew West has already built a significant fan base through national tours performing in churches, colleges and coffee houses all over the US. He was a ballot finalist for the Emerging Artist in the 2001 NACA (National Association of Campus Activities) Campus Entertainment Awards & was also nominated for the NACA Coffee House/Club Entertainer of the Year.
The concert takes place October 29. Look for ticket info in next month's LMN.
Switchfoot just played in Louisville at the Kentucky State Fair. It was a free concert that was actually a good deal for free! The group, whose platinum album, The Beautiful Letdown, continues to hold the current #1 position on the overall Christian albums chart, taped a performance for MTV's Hard Rock Live concert series in Orlando, Florida, that was scheduled to air at a later date.
The taping comes on the heels of Switchfoot's breakthrough rock hit, "Meant To Live," which continues to reach a broad range of listeners, even climbing to #6 on Radio & Records' Hot Adult Contemporary chart. The song is also featured on the Spider-Man 2 movie soundtrack outside North America
In addition to taping the Hard Rock Live series, Switchfoot also recently recorded a public service announcement for MTV's Rock The Vote campaign.
Finally, Third Day came to Louisville for a DVD shoot on Thursday, July 22. The concert and DVD taping took place at the historic Louisville Palace. The band played for over 2500 fans at the medium-sized theatre. The show drew fans from all over the U.S., including some of the famous Houston, Texas "Gomers."
Despite a few technical difficulties (dealing with the huge video screen behind the band), the show was a big success. Third Day played songs from Wire as well as other releases. The show also featured the band's first live performance of "It's A Shame" from Wire.
The DVD is set for release later this year.