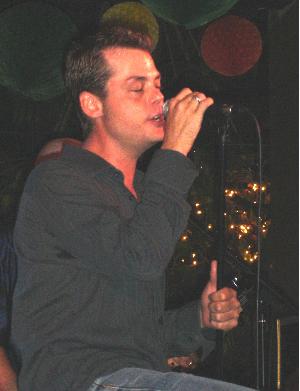 Steve Sawyers
Louisville Rock Closeup
Name: Steve Sawyers
Age: 34
Instrument: Lead Vocalist
Band/Former Bands: Shattered Reality, Orion, Blowfly, NEVER
How Long On Instrument: 16 years
Equipment: Sure SM58.....a classic
Influences: Johnathon Davis, Phil Anselmo, Chris Cornell
First Gig: I played in the band battle at the Carl Casper Auto Show back in '88 Damn I'm old!
Hobbies: Sex, Songwriting, Sex, Fishing, Sex, Playstation, Sex.......do you see a pattern?
Favorite Movies: True Romance, Reservoir Dogs, A River Runs Through It, Seven, High Fidelity, Office Space and just about any porn with hot chicks!
Favorite Food: Authentic Mexican
Favorite Place: NYC, I lived there for a short while and I loved the electricity of it. Louisville will always be home, though!
What I'm Listening to Nowadays: Korn, Sevendust, Cake and Marcy Playground. I like a mixture of sounds.
Coolest Thing I've Done: I can't put that here but the 2nd coolest thing I've done was watch the VHS copy of the coolest thing I ever did!
Most Embarrassing Moment: There are so many but one that really stands out is the time I was at Pizza Hut and my girlfriend at the time had been standing next to me waiting on our pizza when I grabbed her a** but it wasn't her a** I grabbed.......let's just say that the guy I grabbed wasn't pleased! True story!