I've Got A Mind To Ramble
Showdown at Stevie Ray's
The musicians were gathering with their gear and instruments at Stevie Ray's on a gorgeous Sunday afternoon on August 15. The occasion was the 12th Unsigned Blues Talent Competition. You can easily tell who the musicians are, as they are usually dressed in black shirts. The "out-of-town" judges had also arrived from Cincinnati, Glasgow and Indianapolis. Prentiss Eastham represented Crossroads Blues Society of Indiana. Like the Kentuckiana Blues Society, the CBS is affiliated with the Blues Foundation in Memphis, but they have been struggling. Lack of support and interest threaten to make the organization go belly up and cancel their Unsigned Band Contest, scheduled for September 19 at the Slippery Noodle Inn. This is not good news from our blues brothers to the north.
Chris Specht was our judge from the Cincy Blues Society. Their Society seems to be alive and well. Greg Martin, guitarist with the Kentucky Headhunters, completed the jury of judges. Greg has been talking with Jimmy Brown about resurrecting the old Stray Cat Band. This hardworking R&B band was popular from the mid-70's to the early 80's traveling from Florida to Indiana in an old school bus. They never recorded but they had a loyal following. Greg and Jimmy will be getting in touch with Lamont (Joey) Gillispie, Ricky Mason and Bruce Lively. What a reunion that would be! Greg will be back in Louisville appearing at the Kentucky State Fair with the Headhunters and guest Trace Adkins on August 24. He admitted he did not know who Adkins was.
Now, back to the blues. The competition began with the draw of order among the five groups. One of the original contestants, The King Bees, bowed out several days earlier because two of their members could not make the date.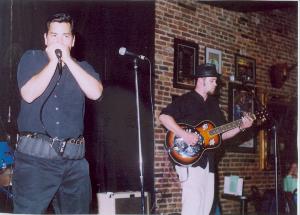 Alex Buga & Chard Nordhoff of the Bootleg Preacher Band
Chad Nordhoff and the Bootleg Preacher Band got the first slot. This young four-piece band from various parts of Indiana set a high mark for the competition with a Mississippi Delta sound. Most of their songs, including "The Wolves" and "$100 Bill," were original. They closed with an upbeat "55 Shuffle" about the perils along Highway I-55, which runs from Chicago to New Orleans. Chad fronted the group on guitar and vocals with Alex Buga providing some strong backing on harp.
G. Busy & The Blues Review came from Lexington. They got maximum mileage out of their band with John Frock alternating between keyboards and trumpet. G. (Greg) Busy mixed his harp and vocals to get a nice gritty sound. It was refreshing to hear more original tunes like "Ain't No Place But Up (When You Found Your New Love)."
Then it was time to try the Q-Master barbecue in the Voodoo Gardens out back. The two chefs concocted a batch of pork that was so tender and a dark sweet sauce that was so good you could put it on anything.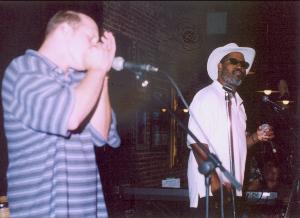 Ric Marr & Bob Lee w the Blues Cruisers
Stella Vees, another Lexington band, followed the break. There was a little more jump swing to their style of blues that mixed their laid-back "Come On Baby Do What You Got To Do" with a rockin' "Shakin' Little Mama." Jason Lockwood lead the band playing some tasteful licks on his guitars and singing reminiscent of some of the older R&B artists. I asked him how the band got its name. He said Stella Vee came from his grandmother, Stella Veronica, who used to play big band records when he was visiting her in Detroit.
The Blues Cruisers were back again for the third time. Bob Lee is an engaging singer who got the audience involved with his easy manner. Rick Marr, who apprenticed under Lamont Gillispie, blew his harp to many standards like "I Can't Be Satisfied" and "Help Me." These guys will be opening both days at the Blues To The Point Festival in Carrollton on September 10 and 11.
The last draw went to the Backsliders, who went from last year's winner as the Rock Garden Blues Band to a paired down duo. Brian Badgett and David Emery played a variety of instruments including harp, guitar, Dobro and lap steel guitar. This was the most down-home group, playing as if they were on their front porch. Originals "Out'a Beer, Out'a Here" and "Low Down Louisville Blues" both had some whimsical lyrics.
Brian Badgett of the Backsliders
After a suspenseful moment to tally the judges' scores, the winner was announced by Brenda Major, the KBS President-For-Life. The winner was Stella Vees, in very close voting. I always like to get the low down on the background of the winner, so I called Jason the next day. The band has been together for nearly five years, with Steve Konokpa playing harp, Steve Parrish on drums and bassist Brian Murphy. Jason had played with Greg Busy before they split, amicably, six years ago to go different directions in the blues. Jason met Chicago native Steve Konokpa at a blues jam in Lexington. Steve Parrish has been drumming for 30 years. He was in the house band at Breedings during the 70's and opened for many national acts that performed at that legendary Lexington venue. Steve creates simplistic rhythms on his drums, which fits Jason's style of retro-blues. Brian Murphy learned his rhythm licks playing with a family gospel group. Because there are no current blues bars in Lexington, the band performs mostly for private parties and occasional trips to Mt. Vernon, Memphis and Knoxville. Jason's influences come from listening to Magic Sam, T-Bone Walker and his main man, Louis Jordan. He also builds amps on the side to use with his Stratocaster and Jay Turser guitars. Jason said, "My goal is very simple. I just want to become part of the blues community and hang out with my mentors."
Next month, we will go up the Ohio River to Madison, Indiana for their Ribberfest Blues Bash on August 20 and 21 for more blues, barbecue and some balloons.