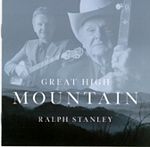 Looking Back With the Master
Great High Mountain (Rebel)
Ralph Stanley
By Bob Mitchell
I've said it before and I'll say it again: "Hey folks, it's Ralph Stanley; what else do you need to know?" High Mountain is a remarkable anthology spanning Stanley's 30-year association with Rebel Records. This CD contains 14 tracks from nine projects: Something Old, Something New (1971); Ralph Stanley Plays Requests (1971); I Want To Preach The Gospel (1973); Let Me Rest On A Peaceful Mountain (1975); Old Home Place (1976); Clinch Mountain Gospel (1977); Down Where The River Bends (1978); Memory of Your Smile (1981); and Short Life of Trouble (1995).
A press release that accompanied this disc correctly asserts Stanley is "one of the most distinctive and influential artists in American music." Indeed. This unusual compilation contains eight songs previously unavailable on CD, one previously unreleased song (Peter Rowan's "Wild Geese Cry Again" with outstanding guitar work from James Alan Shelton) and Stanley's original 1973 recording of "Great High Mountain." It does not get any better than this!
Stanley, the recognized master of authentic mountain bluegrass, is surrounded by some of the best musical support in the business. It's wonderful, once again, to hear the exciting fiddle of Curly Ray Cline on Carter Stanley and Bill Monroe's "Who Will Call You Sweetheart;" the youthful voice of Keith Whitley on Stanley's "I'm Lonesome Without You" and "Home In The Mountains;" Charlie Sizemore singing "Go And Leave Me If You Wish To" and "I've Got A Mule To Ride;" and Roy Lee Center's strong guitar in "I'll Remember You Love In My Prayers" and baritone in "Great High Mountain." In addition, there is the fiddle of Ricky Skaggs, the steady bass of Jack Cooke and Ed Ferris, the voice and guitar of Danny Marshall, the splendid back up from current Clinch Mountain Boys (Steve Sparkman on banjo and James Alan Shelton on guitar) and more.
Stanley is the virtuoso and nobody does it better. His vocals capture each nuance in each word. On a five-point scale of excellence, this release is a five.
Find out more at www.rebelrecords.com.