Damageplan, Superjoint Ritual and Lacuna Coil at Jillian's.
By Eddy Metal
The last six months I have complained in my LMN column that Jillian's never has real heavy bands play there. Well, either they listened or they decided to go ahead and take the risk of inviting all the wild mofos down to the usually yuppie-filled establishment. I figured if they were going to try some brutal stuff there, that they would ease into it a little at a time. I was wrong. In a mere space of two weeks, they have given metal lovers a real treat.
Three bands that I absolutely love played there! These are bands that are making serious progress lately. And I am not the only one who appreciates Jillian's for bringing real metal to Louisville. These shows had excellent crowds of very appreciative folks who just can't get enough of good old fashioned mayhem. It brought out the wild bunch reminiscent of the old Toy Tiger days.
Superjoint Ritual/Lacuna Coil " A Day Off Of Ozzfest"
Tuesday, July 21 brought two bands straight from the Ozzfest 2004 tour. Ex-Pantera vocalist Phil Anselmo's new project Superjoint Ritual, along with fast-rising Italian openers Lacuna Coil. The Italian gothic metal maniacs have made huge strides on American soil in the past year and are getting an extremely warm welcome response on the Ozzfest 2004 tour. The band also has made two music videos that are in heavy rotation. Female vocalist Christina Scabbia is entrancing and simply put, "one of the best female metal/rock singers in the world." And -BTW - ..she is hot.
Oh, yeah and the male vocalist is a great singer, too. Together, trading off vocal parts, they are quite unusual. Different. Fresh.
The sounds started a little weirdly as Italian folk music was coming from the speakers. It was the music you would hear at a fancy Italian restaurant. Kind of a "Hey, we are foreigners, check us out!"
Phil Anselmo of Superjoint Ritual. Photo by Eddy Metal
Then came the unmistakable intro to the bands latest breakthrough album Comalies. The band played most of the new album, which was cool with me, but being a longtime fan, I kinda wished they would have played a few older tunes as well, preferably something off of the Unleashed Memories CD, or the Halflife EP.
The talent and weirdness of this band is scary.
My only complaint is that the sound system wasn't up to par this particular night.
Andrea Ferro's vocals were turned way too low while Scabbia was blasting so loud through the PA that her voice was distorting. Their trademark double vocal attack demands that they be dead even. Nevertheless, I really enjoyed their show.
Then it was ex-Pantera frontman Phil Anselmo's turn. He was as happy as a fly in an outhouse as the good-sized crowd shouted "Su - per - joint, Su - per - joint!" The band is currently doing very well with their new CD, A Lethal Dose Of American Hatred, which is miles ahead of their first release. I have been wearing the CD out. There were no barricades to keep the crowd off the stage. Phil wanted everyone to join in the stagediving marathon, so he told Jillian's there was no need. I thought that was very cool.
Then came the onslaught of heavy metal that was to be order of the day. The band was good, but not incredible, as they belted out tracks from their two releases. Anselmo's vocals were good, but he did not seem like he was trying his hardest to reproduce the exact notes on the CD. A bit lazy in my opinion. Don't you hate lazy singers? I do.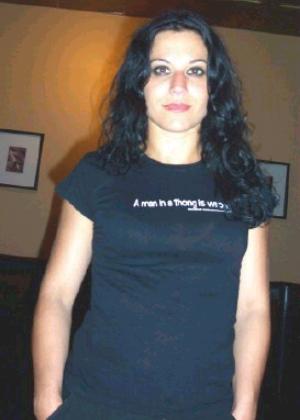 Christina Scabbia of Lacuna Coil. Photo by Eddy Metal
Maybe he was pooped from the demanding Ozzfest dates. Phil was more than a bit obnoxious as he blurted obscenities in between songs, but fans seemed not to care.
"I have broken more jaws than the heavyweight champion!"; "You will taste blood, enamel and concrete, all at once!"; "If anyone thinks they are a badass, c'mon up here and we will see!" At first it was amusing, but after about 5 or 10 minutes, I was thinking "shut the f*** up and sing!"
The sound for Superjoint was much better than with Lacuna Coil, but the band sounded a bit sloppy. Plus, it seems they left out a few really good tracks from the new CD, which sucked. The pit was getting down, making it hard for me to get near to take pictures. A photo pass would have been nice, but SJR's people omitted it somehow. The highlight of SJR's evening was "Personal Insult," which is my favorite song. Yeah the dudes Phil's jammin' with now are pretty good, but Dime and Vinny they AREN"T!
I got so used to Dime and Vinny's excellent playing covering up for Phil's being trashed that when I hear Phil with a normal human guitarist and drummer, it just ain't the same.
I still had a great time, though, and the music was rockin', but ... that sound.