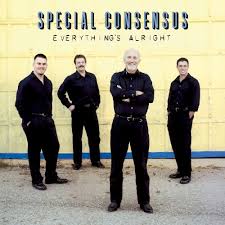 It's Alright, All Right
Everything's Alright (Pinecastle)
Special Consensus
By Bob Mitchell
Inquiring minds want to know. After 30 years and numerous band configurations, how does banjo wizard Greg Cahill continue to find so many outstanding musicians? This project is a showcase for yet another constellation of stellar vocalists and instrumentalists. As with all previous Consensus recordings, this release is driven by the deft banjo playing eloquence of Cahill. His approach continues to be imaginative, yet pure.
Justin Carbone's guitar and Tres Nugent's acoustic bass provide a rock solid foundation for twelve exciting tracks of traditional bluegrass. The lead vocals from Ron Spears are especially satisfying on "She's Walking Through My Memory," "How Many Times," "Carolina Smokey Mountain Home" (with an excellent guitar solo) and the title track. Spears's mandolin chops are also first rate.
Other highlights include the band's harmony on "Lord, Show Me The Righteous Pathway," and Randy Kohr's dobro contributions on "The Lights Are Out," and "Can't Go Back." Former band mate Josh Williams sits in on a hard driving instrumental that lets everyone shine. "Beginner's Luck" is music that puts a smile on your face and a tap in your toe. One of my favorite tracks is a swinging arrangement of "The Lights Are Out, But Somebody's Home."
The project title is correct: Everything's all right. This one's a winner.