Eli Young Band
Thirsty Melon Six Flags Kentucky Kingdom Music Festival & Conference June 26, 2005
Nearly five years ago, four young men attending the University of North Texas in Denton, Tex. joined musical forces to form the Eli Young Band. A cross between the hometown rock and roll of John Mellencamp and the rockin' country of Keith Urban, EYB's alternative country sound is best summed up within the lyrics of its self-penned debut radio single, "Small Town Kid"-"driven by rock music and some honky-tonk in the mix." Throughout its short career, the band has evolved into a slick, polished group, relying heavily on its tight guitar licks, as was evident during its June 26 performance at the Thirsty Melon Six Flags Kentucky Kingdom Music Festival & Conference.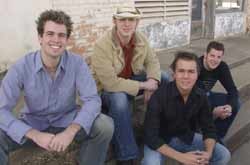 EYB's 30-minute set consisted of nearly its entire debut disc on Carnival Records, Level. In addition to its debut single, the band offered impressive originals "So Close Now," "The Girl in Red," and "I Call the Tune." Other memorable originals included "When It Rains," the band's latest single for which fans can catch its video on Country Music Television's New Voices No Cover and its upcoming new radio single, "That's the Way."
The Eli Young Band has been a local sensation around the members' home state of Texas and its popularity is on the verge of taking the entire nation by storm. It's in the cards for these four musicians to break the "Small Town Kid" mold and emerge as a national act with all of Texas singing its praises and pushing it into the forefront of the musical scene. Keep your eyes and ears peeled for The Eli Young Band.