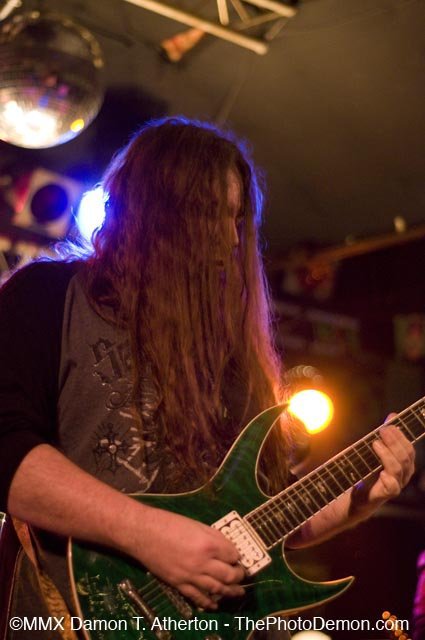 News From the Pit
One more month! One more month!
In one more month I'm hittin' the road on one o my infamous wilderness treks.
I've been lucky enough to see some seriously cool sights, last summer I went swimming with man - eating sharks and giant barracudas on an Island reef, this time I'm heading back out to California, Yosemite and Sequoia National Forest, for some killer hiking and rock climbing.
I'll be sure to bring back a few pics for you to see.
Sometimes I just got to get away. I constantly get stressed out about things and I find mountains or the ocean to be especially calming and relaxing.
Speaking of being stressed out, I'd like to thank everyone who has been supportive to me this last month or so, I was kinda bummed out already even before the "Eddycott" thing started, but then you people showed me it don't mean a thing. I got many nice phone calls and I want you to know it really means a lot to me.
In fact, I have gotten so many more calls from new bands wanting to play that I almost can't keep track of them! So thanks. YOU are what keeps me in this business when the weasels, whiners, anonymous cowards and troublemakers come to call every now and then.
I have recently learned that I am not the only one to be targeted in this town Friends of mine, including another local promoter and a well known (semi-) big time band manager have also been the target of anonymous slimeballs who get on websites and talk real big and tough. How tough is that? To insult someone on a computer board, anonymously? It's chickenchit. If you have something to say, say it to the person, in person.
Now on to the good stuff -
Kosair Agrees - It's on!
The Kosair Children's Hospital has agreed and given me the go-ahead to do the benefit I had in mind. The venue will be the Phoenix Hill Tavern and the date Friday, October 14.
Here are a few of the ideas I have concerning this event. The total amount earned that night will be used to buy toys, bicycles, games, books, for the Kosair Children's Hospital Kids, that the bands will go buy and deliver themselves!
Admission will be $ 6, over a dozen bands will be playing and 100% of the door will go to the cause. This is very good of the PHT to want to help the kids.
Thanks Ben, Courtland and Kim! 100% of the door is very generous.
The money will be made out in a check or money order and the check will be printed in LMN for all to see, so that you bands know where all the money is going and how much.
Kosair informed me the need is much greater around Christmas, so October works out nicely and gives me time to get stuff together. SPONSORS. We need Sponsors!
Any business and sponsor who puts up money for this cause will be included in The Goodwill List, which is a list of good people/individuals/bands/companies who have helped the Kosair Kidz Benefit cause. If any of you have any cool ideas or suggestions, things are still in the works, so give me a holler and maybe we can work it out. I was thinking maybe have some crazy contests or something cool like that?
Here's how to reach me: Eddymetal1@aol.com
The Metal Grapevine
GWAR Is Upon Us! On Thursday, August 4, what is possibly the world's weirdest and grossest band, GWAR, comes to Louisville for a certain-to-be-memorable show at Headliners.
Be warned. What you may see at this show will probably shock you!
And if it doesn't? You are a freak!
Giant monster penises shooting slime thirty feet, females slinging soiled tampons as if they were a Chinese martial arts weapon and assorted costumes and outfits of repulsion.
Oh yeah, and some decent heavy metal music too. Songs titles like "Meat Sandwich" and "Scumdogs Of The Universe" let you know that not all things should be taken seriously; have a little fun, be goofy, be weird.
Also appearing that night will be special guests Suplecs, Autumn Offering and Legbone.
I must confess that I have never seen GWAR. I might actually go and sit back, waaaaay back and watch the show. I don't wanna get hit with some kind of nasty slimy projectile or crusty tampons, or a chunk of raw beef. Metal? Yes. Getting hit with gross things? No.
Knowing my luck, a hunk of funky liver would land in my frosty beverage.
Get Out Of Your AC And See A Show:
7DaySun "A New Beginning": The band 7daysun has a new CD out, A New Beginning, produced by Bobby Burns of Soulfly/Primer 55
Upon first viewing the CD packaging, I was immediately impressed. Very cool. Then the opening riff hit me. It was a real hooky, heavy riff. I was instantly into the music.
Trey Landrum's vocals really sound great on the CD, especially on the second track, "Under My Skin," in which he moves about his wide vocal ranges with an intensity that can't be denied. Very fine professional songwriting. Very professional package in all. There are heavy parts, melodic slow parts in which there is lots of actual singing and other weird yet cool parts you wouldn't expect in A New Beginning. You can now find it at Ear X-tacy, or CD Warehouse, or online at www.familyforliferecords.com.
I highly recommend this band to you people. They rock.
Bobaflex's New CD and Gigantour: Tuesday August 23 is when the new CD, Apologize For Nothing, will hit stores across the nation. Fans can listen to listen to three tracks from the upcoming record on their website at www.bobaflexwarriors.com. Click on "myspace."
The band kicks off a major summer tour as part of "Gigantour." brainchild of Dave Mustaine (Megadeth!) featuring Megadeth; Dream Theatre (guitar demon!); Fear Factory (Yes!); Nevermore (double Yes!); Dillinger Escape Plan; Anthrax (killer!); Life of Agony; Dry Kill Logic and Symphony X. "Gigantour" runs from July 21 to September 11.
From then on, it's off to Europe to support the CD. Congrats and good luck guys! Party in Amsterdam for me!
Antikythera Rocks! There are times when I think the radio is sooooo lame, that I quit listening for long periods of time. This is a band to go see when you feel like that. Pummeling heaviness. Untrendy. A European metal-ish sound kicking forth from the Antikythera guys. I recently saw them for the first time and I was rocking out, bigtime.
Muy impresionante. It's great to see guitarist Tim Flaherty playing the brutal stuff from the Shattered Reality days again. I must say, he looked pretty darn happy to be pummeling people. Be sure to check out this different metal band. These guys smoke!
P.S If you like Creed, don't come see this band.
Odesa Is Back! Kentucky dirt-rock, heavier than a overloaded cement truck: Odesa is back. Vocalist Victor Hillerich, formerly of My Own Victim, has rejoined Odesa, along with the newest member of the band, Jason Williams, who was formerly a guitarist with Luther. (Eddy: one of my fave local bands) . Odesa just released a brand-new, four-song demo entitled the backwoods gospel. They are finishing up on their full-length CD, to be released sometime this winter. You can hear the four-song demo at www.odesacjb.net.
Odesa's sound is a mix of Danzig, c.o.c., Down, Skynyrd, Clutch, the Allman Brothers band and the mighty Black Sabbath. Upcoming Odesa shows: Saturday, August 13, at Pappy's Pub on Old Third Street Road, with Muleface from Tennessee, Pick Up The Snake from Tennessee and Louisville's Antikythera. Showtime is 10 p.m.
New Band Alert - Stonecutters: Brian Omer, formerly of My Own Victim, on guitar AND vocals and Cliff "Dreadlox" Whitehead, formerly of Kallus, have a new band out that I've been wanting to see, that I'm betting is pretty good. Stonecutters is now currently playing out and I'm hoping to catch them out real soon. There's some talent in this band and I'm interested to hear what Omer sounds like on vocals.
Month Of Sundaze Back Together Again: After years of jamming together the guys can't seem to let go, but - that's a good thing. Look for them real soon at the local clubs and taverns near you! The Dirty South has arisen once again!
Ex-Flaw Guitarist's New Band: Big Jimbo McCubbins and Lance Arny, former guitarist of Flaw, have joined forces in a new project as yet unnamed. I've heard Jimbo's newer music and it's very good, melodic and catchy, in the vein of Tool, Deftones and A Perfect Circle.
We all know Arny can definitely jam, as he has for years. Bassist Mike Ramsy and drummer Damon Breck will be the bottom end demons. I'll keep you all informed on their progress.
After The Fall Looking For Singer: After a long - and as yet unsuccessful - search for a vocalist, the guys in ATF will simply not give up. I hear they've auditioned close to fifteen, but none have fit the bill just yet. They're picky bastages. I like that.
It's the "Either you do it right or not at all" theory. So any no-nonsense, good vocalist out there looking for a new band that's already ready to go, give Justin and ATF a call at 767-2472. And hurry the farg up! These guys are dying to jam!
New Guitarist For Incursion: Ex-Flaw guitarist Jay Daunt has officially joined Incursion502 as the second guitarist. Guitarist Eric Angelinni is no longer with the band.
MSD Newz: MSD wanted me to let you peeps know that they are taking a small break writing and recording new songs that should be out in a few months. So fret not, oh ye freaks, because MSD will be back with a vengeance.
False's New Drummer: False has finally found a drummer. His name is Jason Hensley and he used to play with Inmate 42. The band seems pretty happy with the results. I'm betting we will be seeing them playing out real soon.
Brutal metal anyone?
Potential New Venue Alert: The word is out, J.P's, a bar on Outer Loop at "old" Shepherdsville Road, is looking for bands to play the club. The door is wide open and the owner seems to be a cool dude who is into supporting local music.
If interested, contact Paulmaura442@hotmail.com, or call 966-8223 and tell him you want a shot.
Artificial Zero Looking For Singer: The band Artificial Zero is looking for a singer, preferably female; however they are open to a male singer if his voice fits the music. Email them at: artificialzero@yahoo.com or AIM: DJArtofZero. Samples on the website: www.artificialzero.com.
Retarded Thieves: Someone stole a drum monitor from the PHT on the weekend of June 2 - 5. But the unlucky thief or thieves, who smoothly picked up a drum monitor and walked out with it - that one doesn't work.
If there's one thing I truly hate in this world, it's a thief. I have a suspicion, but no actual proof. If you know something, please be a good person and return the property to the owner.
Anyone who has any information on this missing item, could you please let me, or Kim from the PHT, know. Chances are there will be a reward or hook-up of some kind.
Thanks.
Upcoming Shows
Bluegrass Tavern
Friday and Saturday, August 5 and 6: XS (a newer cover band that plays 80's metal and thrash) .
Bulldog Cafe
Friday, August 12:: "Invasion of Rock" with Surviving Thalia, At All Cost, Look What I Did, Lao (Cali) , Born Empty (TN) and Eulogy Of A Traitor. 7 p.m. $ 7
Friday, August 26 7DaySun, Inner Blue, Caldera and Evil Engine # 9.
Chugs
Saturday, August 20: XS
Pappys
Saturday, August 13: Antikythera, Odesa, Pick Up The Snake and Muleface.
Phoenix Hill Tavern
The Original Rock Showcase Series, on the first Friday of every month in the Roof Garden.
Friday, August 5 "PHT 29th Birthday, Bash!" with Puc, Too Far Gone, Twenty Six Stories and Slokill. 9 p.m.
Friday, September 2 the return of E-Flat, Month of Sundaze, Ugly, Caldera and Shatterstone. 8 p.m.
Third Base
Friday, August 26 and Saturday, August 27: XS.
Outtatownerz and Otherz
Saturday, August 6 at The Glasgow Parish Center with 7Day,Sun, Pylot, Deadsun, Six Pounder and Return To Self. Bowling Green, KY
Saturday, September 3 - "Corn Fest" at the "Field of Screams," with Antikythera and others. 7 p.m. 132 Darnall Ave (1 mile past the Otter Creek Park Entrance) , Brandenburg, KY 40108 All ages, with bands to be announced.
Saturday, September 3 - Fort Knox Kentucky Outdoor Festival with special guests Ugly. 4 p.m.
Props Of The Month
This month's props go out to local and regional talent buyer Kim Donze, 29, of the Phoenix Hill Tavern, who has been doing a great job lately promoting and helping our Louisville's original music scene. Since October 2004, she has kicked it into high gear and has helped many bands, doing a great job of being fair, non-discriminatory and an all-around great and trustworthy person to work with.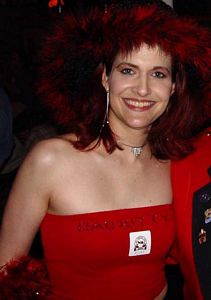 Photo By Eddy Metal
She has been a big help in getting this PHT Kosair Kidz Benefit show on October 14 going. She has even helped out of town original bands, too, and has passed on info to me about bands I haven't heard of. She is doing an "Audition Night" for the Hill on Thursday nights, during which three bans get the chance to strut their stuff in sixty minute sets each. If the band does well, then they got the hook-up going. All music genres may apply, except country and Norwegian yodeling.
So all you bands ready to give it a shot, give Kim a shout. Kim@phoenixhill.com