I've Got A Mind To Ramble
Handy Blues - 2005
Henderson, Kentucky is where Mary Ann Fisher was born and is now buried. The first order of business when I arrived for the W.C. Handy Blues & Barbecue Festival was to pay tribute to this great lady of the blues. She was interred at the Fernwood Cemetery out the south side of town. The simple but elegant red granite headstone placed by her son Tracy has her name and dates (February 12, 1923/March 12, 2004). May she rest in peace and in our hearts.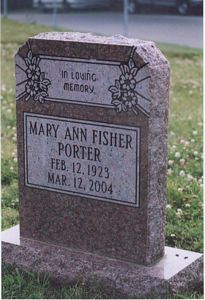 Photo By Keith Clements
The W.C. Handy Blues & Barbecue Festival has a fifteen-year-long history and continues to be strong, with community and business support. Several local companies assist by sponsoring different acts. On Friday, June 17, Western Kentucky Energy sponsored James Harman and LG&E. Harman lit up Audubon Mill Park just as the sun was setting across the Ohio River. Harman, nicknamed "The Icepick," has had a career in music spanning over four decades and twenty-nine recordings. His most recent release, "Lonesome Moon Trance," shows him on the cover dressed as a shaman in front of a full yellow moon. He has definitely become the wizard of the harmonica with his long white beard that's knotted at the bottom, but don't let his appearance deceive you, for his energetic performance was filled with wit and ironies of life as he sang "Helsinki Laundromat Girl."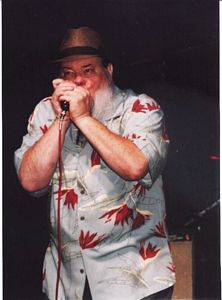 Photo By Keith Clements
Harman has been active in the Southern California scene since 1970 and his Southern blues roots have been strongly influenced by the jump swing tradition of the West Coast. Harman is an original, creating his own identity but still staying true to the blues. Harman has the right to sing the blues, as his residence was broken into a year ago and several vintage guitars and his extensive record collection were stolen. His website www.jamesharman.com makes a plea for fans to be on the lookout for these personal valuable items. He will be returning to our area again on Saturday, August 20, when he and special guest, Junior Watson, will be the headliner at the Ribberfest in Madison, IN.
P.S. Get Well Soon Sam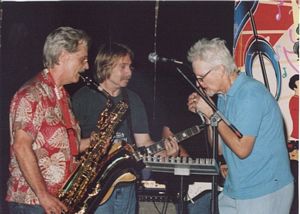 Photo By Keith Clements
As a postscript to the benefit for Sam Myers held at Stevie Ray's on June 26, over $2000 was raised, according to Lamont Gillispie, who organized the event. Lamont and his bass player, Byron Davies, drove to Dallas over the 4th of July weekend to personally present the money to Sam. The large portrait of Sam painted by Jim Masterson was auctioned off for $500 following some intense bidding. The anonymous bidder requested that the picture remain at Stevie Ray's. During the benefit Lamont called Sam on a cell phone. Due to his recent treatment for throat cancer, Sam could not say much so Lamont held up the phone and the crowd shouted "GET WELL." The event was filled with good vibes with so many fans and musicians there for a good cause. The evening closed with Lamont and 100 Proof Blues Band sharing the stage with Greg Martin and Dave Witherspoon on guitars, Professor Bill Dean on keyboards and Mark Wright on baritone sax. What a dream band! The reunion of Lamont and Greg goes way back to when the Stray Cats used to play at Woody's Tavern. "Stop Breakin' Down" was ringing in my ears as I left and hoping that Sam can recover soon and be reunited with Anson Funderburgh and the Rockets.
Stompin' in the Vineyard
Kentucky is quickly getting a reputation for its wines as the grape vines replace the tobacco leaves as our new cash crop. Several regional vineyards have been showcasing dinner concerts on their grounds, providing an evening in the country to eat good food, taste native wines and enjoy local music under the stars. Last summer I wrote about the Patty Butcher concert at Equus Run Vineyards in Midway, Kentucky. The Smith-Berry Vineyards is in the third season of dinner concerts and on Saturday, July 9, Nick Stump and Friends took us back down home on the front porch. As you turn off Rt. 202 near New Castle, you drive up to some rustic barns and a silo. One barn has been converted into an art gallery and the other barn was filled with people tasting wine and filling their plates with grilled chicken and pork, slaw, green beans and the sweetest corn on the cob I've ever tasted. On the open side of this barn facing the vineyards is a wooden platform that serves as the stage. A casual cluster of folding chairs with satisfied people camped out around the stage. The kids soon ran off into the fields to climb up on the tightly bound bales of hay. This idyllic pastoral backdrop of arbors and rolling wooded hills stretched out over Henry County as far as you could see.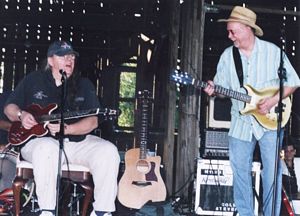 Photo By Keith Clements
Despite a hiatus of nine years since performing with the Metropolitan Blues All*Stars, Nick showed he is not ready to go out to pasture, as he came to play his guitar and sing with his friends. Two of his buddies were fellow musicians form the original Metropolitan Blues All*Stars, David White on drums and bassist Ricky Baldwin. To firmly anchor the band, Cole Prior Stevens added his vocals and guitar. The first set opened with Nick's version of "Call My Job," which was in tribute to the late Son Seals when the MetroBlues All*Stars performed with him on "Mountain Stage." On the fret board of Nick's red guitar, "All American Original" is inscribed, which is appropriate for the Vietnam veteran from Hazard, KY. Nick's take on the blues is very personal and original, putting his own stamp(er) on his songs. "Chicken A La Blues" was served up in Nick's twangy voice with tongue in cheek humor. The double entendre of "Jelly Roll Baker" had Nick prescribing "It's good for the body. It's good for the soul."
As the mellow wine took hold of the crowd, the small makeshift dance floor to the side of the stage began to fill up with people shuffling to the rhythms. The low rays of the setting sun sent golden shafts of light through the open slats of the side of the weathered barn. As the day turned to night with a soft glow on the horizon, the white Christmas lights came on inside the barn, transforming it to a country juke joint. Nick reached back to his Metro Blues All*Stars days with "She's Good To Me" and the title track from one of their records "Hillbilly Nation." Cole took the lead on several of his original songs including "Ain't Nobody Love Me" and "Put The Shoe On The Other Foot" where he showed his mastery of the slide on his resonator guitar.
Nick developed a nice rapport with the appreciative audience with some folksy chatter between songs, but he had to watch his choice of words because his wife, Bonnie McCafferty, was sitting front and center and killer bees do sting. My only complaint was Nick was not miked properly, which did not do justice to his vocals. For those of you who missed this wonderful evening, you get another chance for Nick and his friends will be back at the Smith-Berry Winery on September 10. For more information call 1-888-845-7091.
Ricky Baldwin has been struggling with some major medical expenses from triple bypass surgery several years ago and an ongoing and rare form of MS that affects his vision. His partial blindness has made it hard for him to do the intricate work of caning chairs. Several friends and musicians are rallying for his cause with a benefit at 7:30 p.m., Thursday, August 4, at The Dame on Main Street in Lexington. Besides the Metropolitan Blues All*Stars, Gypsy Jazz, The Blue Dawg, The Swells and The Yonders will be participating. Benefits are one of the best ways blues fans can support the cause.