The Editor Recommends ... The Red Hot Poker Dots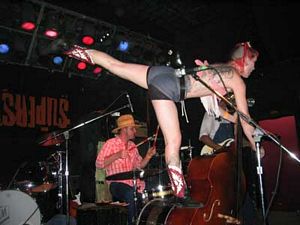 Back at the end of June, a friend and I went to Air Devils one Wednesday night, curious to see a band from Australia called the Red Hot Poker Dots.
I had heard about them from Nate Thumas, who books ADI, and I did my usual editor thing: off to the Internet and to their site at http://www.redhotpokerdots.com/. Yup, sure did put me in mind of Southern Culture on the Skids but that was okay, as I like S.C.O.T.S. a bunch. So off we went.
Wednesdays at ADI can be pretty quiet but this Wednesday was an exception. The room began to fill fairly quickly, with many musicians in the crowd. The band was running a little behind but got there before the `Old People Go Home' bell rang. While the guys set up gear, bassist Lil' O'Dette worked the crowd.
The tiny O'Dette has extensive tattooing on her back, which she shows off with a scanty little top, and on her legs, where they peek out from the tops of her red-and-white cowboy boots. In a classically Aussie accent, she allowed as to how for her and the band, it's been four solid years of summer - they tour `Down Under' when it's winter months up north and come north of the equator during the spring and summer here.
The members of RHPD all have stage names, including O'Dette, who 'handles' the bass; Ray Dee Ator, who's the front man, vocalist and guitarist; Blind Dawg Walker on drums and Billy Bob Roobarb, left-handed multi-instrumentalist who handles all the lead licks on mandolin and resonator guitar.
But S.C.O.T.S. clones they're most definitely not. Rather, imagine Patsy Montana ran away with rockabilly artist Ursel Hickey (the model for Guitar Emporium's logo) and they produced a family band that grew up listening to rock `n' roll and shearing sheep. Plus, they must have spent lots of Dream Time with the aborigines.
So they utterly brought down the house at ADI that night. Impressed the musicians in the room no end: a couple of guys from the Shinerunners were there and they alternated sitting with their mouths hanging open with whooping at the top of their lungs. Clearly, they had never seen anything like it. Their finale is a terrific showstopper.
Nate Thumas explained it "These folks are specialists." Correct, and they're dedicated to entertaining their audiences first and foremost.
Therefore, the editor very heartily recommends that you make a point of being at the Comedy Caravan on August 8, when Red Hot Poker Dots swing back through town. Bring two or three or more friends, particularly friends who think they've seen and heard it all when it comes to music. Trust me on this: you will not be disappointed. Here's a bit of video from the Air Devils show: (Requires RealMedia player) Pony Pot Pie