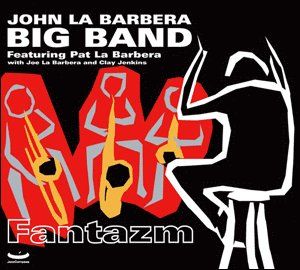 Fantazm Jazz Compass JC 1011 (2005)
John La Barbera Big Band
By Martin Z. Kasdan, Jr.
When a locally based artist records on the West Coast and is nominated for a Grammy, the distinction between "local" and "national" tends to crumble. The new John La Barbera Big Band album, Fantazm, is a worthy successor to the Grammy-nominated On the Wild Side. The core personnel is the same, featuring John's talented brothers Pat on saxophones and Joe on drums. They are joined by fellow Joe LaBarbera Quintet members Bill Cunliffe on piano and Hammond B3 Organ, Tom Warrington on bass and Clay Jenkins on trumpet. There are six reed players, four trumpeters and five trombonists, plus percussionist Scott Breadman and, on two cuts, guitarist Larry Koonse. As on John La Barbera's first album, there is a sense throughout that the big band is a vehicle to add color and, at times, power to the quintet, rather than existing as a means for showing off the leader's undisputed arranging skills. Stated differently, this recording is about the music and the arrangements serve the music rather than the other way around.
Of the eight selections on Fantazm, three are originals and the others represent a cross section of writing talent ranging from Duke Ellington (composer of the title song) , to John's saxophonist brother, Pat ("Yours Or Mine Or Blues") to the team of David Raksin and Johnny Mercer ("My Love and I" [Love Theme from Apache]). The album opens with Woody Shaw's "Moontrane," a composition I first heard on Larry Young's Unity album some 35 years ago and it is intriguing to hear how Young's organ lines are carried by the big band. Cunliffe switches from piano to organ for the next song, "Pythodd Fellows," which has a swinging feel reminiscent of some of Jimmy Smith's recordings with Oliver Nelson back in the `60s. "Over F," another original, utilizes percussion and traps to convey the sensuous buoyancy of Carnival in Brazil. "My Love and I" is a showcase for Pat's warm and romantic tenor.
Louisville audiences were treated to "sneak previews" of the next two songs, John's "Zin Zak" and Pat's "Yours Or Mine Or Blues" when they were performed by the University of Louisville's Jazz Ensemble I at the University's 2005 Jazz Week back in February. As performed on the CD, the band swings its collective tail off on "Yours or Mine or Blues," while playing with delicacy and restraint on "Zin Zak." This latter song, a waltz with an attitude, is dedicated to John's friend and attorney, Joseph Zynczak, who passed away in June of 2004. The title piece, "Fantazm," comes across as a sophisticated cousin to the better-known "Caravan," with exotic horn lines and Joe playing primarily on the tom toms during several segments, augmented by the colorful percussion of Scott Breadman. The closing piece, "Kyrie," utilizes a funk backbeat and is a showcase for the trumpet section and especially soloist Wayne Bergeron.
Throughout this recording, as on his previous CD, John La Barbera exhibits a combination of skill and taste. Where some arrangers seem to try to show off all their abilities by throwing all the tricks in the book at the listener, La Barbera seems to be more concerned with allowing the compositions to shine through. If there is justice in the music world, Fantazm should join its predecessor as a Grammy nominee and, just maybe, will grab the gold.