News From the Pit
Whoa. This past Halloween was a blast. I hope all of you had as good a time as I had. I was a judge at the Phoenix Hill's Halloween Costume Bash and it was a riot. The Hill put me in charge of finding some cool judges with character, for which I think I did an excellent job.
I invited Mudd from 93.1 the Fox and hot model/rocker Brittany Jade to do the honor. With a packed house, Louisvillemojo there, with tons of mojo people in attendance, Scott Clark hosting and Mudd, Britt and Myself judging the event, I just knew it was going to be a wild night. Boy, was I right.
Together we had a hell of a time that I won't soon forget. Judging that contest was kinda hard, with so many killer costumes to choose from and all. From the ten-foot-tall Bat Creature, to Yoda in a box, Predator, the Grim Reaper, the six-foot-tall penis with feet, Captain Jack Sparrow, the White Fairy in a thong (no - not a guy) and the lucky winner of the event, Willy Wonka, who pocketed $5k. That night should go down in history as one partying mofo of an event!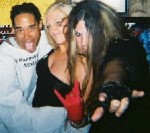 Photo By N/A
The last few months, I've been going out to lots of shows, mingling quite a bit more and being a bit naughty, if I do say so myself. I've had an absolute blast hangin' out with friends at shows and such. Maybe being single isn't so bad after all. But now it's almost Christmastime already! I'm trippin'. Time really flies when you are having fun. I find it hard to believe I will be turning thirty-six on Christmas Day. I don't feel thirty-six. In fact I feel like a young stallion on ecstasy! GRRRRR. Just kidding. Maybe more like a crusty old dude needing a crate of Viagra!
Band Props Of The Year:
Jokes aside, I'd like to give props to several bands that have done especially well this year. Kind of an end-of-year Top 10, if you will. Not in any order will these be listed, so keep your pieholes shut.
1. Five.Bolt.Main: Wow, how can anyone deny these guys mucho credit? Losing two-thirds of the band and still touring two days later? I'm impressed.
2. Intheclear: A true musical powerhouse indeed, one of my faves.
3. Evil Engine # 9: for longevity and most improved. Cory has become a great frontman.
4. Incursion502: for longevity, sheer heaviness and never selling out.
5. Wasted Days: Just a great year for these guys. They put out a darn good CD.
6. Ugly: Great fun, great music. Originality. Unreal musicians!
7. Eclectic: for doing so well in and out of town as well with their original acoustic rock jams.
8. Dead City Rejects: I have heard enough to know when to show credit where it's due regardless of my familiarities with their music.
9. A tie between Breckinridge and Seven: Rahul, from Breckinridge, has a new project that's done rather well. I like it much better than Breckinridge. More energy and a bit darker.
10. The tenth band is a tie between Surviving Thalia and Antikythera. Both have created an equal buzz amongst the metalhead scene in Louisville.
So congrats to those listed above, for having a great year in the Louisville rock/metal scene. Honorable mentions also go out to E-Flat, False, Slokill, Shatterstone, Inner Blue and Echos Aim.
And A REMINDER: don't forget to come to the first ever Louisville Music News "News From The Pit" GATHERING on Friday, January 6 at the Phoenix Hill Tavern. It's a metal musician/reader appreciation party for those who read the column I write. Here are some of the bands confirmed that night. Antikythera, Surviving Thalia, Evil Engine #9, Into Another, Descention and Slokill.
This column has been around constantly supporting this rock/metal scene for over eight years and it's about time we had an LMN "News from the Pit" party.
We are also going to have a guitar raffle, courtesy of Uncle Samm's Jamms, so bring an extra five dollars to buy a chance to win a Schecter electric guitar! I want to see all of you supporters of Louisville music out there mingling and having fun. And be careful this New Year's Eve when you are out partying and drinking: don't drive.
Don't end up like me many years ago, pulled over for driving the wrong way down a one-way street leaving the Toy Tiger to go to White Castle! Immediately scared, my mind knew exactly what I was going to say to the approaching policeman. Yet my drunken body would not hear of it.
What actually came out was "helloooooo ooosssifer." I went to jail. So don't do it!
On behalf of LMN, I personally wish all of you freaks, friends, scrubs, rockers, fans, fiends, bands, families, hot babes, and all you people associated with our music scene A Merry "fargin" Christmas and a somewhat semi-conscious New Year!
May the year 2006 be even better.
The Metal Grapevine
Lame - O: Here is some unpleasantness I must get off my chest. There are two singers, one in a commercialized rock band and the other in a metal band, in this scene who have been acting like their poo-poo don't stink and that they are God's gift to the world, even annoying and angering people who have supported and even worked for them, helping as much as possible. Several people have told me this and I have noticed this as well. Therefore, Mr. Metal will lay it on the line, as someone needs to.
Look, chumps. Quit acting like you are the shiznit because you have a good following here in Louisville. Your actions, arrogance and egos are angering the people who have supported you. Question? Yeah you have done well in Louisville, but what other accomplishments outside of this small town have you achieved? Do you have a major label record deal? Are you a nationally touring entity? Are you listed in rock/metal music magazines nationwide? NO.
In the grand scheme of things, your arrogance and attitude is quite unwarranted. All you are doing is making people, including your own fans and street teams, dislike you. I know because they told me. So do us all a favor, quit being a punk-a** little egomaniac and concentrate on your music, instead of being an arrogant d**k. The scene obviously likes your music , but your actions are starting to ruin it, so you might want to try looking up the word HUMBLE in the dictionary.
You have a good thing going that could possibly turn into something even better, but don't count your chickens long before they hatch, okay? Peace.
Mudd's Invitation: 93.1 the Fox's "Louisville Rocks" host Mudd has asked me to be a part of his radio show that's dedicated to supporting music. A Louisville Music News segment. He asked me to provide news, show dates, gossip and my usual ranting and raving about many topics in this music scene.
I have decided to take up Mudd on his offer, because I know Mudd is an easy guy to get along with and has respect, appreciation and courtesy towards his co-workers, so be on the lookout for "News From The Pit" on 93.1 the Fox's Louisville music radio show "Louisville Rocks," on Sundays at 7 p.m.
I will likely do my segments once every two weeks.
Def Leppard/Cheap Trick Review: This was one killer evening for me. Events before, during and after the show made for a very memorable affair.
First off was late Seventies old-school rockers Cheap Trick, who put on a darn good show. I like Cheap Trick, so it was cool to me. My older sister Doreen used to torture me for months with The Dream Police record. I hated it then, but now it's pretty cool.
They started off with the acoustic strummer "If You Want My Love You Got It," then the very popular rock ballad "I Want You To Want Me," then the theme song from That 70's show called "In The Street", the powerful anthem "Surrender" in which checker-loving guitarist Rick Neilson broke out his five-neck guitar and was wailing. And probably my fave part of their set, they played The Dream Police, complete with police lights and all. It sounded great. My date and I were rockin.' They closed out the night with "Hello There," a song featured in the Seventies teenage drug film "Over The Edge" which featured Matt Dillon. It's the equivalent to Ice Cube's hit movie "Friday," only darker and more real.
Then it was time for Def Leppard, a band I had never seen.
Stagewise, It was pretty basic. Nothing extravagant, just large screens showing close-ups of the band. Musically, I was very impressed. The band was in fine form instrumentally and vocally. Killer soulful guitar playing by Def Lep guitarist Phil Collen.
They played "Foolin,'" which sounded excellent; "Hysteria," in which they deployed the British Union Jack flag; "Love Bites" which was an absolute killer ballad live; "Rocket," which had a bit too much echo on Joe Elliott's voice for our tastes. "Photograph" was definitely rocking bigtime. "Rock of Ages" was also good, as were the last two songs, "Bring On The Heartbreak" and "Pour Some Sugar On Me," which I consider rather lame.
The dueling guitar solos were very cool. Very nice guitar tones, for sure. Some very sweet lead guitar playing. Great musicianship all around.
My only complaint is that the drums sounded a bit thin and somewhat fake on some of the songs, and they didn't play "Too Late For Love," which bummed me out a bit. Vocalist Joe Elliot was indeed a great singer and passionately tries to give the fans their money's worth by putting forth much effort into his live performance.
Aside from the buttcrack incident, about which I shall not elaborate, and my date spilling beer on my gonads, I had a great time and was glad I attended such a cool show. It seemed everyone was happy that night. I like Louisville Gardens a lot.
Thanks to 93.1 and Scott Clark for taking care of us here at LMN, so I can properly give you freaks the lowdown on these shows firsthand.
Hatebreed Show: I like Hatebreed, but the way they dissed the LMN interview we had planned was pretty uncool. Therefore, the whole day started bad LMN-wise. Then I learned that the show was starting very early because the owner of The Gate wanted an early wrap-up so they could have salsa dancing after midnight. You can't blame the guy for wanting to make as much cash as possible, but it hampered the musical part of the evening. Several people were upset. After seeing all the hard work I did preparing for the interview going down the drain, waiting outside for the interview to happen, which never did and hearing people constantly complaining about the venue closing extra early, I had had enough.
After a few crushing Hatebreed songs, I decided to leave early and find somewhere else to party. I didn't want to see the part where the aggravated hardcore fans meet the swinging Latin salsa dancers arriving for the fiesta. For the record, it was a good show and the openers, Full Blown Chaos and Most Precious Blood, were very good as well. I'd say there were 150 hardcore kids there in attendance.
Surviving Thalia's New CD: On December 11 at Headliners Music Hall, the band will be putting out a new thirteen-song CD entitled Welcome to our America. These guys are killer metal musicians and they've worked on this CD for nearly a year, so definitely check out this show. Also Performing will be Descention; Fallen Oddity; Disco; Buried But Breathing and Caldera. I'm sure I'll be there.
Reminder - You get a copy of Welcome to our America with the $12 admission to the show.
False Back To Business: Old-school thrash heavyweight False has returned with a vengeance and they want your blood. After a bit of a hiatus, the guys are back to terrorize you some more with punishing riffs of musical violence. Sources say they are absolutely rippin' it up better than ever.
I always liked False. Nice guys and firm supporters of the real metal cause. Go see the new False! Welcome back, you evil fargers! I'm looking forward to seeing you guys soon!
New Venue Alert: I was recently contacted by Todd Sowders and Eric Rakutt, the owners of Saint Andrews Pub, who asked that I let all of you know there's going to be another place that welcomes metal shows, which is always good news to hear. It's ON! St Andrews Pub is located at 7807 St Andrews Church Road. Their number is 935-9265. Their email is Ultraman717@yahoo.com.
There it is, yos. I've hooked you bands up once again. Give Todd and Eric a holler. They sound like some cool mofos.
Red Cheetah Having Metal Shows? I can hardly believe this. This is the 4th Street Live! venue that would not let me in because I had a regular Arizona t-shirt on! And now they are having very heavy bands play there? Weird. Not that I'm complaining, but how is this exactly going to work? All metal bands must wear button-up shirts, slacks and a tie onstage while playing Slayer?
How will the yuppies react to brutal metal, Louisville style? Will the security be A-holes to the metal fans, as they were to me, leaving me unable to meet my hot date waiting inside?
I was clawing at the window. going "Nooooooooooooo!" I had my arms outstretched. yelling as security carried me away. Okay, I'm exaggerating. Maybe a little. We shall find out very soon HOW this works out, my friends.
Institution To Release CD: Rap rockers Institution are putting on a killer show at Headliners on December 18 to debut the release of their brand-new, eleven-song CD. Guests on the bill include Buried But Breathing, Descention, Halfway Hollow and Not Quite Superheroes.
Never To Release Full-Length CD: The band Never is hard at work putting finishing touches on their upcoming self-produced ten-song CD entitled Out of Control. Look for it to be available in about a month or two.
Never The Man Returns: The band Never The Man is back after a hiatus and with a new bassist, Juan Chavolla, formerly of the band Fail To Falter. Look for them out very soon. If you haven't seen them, be sure to, they are a terrific band. They get the metal seal of approval.
Caldera Set To Record in January: New brutal metal merchants Caldera are getting ready to record their debut demo at Canyon Studios in January, so look for the release in February or so. It should be a good `un.
Dying Kind to Debut on December 10: Brand-new and supposedly brutal Louisville metal act Dying Kind will be debuting on December 10 at the Bulldog Cafe. Be there to see Scott Cox (from Factor 9's) new project.
From Within Changes Name: The talented band of youngsters in the band From Within, have officially changed their name to Looking North.
New Band Alert: Top Dead Center: I caught this brand-new metal act at the Rustic Frog on November 11 and here's what I think: they are a decent young band, doing their own thing without a care in the world, which is cool. There were some things I did not care for. The vocals were okay, but the vocalist plays bass and sings, which sometimes can be very difficult. The fifteen-minute guitar solo with feedback galore, which was most of the solo, was maximum overkill and the whole Zack Wylde "national anthem" shtick was a bit too much. Dawg even had the chain link guitar strap and Zack Wylde signature Les Paul Epiphone copy! The music wasn't bad, they just need to tighten up a bit, lose the excess feedback and ditch the ultra-long feedback solos, and I think they will do just fine. Some of their guitar rhythms were pretty darn good and I liked the guitar tones from their amps. Chunky and heavy. No wimpy doo-doo. They reminded me a bit of a Pantera/Damageplan type rhythm guitar sound. Regardless of my opinions, I wish Top Dead Center a hearty welcome to this metal scene.
The Coming Time of Disruption: Disruption is a brand new band made up of a few members of the bands Mindstorm and 86. The music is supposedly pretty heavy and definitely metal! Look for them in a month or two. Meanwhile, check them out at www.myspace.com/disruption01
Want a Live DVD of your Band? Most everyone knows Tom Kent of DC Productions. He's a sound and lights guy who has been around for many years doing a great service to rockers in this town. Anyways, Tom has a new idea that may interest some of you Louisville bands out there in the `Ville. Tom's got some seriously good recording equipment for recording bands live in action, to where even the sound is excellent as the picture. He runs through the board I'm pretty sure.
He's got killer equipment and serious editing devices that remove all the unwanted noise. I've heard from others it's out of this world! A Digital DVD of your band. That rules.
I'm not sure of the prices just yet, but since this idea is new and he wants to get the word out, you bands can probably get a good deal , if you act soon. Contact Tom Kent at 550-3453.
Upcoming Shows
The Bulldog Cafe
Friday, December 2 - Descention.
Saturday, December 3 - Incursion502, False and Straight Line Stitch.
Friday, December 9 - Arcane Saint, 7day sun, Caldera and Milkweed.
Saturday, December 10 - The debut of Dying Kind with Inner Blue, Eulogy Of A Traitor, In My Time Of Dying (from Georgia) and DeadSun.
Thursday, December 15 - Descention and Look What I Did.
Friday, December 16 - Trenchfoot and Descention.
Friday, December 30 - Coldshovel, Maltese Cross, Shiva and two others TBA.
Saturday, December 31 - Descention, Looking North (formerly From Within), N-cision and Surviving Thalia.
Saturday, January 3 - Empyrean Asunder, Absence Of Faith, Gravitybomb and Grotesque Burlesque.
The Gate
Sunday, December 11 - Evil Engine # 9 and 30 Seconds To Mars. Admission is $1.05 a NEW toy for needy children.
Headliners
Sunday, December 11 - Surviving Thalia Welcome to my America CD release show with Buried But Breathing, Caldera, Fallen Oddity, Disco and Descention. Free copy of Welcome to my America with paid admission!
Sunday, December 18 - Institution CD Release show with guests Descention, Halfway Hollow, Buried But Breathing and Not Quite Superheroes.
Monday, December 19 - False, Incursion, Tears to Glory, My Finest Hour, Grin Devil Grin and The Conquest.
Tuesday, December 20 - False Witness, Hardlein, Ariszen Enemy, Kinsey, The Rodeo and The Zoo.
Friday, December 30 - Emanuel, The Blast, Your Highness and The Rescue Effort.
Main Street Lounge
Friday, December 30 - Empyrean Asunder.
Phoenix Hill Tavern
The Original Rock Showcase series. On the first Friday of every month.
Friday, December 2 - Seven, Cricket, Sixth Floor and Puc.
Friday, January 6 - The first-ever LMN "News From The Pit" Gathering featuring Evil Engine #9, Antikythera, Surviving Thalia, Into Another, Descention and Slokill. 8 p.m. Guitar raffle!
Props Of The Year!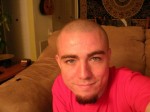 Terry Harper has done some seriously good deeds for this rock/heavy metal scene by bringing in dozens of national touring bands, including Machinehead, Hatebreed, Kittie, Krokus, Ill Nino, Black Crowes, Gwar, Modest Mouse, Atreyu, Strapping Young Lad, Drowning Pool, Saliva, Sevendust, Insane Clown Posse, The Used, Nonpoint, Twiztid, Chevelle, Superjoint Ritual, Fear Factory and Team Sleep, among others, that normally would not come through Louisville. Many heavier acts, too. So as we wrap up the year 2005, I say thumbs up to Terry! For such a young guy (only 21), Terry has sure got it going on.
Promoters who book national shows tale greater risks than those who book local and regional bands. The national band gets a guarantee, no matter if only ten people show up. Huge losses can and are incurred, so you should support what Terry is doing by keeping these events going on strong. We need our national metal shows and Terry has kept that alive and kickin.' So show dawg some love next time you see him!