I've Got A Mind To Ramble
Regards to John Burgard
Local blues jams have come and gone. Recently, two jams have quietly disappeared from Louisville's music scene. In October Stevie Ray's cut back their schedule, closing their doors on Mondays and Tuesdays. Mondays were usually for national touring acts and Tuesdays were jam nights hosted by Mike Lynch, Reed Davis and Gene Wickliffe. Air Devil's Inn had hosted a blues jam every Sunday evening for a year but that jam also came to an end in October. The house band at ADI included Mike Elger (drums), Denny Thornberry (harp), Mike Lynch (bass) and guitarist, John Burgard.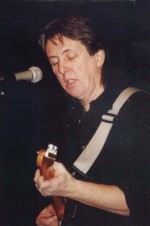 Photo By Keith Clements
A few of these musicians have moved on to the Longshot Tavern, 2232 Frankfort Ave. Every Tuesday evening, John Burgard, Mike Lynch, Andy Brown (drums) and Mike Hood (keyboards) crank up the music at 9:30 p.m. Mike Hood recently relocated back to Louisville from New Orleans, after being displaced by the hurricanes. He brings a distinct `Dr. John' backbeat feel to the band.
Currently, Tuesdays at the Longshot and Wednesdays at Lisa's Oak St. Lounge are the only two weekly blues jams. John Burgard said the procedure for the jams has remained the same, with guest musicians signing up as they arrive. The house band opens, doing about three songs and then invites other individuals or groups to come up to play. John said, "I like the simplicity of this format for it gets musicians who don't know each other a chance to play together."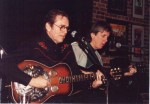 Photo By Keith Clements
Burgard's musical background goes back to the fifth and sixth grades, when he originally took piano lessons and learned to read music. He started playing guitar at thirteen. At Wagner High School, he met fellow musician Walter Lay, who was into folk blues, and who introduced John to the blues of Robert Johnson. The funky jazz of Wes Montgomery, Jimmy McGriff and Kenny Burrell that WLOU broadcast Sunday afternoon also influenced John. He had a chance to see Montgomery perform at the Arts In Louisville on Zane St., which later became a psychedelic nightclub and eventually burned down. John said, "At that time, jazz acts were much more accessible than blues." During his teens, John joined a rock/R&B band with Chris and Courtney Johns called Jonah and the Wailers. They got steady gigs playing dances at Catholic teen clubs, fraternity parties and literary societies, which, according to John, were actually drinking societies. The biggest thrill came when the band opened for the Rolling Stones at the Memorial Auditorium in the mid-Sixties. John remembered Keith Richards as being very polite but had a hard time understanding what he was saying with his thick British accent. After the Johns Brothers moved to Cleveland, the band continued for a short time before disbanding.
In the Wagner High School yearbook, the only extracurricular activity Burgard participated in was the Tenth Grade Choir. Following graduation, John attended Washington and Lee in Virginia for a year but found the environment too conservative. A year later, he went to Iowa to Parsons College until they lost their accreditation. [The school was later bought by the Beach Boys for a Hindu maharishi.] In 1967, John drifted further west to San Francisco for a couple of months, which he described as a "cultural event." When John returned to Louisville later that year, The Waters band, which included Ray Barrickman, was formed. Barrickman and Burgard co-wrote a local hit, "Day In And Out" that was released on the Delcrest label. The record sold well locally but they were contractually bound to pay the record company back a percentage of what they made at their performances and made no money. The Waters broke up in 1972. CoCo Morgen was formed the following year and lasted until 1977. The drummer was Roy Blumenfeld, who was from New York City and had played with the Blues Project. Mike Williams, who currently plays with Tim Krekel, was on bass. The other guitarist was Kim Ritchie, who later played with Another Mule and who now lives in Nashville. The band played regionally and nearly recorded.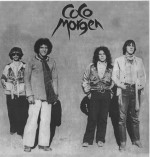 John married Susan Forrest and moved to Memphis in 1978 to create a five-piece regional band that changed names several times but was mostly known as Wake. They traveled throughout the South in a van, playing at redneck, dirt-floor roadhouses in Arkansas and avoiding fights with managers in Alabama. The band did rock, blues and originals with Susan singing and touring with Memphis-based musicians. When that adventure came to an end in 1984, John and Susan returned to Louisville, where John briefly joined the Hotheads. Soon, the Bluebirds were hatched, including Ricky Mason (guitar), Dickie Durlauf (drums) and Jimmy Brown (bass). Several musicians passed through the band, including guitarist Greg Martin, who played occasionally and later formed the Kentucky Headhunters. Jim Rosen added his resonating harp and later went on to be the heart and soul of da Mudcats. Reid Jahn added his sax and continues to play jazz around Louisville. After Susan and John went their separate ways, she had a brief marriage to Duke Robillard, singing in his band. Barbara Carter replaced Susan as vocalist and eventually became the lead singer of Shaking Family, which recorded for Elektra.
Burgard wrote "Found A New Love" with The Bluebirds, which was included in the Louisville Blues Compilation record produced by Scott Mullins in 1989. The Bluebirds began to slack off later that year, so John got in on the tail end of the Mighty Water Kings, led by sax man Michael Murphy. Jimmy Gardiner sang, Jay Comstock played bass and Jeff McCallister was the drummer for the Kings.
Murphy's Law was formed in 1990 featuring Burgard and Murphy, plus Jimmy Brown on bass and Steve Inman drumming. The band recorded and released an excellent cassette tape, "It's The Law!", that year titled, loaded with romping blues and rock `n' roll, plus a remake of John's "Found A New Love." The band played regularly at the Cherokee Blues Club, Rudyard Kipling and Fat Cats until Murphy left for New York in 1995.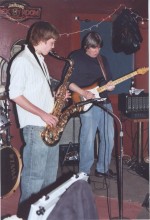 Photo By Keith Clements
The band went through another transformation, became The Accused and, after a year, started backing Tanita Gaines. Burgard composed three songs for Tanita on her CD, Another City Day. Besides the title track, he wrote "I Don't Have To Understand You" and "Touched In The Night." John also currently plays with Robbie Bartlett, performing at private parties and occasionally at Cheapside in Lexington. During the late Nineties, John also worked with his longtime friend Walter Lay in Dr. Hemiola and The Blues Activators. An offshoot of that band was the Highway 61 String Band, which was just the acoustical duo of John and Walter. John has also been recently performing with Reed Davis as a guitar duo every Thursday at Wick's Pizza in Middletown. Their sound is jazzier, with John experimenting on his new flattop Takamine acoustical guitar. The October Kentucky Homefront included Reed, John and his son, Jason, who has become an accomplished tenor saxophone musician. He is only fifteen and sat in on some of the Sunday jams at Air Devil's Inn.
This long litany of the many groups that John has been associated with indicates that he is more of a laidback collaborator rather that a front man. John is happy to play music and do it without traveling a lot, now that he has settled down with his second wife, Kathy. Fortunately he has never had to get a day job outside music, as he has supplemented his income by teaching guitar at Mel Owen Music on Shelbyville Road for the last ten years. He currently has twenty students and in the past has given lessons to guitarists Ricky Feathers (Bodeco) and Mike Perry (MR2 Blue).
While commenting on the local blues scene, John said, "There is a lack of traditional blues musicians, but several bands like Hellfish and The Mudcats have gone through a metamorphosis to adopt their blues to be current. Then there are younger bands like Black Cat Bone, who play contemporary blues steeped in Mississippi origins. The blues, like jazz, had a golden age."
Burgard had a chance to meet three of his guitar heroes, Son House, Albert King and Gatemouth Brown. John remembers reaching out to shake Albert's hand. He said, "It was twice the size of mine. It was like grabbing hold of a giant steak." John met Gate at the Hot August Blues Festival while waiting for a bus and they talked about music for a half-hour. John remembered Gate saying, "You can play anything for audiences and get it over on them as long as you present it right." Good advice.
Because John Burgard exemplifies someone who has dedicated his life to preserve, promote, perpetuate and especially perform the blues, the Kentuckiana Blues Society selected John to receive the Sylvester Weaver Award for 2005. The plaque will be presented to him at Longshot Tavern during the Tuesday night jam on November 29.