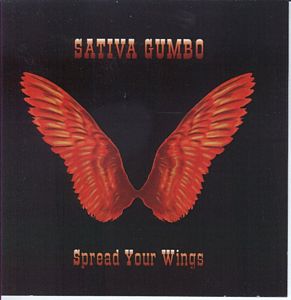 Jamming on Successful Songwriting
Spread Your Wings (Independent)
Sativa Gumbo
By John Bohannon
The jam band culture is a very tough thing to pinpoint. There are so many different sub-genres that it just begins to get a little out of hand. If you label something incorrectly around a jam aficionado - and you might get stuck in one of those music elitist situations - it can be a very uncomfortable experience.
As I have been listening to jam music for quite a while now, attending plenty of shows, festivals, etc., I feel as if I can comment validly on it. After trying to figure out what this culture was about for so long, I finally pinpointed it, something that was right in front of my face the entire time, but I was too stubborn to move towards. I just completely backtracked the Grateful Dead, listened to many bootlegs and studio tracks and I finally began to catch a glimpse of that jam culture as it began. Not many groups today have carried on in the vein of the Dead faithfully, possibly the closest being Widespread Panic. Until now. I have discovered a band in Louisville - Sativa Gumbo - that is staying quite grateful to the Dead's formula.
Although I have yet to see this band live, the thing that impresses me so much is its effort in the studio. The reason I want to use the Dead comparison so much is because I haven't had a jam record pull me in like this since the Grateful Dead's American Beauty - which is quite a feat considering the vast amount of jam albums I've purchased/heard over the past few years. It combines the perfect blend of swaying piano riffs, classy guitar riffs and soaring three part harmonies. Whether they can play the part of the live band I have yet to experience and almost am afraid to for I am frightened it might ruin the image in my head I have of this band. (But I hear they come highly recommended as a live act as well.)
Now don't get me wrong, no jam group can hold the majestic of the Grateful Dead, but they can carry the torch and follow suit. Whether its paying homage to the likes of the neo-hippies ("Freedom") or giving a fond tip of the hat to groups like Widespread Panic ("Spread Your Wings"), this record is a surprisingly great addition to the collection of any Louisville music geek or your favorite jam geek.
Vocalist Tommy Potts doesn't carry any similarities to Jerry Garcia but has more of a soft touch to his voice - more along the likes of a folksinger. Another great asset to this record is the solos are never overdone; they are short and sweet, as it should be on record. If I were listening to a bootleg I would hope to hear extended solo breaks, but on record the quality of songwriting is what matters - a notion often completely lost in the jam band realm.
Although the album can get bland at a few points ("Surprise" and "Mendicino") Sativa Gumbo is a force to be reckoned with out in the jam band market. Expect to see great things from them in the near future if they continue to improve off this record.