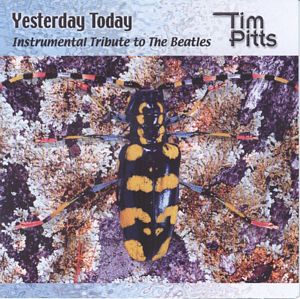 Haven't We Heard This Somewhere Before?
Yesterday Today: Instrumental Tribute to the Beatles (Independent)
Tim Pitts
By Kevin Gibson
I have two general rules of thumb when it comes to making music: Don't touch the Beatles and, to a lesser extent, steer clear of Elvis Presley. Here's why: You can't ever hope to record a Beatles song better than the original, so you'll only end up looking foolish. (See Tiffany's "I Saw Him Standing There"). The problem with Elvis is that he's so iconic that a cover of one of his hits will come off as, at worst, parody or, at best, novelty. (See Cheap Trick's "Don't Be Cruel.")
Either way, you really can't win.
Louisville guitarist Tim Pitts, however, has released a full-length, all-instrumental tribute to the Beatles that gently samples various entries in the band's catalog using acoustic and electric guitars and spare percussion. Given my guideline No. 1, I was naturally skeptical about this disc, but I also went in assuming (correctly) that this would be a tribute in the truest sense of the word - indeed, Pitts plays his heart out, but with no intention except to honor songs with which he clearly has a deep connection.
The selection is judiciously split between Paul McCartney, John Lennon and George Harrison compositions (sorry, Ringo fans, but "Octopus's Garden" is nowhere to be found), although I would have found it more interesting to hear some deeper cuts. As it is, Harrison's "You Like Me Too Much" is the least obvious choice Pitts makes. "Yesterday," "Eleanor Rigby," "All You Need is Love" and "Norwegian Wood" all make appearances and all with reasonably similar degrees of success in a track listing that numbers 15.
"And I Love Her" works pretty well here, although I'd have liked it far better without the squealing electric guitars that backload Pitts' interpretation. Ditto, "In My Life." And "Blackbird" holds up fairly well, although it was a spare composition and recording to begin with, which made it a natural inclusion.
The bottom line is this: Pitts had a lot of balls to even try this, but he shows enough restraint that he does no cruel injustices to what is arguably the greatest band ever. He respects the music immensely and takes pains to let the listener understand this fact, with only some minor missteps.
Is this a CD you'll listen to over and over? No, because tributes such as these usually accomplish one common objective: They make you want to listen to the original recordings. But Pitts manages to avoid doing any harm by delivering a listenable and enjoyable interpretation of songs most of us know very well. At the very least, we can shake his hand for having good taste.
Baby, you can drive his web traffic at www.timpitts.com.