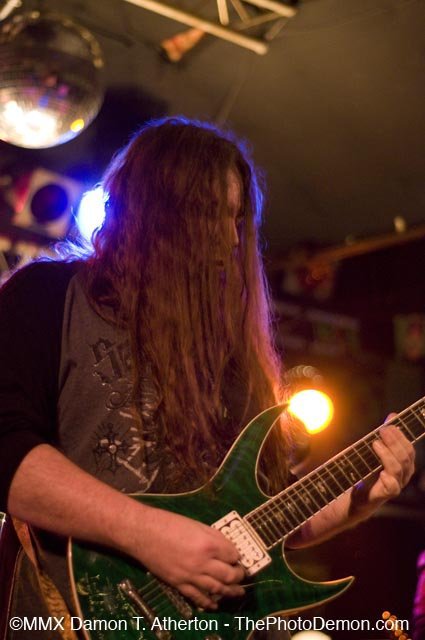 News From the Pit
Promoters, bands, venues - Beware! I have some news that you really need to listen to. It appears there might be some shady - or incompetent - stuff going on at the sales department of one of the big local radio stations. I'm here to warn all of you businesses about what seems to have been going on for some time: People have been buying radio spots and haven't been getting what they pay for. Orders don't go in on time, spots don't get cut, get changed around and, worse of all, sponsors and purchasers of airtime aren't notified when there's a mistake such as this. If you don't notice and raise some hell, you will not get reimbursed, notified or "taken care of" in any way. They will ignore you utterly. I don't know about you folks, but when I buy radio spots, I want to know immediately if there's a mistake or problem. To have to find out on your own, without being notified, called or emailed, is just plain not to be tolerated. Not to mention that it's very bad business practice.
So I'm telling all of you local bands, promoters and venues to be sure to monitor your radio spots if you buy them, because you might easily be getting ripped in some way or sort. You have to pretty much listen to every spot, to make sure you get your money's worth, or you may be getting left out, shortchanged and charged full price.
This has to stop. I am fully prepared to contact every company who buys radio spots with this company and tell them what's been happening, in detail. It has become a hassle that us music folk do not need when we are trying to do our business.
Other than that not much is going on these days in the scene. It's cold as hell and people simply don't want to get out much. I know I don't.
It seems "the Curse of the Louisville Metal Scene" has finally subsided like the giant tsunamis that just occurred, bringing forth new hope for the Louisville metal scene, in the form of a new crop of metal-meisters, including Surviving Thalia, Antikythera, Inner-Blue (Joey Goldsmith and Drew Davis' new project) Violenza, Wasted Days, 7DaySun and Vent, featuring former Flaw vocalist Chris Volz.
Also, I just was at the Fire Department Reunion show, which happened to be on my night at the Phoenix Hill and I tell you, it was cool as hell. It was all of the old Toy Tiger crowd! It was a bit of the older Toy Tiger crowd, even older than me, but I recognized quite a few people that were there. They should have a "reunion" every month, at least. With the absence of the top cover band, due to my good pal Jack Briz leaving town, we need a bit more of the Fire Department enigma. It's definitely good time music! And to the guys who go to see FD, it was always easy to get laid at their shows!
At the show, I had two chicks wanting me to go party with them in a hot tub.
For every good offer, there is a nightmare - there was a gal who looked like an iceberg with feet, who was holding her crotch, doing the lip thing like Marilyn Monroe and apparently offering me something. It was pure "Twilight Zone" stuff. The eerie music was there and everything! The comic book hero Flash couldn't have beat me, I was outta there sooooo fast!
So, Phoenix Hill, please offer Fire Department more money, so everyone will be happy. It is a wise investment. And the fans would no doubt rejoice in the revelry.
And it would teach those lame-os down at 4th Street doodoo not to underestimate the power of this rock/metal scene. They think they got us licked, but little do they know "that we (this rock/metal scene) are a sleeping giant ready to pounce."
I wanna say thanks for showing the love you people do when you see me out, always saying "hi" and "telling me you like my writing." I must have had at least twenty compliments on my "Dimebag Tribute." And also the constant asking of "when are you going to jam again?" I appreciate it more than you know and it makes my day to know my contributions to this music scene have not been forgotten or gone unnoticed.
I know sometimes I sound like a whiny bee-yotch, but what I say is true and warranted, therefore - in my opinion - making it valid. The reality is, I'm a crazy, longhaired guitar-playing demon who isn't scared to "tell it as it is." The truth is,I don't give a f***.
Apparently you cool f***ers like hearing the truth and I salute you for wanting a taste of reality!
The Metal Grapevine
Evil Engine # 9 Get Medieval! The evil guys just made a killer video at the Phoenix Hill on January 7, getting "excellent crowd footage," according to the band.
It was originally planned for an earlier date, but stuff got messed up, so they decided to do it at the Hill. The video is planned for MTV2 and I will surely let you know when we can see our local boys rock out.
Wasted Days Wins Band Battle: The newer improved version of the band Wasted Days is going to record a 12-song CD soon, possibly in mid-March. I think since vocalist Chris Davis (ex-Superface) joined five months ago, this band has much, much potential. They recently won the band battle at the Rustic Frog, competing against thirty-eight bands. Congrats, guys!
New Band Alert, VENT: Its official, the word is out. Here comes Vent, the sonic brainchild of former Flaw vocalist Chris Volz and drummer Ivan Arnold. Ivan stated that the new music is "too good to be true" and they are very excited about it. You can see them at Uncle Pleasants on February 10 and Phoenix Hill March 4.
New Band Alert, Inner Blue: The band Inner Blue, featuring former members of Factor 9 and Krosmember, are about ready to play out. Former Factor 9 and Contortion vocalist Drew Davis and bassist extraordinaire Joey Goldsmith and a couple of the Krosmember guys (who I always liked) are almost ready to invade the Louisville music scene. Make plans to see their debut show at the Phoenix Hill March 4!
Big Local Show Coming! There's a monster of a show coming, with some twenty bands, so get ready. Oddessy Entertainment will present The 502 Bleedz Metal Fest 2 at Bulldogs Cafe on February 25 and 26. All ages! See lineup below in show listings.
Surviving Thalia Rocks! Holy cow, these fargers absolutely rock! I thought it would be good, but not this good! Ya got Sailor from My Own Victim fronting the Nemesis guys in what turns out to be good wholesome fun for the entire family - ..The MANSON Family! Seriously, this band is as good as any veteran metal act in Louisville history. And that goes for yer MOVs, Flaws, Primer 55s, etc, etc.
The background vocals of guitarist Mike Taylor really shine in unison with Sailor's vocals. Actual holding of notes are heard. Harmony is achieved. And it all sounds good. If you haven't seen this new band, hurry, `cuz its the best they've done so far.
This is how it's supposed to be done. Where the hell is my CD?
Former Outspoken Guys In New Project!
The guys of the band Outspoken, minus David "E" Frazier, have announced that they have a new project called S.O.L and will be playing on the March 4 Phoenix Hill show with Vent and others. The new vocalist is "Geo," pronounced Joe, from Detroit.
The Bulldog Cafe: Well, I finally took my lazy rump out to The Bulldog Cafe and I'm glad I did, that place is pretty cool. Decent stage, really nice people who run it and there musta been 200 people there! In Fairdale, that is an achievement!
The sound had a few shaky moments, including a high-pitched squeal that almost busted my eardrum, but other than that, it was great. I know it's a bit `out there,' locationwise, but it's worth it. And you younger music fans should really show the band Violenza and promoter Bobby Howell some serious love for finding the place and hooking you kids up with a place to go and rock. Let them know you appreciate it.
Sorry MSD: I would like to seriously apologize to MSD for the hideous sound they received at a recent show. A new soundman was appointed without my knowledge and he wasn't nearly as experienced as the usual soundman. MSD seemed to get the worse of it, so I am truly sorry. I never have this problem at that venue, it was a rare mistake.
I know that don't help much, but I'm willing to make it up with a "return" show with the usual sound guy running the board. You can even pick the spot!
Boba Flex, Adopted! Former Flaw manager Scott Frazier's new project, Ohio's Boba Flex, is making a bit of noise in the Louisville metal scene (hence the adopted reference) with tight performances and a growing fanbase. They even opened for Sevendust on several dates. I just saw them last night, they are good, but it just wasn't me.
It's a little too punk-ish and trendy for my tastes, but the kids at the Bulldog definitely loved them and that's what matters.
New Band Alert: Empyrean Asunder: Industrial Goth rockers Empyrean Asunder, featuring members of Absence Of Faith, are getting ready to put out a full-length debut CD, The Human Virus, which is scheduled to be released in March. I am looking forward to hearing this, sounds interesting. I like Jerry Barksdale's bands and I'm sure I'll probably like this one, too.
Louisville Rock Pix: Don't forget, you photographers can have some of your pictures printed in our Louisville Rock Pix section. Just take some good pics of your favorite local bands and send it in to my boss. Remember to include band name, people's names in photo, what venue and who you are, so you can get proper credit.
I invented this just so you people could contribute a little more, so I'd like to see more of you sending stuff in. Get some cool original pics and send those babies in to us!
Send pictures and info to
Editor@louisvillemusicnews.net
A New Girlfriend For Eddy! I am currently single again, on the prowl and looking for an attractive, laid-back chick between the ages 21 - 32 into going to concerts, having fun and such. Interested ladies email me at eddymetal1@aol.com.
Upcoming Shows
The Bulldog Cafe
Friday, February 11 - "Valentine's Day, Massacre" Incursion, N-Cision, Descention and Miseo. 8 p.m.
Friday, February 25 - Bleedz Metal Fest - Day, 1: Church Bomb, Wasted Dayz, Anger Strike, N-Cision, Year Of Desolation, Violenza, Miseo, Fivesecondzero, Klinch and Dominion. 6 p.m. $7 All-Ages.
Saturday, February 26 - Bleedz Metal Fest - Day 2:
Beneath The Sky, Sinckwhole, Otium, Daybreak, Antikythera, 7DaySun, Valpurgus, Descention, Slo-Kill and Gravity Bomb. 6 p.m. $7 All Ages.
Dutch's Tavern
Saturday, February 5 - 9voltRevolt and Empyrean Asunder. 21+ $5
Headliners
Friday, February 11 - The Dillinger Escape Plan, Read Yellow, The End and Gone More. 7 p.m. $10 All Ages. 7:30 p.m.
Pappy's
Friday, February 11 - Victory Records recording artists Dead To Fall, The Minor Times, Church Bomb and Buried But Breathing. 7:30 p.m.
Phoenix Hill Tavern
The Original Rock Showcase Series. On the first Friday of every month in the Roof Garden.
Friday, February 4 - Wasted Days, Never The Man, Garden Of Stone and Phearus.
Friday, March 4 - Vent (featuring Flaw vocalist Chris Volz), Inner Blue (featuring former members of Factor 9 and Krosmember), From Within and S.O.L. (former Outspoken members)
Tailgater's
Friday, February 4 - Surviving Thalia.
Uncle Pleasants
Thursday, February 10 - Vent and 12volt Negative Earth. 7:30 p.m.
Union Station
Saturday, February 12 - It Dies Today,, 12 Tribes and If Hope Dies.
Props of the Month
This month's props goes out to 7DaySun, a newer band with a real pro attitude.
They are very good, yet don't have the arrogant attitude that usually accompanies such talented up-and-coming bands. They merely want to be heard and to get their music out as best they can. A lot of the more popular bands nowadays have got to have a cash guarantee, or they won't play, which I think is petty and selfish to the fans.
7DaySun is not this way. In fact, they went out of their way to replace one of the bands that cancelled at the last minute for one of my shows. No bitching, demanding of time spots, no drama about money - .they just showed up and kicked some rump.
So I'd like to say - thanks for being a group of good guys who care about their music and fans and won't let a petty thing stop them from rocking to their fans.
Apologies From Last Month:
I would like to announce that the new promoter I wrote about last month, whose name rhymes with "pecker", is NOT the promoter whose initials are M.B. There are numerous names that rhyme with "pecker" but M.B. is not the one I was referring to. I apologize to M.B. for any problems this might have caused.