I've Got A Mind To Ramble
So Long Henry
Last month when I was reminiscing about the past Sylvester Weaver winners, I mentioned that the first 1989 winner, Henry Woodruff, was doing fairly well at Parkway Medical Center. Unfortunately, Henry passed away on the morning of January 5 at age 82. The brief obituary in the Courier-Journal gave no clue as to who Henry C. Woodruff was. He had began to fail during Christmas and died from a combination of respiratory problems and colon cancer. The wake and memorial service were at Perryman's Mortuary on West Broadway. The building was once an old house and has been converted into a chapel filled with an assortment of religious images. Henry's large family filled the front rooms. Sonny Sitgraves, a musician who played briefly with Henry, suggested to me that some of Henry's music should be played. So during the service on January 8, I provided a tape of some of his songs. I think both ministers, Rev. Perryman and Rev. Shoulders, were surprised and impressed with Henry's musical ability, as they both wanted copies of his tape. (Even preachers get the blues.) As family and friends were passing by the casket paying their final respects, Henry was singing "Hootchie Coochie Man." Henry was born for good luck, as he sure gave it to me. Following the service, he was buried at Green Meadows Memorial Cemetery off of Cane Run Road.
Henry was my first exposure to a local black bluesman, hearing him sing and play guitar each weekend at the Pleasure Inn. This association began in the early 1980s, where he became more than a blues musician but a close friend. I would frequently slip him a pint of 90-proof Smirnoff's vodka to keep his batteries charged during his late night performances with his band The Noisemakers. Henry would sit in the back corner with James Warfield on bass and Robert Owens who was fiercely attacking the drums. After Owens died at a tragically young age, Nathaniel Bunton took over the drumming. Sometimes Smoketown Red or Gary Grisel would sit in and play or Annie Ophelia would sing, but most of the time this down-home trio would play from 9 p.m. to 2 a.m. every Friday and Saturday for just $75 a night.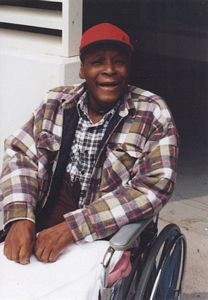 Photo By By Keith Clements
I would always enjoy taking friends to the Pleasure Inn for the first time. When they stepped up and opened the door into the smoky, long room filled with people, it took a little cultural adjustment. But after your eyes and attitude adjusted, they were in for an evening of what an authentic West End juke joint was like. It took a while to figure out where the music was coming from, but once you saw Henry hunched up over his well-worn Harmony guitar and working his wah-wah pedal, you knew he was the main attraction. His lady friend, Jo Anne Jones, would be nearby filling his glass and when she felt moved would get out on the dance floor to raise her hands and let out a mighty yeeaah!
Henry's reputation began to spread around town and he began playing at the Rudyard Kipling, Bellarmine University, Garvin Gate Blues Festival and Homefront Performances. Soon, under the management of Rocky Adcock, there were gigs at parties and East End bars like Fat Cats, Barry's (Gators) and Cherokee Blues Club, where they even had a chair with his name on it. Henry had a repertoire of nearly fifty songs and instrumentals. I tried to capture most of them on tape at Fat Cats over several nights in the late 80s. One of my favorite songs, "Greyhound Bus Station," was recorded on The Louisville Blues Compilation album produced by Scott Mullins, where Henry is featured on the cover. Actually, Henry and the band recorded ten other songs at Artists' Recording Service on two-track tape that were broadcast on Mullins' "Saturday Night Blues Party" program a few days later.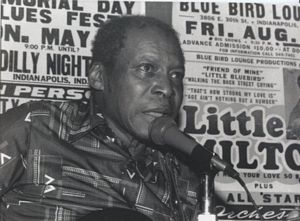 Photo By By Keith Clements
Henry brought his countrified blues from Tanner, Alabama to Louisville in 1939 at 16 to join his mother. He only played harmonica at the time but when his brother Walter bought him his first acoustic guitar, he began learning by ear, listening to records by Louis Jordan, Big Bill Bronzy, Lonnie Johnson and his main inspiration, Lightnin' Hopkins. Henry recalled that Bill Gaither, the widely recorded blues guitarist, had a record shop at 7th and Cedar during the mid Forties. Gaither would play his guitar in this shop with the sound piped out to the street.
When Henry got an electric Gibson, he teamed up with Fred Murphy on harp, Thomas (Bodie) Bridgeford on piano and first Paige and later Bill Everett on drums. They got their first gig at the Sunset Bar at 8th St. and Liberty. The band changed their name form the Barefoot Three to the Sunset Royals, playing two to three nights a week. The owner, Pee Wee, booked the band around Kentucky, including gigs at the Kitty Kat Club in Lebanon, the Skyrocket in Bardstown, plus clubs in Danville, Owensboro and Russellville. Leadership squabbles broke up the band after four years. Subsequently, Henry nearly recorded a song, "Do Right Mind," written by Cliff Butler, at the WLOU radio station but couldn't get it quite right.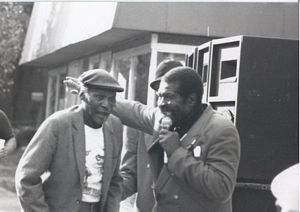 Photo By By Keith Clements
From the Fifties through the Seventies, there were many local clubs where Henry played, including Pork Chops at 7th St. and Liberty; the Belgian at 8th St. and St. Catherine; Orchid Bar at 8th St. and Walnut, 666 Club at Jackson and Madison; the Blue Moon at Preston and Caldwell; 1100 Bar at 11th St. and Oak and Poochies on 12th St. Henry recalled Sap Goodman's as a "killer joint" at 16th and Madison, where they would drink heavily and shoot dice, while Charlie Moore's at 10th St. and Walnut was a "big shot place" like a nightclub casino.
In 1969, Henry shot and killed a man in self-defense, receiving a serious bullet wound in his shoulder that resulted in numbness in his fingers. That kept him out of music for seven years until the numbness subsided. He had a day job parking cars at the downtown Morrisey Garage until he retired in 1982. Occasionally I would visit Henry there on my lunch hour. He would be wearing his dark blue uniform, complete with a visor cap.
When I first knew Henry, he was living with Jo Anne until he `did her wrong' and she left him, though on reasonably good terms. Henry then lived with his brother on St. Catherine St. and later Garland Ave. Henry kept close to his roots, growing a little cotton in his backyard along with some collard greens. After a series of strokes ended his musical career, he lived briefly with his sister Betty Jean and eventually moved to Parkway Medical Center. It was during these years that a real bond developed between us, as he was relatively healthy and would get lonely. At his requests, Gary Grisel and I would bring him a combination of ribs, KFC meals, doughnuts, jelly and scratch-off Bingo tickets, plus a little folding money. I made tapes of his favorite bluesmen and his performances and we would talk about the Cubs and old times.
In the first issue of Louisville Music News (April 1989), a picture of Henry was the first photograph published in the newspaper in a review by Jean Metcalfe of a Louisville Homefront performance. A year later, Jean followed up with a very personal cover story about Henry in the June 1990 issue of LMN. Jean closed her article asking Henry how he would like people to think of him? He replied, "Well, I would hope they would think I was a great guy and trying to make it through a musician's life, `cause I love music, I love playing guitar and I would hope that they would think the best of me." We do.
During the last fourteen months, we lost three wonderful people from a generation of performers in their 80s who contributed to Louisville's blues heritage in their own special way. Besides Henry Woodruff, Fred Murphy died in November 2003 and Mary Ann Fisher in March 2004.
Mary Ann Fisher Tribute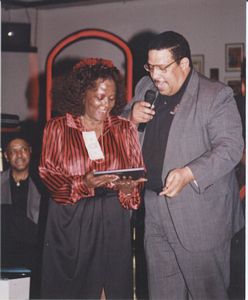 Photo By By Keith Clements
When Mary Ann Fisher was alive, she always wanted to celebrate Mary Ann Fisher Day, which was bestowed on her by Mayor Abramson on February 26, 1997 at Rick's Square Piano. A musical tribute to the "Songbird of the South" will be on Sunday, February 13 from 5 p.m. to 8 p.m. at Stevie Ray's Blues Bar. The Walnut St. Blues Band, Lamont Gillespie & 100 Proof plus Mr. Wonderful Productions will be some of the featured bands and musicians to salute "Fish's" memory. A brief preview of a video about Mary Ann will be shown for the first time and her son, Tracy, will also be attending. The $5 admission is to help fund a plaque in her honor for the new Afro-American Heritage Center. Let's hope the snow damage will be repaired at Stevie Ray's well before this event, so we can continue to raise the roof for Mary Ann.
Stevens & Stevens Serves Some Blues
What started to be an informal house party on February 2 has become an evening of acoustic blues at Bardstown Road Presbyterian Church. This laid-back concert presenting Cole Prior Stevens and Dan Stevens (no relation) will be similar to the Coffeestop performances previously held at the church for many years. Cole is a talented guitarist who recently settled in Louisville from Bakersfield, California. He competed in the 2003 KBS Blues Competition. Cole writes a lot of original songs and there are rumors that he will join Metropolitan Blues All Stars alumni Nick Stump and Rick Baldwin, plus Jim Kumers to form a new band. Dan Stevens is the other guitarist from Old Lyme, Connecticut who is an expert at fingerpicking as well as bottleneck slide. Dan uses a variety of vintage and custom guitars to get the authenticity of the spirit of legendary bluesmen. He will be coming through Louisville on his way to Memphis where he will be competing in the Blues Foundation Blues Challenge for the second time. I hope you can attend this smoke- and alcohol-free show, which starts at 7:30 p.m.. Coffee and desserts will be served and if there is a good response, this could be the beginning of a series of acoustical blues concerts.