Dimebag Darrel: The Death of a Guitar Legend.
On December 8, the heavy metal world was shaken to its very core by the tragic shooting death of a guitar legend, Dimebag Darrel Abbott, age 38, formerly of the groundbreaking metal band Pantera.
Apparently some psycho jumped onstage at the Alrosa Villa in Columbus Ohio while Darrel's new band, Damageplan, was playing and shot poor Darrel five times in the head. Then he shot and killed at least three other people, before he himself was shot and killed by police. To be honest, the first thing I thought when I heard of the tragedy, was.... that "the constant ranting" by a certain someone who hated Darrel, that has been badmouthing Darrel's new project, at every show the certain someone played at, finally got to some unstable Pantera fan, fanning the fires of hate.
I saw this certain person's band twice this year and I tell you, the things he was saying about Damageplan, was UGLY. It turned me and the audience off ... bigtime.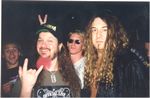 Witnesses claim that the shooter was distraught over the breakup of Pantera and he also had claimed that Pantera had stolen lyrics from him. The guy was wacko.
The sicko thought that Darrel had destroyed his favorite band, when in fact Darrel was merely distancing himself from a heroin addict. Darrel wanted to do right by the fans of his music. He wanted the fans to get their money's worth! And having a totally drugged-out band member slurring and staggering, was something he could no longer hang with.
I agreed with him one hundred percent and loved the fact that he cared about his band's performance.
This is one of the reasons I liked Damageplan so much. They were tight.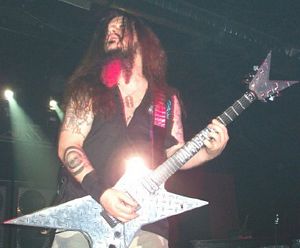 Photo By PHOTO BY EDDY METAL
This tragedy is right up there with.... Hendrix, Randy Rhoads, Stevie Ray Vaughn, John Lennon, Buddy Holly and so forth. Pantera had millions and millions of fans and Darrel's new project Damageplan was doing very well also and gearing up to do a second album. I have had the privilege of meeting and hanging out with Dimebag at least three times and I can honestly say that he didn't act stuck-up at all. Hell, we even did a few shots of whiskey together (well...actually Darrel and Rex made me).
At every show where I was lucky enough to get backstage, he was right there signing autographs, taking pictures and being very good to his fans backstage. It's something most rock stars don't do. I'm not trying to convince you that we were friends, because we weren't, but we did party a few times and he always seemed like a laid-back guy to me. I have seen much lesser musicians/rock stars be ten times more arrogant than Darrel. The first time I saw him play was at the Zodiac club downtown around `89, or `90, during the "Cowboys From Hell" tour. There were about 30 or 40 people there, but they were in for a musical treat, as I would soon learn. Yet...little did I know what an influential guitarist he would eventually become.
I admit I sometimes wasn't always into Pantera's vocals, BUT...there was never a time I didn't like Darrel's guitar work. His rhythms were so memorable and crushing and his leads so precise and intricate, not to mention practically impossible to reproduce. And he definitely had a flair for effects-driven dive-bombing on his whammy pedal. He was the master.
I was lucky enough to see him play again at Jillian's about three months ago: you may remember the Damageplan review I did and the up-close pictures I took.
I had a birds-eye view of the legendary Dimebag Darrel in action, from three feet away and I won't soon forget it, if I ever do!
The things this guy accomplished on guitar was amazing! Even Randy Rhoads didn't have over twenty products endorsed by him. Darrel cared about his fans and took time to make them happy, it's a fact...people loved him! And he put out several colossal releases that will live on forever in the hearts and ears of the metal world.
Many, many people will miss him, fans, friends, family and fellow musicians alike.
R.I.P Dime!
P.S
I'd like to say good job to 100.5 the Fox for covering the story as it unfolded and for showing Dimebag the respect that he deserved. Black Frank and Michael Lee did a wonderful job paying homage to the fallen guitar great. Thanks for being there for us metal fans in our time of loss.