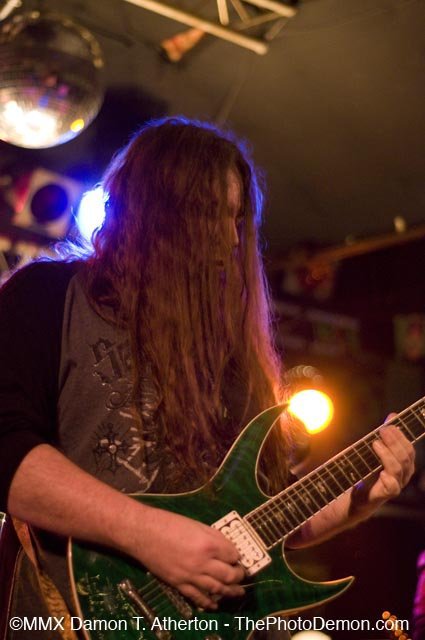 News From the Pit
I have been hearing some negative things from some bands about some new promoter who has been ripping off them off: promising money and not forking it over when all is said and done and not answering the phone. This guy is getting people PO'ed. People are calling ME just to tell me this! I can't tell you his name, but his last name rhymes with "pecker."
Eddy: I would like to announce that the new promoter I wrote about above, whose name rhymes with "pecker", is NOT the promoter whose initials are M.B. There are numerous names that rhyme with "pecker" but M.B. is not the one I was refering to. I apologize to M.B. for any problems this might have caused.
I have been promoting local rock shows since 1995 and since then I have seen many wannabe clones and weasels try to come out of nowhere, expecting to make big bucks in local music promoting. Most don't know their anus from a hole in the wall, yet they try anyway and usually make themselves look stupid to people who know what's up.
Let me emphasize my next comment, to any future promoters, only out to make some quick cash - "THERE IS NO MONEY IN PROMOTING LOCAL MUSIC!"
Yeah, it's possible to make a tiny bit of cash, but it's not like what you think.
When I have a super-phat show, it is unbelievable; I go home with a big smile on my face and am a much happier person. I sacrifice so others can have a good memorable time. I myself make absolutely not a red cent, except for maybe a free beverage or two. The truth is that I enjoy what I do and would feel bad profiting from it. I would much rather see the potential money I could possibly make put into radio or newspaper ads, for the bands.
Then there's this other, newer promoter who started an original music showcase on the same exact night I do mine! Talk about lame. There are at least 29 days in a month and this dude has to do it on MY night? C'mon! I started this monthly concert chit and now some newcomer wants to do one, with sponsors (like I have) and ON THE SAME NIGHT!? It's not like I'm discouraging competition, I'm not, but the fact is; it definitely hurts both of the shows involved! I shall give you a prime example. A guy I know who is playing in one of the bands playing the other show and he saw that some good bands were playing at my show the same night. When he found out, he was discouraged and worried about attendance. And this goes vice versa.
This promoter, whom I actually like, doesn't seem to realize it will hurt both of our shows! It's a conflict of interest that this scene doesn't need now.
Everyone knows I welcome newer promoters and rock shows of all kinds and will promote any show date that anyone sends to me, BUT, there is a time to say "WTF"?
SO TO YOU, NEW PROMOTER: Dude, I consider it an honor you like what I have been doing and would like to try your luck at it, I wish you the best of luck in your endeavors, because I truly think you are a nice guy, but it would be a wise and a much appreciated gesture to me and the bands I book, if you would move your "monthly original music concerts" to another date. Perhaps in the middle of the month? That way both of our shows have a better chance of drawing more people.
I'd be happy to help you get the word out.
And to the "pecker" and any other weasel-y wannabe promoters out there trying to screw the bands. Watch out, f***er's, because people look to me to get the news out, no matter what it is and that's what I'm gonna do, even if I gotta call out a mofo.
The Metal Grapevine
The Death Of A Guitar Legend: Everyone has heard about the horrible tragedy of Dimebag Darrel being gunned down on December 8 at a Damageplan show in Ohio. Please read my Dimebag tribute elsewhere in this issue.
Motley Crue Reunites! That's right folks, the bad boys of metal are back with their original lineup and I'm thrilled! A tour is planned, but alas, Louisville is not on that list. Fortunately, 100.5 the Fox is trying to do something about it. I hope they will use some o' that corporate might and alter the tour a bit, in our general direction.
Hear me Michael Lee? Go get `em, dawg!
Ministry Was Nuts! This was a very interesting show. I'm not a big Ministry fan, but I knew it would be different, so I went.
The second band, Hansel Und Gretel, was insane, yet very good. Kinda reminded me of Ministry, Kovenant and Rob Zombie all mixed together. The bassist was a hot chick. The guitarist wore a World War I style German helmet, complete with huge spike on top, and played a left - handed Gibson V. The singer was a woman who looked like Pippi Longstocking on crack, but she had the voice of a man for sure, spewing forth inhuman growls that sounded pretty darn cool. The crowd loved Hansel Und Gretel and so did I. I almost bought their CD, it was so good.
Photo By Eddy Metal
Then the freak show commenced. Ministry kicked a lot of rump. And their stage show was very entertaining, complete with a dominatrix violinist. The band played a good set of Ministry classics, including "New World Order," "Just One Fix" and even a cover song by Black Sabbath, "Supernaut."
I have to say that they sounded just like the recordings. Which is rare.
The evening ended on a sad note. Vocalist Al Jourgensen was talking about Dimebag, with whom he apparently was good friends, and he started crying on the last song, "Jesus Built My Hotrod."
Jillian's Gets New Look/Sound: Jillian's is happy with the rock show turnouts in Atlas, so they are remodeling bigtime and improving the sound system by soundproofing the walls. They will be turning the two big rooms in Atlas, into one big room. This is great. I have been saying for months that they need to do this!
The construction starts in January. I will keep you informed.
7DaySun Making Creating A Buzz: The band 7DaySun is doing very well these days and have come a long way in a short time, especially vocalist Trey Landrum, who I admit at first I thought was a Chris Vols wannabe clone when he fronted the band Execrate. Well - I am now eating crow. once again, because this little dude has become a vocal powerhouse! He has improved so much it's scary, developing more of his own style and his technique is only getting stronger. If you get a chance to see these guys, do so, you won't be sorry. This is a great band of a bunch of nice guys who can jam.
Factor 9 No More: The band Factor 9 is no more, for real, this time. They just got sick of vocalist/lineup changes, so they decided to call it a day. They have been around for quite a while and have done quite well. Hopefully they will keep the site and maybe just change the name or something. I'm sure guitarist Scott Cox will think of something, the guy is pretty smart.
I'm sure you will be seeing them in other projects real soon.
Sevendust @ Expo 5: I wanted to attend this, but being Christmastime and all, I have been broke as a joke, so I chilled at home. BUT - .I heard it was a great success and all the bands did great, especially newcomers Bobaflex, Intheclear and Evil Engine # 9.
I heard there was a decent turnout the and the sound was good, which is what has been needed at Expo 5 badly since it opened.
Evil Engine # 9 Shoots Video @ Expo 5: On December 23, the band shot a video for the song "Thorn" that will appear on MTV2 in the future. Director Allen Farst (Saliva, Seether, Kieth Urban) is doing this, so it should get pretty good. Keep an eye out for our hometown boyz.
Ozzfest 05 Preview: Who is playing? Who has signed? Well, I got a few morsels for you. Ozzy, of course, Megadeth, Mastodon, Machine Head, Rammstein, Shadow's Fall and supposedly Down. This is just what I've heard, so I'll fill you in when I know more.
Elysium Breaks up: The band Elysium has split up and their future is uncertain.
MSD Story Next Month: Hey MSD fans, I plan on doing an up-to-date story on MSD, so look for it soon!
Guitarist and Singer Needed: I'm looking to jam again, so I need a 2nd metal guitarist and a vocalist with both singing and screaming ability. Eddymetal1@aol.com, or 367 - 2080.
Chris Volz Has A New Band:  Former Flaw vocalist extraordinaire Chris Vols has a new project kicking with the band formerly known as Silent Q. Drummer Ivan Arnold tells me it's sounding too good to be true, and that Chris wrote some excellent lyrics in record time! This is just a hint of what's to come. I'll keep you Flaw/Silent Q fans updated when I know more.
Upcoming Shows
Bulldogs
Sunday, January 2 - Surviving Thalia, Look What I Need, Lao, The Exhaustion Method, Ayin and Antikythera.
Saturday, January 8 - Open Mic Night!
Saturday, January 15 - Phage, False Witness, Painlink, Renault and Violenza.
Saturday, January 22 - Incursion502
Saturday, January 29 - MSD, Hatecast, Spil and Violenza.
Saturday, February 5 - 7DaySun, From Within and Patchwork.
Phoenix Hill Tavern
The Original Rock Showcase Series, on the first Friday, of every month, in the Roof Garden.
Friday, January 7 - Of Sound Mind, MSD, Evil Engine # 9 and Surviving Thalia. 9 p.m.
Friday, February 4 - Garden Of Stone, Never The Man, Sacred Soul, Wasted Days and Phearus. 8 p.m.
Rustic Frog
Friday, January 21 - Antikythera and Klinch.
Uncle Pleasant's
Saturday, January 29 - Incursion502, The Revenants and Antikythera.
Outtatowners and Such
Thursday, January 15@ The Madison Theater (Covington, KY) - 7DaySun Video Shoot!
7DaySun will be hitting the studio in early January 2005 with Bobby Burns of Soulfly as the producer.
Friday, January 14 at the Klondike Saloon in Salem IN - Antikythera and Church Bomb.
DIRECTIONS - 65 N to Salem Hamburg exit, Turn left stay on State Road 60 until railroad tracks Pass the tracks, take a right, which will still be State Road 60. Continue until you get to the stop light in Salem. Take a right on Main Street, go all the way to the square. Klondike is in the square.
Props of the Month
This month's props goes out to a likeable new promoter who seems to be building up momentum. Bobby Howell is a genuinely good guy whom I trust to do the right thing when it comes to this scene. He has been booking at Bulldog's Cafe in Fairdale for some time now and, from what I hear, has started drawing some decent crowds out there. Bands have another place to rock because of him. And from what I hear Bulldog's treats the bands pretty good too. Buying airtime and everything.
Keep it up, Bobby and Bulldogs!
Any interested bands should give Bobby a ring. He might hook you up a show. Smackwaterjack92@aol.com