I've Got A Mind To Ramble
Weaver Winners
The Kentuckiana Blues Society board of directors presented the Sylvester Weaver Award to me during the 16th Annual Birthday Party at Lisa's Oak Street Lounge on November 20. Usually a local musician or singer who is currently performing the blues has received the award, but on rare occasions the award has been given to someone who has devoted his or her life to the other three P's (promote, preserve and perpetuate the blues). The plaque is proudly displayed on the wall in my room that is filled with signed photographs of blues men and women I have taken over the years. It was really an honor to receive this recognition and I am humbled when I think of all the other fifteen winners who preceded me. They are Louisville's blues hall of fame and I would like to share with you some recollections about each winner, but before I get into that, some of you may not be aware of who this award is named after, so here is a brief history lesson on Louisville's guitar hero, Sylvester Weaver.
Sylvester Weaver was the first blues guitarist to record both solo and as an accompanist with a singer. That historic recording was made on October 24, 1923, in the O'Keh studios in the New York. Weaver and Sarah Martin, Louisville's classic blues singer, recorded "Longing For Daddy Blues" and "I've Got To Go And Leave My Daddy Behind."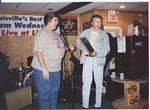 Sylvester was back in the studio again on November 2 to record two instrumentals, "Guitar Blues" and "Guitar Rag." "Guitar Rag" was influential in the country market; Texas twin fiddler Bob Wills recorded an arrangement by pedal steel master Leon MacAuliffe as "Steel Guitar Rag." Sylvester went on to record over 50 cuts for O'Keh, often as an accompanist for Martin or as a soloist. He also made some recordings with guitarist Walter Beasley and singer Helen Humes. Sylvester discovered Humes when she was only fourteen years old. He first heard her performing with Bessie Allen's Sunday School Band at the Palace at 11th and Walnut St. in Louisville. With her parents' permission, he took her first to St. Louis and then to New York in November 1927, where she recorded several songs that were rather raunchy for an innocent girl. Humes would later become a featured singer with Lionel Hampton and other jazz groups, spreading her "Million Dollar Secret" all over the world. Weaver never recorded again, returning to Louisville to marry and become a chauffeur for the Lemon family.
His innovative guitar style mixed the styles of Georgia/Piedmont, ragtime and slide. He occasionally played banjo. Weaver died of cancer in Louisville in 1960 at age 63. When his unmarked gravesite was located at the Louisville Cemetery, monies were raised by the Kentuckiana Blues Society for a headstone. A simple dedication was held at the site in the winter of 1992 with Pen Bogert playing "Guitar Rag" on his national guitar.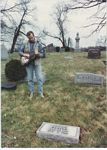 Photo By PHOTO BY KEITH CLEMENTS
The first recipient of the Sylvester Weaver Award was Henry Woodruff, receiving it at the 1989 Garvin Gate Blues Festival. I spent many a smoky Friday and Saturday night at A.J. Stovall's Pleasure Inn during the `80's listening to Henry and the Noisemakers rock the house. Henry's songs were not original but his interpretations were entirely his, coming through his generic guitar and wah wah pedal. After getting the Sylvester, Woodruff began to play clubs around town, including the Rudyard Kipling, Cherokee Blues Club, Fat Cats and Gators.
Although a series of strokes ended his musical career. Henry remains alive and fairly well, under care at the Eastern Parkway Medical Center. He would love to have visitors.
Jim Rosen got the Weaver in 1990 while he was still at the height of his powers, leading the Mudcats with his powerful Lee Oskar harps and gritty vocals. Nobody could sing quite like Jim Rosen, whose voice was a result of damaged vocal cords, rather like Louis Armstrong. Jim recorded three CDs with the Mudcats: "Back To The Basics," "I Wanna Play In Your Big Back Yard" and "Live At Mom's," which was recorded just before his death in February, 1998. Jim is cruising around in his blues Cadillac somewhere in heaven, sipping his favorite, Bushmill's Irish Whiskey.
The Godfather of Louisville Blues, Foree Wells, received the Weaver in 1991. Foree was one of the founding members of the KBS, serving as the treasurer for many years. When Foree fronted his Walnut St. Blues Band, it must have been very satisfying with his sons Michael, Greg and, briefly, Foree, Jr., backing him up. Foree's career started at 17, playing with the Morgan Brothers and later in Memphis, hanging out with many of the Beale Streeters like Rosco Gordon. He returned to Louisville to marry Lorene and form the Rockin' Redcoats. It was a tragedy that his self-produced CD, It's A New Day Brother was never released.
The 1992 Weaver went to Pen Bogert who is both a musician and a scholar. Bogert and his wife, Brenda, were editors of the KBS newsletter from March 1993 to November 1995 extensively researching Kentucky's and Louisville's blues history. When the KBS received a grant from the Oral History Commission in December 1991, Pen interviewed over twenty people, which became the Blues Legacy Project. These transcripts and tapes are stored at the U of L Archives in the Eckstrom Library. Pen has perpetuated the 10th St. Blues Band, playing lead guitar and getting gigs locally and around Kentucky. Pen and Brenda recently moved to Bardstown. He continues his research working at the Filson Club.
Guitarist and sax player, Winston Hardy, got the Weaver in 1993 at the fifth Garvin Gate Blues Festival. He was the freest of free spirits; he came from a family of undertakers. During the 70's, Hardy was immersed in the West Coast scene with Frank Zappa and the Grateful Dead. Winston returned to Louisville and contributed to the revitalization of the blues in Louisville with his Original Blues Band and later The Roadmasters. Winston encouraged Foree to get out of the cocktail lounges, where he was playing on a B-3 organ, and go back to playing guitar. Hardy's interracial bands brought veteran musicians to a new audience. Winston's legacies are his CD, Mumbo Jumbo, and a bizarre little book called Endurance.
The KBS board members refer to me as the "blues curmudgeon" but Perry Aberli was the primo curmudgeon. Perry and I are from the same generation of blues fanatics, introduced to the music during the early 60's, when it was still predominately black music. Perry helped organize the Midwest Blues Festivals at South Bend, Ind. when he was at Notre Dame. He had been president of the KBS when he got the award in 1994. Perry also hosted a series of fifteen cable TV programs, produced by Rick O'Neil, called "Back To The Blues in 1993 and 1994." I miss Perry's scholarly but provocative "From Minglewood to Cyberspace" articles in the KBS newsletter. It's about time to stir the pot up again, Perry.
If there ever was a man who typified a down home bluesman, it was 1995 award winner, Fred Murphy. Born in Tennessee, Murphy played drums in his uncle's fife and drum band as a young boy. He teamed up with Henry Woodruff when he first came to Louisville; they played at the Sunset Bar. His gospel-infused vocals and notably sustained notes on his harp were legendary to the crowd at the 26th Street Tavern. The Bogerts looked after Fred during his final years, booking him with the Kentucky Folklife Festival and recording Fred's very personal CD, I Heard A Little Rumblin'. I sure miss Fred's busking on Bardstown Road on Derby Eve.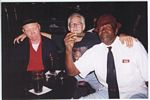 Photo By PHOTO BY KEITH CLEMENTS
Mary Ann Fisher, or Fish, as Ray Charles called her during her three years as his featured singer, was long overdue to get the award in 1996. There is not enough space here to highlight Mary Ann's colorful life story but it needs to be told with all its high and low points. Her love of life and soulful voice will remain in our memory plus her wonderful CD, Songbird of the South.
Another tribute is planned for Fisher at Stevie Ray's on February 13, 2005, where a video will be shown and the Walnut Street Blues Band will play.
Louisville guitarist Smoketown Red, real name Junie Downs, was the Weaver winner in 1997. Smoketown has always been on Louisville's blues scene playing backup or fronting his own group, The Soul Called Blues Band. From a delightful interview in 1987, Smoketown tells the story of growing up in the Smoketown neighborhood. He said, "Everyone had a nickname. They called me `Peepsight' and `Cottontop'. Nobody was called by their regular name, so when the police came looking for someone, you would give them their nickname and they never could find them." Foree and Sonny Sitgraves gave him his permanent nickname. If you get a chance to see Smoketown play, do it, for he is one of the few remaining Louisville blues legends.
When the Garvin Gate Blues Festival moved uptown to Theater Square in 1998 as the Louisville Blues Festival, Lamont Gillispie got the Weaver. Lamont had made a miraculous recovery from the previous year, surviving a series of serious operations. He started playing harp with the Stray Cats, then the Homewreckers and now The 100 Proof Blues Band. Today Lamont's voice and harp are stronger than ever, doing Chicago blues as if he were back at the Checkerboard Lounge. Lamont's only CD to date is a six-cut demo. A Live at Lisa's Lounge recording would be dynamite.
Tanita Gaines can move the congregation in the pews at St. Stephens on Sunday morning just like rocked the patrons in the club at Zena's with "Ride My Pony" the night before. Tanita got her award in 1999 during the last Louisville Blues Festival. She transforms songs by John Burgard, Rusty Ends and Dave Witherspoon with her powerful, deep vocals. Tanita recorded "Another City Day" CD in 1998 and is due for another.
Rocky Adcock got his Weaver in 2000. He served as the first president of the KBS in 1988. Because he worked at the Federation of Musicians Union, he was able to get gigs for Henry Woodruff, which helped Woodruff financially. Rocky played bass with Winston Hardy and had his own Rocky Amaretto Blues Band. He recorded "Bad Milk" on the Louisville Blues Compilation album. Rocky's professional and musical savvy helped the Society get through its formative years. He is currently living on his family's farm near Shelbyville and occasionally makes forays into Louisville.
Scott Mullins was the `Energizer bunny' who originated several projects in the early days of the KBS. He produced The Louisville Compilation recording, which started his Rollin' and Tumblin' Records label. Remember all of those Santa Is A Bluesman tapes and CDs? He conceived the idea of the Sylvester Weaver Award which he justly received in 2001. Scott's Saturday Night Blues Party on WFPK has expanded from one to three hours, spreading his eclectic selections of blues over public radio for longer than the KBS has been around. He has hosted countless blues festivals and benefits and has done more than anyone locally to promote and perpetuate this musical genre.
Stevie Ray's became the venue for presenting the Weaver Award during these past four years. Mark Stein received it there in 2002. He is currently playing lead guitar with Lamont Gillispie, so now this formidable blues band features two Weaver winners. Having mastered his own aggressive and versatile guitar style, Mark has lead several of his own bands, including the Steamrollers and the Rib Tip Kings. He can easily change from a romping Chuck Berry tune to his own song, "Talkin' `Bout My Baby," which he recorded on the compilation album.
Finally, we get to last year's winner, Sue O'Neil. She is one of Louisville's great blues divas. She was one of the founding members of the Mudcats, a group that started with a brief performance for a tailgate party at the Fairgrounds. Sue has balanced her time raising two boys and raising the roof, belting the blues. When singing, she has fronted her band, the Blues Hounds, and currently the Blues Seville. Sue can turn a Willie Dixon song into a romp when she's on stage. Sue and her husband Rick were active board members when she edited the KBS newsletter from 1991 to 1992.
It has been a joy to witness nearly all of the presentations of the Sylvester Weaver Award. Each recipient was genuinely surprised. Five of the winners (Jim, Foree, Winston, Fred and Mary Ann) are no longer with us and it was important they got this recognition they deserved during their lifetimes.