Cowboy Corner
Garth and Trisha to Say, "I Do"
Rumors and speculations have been swirling for a couple years now regarding one of country music's highest profile couples: Garth Brooks and Trisha Yearwood. Well, it's official, the happy couple is finally engaged to be married. Brooks surprised Yearwood when he dropped to one knee and presented his leading lady an engagement ring on-stage during the unveiling of bronze statues of some of the biggest names in country music in late May at Buck Owens' Crystal palace in Bakersfield, Calif. Among the statues unveiled that evening was a Brooks statue, complete with a wedding ring. Brooks later admitted that he had been planning to propose to Yearwood at the event for some time and had asked the sculptor to include a wedding ring on his statue to symbolize his undying love for Yearwood. Yearwood admits that she was totally surprised by the proposal and was in shock, but she definitely said, "Yes."
Although now engaged and the fact that Yearwood is gearing up for a tour this summer and fall to promote her new album, Jasper County, which includes her new single, "Georgia Rain," Brooks remains committed to his current retirement until his three daughters are grown. The country superstar just last month ended his 17-year relationship with his record label, Capitol Records, maintaining distribution rights to his albums, which have sold over 100 million copies. Now that he is not committed to a particular record label, there has been talk around Music Row that Brooks and Yearwood are hoping to finally record a long-awaited duets album.
Shania Makes Forbes Celebrity 100 List
Shania Twain has been riding high on the success of her Greatest Hits disc, which hit stores late last year and which has helped the Canadian-born songstress land on Forbes magazine's annual Celebrity 100 list. This prestigious collection of financial and media powerhouses is quite a list to land on and Twain was the fifth top musician and the only country artist, on the Top 100 list, which is ranked based on annual earnings, as well as media presence and Internet hits and searches. Twain landed at a respectable #40, behind pop stars Madonna, Elton John, P. Diddy and heavy metal rockers Metallica. Twain impressively beat out musicians Rod Stewart, Bette Midler, Prince, the Eagles and Van Halen.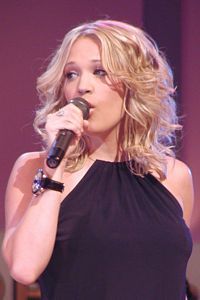 Photo By Photo by Michael W. Stout
John Michael Montgomery Opens Hometown Restaurant
Nicholasville, Kentucky's very own hometown boy John Michael Montgomery has followed in the footsteps of many fellow country artists. Just last month, he opened his very own restaurant, called John Michael's Hometown Bar and Grill, where else but in his very own hometown of Nicholasville. The establishment will seat approximately 200 guests and includes a stage welcoming live music, occasionally even its namesake country superstar. Montgomery was on hand for a special concert to kick off the grand opening.
And just in case you were wondering, the menu includes the usual steak, chicken and good ole home cookin', including Montgomery's favorite, frog legs.
Country Acts to Perform at Live 8 Concerts
If you can remember all the way back to 1985, Irish rocker Bob Geldof put together a historic concert titled Live Aid to help eliminate poverty in Africa. Well, 20 years later, the musician has organized a bevy of concerts called "Live 8" around the globe set for July 2 to continue to help battle Africa's poverty, a dilemma that unfortunately continues today. This time around, concerts will be held in Belfast, London, Paris, Philadelphia and Rome, a few days before the G8 Summit in Scotland, hoping to encourage the world leaders scheduled to attend the summit to make this battle against poverty a top priority during their meetings.
Country stars seem to have hearts of gold when it comes to charitable deeds and three of the biggest names in country music are lending their time and talents to this global effort by performing at these free concerts. The McGraws, Tim McGraw and Faith Hill, will perform at Rome's Circus Maximus along with 1980's pop supergroup Duran Duran, among others. The country wonder from "Down Under," Keith Urban, will perform at Philadelphia's Museum of Art along with Bon Jovi, the Dave Matthews Band, Will Smith and Stevie Wonder.
Alan Jackson Added to State Fair Lineup
Since last month's column, the Kentucky State Fair has released details of an additional country concert during this year's fair, to be held August 18-28. Long-legged, Newnan, Georgia. country superstar Alan Jackson will bring his "What I Do Tour" to Freedom Hall on Saturday, August 20. Joining Jackson will be a brand new duo called The Wrights, which is made up of Jackson's nephew and his wife. Tickets will set you back $41 each, which includes gate admission to the fair.
Previously announced paid country concerts include Chevy presented "The American Revolution Tour" featuring Gretchen Wilson and Big and Rich on opening night, Thurs., August 18. Tickets are still available and will also cost you $41 each. Although the show is sold out, Kenny Chesney's "Somewhere in the Sun Tour" featuring special guest Pat Green will close the fair on Sunday, August 28.
Tickets for Jackson's concert and Gretchen Wilson/Big and Rich can be purchased at the Freedom Hall box office and all TicketMaster locations, or by calling (502) 361-3100.
Two Country Bachelors are People's Hottest
Each year, People magazine publishes its list of the year's "50 Hottest Bachelors." This year, two of country music's very own eligible bachelors, who both just so happen to be named Keith, made the cut. First of all, Australian-born country superstar Keith Urban is among the "Hollywood's Stylish Bachelors." The caption next to Urban's mug-shot reads: "Country star Keith Urban is bucking the whole country-and-western cowboy hat tradition. Whether in a velvet blazer or a grunge-style army-green button down shirt, the Aussie singer is more in the bad-boy mode than the good ol' boy mode."
The second country Keith to make the coveted list is newcomer Keith Anderson. Obviously People magazine is looking a little past Anderson's smash debut single, "Pickin' Wildflowers." Urban and Anderson join the likes of Colin Farrell, Jamie Foxx, Matthew McConaughey, Brad Pitt and Usher on the "50 Hottest Bachelors" list.
CMA Happenings
The Country Music Association has made some major announcements in recent days. The 39th Annual CMA Awards are going to move "up-town" this year for a very special awards ceremony when they hit the road and head to the "Big Apple," New York City. Kix Brooks and Ronnie Dunn did such a fine job filling the void left by long-time host Vince Gill after stepping down from the helm last year that the duo has been invited to head to the big city and host the gig once again. The show will air live on CBS-Television on November 15, before moving to ABC-Television next year, a commitment to continue through 2012.
The 2005 Country Music Association Music Festival has already come and gone and attendance was up, despite quite a bit of rain. Country fans are like none other and are the best fans in the business as they faced the downpours to enjoy and support their favorite country artists during their live performances in the Tennessee Titan's stadium, The Coliseum. The CMA has reported that 145,355 country fans flocked to Nashville for the CMA Music Festival. Four-day ticket package sales were up 16 percent over last year, while single-day concert tickets were up a whopping 38 percent this year. And if you weren't one of the lucky 145,355 country fans lucky enough to enjoy the festival, never fear as ABC-Television was on hand filming the festivities for a special scheduled to air on August 2. Highlights are sure to include the newly crowned American Idol, Carrie Underwood in her first major appearance in Music City, U.S.A., having performed Thursday evening, June 9 along with Phil Vassar. The following evening, Underwood made her debut on the stage of the famed Grand Ole Opry, performing her debut single, "Inside Your Heaven," as well as Roy Orbison's "Cryin'." Other highlights throughout the festival included live performances by Keith Urban, Dolly Parton, Alan Jackson, Trisha Yearwood, Gretchen Wilson, Wynonna and hundreds more artists.
CMT's Greatest Country Duets
Last month, Country Music Television counted down the top 100 greatest country duets with a special concert at Nashville's Gaylord Entertainment Center to air as an upcoming CMT special. The top 12 duets were performed live for this special concert. Travis Tritt and Marty Stuart performed their #12 duet, "The Whiskey Ain't Workin'," while Clint and Lisa Hartman Black sang their #11 hit, "When I Said I Do." Landing at #10 on this special countdown was Conway Twitty and Loretta Lynn's "After the Fire is Gone," performed by the special's hosts, Trace Adkins and Terri Clark. Coming in at #9 was Reba McEntire and Linda Davis' powerful "Does He Love You," performed by Jamie O'Neal and country's American Idol sweetheart, Carrie Underwood.
Lee Ann Womack stepped in for the late Dottie West to perform the #8 duet, "Every Time Two Fools Collide," along with Kenny Rogers. The Mavericks' Raul Malo also stepped in for the late Eddie Rabbitt to peform the #7 duet, "You and I," along with long-locked Crystal Gayle. Landing at #6 was David Frizzell and Shelly West's "You're the Reason God Made Oklahoma," which was performed by Blake Shelton and Miranda Lambert. George Jones and Tammy Wynette's "We're Gonna Hold On" came in at #5 and was performed by Joe Nichols and Lee Ann Womack. Newcomer Keith Anderson and Rebecca Lynn Howard performed #4, Johnny Cash and June Carter Cash's "Jackson." Willie Nelson and Waylon Jennings' "Mammas Don't Let Your Babies Grow Up to Be Cowboys" topped out at #3 and was performed by Montgomery Gentry and Jennings' son, Shooter Jennings. Conway Twitty and Loretta Lynn made their second appearance in the top 12 at the runner-up spot with "Louisiana Woman, Mississippi Man," which was performed by Travis Tritt and Patty Loveless.
And the drum-roll please...the number one country duet as tabulated by Country Music Television is Kenny Rogers and Dolly Parton's 1983 smash crossover hit, "Islands in the Stream." Rogers and Parton rekindled the magic of this timeless hit live for screaming fans for the first time in 15 years.
Heavy Metal Country
Kenny Chesney has been racking up some serious heavy metal, well, at least heavy metal certifications, these days. It was recently announced that his When the Sun Goes Down disc was certified quadruple platinum by the Recording Industry Association of America (RIAA) for shipments of an amazing 4 million copies. Not a small feat for a Luttrell, Tennessee boy a mere year-and-a-half since the disc first hit store shelves. Other albums receiving metal certifications include Blake Shelton's Barn and Grill and Sugarland's debut Twice the Speed of Life, which were each certified gold for shipments of half a million copies, while Rascal Flatts' Feels Like Today has been certified double platinum for shipments of 2 million copies.
Chesney's current tour-mate, the sizzling newcomer "Redneck Woman" herself, Gretchen Wilson, is also no stranger to heavy metal. The RIAA recently certified Wilson's "Here for the Party" digital gold for 100,000 legal downloads, while "Redneck Woman" was certified digital platinum for 200,000 downloads. Other songs receiving digital gold certification include Sugarland's debut single, "Baby Girl," Shania Twain and Billy Currington's smash duet "Party for Two," and Lee Ann Womack's signature tune, "I Hope You Dance."
Well, that's it for another month. Here's wishing each of you and our great country a Happy Fourth of July. As we celebrate the birth of our nation, please remember our troops fighting for freedom around the world. Always remember: "Keep your boots shined up and your hat on straight, `cause country music is comin' your way."