Lentammc@aol.com.

• Bill Ede has asked me to inquire if any readers out there have some interesting information about the late Bernie Smith, longtime guitarist on WHAS' "Hayloft Hoedown." If you do, please email me at editor@louisvillemusicnews.net

.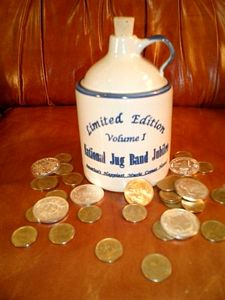 • Considerable efforts are underway to create a jugband festival, the National Jug Band Jubilee, next year in Louisville - generally recognized by the music industry as the home of jugband music - ramrodded by Rod Wenz, with assistance from Tom Sobel, among many others. A fund-raising cruise, the Blue Jeans River Ramble, will happen on July 1 on the Belle of Louisville, with music provided by the Juggernaut Jug Band and Cincinatti's Cincinnati Dancing Pigs. For info, log onto www.jugbandjubilee.com

• Out in San Francisco, a Santa Cruz radio station will begin beaming its signal into the metropolitan area. What makes that unusual is that KPIG is an old-fashioned, DJ-guided, listener-driven radio station, where the playlist is what the jocks and the listeners want, rather than the incessant rotation of the top eight corporate pop songs that most commercial stations program these days.

Real radio ( and web radio) fans in SF are intrigued to be getting such a signal, but right here in River City, we've had access to such a station for years and years and we're not talking PRP's WFPK, though 91.9 does a far better job of it than most. No, this station is further left on the dial at 88.1 FM. It's WNAS - New Albany High School radio - where you can hear Led Zeppelin followed by Sinatra followed by Leslie Gore followed by Sum 41 and so on and without a lot of chatter in the interim. Since the station is hosted by the students, the on-air comments can be amateurish (of course) but who cares? They play the most interesting mix of music around. Tune it in and see if you don't agree.

CODAS

• Higdon, Daryle "Old Crow:, 53, died on June 22 in Louisville He was a drummer who played with Del Reeves, Grandpa Jones Loretta Lynn, Dottie West and many others during the `60s and `70s. He toured with Pee-Wee King at age 15. (See letter this page.)

• Rodgers, Gary Thomas Sr., 54, died in Louisville on June 25. Rodgers sang with a version of the Moonglows assembled by original Moonglow member Bobby Lester. He was inducted into the Rock and Roll Hall of Fame as a member of the Moonglows in March, 2000.

• Quillen, William Jett, 55, died in Louisville on June 23. He was a violinist who occasionally substituted with the Louisville Orchestra and with the Walnut Street Baptist Church Orchestra.

• Dr. Mary Eliza J. Smith, died in Louisville on May 28, 2005. She was a elementary music instructor and concert choir director.