Jazzin'
RECENT CONCERTS
The Bellarmine Jazz Guitar Workshop and Concert
For me, the Jazz Rites of Summer opened here in Louisville with the Bellarmine Jazz Guitar Workshop's annual concert on June 6. Professor Jeff Sherman brought in two highly accomplished guitarists, John Stowell and Peter Bernstein as featured faculty and performers. Stowell and Bernstein are not only excellent musicians in their own right, but provided a contrast of styles which nevertheless worked well during their duo segments, as well as with Sherman in the trio portion s of the concert. During the ensemble segments of the concert, Tyrone Wheeler's bass artistry and Paul Culligan's drumming added depth and swing to the proceedings. Stowell's style tends more to the classical, both in the way he holds his guitar and in his performance style. Bernstein, on the other hand, seems to play a more blues-influenced mainstream style of guitar.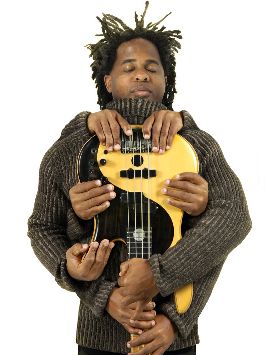 All three guitarists worked well with each other on the Cole Porter standard "Love for Sale." Sherman, Wheeler and Culligan performed "Bass Face," featuring a highly melodic arco solo by Wheeler. A heartfelt tribute to Brother Ray Charles followed, "Hit the Road, Jack" which lightened up the proceedings. Next, Stowell and Bernstein performed "How Deep Is the Ocean" without backup, allowing the audience to experience the differences in their styles and even their preferred tonal settings. Even their styles backing one another during the other's solos demonstrated different approaches: Stowell's accompaniment tended more to the single string, while Bernstein tended to comp in a more chordal "rhythm guitar" fashion. Two pieces by Bernstein featured the return of Wheeler and Culligan, doing first a ballad and then an uptempo bop tune. In both pieces, Bernstein's bluesy side was emphasized. After intermission, Stowell performed a medley of original pieces for solo guitar, at times reminiscent of classical fantasias. He chose a varied set of composers to cover when the rhythm section returned, playing Steve Swallow's "Soft Skin," John Scofield's "Wabash 3" (described as Sco's take on the classic "Wabash Cannonball") and Thelonious Monk's "Bye-Ya." Sherman and Bernstein returned for the finale, consisting of "You and the Night and the Music" (again featuring Bernstein's blues-inflected playing) and "Reife's Blues," a Brazilian blues composed by trumpeter Claudio Roditi. Once again, the Bellarmine Jazz Guitar concert ushered in a season of jazz in high style.
Stowell has a new CD out, Resonance, on Origin Records (www.origin-records.com). It is a 13 song, 63+ minute collection of solo renditions of originals, jazz and American songbook standards, with something of an ECM "chamber jazz" feel to it. In a post-concert interview, he mentioned that he was working on a trio CD, recorded after-hours in a club. He also discussed his extensive travel schedule, including upcoming performances with bassist David Friesen, with whom he recorded some two decades ago. Besides jazz, Stowell commented that he loves Brazilian music and classical music, including Baroque, late 19th and early 20th century and Russian composers such as Stravinsky. Bernstein's most recent recording as a leader is Heart's Content, on Criss Cross Jazz with an all-star lineup of Brad Mehldau (piano), Larry Grenadier (bass) and Bill Stewart (drums). The quartet tackles a program of Bernstein originals, with the exception of the Sammy Cahn/Charles Chaplin standard "Dedicated To You." Bernstein closes the recording with an unaccompanied, eloquent rendition of one of Billy Strayhorn's later compositions, "Blood Count." The Bernstein originals give him room to creatively improvise in a more mainstream vein than might be expected from his work with Dr. Lonnie Smith and other funksters. Bernstein is anticipating the release of a live DVD and CD set for Mel Bay, featuring Bill Stewart and keyboard player Larry Goldings. He commented that he approaches his music in a manner that is "obviously soulful and progressive at the same time; although not progressive for its own sake." He seeks to put his own take on his music, "not relive the past or shed it."
The Lynne Arriale Trio at the Jazz Factory
Lynne Arriale is no stranger to Louisville, having performed here several times before. However, given her pending move to Florida from nearby Brown County, Indiana, her recent performance at the Jazz Factory on Saturday, June 4 might well be her last for quite some time to come. Steve Davis showed why he has been her drummer for over a decade now, with tasteful and varied drumming throughout the two sets. Bassist Bob Bowman demonstrated that he was not a mere stand-in for Arriale's regular bassist, Jay Anderson, by engaging the other players in ongoing musical conversations. Most of the first set consisted of Arriale originals, many from her two most recent Motema albums, Arise and Come Together. The trio's interpretation of the New Orleans Mardi Gras anthem, "Iko Iko," was intriguing in the way that Davis' drumming went for a decidedly non-second-line feel, while the melody's intrinsic rhythm pattern was carried by Arriale and Bowman. A similar rhythmic reworking of the Beatles' "Come Together," which opened the second set, also added interest to a song that in lesser hands might have been simply an easy crowd-pleaser. The second set also included such jazz standards as Monk's "Evidence" (Perhaps the only song of the night to pay homage to the blues roots of jazz) and a Steve Davis arrangement of "Seven Steps to Heaven."
In a conversation a couple of weeks before her performance here, Arriale mentioned that she has been focused on performing more than composing recently. She will be touring Europe as well as the USA this summer and commented on the "wonderful audiences" she encounters. She loves working in the trio format, commenting that "the trio can be an orchestra or an intimate group . . . the trio isn't missing anything." Certainly her point was proved yet again in her most recent performance here.
RECENT CD RELEASES: BASS IS THE PLACE (Apologies to Sun Ra)
Beginning with Avishai Cohen's latest release and on through several more new CDS, there has been a small flood of new jazz CDS featuring the bass, in a variety of settings. Where Avishai Cohen and Drew Gress both focus on their own original jazz compositions; a tribute to Jaco Pastorius emphasizes respect for his compositional skills rather than hot playing; Victor Wooten, best known for his work with Bela Fleck and the Flecktones, gets down and funky, while Michael Manring has a true solo outing which shows beauty and restraint.
Avishai Cohen's latest Razdaz CD, At Home, provides a showcase for both Cohen's composing as well as his playing. He utilizes the talents of pianist and keyboard player Sam Barsh [formerly Sam Bar-sheset] and drummer Mark Guiliana (both of whom appeared with Cohen in his two Jazz Factory appearances) as a core group. There are several trio performances, as well as others with an expanded ensemble that includes saxophonist Yosvany Terry (who was here with Cohen in his first appearance) and others. This makes for an album that is both cohesive yet varied. Throughout, Cohen displays an affinity for songs that seem to utilize cyclical patterns.
Drew Gress has appeared at the Jazz factory with the Fred Hersch Trio and is a first call bassist for many musicians' projects. On his 7 Black Butterflies (Premonition 90767), he enlists trumpeter Ralph Alessi, saxophonist Tim Berne, pianist Craig Taborn and drummer Tom Rainey for a project that moves cohesively between abstract compositions such as "Zaftig" to pieces seemingly drawing on Charles Mingus' penchant for grounding abstractions in the blues and gospel, such as on "Bright Idea" and "Blue on One Side." This is progressive music that does not go so far out as to lose the listener.
Gospel for J.F.P. III: "Tribute to Jaco Pastorius" (MoonJune Records, MJR005USA; moonjunerecords.com) is an intriguing release, featuring for the most part the compositions of the late bassist extraordinaire. A little over half of the material was previously released, but on relatively obscure recordings, so fans of Jaco will likely not find much duplication here. The CD opens with one of his best known compositions, "Three Views Of A Secret," featuring former Pastorius bandmates Hiram Bullock on electric guitar and Bireli Lagrene on acoustic guitar, with the addition of a chorus by the Latin American vocal group Contrafarsa. "Continuum," a Pastorius showpiece in concert, is reinterpreted by Michael Gerber, acoustic piano, Gil Goldstein, electric keyboard, Romero Lubambo, acoustic guitar, Mike Stern, electric guitar and Armando Marçal, percussion; virtually forcing the listener to come to terms with the piece as a composition, not just as a launching pad for bass improvisation. Another classic, "Punk Jazz," is a solo outing for Gil Goldstein's accordions(!). "Teen Town" captures much of the feel of some of the gray market live releases with Kenwood Dennard on drums, Marcus Miller on electric bass, Hiram Bullock on guitar and Delmar Brown and Charles Blenzig on keyboards. If you have all the official Jaco Pastorius material and want more, this is a good CD to add to your collection.
Victor Wooten's newest CD, Soul Circus (Vanguard), is aptly titled. While Wooten's playing with Bela Fleck and the Flecktones and on several of his own recordings, emphasize his jazz fusion virtuosity, taking Pastorius' innovations to new places, Soul Circus draws more from such soul and funk bass masters as Larry Graham (Sly and the Family Stone, Graham Central Station), James Jamerson (Motown's Funk Brothers) and Bootsy Collins (James Brown's JBs, George Clinton's Parliament-Funkadelic and numerous solo recordings).
Michael Manring's Soliloquy arrived too late for a full description, but a first listening reveals Manring's amazing virtuosity coupled with gorgeous and understated compositions. For more information on this self-released album, go to www.manthing.com.
ON THE HORIZON
As I have before, I urge you to subscribe to sign up for "Jennifer's Jazz E-News," by e-mailing Jenjenjazz@louisvillejazz.org. As I have noted before, there are so many opportunities to hear live jazz that it is both impossible for me to try to provide a complete listing here and it would be duplicative in any event. Also, Louisville Music News' monthly music listings are carrying more jazz events than ever, in both the print and online editions (www.louisvillemusicnews.net). Thus, I will simply highlight a few performances, which I find of particular interest.
As previewed here last month, the Jamey Aebersold Summer Jazz Workshops will bring some of the nation's leading jazz players to Louisville. The program takes place at the University of Louisville, from June 26 through July 8. In addition to the lessons and classes for registrants, there will be faculty concerts both weeks on Sunday, Monday, Tuesday and Thursday in Comstock Hall at the U of L School of Music (7:30 p.m.) that are open and free to the public. There will also be concerts on Wednesday, June 29th and July 6th featuring saxophonists Eric Alexander and Don Braden, trombonist Conrad Herwig, trumpeter Jim Rotondi, bassists Rufus Reid and David Friesen, drummer John Riley, guitarist Dave Stryker, vocalist Jennifer Barnes and pianists David Hazeltine and Andy LaVerne. These will take place at Masterson's 1830 South Third St., near the University of Louisville campus at 8 p.m. ($10 general public; $5 Louisville Jazz Society Members). The student combos perform free on both Fridays (July 1 and 8th) from noon-5pm in Comstock and Bird Hall. For additional information, contact Benjamin L. Gritton, Summer Jazz Workshop Administrator, at 812-944-8141, or by e-mail at: ben@jazzbooks.com.
Dave Stryker has two recent releases, both on the Zoho label: The Sryker/Slagle Band Live at the Jazz Standard (ZM 200509) and Trio Mundo Rides Again (ZM 200410). Long-time musical partner Steve Slagle guests on the Trio Mundo release, which features percussionist Manolo Badrena and bassist Andy McKee (often found filling the chair in the Mingus Bands these days). Where the live date (also featuring bassist Ed Howard and drummer Victor Lewis) combines straightahead with healthy doses of funk, the Trio Mundo project veers more into jazz with a world music flavor.
The complete lineup for July for The Jazz Factory, (815 W. Market St. in The Glassworks, 502-992-3242) is available at the website: www.jazzfactory.us. Below are some utterly subjective highlights for July; note that beginning Tuesday July 5, Todd Hildreth will play piano from 5-7 p.m. Tuesdays through Thursday for free and the West Market Street Stompers continue their Friday night free performances from 5-7 p.m. The first two weekends are given over to various combinations of musicians from the Jamey Aebersold Jazz Camp. On Tuesday July 5, IsWhat?!, a trio from Cincinnati, combines real sax and flute, acoustic and electric bass and MC and beat box for an unusual excursion into the barely charted reaches where rap and jazz meet. On their CD, You Figure It Out (Hyena TMF-9326), they show props to the masters with innovative versions of Charles Mingus' "Fables of Faubus" and "Haitian Fight Song" (retitled "Trust"), with the remainder of the CD being all originals. Would you feel any different if I had said they combine poetry with jazz? What's in a word? The next night is Jazz and The Spoken Word, so compare and contrast. The Matt Lawson Quartet returns the 13th; Hildreth brings his trio the following night. On Friday and Saturday the 15th and 16th, guitarist Dan Faehnle's Quartet; on July 21 guitarist and vocalist Doug Wamble returns in support of his recent Marsalis Music release, Bluestate; the Bill Barnes Trio on the 26th; The Jamey Aebersold Quartet on the 28th and a special duet performances featuring our own Dick Sisto and fellow vibraphonist Joe Locke, a very strong and creative player, on the 29th and 30th.
The Seelbach Jazz Bar features the Dick Sisto trio (with Tyrone Walker and Jason Tiemann). Featured guests during July are guitarists Dave Stryker and Fred Hamilton (July 1), Andy Laverne, Jim Snidero and Hamilton on July 2; pianist Bobby Floyd on the 8th; Tim Whalen on the 9th; the following weekend is Jacob Duncan; the 22nd and 23rd feature Matt Lawson; and the final weekend will be the Tim Whalen, Mike Hyman, Craig Wagner, Chris Fitzgerald Quartet.
Victor Wooten will bring many of the players from his Soul Circus recording [see above] to town on July 2, igniting musical fireworks at Headliners. A recent setlist includes many of the songs from this CD, as well as a cover of the Jimi Hendrix classic "Fire" by brother Regi Wooten.
CODA
As always, I am interested in your comments. Contact me at mzkjr@yahoo.com.