Louisville Rock Closeup
Name/Nicknames: Jeremy King or just "King"
Age: Born April 2nd, 1975 (thirty years and some change).
Instrument: Singer, Guitar, Drums (retired)
Band/Former Bands: Current: Dead City Rejects
Past: Indignant Few - Drums (1989-1991) IDC - Drums (1991-1993) Acid 9 - Vocals, Drums & Guitar (1995-1997) Speed Kills - Drums (1997-1999) B.S.P - Vocals & Guitar (1998-2002) Haircuts That Hurt - Guitar (2003-2004) Stand in musician (drums): Skam Impaired, Ants in an argument
Current Bandmates: Brent Starkey - Bass; Jason Ott - Guitar; Chico - Drums.
How long on instrument: Vocals- Nine years; Guitar- Eight years; Drums- Eighteen years (though not consistent since 1998)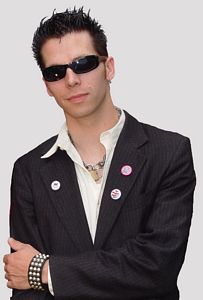 Equipment: Mesa/Boogie Single Rectifier - stage guitar amp;
Mesa/Boogie Heartbreaker - studio guitar amp
Two(2) custom built 4x12 Celestion guitar cabinets
Korg rackmount guitar tuner
Nady wireless guitar system
Custom Epiphone Riviera archtop - primary guitar
Gibson "Les Paul" double cutaway - secondary guitar
Epiphone "Les Paul" model - practice guitar
Jay Turser JT-50 - acoustic Guitar
Metal (usually chrome or nickel) guitar picks.
Influences:
Chuck Berry, Bad Brains, The Clash, Dave Brubeck, Miles Davis, Jimmy Cliff, Ramones, Motley Crue, Dead Boys, The Specials, Undermine, Fear, Eddie Cochran, Hound Dog Taylor, Shakira, Count Basie, Social Distortion, Billy Holiday, Flogging Molly, Beethoven, Buju Banton, etc.
First Gig:
My first show was in July 1991 at Tewligans on Baxter Ave. (now Cahoots) back when I used to play drums for Indignant Few. I remember being delayed flying out of Glasgow, Scotland the previous day because all of the planes had been diverted to Iraq to export British and Scottish citizens back to the United Kingdom during the Gulf War. When we finally landed in New York City our connecting flight had already departed for Louisville, forcing my family and me to stay over in NYC.
The airline was gracious enough to put us up in a hotel until the following morning. So, once settled into our room I decided (as any sixteen year old would do) to venture out and wander the streets of New York in search of a pay phone (after all, Holden Caulfield had no problems, right?). Eventually I track down a phone and make contact with the band, only to find that we have a show the next day starting approximately two hours after I'm scheduled to arrive back home.
Anyway, I didn't get mugged, maced, or assaulted in New York (but I did buy a very cool poster). I simply took-in the ambience, went back to the hotel, woke the next day and flew home to play a very jet-lagged, yet unforgettable show with several other great bands that I can't remember.
Hobbies: Travel. I love life, everyday is an amazing adventure for me (just ask all my `wives', they're out back in the pool). I love to read whenever possible. Beautiful people make me smile, sincere people make me happy and assholes keep the blood flowing. Good stories keep things fresh and new. I'm a huge fan of spontaneity, surprises and change. I have a longtime passion for being on two wheels; whether on my motorcycle, my BMX bike, or my mountain bike. Sex is a drug. It does strange things to the mind and soul and I think I may have a slight addiction. But, I would also have to include it in with my list of hobbies.
Favorite Movies: I have about 300 movies in my home collection and hefty late fees at multiple video stores, so to list a favorite is impossible. Rather I will simply summarize the ones that stand out immediately and made the greatest impact:
Naked Lunch; Barfly; The Outsiders; Fight Club; Decline of Western Civilization; East Of Eden; Rumblefish
Favorite Books: Everything by Ernest Hemmingway; "Treasure Island" by Robert Louis Stevenson; Tom Robbins "Jitterbug Perfume"; The Harry Potter collection by J.K. Rowling; Jack Kerouac's "On The Road" & "Desolation Angels"; "Junky" by William S. Burroughs; "Nine Stories" by J.D. Salinger; "Bring Me Your Love" and pretty much everything else by Bukowski; Fyodor Dostoevsky (when I'm feeling introspective) and most books about pirates.
Favorite Food: I love really great scrambled eggs, especially after a long night of adventures. Mix the eggs up with cheddar cheese, green peppers, maybe some ham or sausage and just the right amount of garlic; add a side of fresh fruit and maybe some French Toast. Then, of course, compliment the meal with exceptionally strong hot coffee and a mimosa or two. Delicious.
But, the most amazing meal I've ever had was prepared for me by my life-long love about two months ago. I can not do the eloquence of this meal literary justice, so I will just simply list the courses and preface it by saying that she is Italian (as was the meal) and she had just recently move back to United States from Italy.
The meal itself was Vermicelli pasta and handmade sauce, baked eggplant, manicotti, spinach salad and a fine melting garlic bread appetizer with strawberry shortcake for dessert; all fresh ingredients from the garden. Served at midnight in a dark farm about a hundred miles outside of town.
Heaven.
Favorite Place: New York City or Madrid, Spain
Things Hated: Racists, Rapists, ignorance and stupidity, New Age Jazz, the president.
My Bad Habits: Drinking. When I drink I smoke; when I drink and smoke I get caught up in the moment and fall in love with the world. When I fall in love with the world things don't seem so bad. When things don't seem so bad I want to keep the night going and make bad judgments. So I drink more. Then the sun comes up.
What I'm Listening to Nowadays: The new Transplants album Haunted Cities; Motley Crue Too Fast For Love; Kinghorse Too Far Gone, Tastyface; The Clash On Broadway; The Spunks Born to Be Mild.
Coolest Thing I've Done: I've raised two badass daughters.
Most Embarrassing Moment: I was in Paris in 2001 and had to break into a hotel by climbing three stories up a drainpipe (in the rain) to crawl in through and open window at four in the morning.
After (tequila) leaving a strip club in Tijuana I was pulled over and nearly went to jail with some friends over a minor traffic violation. Two thousand pesos later and we were back in L.A.
I once woke up in a bathroom in Minsk, Belarus with two Belarusian militia officers pointing machine guns at me and yelling in Russian. I was eventually released and went on to win a polka dancing contest in a wedding and then ended the night at a disco club.
Media: Web: www.deadcityrejects.com
EPK: www.sonicbids.com/deadcityrejects
Also: www.myspace.com/deadcityrejects
Upcoming Gig: Louisville Mojo Birthday Bash on July 9th at American Turners on River Road. 18+ $4.