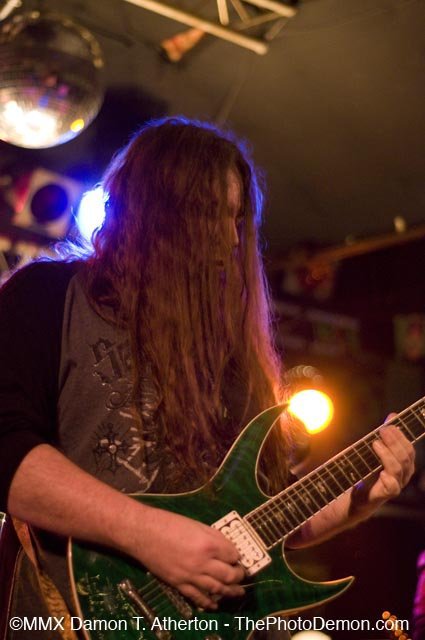 News From the Pit
Summer Heat!
Work is fargin killing me, my GF moved to Iowa (I'm bummed), it's been seriously hot and nasty out and now some cowardly anonymous weasel and an unappreciative band is trying to make trouble for me and my six-year rock showcase at Phoenix Hill.
Mr. Anonymous is trying to get bands to boycott my Phoenix Hill shows, putting up anonymous posts calling me a thief, a liar and telling lies that are in no way true, obviously trying to entice bands and people against me.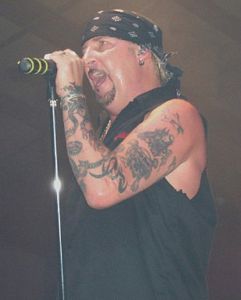 Photo By Photo by Eddy Metal

The unappreciative band thing stems from when a new band sent an email to me saying "if I don't totally change my radio ad purchasing policy and invite them back soon, then I would more than likely see a boycott against me."

Imagine that. A new band, that hasn't even developed a large draw yet, telling me what to do and how to run my show? How arrogant and ungrateful is that? I was shocked. Here I am hooking a brand new band up with exposure out the rear end and a good time spot! And this is my thanks?

They said it's not a threat. But if that isn't a threat, I don't know what is. I have been helpful to this band in the past, booking them for many shows.

It's kind of curious how those anonymous posts appeared right when the unappreciative band started all this.

All the money for the Original Rock Showcase, currently $640 ($500 from the Hill, $140 from Showcase Music, now Uncle Samm's Jamms), goes directly to Clear Channel Radio for the radio commercials that feature the local bands music, on a monthly basis. The checks are even made out to Clear Channel.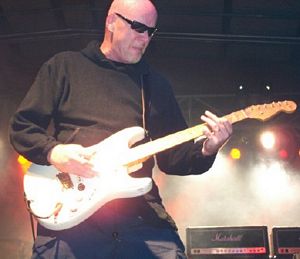 Photo By Photo by Eddy Metal

Anyone who doubts this can contact Rachael Blair at clear channel sales to verify. Feel free to check. Rachael Blair 479-2084, or rachaelblair@clearchannel.com.

All I can say is that all of you who really know me and the hard work I've done for this scene, from way back in `95, know that I'm about the music, not the money. If I was about the money, I would have given up long ago. It just makes me mad to be accused when I've done nothing but give 100%.

The Original Rock Showcase isn't about how much money can we make, it's about giving good unsigned bands some exposure, and a chance to rock out in a good and Infamous venue, with a good sound system.

And last but not least, the bands get several days of radio spots on 100.5 the Fox, which are heard 50 to 80 miles away in every direction, leading up to the show, which nowadays is unheard of, which even makes it sweeter.

And most of the money I earn writing this column in LMN goes into buying an ad in LMN for the Original Rock Showcase Series and has for years! They are listed every month for all to see!

It's all to promote the bands, the show and the shows much-appreciated sponsors. If you doubt this, contact my boss here at LMN. He will enlighten you.

So to you Mr. Anonymous: Get a life: you're truly sad and quite pathetic.

As for the unappreciative band, if you don't like the show's policy - or me, for that matter - I can live with that. You have a choice: don't play the show. These are the exact words of the Phoenix Hill Tavern as well. There will always be a troublemaker, crybaby, whiner, or instigator when anyone does something.

And there will always be talented and appreciative unsigned bands that do want to play and get the exposure that the ORSS offers. It's about getting yourself in front of an audience. If bands only interested in money don't want to play, then I guess I'll just book newer bands that do.

As a writer for LMN, I won't hold a grudge or be mad at all if your band chooses not to play. Only a hypocrite would do that. I will support you bands no matter what.

I respect whatever your choice is. I started these shows and I will continue to run the shows as I see fit. And that's that!

BTW, I will be asking for a little something extra for the bands who play, not because I'm being threatened, but because I decided this well over a month ago.

THE METAL GRAPEVINE

Wanna Help Sick kids? I'm doing construction work at Frazier Rehab Hospital and every day I see sick kids going into the children's hospital next door.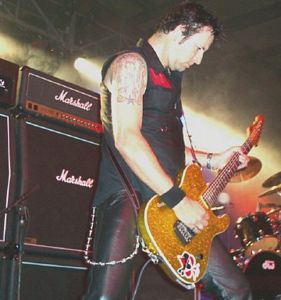 Photo By Photo by Eddy Metal

What about the ones who don't come out? Several weeks ago, I got to thinking and decided that I should put on a benefit concert for the terminally ill kids.

Maybe buy them some toys, games, books or anything cool anyone can think of. A sh*tload of stuff. I'm open to suggestions.

Jason Ashcraft has agreed to help get this going and we are inviting you to join us in having one killer show, with proceeds, minus advertisements, all going to this cause.

I thought maybe us bands could go on the shopping spree together and take the stuff down there ourselves. That could be fun!

We might scare them a bit, but they will definitely get some serious goodies and be a bit happier in the end.

Good publicity, good concert, good cause and a good feeling in your heart like you are doing something good. And I'm sure my boss here at LMN would pitch in and provide a free ad, seeing how it's such a good cause.

So - who wants to help? Eddymetal1@aol.com

Korestock 3 Coming! July 8 and 9 at the Rustic Frog in New Albany is the location for Korestock 3, a show put on by Julie McGrath of Dark Kore Productions. This is a local show that should be off the hook! See lineups in Upcoming Shows below.

MSD's New Songs: The band just finished writing two new songs that they are excited about recording and playing out, so you MSD fans be on the lookout for some new morsels of music from the guys.

Great White/Warrant @ Bikefest05: I was looking forward to this show and it did not let me down. It was a lot of fun indeed. Awesome bikes, hot chicks and plenty of beer! And Saturday, June 4 was a great day to check out some old school 80's bands. The Big Rock Show got the crowd broken in for what was to come.

I was a bit worried about the replacement singer for Warrant. Would he be able to reproduce the notes needed? He did. New vocalist Jamie Saint James hit pretty much every note that was needed as they tore through a set of classic Warrant tunes such as "Cherry Pie, "I Saw Red," "Uncle Tom's Cabin" and the cheesy, but pretty song "Heaven."

The sound was pretty darn good and I was impressed.

But the crowd, which was already a bit smaller than expected, was thinning out as it got later. Then Great White, an `80s band I like a lot, hit the stage with original guitarist extraordinaire Mark Kendall (a bad mofo). From the go, I could tell that this was going to be a good concert. The sound was good, kinda low in volume, but good and clear.

Unfortunately, the band played only a short while, jamming on such tunes as "Face The Day," "Once Bitten" and "Save All Your Love."

I had hoped to hear "House Of Broken Love" and a few Zeppelin covers that the band does well, but I believe the thin crowd in the end doomed us in getting the extra songs we would have enjoyed. Towards the end, vocalist Jack Russell sent out a song and prayer to the poor souls who were killed in the Station Inn Fire in Rhode Island. R.I.P he said.

I'd like to thank Promoter Frank Dimaggio for putting on this cool show and allowing me access to get some great pictures for the paper.

Showcase Music Changes Name: I know a lot of you buy stuff from Showcase Music and some of you may have driven by there recently and noticed that it's not there anymore. They have changed their name to Uncle Samm's Jamms and moved a few miles down Preston highway on Durrett Lane. It's bigger, better and now we all have parking without the risk of lethal car accident. Yay.

After you turn onto East on Durrett from Preston, it's less than a block on your left!

Bobaflex CD Release Date: The new record is finished and mastered and is called Apologize For Nothing and will be released on August 23. And the Boba guys will be on tour opening for Megadeth starting July 21. Congrats to the guys and good luck on tour! Is the tour coming here? I hope so.

C.O.C and Fu Manchu Coming! Wednesday July 20 at Headliners. Don't miss this show, its gonna be a killer. I haven't seen Corrosion since the Toy Tiger days. This should be fun!

SevenDaySun CD Release Bash: Don't miss the CD release show from this band. They seriously rock and are super cool guys whom I respect very much. The show is at Oscar Browns on Sunday, July 3 at 8 p.m. Surviving Thalia will also be there. Sweet.

This Is Fargin GWAR! Yup, the blood spitting, puking, soiled tampon throwing, fake monster penis-wearing freaks are back on Thursday. August 4 @ Headliners to tear your soul to shreds, complete with masks, costumes and assorted toys of mayhem.

EDDY'S TIP: wear clothes you don't mind being ruined.

Last Call For Ozzfest: This is your last chance get your tickets soon, because Black Sabbath, Iron Maiden, Mudvayne, Rob Zombie, Black Label Society and plenty of others will be tearing it up come Sunday July 31 @ the Verizon Wireless Center in Noblesville Indiana.

New Band alert, Shatterstone: This is one really good new band! I recently saw them at the Rustic Frog. It's kinda like Metallica meets C.O.C in a melodic heavy rock/metal style. Great Vocals, great guitar playing, the dude on lead smokes. I think I liked every song and for me, that's rare. Nice guys too. No attitudes. Check them out at www.shatterstone.com

New Venue Open! The Gate is now officially open. In the building that formerly housed the old Butchertown Pub, The Gate is now owned by a fellow musician. And its main focus will be promoting local musicians, both heavy and lighter styles. Give 'em a call.

Rustic Frog Review: Well, I finally made it out to The Rustic Frog and I'm glad I did.

That place is pretty darn cool! It's huge. Especially the backyard area where the bands are playing this summer. They got volleyball, horseshoes, basketball goals and a big azz stage that was more than sufficient. The sound was good, but more attention needed to be paid to the vocals and the effects that should accompany them. I hate it when great melodic singers have to sing totally dry. It ruins a potentially great sound and hurts the vocals.

The bottom line is that this place is cool and has great potential for future shows, so all of you take the initiative and go check the place out. You won't be sorry.

The Rustic Frog is located on 1720 old River Road, in New Albany, on the left by an old industrial plant or something. Look for the small sign on the left, then your there! And if you are in a band and want a show, talk to the owner, he's a nice guy and would like to hear from you.

New Lamb Of God DVD Out Now: Fans of these death metal mongers should know that they have a brand new DVD out entitled Killadelphia. I saw these guys last year at Ozzfest and they were pretty evil indeed. The music reminded me of Slayer bigtime, Lamb-Of-God.com

Deftones Singer Coming To Headliners: The project Team Sleep, featuring vocalist Chino Marino from the Deftones is coming to Headliners on Sunday July 10. This should be interesting. Chino's got some serious fans around these parts. I'd like to see INTHECLEAR open this show!

Strapping Young Lad Almost Here! On Monday, July 11 at Headliners, a brutal metal show will commence with SYL plus some local powerhouses that can deliver the metal goods. Surviving Thalia will be one of those locals, which makes me happy. Be at this show people, or you aren't a true metalhead!

And attention all drummers! Gene Hoagland, one of the best metal drummers alive will be playing for SYL. Do yourself a favor. Go.

Mushroomhead Releasing DVD: Mushroomhead, described by LA Weekly as "one of the most ambitious metal bands on the planet," will release their first DVD, titled Volume 1, on July 26 via their own label, Lumberjack - distributed by The Filthy Hands Co. The title is available for pre-orders at www.mushroomhead.com for $19.98 (pre- orders will arrive one day before release date). Fans may also enter online to win prizes ranging from signed masks to free show admission and backstage passes for Mushroomhead's upcoming tour with Dope. Eddy: I couldn't print ALL the info, but trust me, it sounds like a wild ride with good footage and info, so you Mushroomhead freaks may want to order this!

Caldera Ready To Bust Out: Out of the ashes of Execrate, 16 Penny Nail and 13th Level comes Caldera, a brutal metal machine that is finally ready for the masses. The new singer is Todd Tripton, a guy who is supposedly a death metal monster with ultra-low gutteral magnificence.

You can hear Caldera at Korestock on Saturday July 9 @ the Rustic Frog.

I'm interested in hearing my old bassists new project. Marcus jams, so it should be good. Check `em out and if you got some shows for them, here's their number 957 - 6886.

Potential New Venue Alert: The word is out, J.P's, a bar on Outer Loop at Old Shep, is looking for bands to play the club. The door is wide open and the owner seems to be a cool dude who is into supporting Louisville music.

If interested, contact Paulmaura442@hotmail.com, or call 966-8223 and tell him you want a shot. Better hurry though, I sense a promoter stampede.

Thanks to Robin Osbourne for this good information that could possibly help the scene.

Artificial Zero Looking For Singer: The band Artificial Zero is looking for a singer. They would prefer a female singer, but they are open to a male if his voice fits with the music. Email them at: artificialzero@yahoo.com

or AIM: DJArtofZero. Check out samples on the website www.artificialzero.com.

WarBorn Coming! A metal band from Wisconsin is coming to town on July 8 to Bulldogs Cafe with others. Knowing how you fargers love metal, I thought I'd give you the link so you can check these guys out beforehand. www.warborn.com, or www.myspace.com/warborn, or you can check out live footage at http://www.bloodclub.com/web_pages/Fomalhaut/WARBORN/confrontedvideo.html

.

Lexington's Ultimate Filth, Filthporn: Lexington is dead as a doornail when it comes to metal, so that's why I'm plugging the Lexington metal band Filthporn, which deserves to be heard and to get some good shows and exposure.

The band has decided to move on to another state to try to get noticed, which I understand completely, so I wish them the best of luck and truly hope that some good comes out of the move. You can hear some of their new brutal music at Filthporn.com.

Good luck guys!

Upcoming Shows

Bulldog Cafe

Saturday, July 2 - 'Bulldogs Independance Day Bash" with Incursion, MSD, Pain Link, Descention and Pathogen.

Saturday, July 9 - Evil Engine # 9.

Headliners

Friday, July 15 - Head Automatica, The Start, I Am The Avalance and Faculty X.

Oscar Brown's

Sunday, July 3 SevenDaySun CD Release with Surviving Thalia and 2 bands T.B.A. All ages!

Phoenix Hill Tavern

The Original Rock Showcase Series, on the first Friday of every month in the Roof Garden.

Friday, July 1 - Evil Engine # 9, Intheclear, Fivesecondzero and Antikythera.

Friday, August 5 - "PHT 29th Birthday Bash!" with Seven, Planet, Puc, Too Far Gone, Twenty Six Stories and Slokill. 8 p.m.

Rudyard Kipling

Friday, July 8 Samsarah and Lucky Pineapple and The Children.

Rustic Frog

Friday, July 8 - Korestock featuring Evil Engine # 9, Inner Blue, 7DaySun and Halfway Hollow.

Saturday, July 9 - Korestock featuring Gravity Bomb, Everyday Tragedy, Seven, Caldera, Descention, Jefferson County Drunktank, From Within, Coldshovel, Incursion, Straight Line Stitch and Surviving Thalia.

Outtatownerz and Otherz

July 2 in Nashville - Deadsun @ the Exit/Inn with Lennon Murphy, Bombshell Crush and Beauty School Dropouts.

Friday, August 12 at The Viper Room in Cincinnati. Evil Engine # 9.

Props Of The Month

This months props goes out to Julie McGrath and her big Korestock show coming up on July 8 and 9. Shows of these magnitude need lots and lots of planning and a tight schedule to truly be run on time. It's a lot of hard work. Besides I've always liked Julie, she's a cool chick who has always been straight up.

Props also go out to Biscuit, who is a very cool guy who truly cares for the scene and is trying to do all he can for it.

I would gladly work with either of these people and they should definitely get praise for what they are doing. I'm naturally an untrusting bastard, but in this case, I'm giving the double thumbs up to these two individuals. Rock on!

Final Note

Listen up folks, Remember to get your show dates, news and general info to me by the 18th of every month. Ton's of people read this magazine and visit our site at www.louisvillemusicnews.net, so if you become a slacker, or slug, you could be missing out on some great FREE exposure!

And don't forget, you can send in some pictures of your favorite local bands for our Louisville Rock Pix section and you get full credit for the shots. We want you to contribute! What other publication in town is that cool? Be sure to put: name of person in the picture, name of photographer, name of band, where taken?

Until next month, I'm chillin' like a villain, waiting for my much anticipated trip to California in August. And to some dumb mofos who believe an anonymous bullsh*tter, I am a villain. lol.

Eddymetal1@aol.com