Cowboy Corner
Chesney Takes Home Top ACM Award
When the 40th Annual Academy of Country Music Awards were handed out at Las Vegas, Nevada's Mandalay Bay Resort and Casino last month, the newly married Kenny Chesney took home the top prize, the coveted Entertainer of the Year trophy. Chesney was defeated in the other categories in which he had been nominated, but, hey, Entertainer is the "top dog." Hot newcomer Gretchen Wilson, the official "Redneck Woman," captured not only the Top New Artist award, but also the Top Female Vocalist. Keith Urban also accepted two awards via satellite from Belfast, Ireland: Top Male Vocalist and Album of the Year for Be Here. Tim McGraw's "Live Like You Were Dying" took home two trophies: Single Record of the Year and Song of the Year (awarded to songwriters Craig Wiseman and Tim Nichols). Brad Paisley and Alison Krauss' haunting "Whiskey Lullaby" was named Vocal Event of the Year and Video of the Year.
During the three-hour live telecast, Garth Brooks graciously accepted the Pioneer Award for his late pal and mentor, Chris LeDoux. Upon accepting this great honor, Brooks read a letter of thanks from LeDoux's widow and children. During the telecast, fans voted for the recipient of The Home Depot Humanitarian Award, which was given to Neal McCoy, beating out Diamond Rio and Brad Paisley.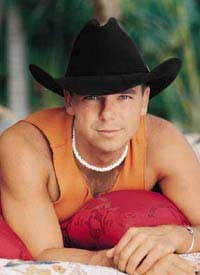 And the winners are: Entertainer of the Year: Kenny Chesney; Top Female Vocalist: Gretchen Wilson; Top Male Vocalist: Keith Urban; Top Vocal Duo: Brooks and Dunn; Top Vocal Group: Rascal Flatts; and Top New Artist: Gretchen Wilson.
Vocal Event of the Year: Brad Paisley and Alison Krauss' "Whiskey Lullaby"; Album of the Year: Keith Urban's Be Here; Single Record of the Year: Tim McGraw's "Live Like You Were Dying"; Song of the Year: Tim McGraw's "Live Like You Were Dying," written by Craig Wiseman and Tim Nichols; and Video of the Year: Brad Paisley and Alison Krauss' "Whiskey Lullaby," directed by Rick Schroder.
Pioneer Award: Chris LeDoux; Jim Reeves Memorial Award: Charlie Nagatani; The Home Depot Humanitarian Award: Neal McCoy; Producer of the Year: James Stroud; Engineer of the Year: Ron "Snake" Reynolds; and Musicians of the Year: Dan Dugmore-steel guitar, Stuart Duncan-fiddle, Brent Mason-guitar, Steve Nathan-piano/keyboards, Randy Scruggs-specialty instrument, Lonnie Wilson-percussion/drums and Glenn Worf-bass.
Radio Station of the Year: Knoxville, Tennessee's WIVK; On-Air Personality of the Year: Tim and Willy from Phoenix, Ariz.'s KNIX; Don Romeo Talent Buyer-Promoter of the Year: Clear Channel Entertainment's Brian O'Connell; Nightclub of the Year: Buck Owens' Crystal Palace in Bakersfield, California; and Casino of the Year: Mandalay Bay Resort and Casino in Las Vegas, Nev.
Congratulations to all the winners!
CMA Music Festival
Country fans from across the world will converge on Music City U.S.A., Nashville, Tennessee, early this month for the annual CMA Music Festival, formerly known as Fan Fair. This festival, fit for the entire family, will be held in downtown Nashville June 9-12 and will consist of daily concerts, autograph sessions with your favorite country stars and various fan club parties. This year's festival includes Trace Adkins, Dierks Bentley, Big and Rich, Diamond Rio, Sara Evans, Josh Gracin, Alan Jackson, Miranda Lambert, Jo Dee Messina, Craig Morgan, Dolly Parton, Rascal Flatts, LeAnn Rimes, Julie Roberts, Kenny Rogers, Blake Shelton, Sugarland, Travis Tritt, Keith Urban, Phil Vassar, Gretchen Wilson, Lee Ann Womack, Wynonna and Trisha Yearwood. For ticket information, call 1-800-CMA-FEST or log on to www.ticketmaster.com.
Eddie Montgomery Breaks Wrist
The seemingly invincible Eddie Montgomery, who makes up the super-duo Montgomery Gentry along with Troy Gentry, got a shot of reality recently when he was injured during a concert. During the duo's April 28 show in Asheville, North Carolina's Asheville Civic Center, Montgomery fell to the floor when he stepped onto a speaker cabinet that had not been securely attached to the side of the stage. Gentry said, "I knew it was a serious injury by the look on Eddie's face and the fact that his arm was dangling at his side the rest of the show." Upon visiting a local emergency room following the concert, it was determined that Montgomery had broken four bones in his left wrist.
A few days following this incident, Montgomery went under the knife at a hospital in his native Lexington, Kentucky on May 2. Surgeons repaired the broken bones by inserting titanium plates and rods in Montgomery's wrist. Although the surgery forced Montgomery Gentry to reschedule a few shows, the dynamic duo was full-force a couple weeks later as they performed on the ACM Awards show.
Best wishes to Eddie for a speedy and complete recovery!
Mindy McCready's Woes Continue
Ten Thousand Angels" singer Mindy McCready just can't seem to stay out of trouble with the law these days. If you'll remember, the 29-year-old singer was arrested for trying to fill a fraudulent prescription for the painkiller OxyContin last year. That first run-in with the law resulted in three years of supervised probation. On May 6, McCready was pulled over for speeding in a 40 mph zone, at which time she performed poorly on a field sobriety test. She was charged with DUI, resisting a Breathalyzer test and driving on a suspended license, but was later freed on $3,500 bond.
As if this weren't enough trouble, McCready arrived home two days following her most recent arrest to some more drama. Ex-boyfriend, 38-year-old William McKnight, had broken into McCready's garage and severely beat and choked her upon returning to her home. McKnight was arrested by a SWAT team member and charged with attempted murder and aggravated burglary. He is being held on $130,000 bond in a Nashville jail.
Country Family Album
Hearts of single country girls around the globe could be heard breaking last month when the news broke that country's most eligible bachelor, Kenny Chesney, had taken the big plunge and married Academy Award-winning actress Renee Zellweger on May 9. The two were married in a private ceremony attended by family and close friends on Chesney's property on the island of St. John in the U.S. Virgin Islands. Chesney has admitted to being infatuated with Zellweger since seeing her in the movie Jerry Maguire, so much so that he wrote his hit "You Had Me From Hello" reportedly about the actress. When asked about the surprise wedding, Chesney recently stated, "I am incredibly happy. I may well be the luckiest man alive...to be so in love with someone who is so perfect for me. It's just hard to imagine that I'm not going to wake up."
Long-legged country crooner Billy Dean, who has enjoyed a career resurgence as of late thanks to his "Let Them Be Little," also tied the knot last month. Dean married a schoolteacher by the name of Stephanie Paisley in Brentwood, Tennessee, just outside of Nashville, on May 7. The wedding was filmed to be included on an episode of Montel Williams' daily talk show.
"Girls Lie Too" singer Terri Clark may not have been lying lately, but she's been holding a secret for a little while. At a concert last month, a fan hollered out asking the Canadian songstress about the ring on her finger and she decided it was time to break the news. She admitted that she and her longtime friend and tour manager, Greg Kaczor, are indeed engaged to be married this fall. The two have worked together for the past decade, Kaczor starting out working as Clark's monitor technician in 1995, moving up to acoustic guitarist and tour manager two years later. In a statement, Clark says, "Greg couldn't be a more perfect fit for me. I mean, who knows me better than the man I'm with around the clock? He supports my grueling career schedule and has always been there for me."
The Dixie Chicks are quite a fertile trio these days. Fans haven't seen or heard much about the Chicks as of late due in great part to their ever-increasing chicken coops. Banjo Chick Emily Robison and her husband, singer/songwriter Charlie Robison, welcomed twins into the world April 14. Six pound, six ounce. Juliana Tex and Six pound, 14 ounce Henry Benjamin joined two-year-old big brother Gus to round out the Robison coop at three little chicks. Robison's sister and fellow-Chick, Martie Maguire, gave birth to her own set of twins just last year. Next time the Chicks hit the road, it will take a mobile daycare, as there are now a total of seven little chicks for the trio to raise.
Upcoming Live Country
As I reported last month, 4th Street Live!'s "Hot Country Nights" are back once again this year on Wednesday nights with free country concerts. Since last month's column, even more acts have been announced. The original Nashville Star, Buddy Jewell, will perform June 1, followed by Artie Dean Harris on June 8, Sugarland on June 15, Billy Currington on June 29, Josh Gracin on July 6 and Keith Anderson on August 17. Keep reading in the upcoming months for more info on upcoming artists.
There has been a little confusion over a couple of the country shows at this year's Kentucky State Fair, but my buddies over at Triangle Talent helped clear it all up to me recently. As you know, Kenny Chesney is scheduled to close the fair on Sunday evening, August 28. Reportedly, Gretchen Wilson and Pat Green, who have indeed been touring with Chesney lately, were scheduled to perform along with Chesney here in Derby City. Well, then comes the announcement that Gretchen Wilson and Big and Rich will open the fair on August 18. So, is Gretchen Wilson going to appear at the fair twice, on opening night AND closing night? Come to find out, opening acts have not yet been confirmed for the Kenny Chesney show, therefore Gretchen Wilson will NOT be here twice - she is only scheduled to appear at the opening night of the fair. Clear as mud?
Country Codas
Fifty-five-year-old songwriter Wayne Perry passed away May 15. Perry is best known for writing the title track of Tim McGraw's sophomore album, Not A Moment Too Soon, Collin Raye's "Every Second," and Lorrie Morgan's "What Part of No." In addition, Perry penned pop's Backstreet Boys' "I'll Go Anywhere for You."
The self-proclaimed "King of Bluegrass," Jimmy Martin, lost his long struggle with cancer on May 14 at the age of 77. Martin began his career as a member of Bill Monroe's Blue Grass Boys, later working with the Osborne Brothers before starting his own band, the Sunny Mountain Boys. Martin reached #14 on the country charts in 1958 with "Rock Hearts" and broke into the Top 20 once again in 1964 with "Widow Maker." Martin was inducted into the International Bluegrass Music Hall of Honor in 1995.
Our condolences go out to the Perry and Martin families!
Well, that's it for the month of June. Always remember: "Keep your boots shined up and your hat on straight, `cause country music is comin' your way."