Jazzin'
PRELUDE
Upon returning from New Orleans from Jazzfest, I found myself in up-to-the-neck in a quagmire of unforeseen difficulties. Thus, several local performances had to struggle on without my presence. On the other hand, as the old saying goes, June is busting out all over and jazz is blooming everywhere. Be sure to look at some of the local and regional offerings below, under "On the Horizon." First, I want to take a look at some recent releases that you may find enjoyable, covering a wide spectrum of improvisational music.
DAVE LIEBMAN
Dave Liebman, a veteran with many local connections, has released three excellent albums over the past several months, In a Mellow Tone (Zoho ZM200406), Manhattan Dialogues (Zoho ZM200508) and, with Michael Brecker and Joe Lovano performing as Saxophone Summit, Gathering of Spirits (Telarc). Each recording presents a different facet of Liebman's artistry, with Mellow Tone showing the cohesiveness of a longstanding working group, Spirits demonstrating his interaction with two peers and an outstanding supporting trio and Dialogues presenting a more intimate glimpse of his composing and playing in duet with pianist Phil Markowitz.
In a Mellow Tone documents the Dave Liebman Group as of the summer of 2001, with guitarist Vic Juris, bassist Tony Marino and drummer Jamey Haddad, shortly before Haddad left to tour with Paul Simon (This lineup, with Marko Marcinko, drums, played U of L back in October of 2002). With the exception, obviously, of the title track and two other songs, the bulk of the CD features compositions by Liebman, with one piece, "Romulan Ale," by Juris (whose CD, Blue Horizon, was reviewed here in March). Liebman has the skill as well as the interest to write music that can be challenging without losing all but the most rabid of fans. His musical influences and interests are wide-ranging, stretching from the happy, uptempo number "Child at Play" (inspired by his daughter, Lydia), to the more abstract, almost modern classical writing of "Change Up."
Liebman, together with Michael Brecker and Joe Lovano, perform as Saxophone Summit and have released Gathering of Spirits on Telarc. Each saxophonist contributes one original to this outing, as does pianist Phil Markowitz. The spirit of John Coltrane illuminates much of this recording and the ensemble interprets two of his compositions, "India" and "Peace on Earth." Throughout, Billy Hart's drums and Cecil McBee's bass do not merely support the other players, but add to the musical explorations.
On Manhattan Dialogues, Dave Liebman and Phil Markowitz (Zoho ZM200508) engage in a series of duets recorded in performance last October at the Manhattan School of Music, where both these artists also teach. The program consists mostly of originals by these two players, although the set concludes with a somewhat abstract rendition of "The Night Has 1,000 Eyes" and Thelonious Monk's "'Round Midnight." The set opens with another Liebman original inspired by his daughter Lydia, "Teacher of Our Child," dedicated to her early art teacher. It is slow and mysterious. "7," by Markowitz, follows and is a fast-paced, sounding like a surreal cat-and-mouse cartoon soundtrack. Throughout, the sympathetic audience seems to bring Liebman and Markowitz into a close communion, allowing for chance-taking as well as deep interplay.
JAZZIN' AND JAMMIN'
I recently reviewed the DVD of The Grateful Dead Movie. Shortly after its release, the vault keepers released The Grateful Dead Movie Soundtrack, a 5-CD set that serves as atonement for the universally loathed Steal Your Face, the poorly edited and poor sounding two-record set from the same series of performances. Unlike the lethargic set of songs on Steal Your Face, Soundtrack treats us to some six-and-a-half hours of music which ranges from rarities such as the cover of Dolly Parton's "Tomorrow Is Forever" to extended workouts on "Playing in the Band." While not as complete as, say, the Miles Davis' Plugged Nickel box set or John Coltrane's The Complete Village Vanguard Sessions, Soundtrack does include over a third of the music played over this five-night run. Like the Plugged Nickel and Village Vanguard sets, this shows how tightly focused yet freewheeling improvisers can revisit the same pieces yet breathe new life into them set after set, night after night. Just as Miles could reinvent "Stella By Starlight" or "I Fall in Love too Easily" (three and four versions, respectively in the Plugged Nickel set) or Trane could keep four versions of "India" or "Spiritual" fresh, so too could the Grateful Dead keep the interest of its live audience and of listeners 30 years later, with alternate extended versions of "Playing" or "He's Gone." The energy level is high; the photographs show a band that was clearly committed to playing at its peak for what many thought might be their final performances together. While a 5-CD set might seem excessive to a pop music fan, it is well within the ambit of jazz treasures such as the Village Vanguard or Plugged Nickel sets which present the nightly exploits of musicians of high caliber and united purpose.
Many folks who are not Deadheads but have a well-rounded rock collection have the Grateful Dead's American Beauty album, stylistically akin to the countrified rock of other releases of the era, such as Bob Dylan's Nashville Skyline or the Byrds' Sweetheart of the Rodeo. The DVD documentary Anthem to Beauty (Eagle Vision) shows how the Grateful Dead went from the acid-drenched jams of their 1968 release, Anthem of the Sun, to the lyrical masterpieces of 1970's American Beauty. Anthem to Beauty utilizes a combination of historical footage and recent interviews to show how the Grateful Dead embraced a unique vision of combining multiple live versions of extended jams, augmented with multi-tracked studio pieces, to create the truly psychedelic Anthem of the Sunday After two more albums, Aoxomoxoa and the classic Live/Dead, the band returned to its folk and bluegrass roots with the warmth of Workingman's Dead and its follow-up, American Beauty. The interview with bassist Phil Lesh is particularly poignant, as he discusses "Box of Rain" and how, as it evolved, he would sing it to his dying father. All in all, this DVD is a must for Deadheads and should pique the interest of anyone with a feel for the music from the time before "classic rock" became just a catchphrase for "golden oldies."
ON THE HORIZON
As I have before, I urge you to subscribe to sign up for "Jennifer's Jazz E-News," by e-mailing Jenjenjazz@louisvillejazz.org. Musicians, take note (no pun intended): if your gig is not listed through the venue, you may want to contact her to keep her up with your performance schedule. As I have noted before, there are so many opportunities to hear live jazz that it is both impossible for me to try to provide a complete listing here and it would be duplicative in any event. Also, Louisville Music News' monthly music listings are carrying more jazz events than ever, in both the print and online editions (www.louisvillemusicnews.net). Thus, I will simply highlight a few performances that I find of particular interest.
The lineup for June for The Jazz Factory, (815 W. Market St. in The Glassworks, www.jazzfactory.us; phone 502-992-3242) includes some of our finest local players as well as some interesting guest artists. A few of the performances are noted below; for the complete schedule be sure to call or check the website. On June 1, trumpeter Matt Lawson returns; the following night is Colby Inzer, followed on the 3rd by guitarist Aurell Ray. That Saturday the Lynne Arriale trio returns; see the separate feature below for more on this one. Pianists Todd Hildreth and Harry Pickens bring their trios in on June 9 (Hildreth) and 10-11 (Pickens).
On Tuesday, June 14, former Louisville Orchestra bassist Dave Anderson will perform with The Anderson/Easley Project Anderson teams with pedal steel guitar player Dave Easley, who has performed and recorded with jazz drummer Brian Blade and others, and drummer Endre Landsnes. FattLabb returns the 16th; Susannah Martin and Beleza the following night; Walker & Kays return the 18th; Jennifer Lauletta sings on the 22nd; and the month closes with an All Star aggregation from the Aebersold Summer Jazz Workshops, with different faculty coming in the following two weekends.
The Lynne Arriale Trio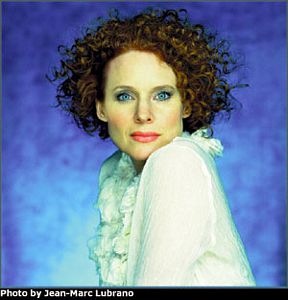 The last two times Lynne Arriale visited Louisville, I managed to be in the right place but the wrong time (with apologies to Dr. John.) I urge you not to make the same mistake, as her upcoming Jazz Factory performance may be the last for quite some while, as she is relocating from nearby Brown County, Indiana to Florida later this year. She will return with Steve Davis on drums, who has been her drummer for over a decade now (and a frequent contributor to the classes and concerts at the Aebersold Jazz Workshops as well). Bassist Jay Anderson, usually part of this trio, had other commitments, so Bob Bowman will be joining Arriale. In a recent conversation, Arriale mentioned that she has had good response to her work throughout her performances in Europe and the USA. When asked if she ever considered performing or recording with additional instruments, she replied that "The trio can be an orchestra or an intimate group. There are so many colors that can come from a piano trio." Throughout our conversation, Arriale returned to the theme of playing melodically and of seeking out songs with memorable melodies to add to her repertoire. Another recurrent theme was the almost mystical magic which can happen when musicians and audience are truly attuned to one another. Come see for yourself at the Jazz Factory on Saturday, June 4.

The Louisville Jazz Society Fundraiser

The Louisville Jazz Society (LJS) is a 501(c)(3) nonprofit organization whose mission, as stated in its Bylaws, is: "to encourage, nourish and promote Jazz through outreach educational activities and live, public performances by local, regional and National Jazz artists." To this end, over the years the LJS has contributed scholarship money for students to attend the Jamey Aebersold Summer Jazz Camp, has sponsored numerous concerts and has helped to underwrite performances at Bellarmine University and the University of Louisville, to name but a few activities. (Disclaimer: I have been on the LJS Board of Directors for the past few years). The Jazz Factory will host a fundraiser for the LJS on Sunday, June 12, from 2 to 6 p.m., featuring music by Steve Crews, Mike Tracy, Jennifer Lauletta, Jeff Sherman and others. Food and drink will be available for purchase. There will be a silent auction, with items ranging from jazz CDS and DVDs to a Maine cabin retreat and much more. For more information, contact LJS President Patty Bailey at 502-741-7272.

The Seelbach Jazz Bar features the Dick Sisto trio (with Tyrone Walker and Jason Tiemann); the May schedule was unavailable at press time, but there are usually guest performers on the weekends.

The Bellarmine Jazz Guitar Workshop and Concert

Professor Jeff Sherman of Bellarmine is bringing in John Stowell and Peter Bernstein as featured faculty and performers at the Bellarmine Jazz Guitar Workshop, scheduled this year for Monday and Tuesday, June 6 and 7. As is traditional with this annual event, Sherman, Stowell and Bernstein will perform for the public on Monday night. Stowell has a new CD out, Resonance, on Origin Records (www.origin-records.com). It is a 13-song, 63+ minute collection of solo renditions of originals, jazz and American songbook standards, with something of an ECM "chamber jazz" feel to it. It showcases Stowell's elegant playing on a variety of guitars. Regarding the Bellarmine Festival, Stowell e-mailed me that "I look forward to returning to Bellarmine to play and teach with Jeff Sherman and Peter Bernstein in early June. We are three very different guitarists and the contrasting styles should make for some interesting insights for the students in our clinics and some nice moments in concert for the audience." Peter Bernstein can play soulfully with Dr. Lonnie Smith, or more progressively with Joshua Redman, to name just two of the many artists with whom he has recorded and performed. Unfortunately, efforts to reach him before deadline were unsuccessful. Together, Stowell and Bernstein should provide some intriguing contrasts in style and approach. For additional information, go to www.bellarmine.edu/news/more.asp?event_id=398, or call Jeff Sherman at 502-452-8182.

Aebersold Summer Jazz Workshops

Jazz musicians in the Louisville area are fortunate to have the University of Louisville and Bellarmine University, both of which have not only good jazz programs, but which also present performances for the public. Likewise, we are also fortunate that one of the world's most highly respected jazz educators lives just across the river in New Albany, namely Jamey Aebersold. For many years now, he has brought some of the nation's leading jazz players to Louisville for a summer jazz workshop and this year is no exception. The program takes place at the University of Louisville, from June 26 through July 8. In addition to the lessons and classes for registrants, there will be faculty concerts both weeks on Sunday, Monday, Tuesday and Thursday in Comstock Hall at the U of L School of Music (7:30 p.m.) that are open and free to the public. There will also be concerts on Wednesday, June 29 and July 6 featuring saxophonists Eric Alexander and Don Braden, trombonist Conrad Herwig, trumpeter Jim Rotondi, bassists Rufus Reid and David Friesen, drummer John Riley, guitarist Dave Stryker, vocalist Jennifer Barnes and pianists David Hazeltine and Andy LaVerne. These will take place at Masterson's 1830 South Third St., near the University of Louisville campus at 8 p.m. ($10 general public; $5 Louisville Jazz Society Members). The student combos perform free on both Fridays (July 1 and 8th) from noon-5 p.m. in Comstock and Bird hall. For additional information, contact Benjamin L. Gritton,

Summer Jazz Workshop Administrator, at 812-944-8141, or by e-mail at: ben@jazzbooks.com.

Seventh Annual Indy Jazz Fest

The 2005 Indy Jazz Fest will take place June 17-19 in downtown Indianapolis. The performers, as of deadline time, are (in order of appearance): Criminal Justice Institute Stage: Friday - Buselli Wallarab Jazz Orchestra, Adam Birnbaum Trio, The Manhattan Transfer; Saturday - Kwyjibo, Susan Tedeschi, Chris Botti / The David Sanborn Group, The Commodores; Sunday - Gary Burton's "Generations," Mavis Staples, Tony Bennett; Jazz Central Stage: Friday - The Indy Jazz Legends, Orquesta Bravo!, Tad Robinson; Saturday - Slide Hampton's "Slide Plays Jobim," The Bad Plus, Brenda Williams; Sunday - Cool Chilies, The Joey DeFrancesco Trio, Steve Allee. For details, go to www.indyjazzfest.net.

Umphrey's McGee at Headliners

Umphrey's McGee, a younger jamband from the Chicago area, will play here on June 8 at Headliners Music Hall, 1386 Lexington Road. I had heard about this band for some time and finally got a chance to catch Umphrey's McGee live, opening for Gov't Mule in New Orleans during Jazzfest. I was impressed with the ability of the musicians to stretch out without losing touch with the underlying song structure. Their latest CD, Anchor Drops, on String Cheese Incident's Sci Fidelity label, tends to emphasize "songs" over "jams," but live they are reminiscent of SCI or Phish. As I try to say about bands such as this, Umphrey's McGee is not a jazz band, but will appeal to jazz fans who enjoy some improvisational rock in addition to the classic sounds of jazz.

The Jazz Kitchen

The Jazz Kitchen, 5377 N College Ave., Indianapolis, IN 46220 (phone: 317-253-4900; www.thejazzkitchen.com), has an unusually topflight list of guest performers in addition to its menu of Naptown jazz Players. Jeff Coffin's Mu'tet (whose CD Bloom was reviewed here last month) will play on May 28; unfortunately I did not find out in time for the May column, but if the June issue comes out early, this would be worth a road trip. During June, Lynne Arriale's Jazz Factory performance will be preceded by one the prior night, the 3rd, at the Jazz Kitchen. The Steve Turre Quartet will perform on June 10 and the current version of the Headhunters, featuring Mike Clark-drums, Bill Summers - percussion, Paul Jackson - bass, Donald Harrison Jr.- sax and Robert Walter - keys, will funkify the Kitchen on June 20. I had the opportunity to see Harrison recently in New Orleans, both with his own group and in an all-star combo featuring Dr. Lonnie Smith. Also in N'awlins, Clark and Walter performed together as 2/3 of Clark's Prescription Trio (with Garage a Trois' Skerik on sax). All of these musicians are equally adept at straightahead and funk music and this should be a great show.

CODA

The final (but not proofread) version of this column was destroyed in a computer glitch. I think I was able to re-write everything which I intended for publication this month, but if it turns out something has gone by the wayside, look for it here in July. As always, I am interested in your comments. Contact me at mzkjr@yahoo.com.