Louisville Rock Closeup
Name: Daniel Finley a.k.a. Dano
Age: 27
Instrument: Vocals
Band/Former Bands: Currently Descention, Formerly "Downside"
How Long On Instrument: Just about five years.
Equipment: Shure SM58 microphone, of course, and "various connections."
Influences: In heavy metal, it would have to be Pantera, Sepultura, Black Sabbath and "old" Misfits.a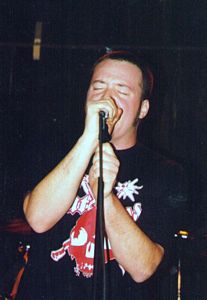 First Gig: I do believe it was at Twice Told Cafe on an open mic night, but it could have been this kid's birthday party. I'm not 100% sure on which one.
Hobbies: My CD collection. I'm a tad bit obsessive/compulsive when it comes to that. I can't quit organizing it and switching around my CD changers.
Favorite Movies: Anything by Tarantino, as well as, The Shawshank Redemption, Love & a .45 and A Clockwork Orange.
Favorite Food: Bloody steak, prime rib, to be exact and a baked potato, plenty of butter and sour cream.
Favorite Place: Center stage.
Bad Habits: I'm not going to incriminate myself!
What I'm Listening to Nowadays: I listen to just about everything under the sun. To keep me pointed in the right direction, though, lately, Superjoint Ritual and Acid Bath.
Coolest Thing I've Done: Opening for and hanging out with the guys from Machine Head and Devil Driver. They had some good advice and were pretty cool people. A lot different than what I had heard. Also, being a father to my child.
Most Embarrassing Moment: I used to work at the Thornton's on Preston right by the Fairgrounds. Well, one night while I was straightening up the store, I ran across this little pager-looking thing with a little button on it. Inevitably, I pushed the button, but nothing happened. So, in disgust I walked outside, sat on the sidewalk and lit a cigarette. When I raised my head up the parking lot, I was surrounded by cops with guns drawn, yelling about `put your hands up' and all. Well, long story short, it was the silent alarm. Guess I should have paid more attention.