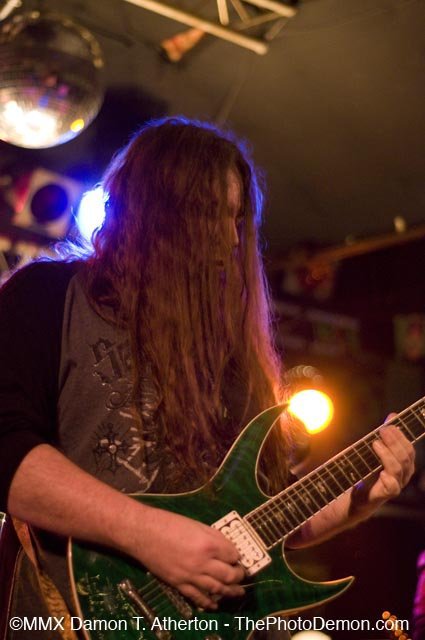 News From the Pit
Derby Shmerby huh?
It has come to my attention that this music scene doesn't give a flying farg about the Derby! I went to the Infield on Derby day to revel in the debauchery and, alas, I saw not one soul from this scene there! And I know tons of people! The beer was flowing and the smoke-hazed party inside the legendary "hidden 4:20 bush" was as kickin' as ever, including people from all over the country, but there wasn't a single Louisville rocker in sight! I bet my flying V you mofos were home in bed recovering from Derby Eve, like I should have been! I wasn't going to miss the fun of betting, though.
Another odd thing didn't happen at Infield `05. I saw not one pair of bare breasts all day long!
For the Kentucky Derby, that is beyond rare. Usually it's breast-o- rama!
It was a sad development for me.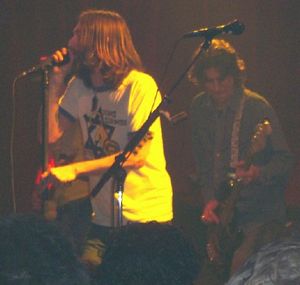 Photo By Photo by Eddy Metal
Now I know you fargers are all about the partying festivities and rock shows, rather than watching the ponies race. Well, I'm about both and did both, and ended up winning $280. As well as watching and betting the horses, I managed to get out to a few killer shows that deserve much attention. I was able to see the "secret" concert by none other than the Black Crowes, who went under the moniker Mr. Crowes Garden. (see below)
Robie, the guitarist for MSD, emailed me two hours before the show and asked if I was going to the Black Crowes "secret concert." I didn't even know were playing! First off, I never woulda thought Robie, a heavy metal guitarist, would have even liked the Black Crowes. But it's way cool that he does and has the "I don't care what you think" attitude towards the music he likes. It reminds me of me! A person simply likes what they like.
Robie got me stoked up about the show, so I went and had a great time. Thanks for the info, bro. Another show I saw was at Jillian's on Derby Eve. It was Seether, Crossfade, Louisville's own Breckinridge and another band that was totally not me, or pretty much any of the crowd, for that matter. I had an absolute blast on Derby eve partying with all of you people outdoors at Jillian's. I remember being happy and talking to everyone.
After that, we journeyed to Phoenix Hill. Then the night became a blur. (see below)
And last but not least, I went to Headliners on May 15 for a metal feast of monumental proportion. It was Machinehead, Devildriver, It Dies Today and a new band of young'uns from Louisville known as Descention, who impressed me bigtime. (see below)
This was one mean show! And even though I was a living zombie at work the next morning at 6 a.m., it was worth it.
There are tons of cool concerts coming soon: Ozfest, Great White, Strapping Young Lad, Motley Crue, Willie Nelson ...
So yeah - Derby and all these shows definitely got my mind off things and propelled me back with a vengeance into doing what I do and rocking! Not to mention getting all you sick iceholes all the information you need to get your monthly dose of metal, rock, hardcore or whatever the hell you freaks are into this month.
So don't be strangers, I love to hear from all of you who read our paper. You got some cool news for me? A new band? Cheeseball gossip? I don't care, send it and we'll print the it. Unlike other publications, we here at LMN tell it like it is and are all about hearing YOU, the reader, out. And helping anyway we can.
Eddymetal1@aol.com
The Metal Grapevine
Great White And WarrantPlay Bikefest at Bowman Field!
Date: Saturday June 4.
That's right, it's the `80's metal reborn it seems. Newcomer promoter from Las Vegas, Frank DiMaggio (see props of the month below) , has given us a special treat in this fun upcoming outdoor concert.
I myself love Great White (don't give me chit) and have ever since I saw them open for Judas Priest in `84 and at the legendary Club Lavela right on the beach in Panama City, Florida.
Forget all about their lame hit song "Once Bitten Twice Shy" , that's not the real Great White. They have much better and heavier material recorded and their Zeppelin covers are second to none. Excellent.
So if you love Led Zeppelin, go just to see them play a few of their LZ covers, which they usually always do. Warrant will also be playing this show. I was never really a Warrant fan, but I shamefully admit to liking one or two of their songs like "Uncle Tom's Cabin" and "Heaven." But the good thing is - that I guarantee there will be chicks in droves at this show! Single dudes listen up. Don't miss this.
The Big Rock Show will also be playing on this night. This killer show will be on Saturday June 4 at Bowman Field in Louisville. [Proceeds to benefit the Station Inn family, where a fire, started by Great White's pyrotechnics killed 100 people in February 2003. - Ed.}
The night before, Friday, June 3, at Bowman field, some local bands will be playing, including The Big Rock Show. I expect to see all you old school `80s rockers at Great White and Warrant.
Be sure to say hello.
Contact this guy for more info - he'll hook you up. Rick@bluegrassbikefest.com
FiveBoltMain Cover Story Coming: I have been approved to do a cover story on newcomers FiveBoltMain, a band that features ex Flaw vocalist Chris Vols on the microphone. These guys have currently got it going on and in a few months I'm predicting will really explode. So all you FBM and former Flaw fans, be on the lookout for this story later in the summer!
Killswitch and Co Coming To Louisville: On August 5, Killswitch Engage, Soilwork and As I Lay Dying will be invading the Louisville area at Headliners Music Hall. Contact Spotlightrocks.com for more info. Killswitch kicks rump: I'll be there -
Evil Engine # 9 Getting Eviler: I recently saw these guys play downstairs in the saloon at the Hill and they blew me away!
The vocalist has come a long way and uses his voice sooooo much more and better than he ever has. I never thought EE # 9 would have progressed into such a melodic, vocal-based, hook-filled monstrosity that it has become.
Musically, the band was tight as ever. The songwriting has become very catchy as well. Last month I said Intheclear and FiveBoltMain were the only two I was contemplating doing cover stories for. Well - .because of EE # 9's last performance, they are now added to my top list of Louisville's best. Great job guys!
E-Flat Now Reunited! It' s been a few years, but the foul-mouthed hooligans of E - Flat are now reunited and back together. They've informed me that it's definitely on.
Look for them in the next few months! By the way, E-Flat has had some really fat shows back in the day and I think this scene needs some old-school party jams like the funny and rocking music the Flatsters create. When I was the Local Unsigned Xtreme DJ on 100.5 the Fox's Attitude Network, I supposedly got fired for playing E-Flat's song "E.Y.P." which stand's for "Eat Your P****."
What the hell was I thinking? I musta been on something! Cops could have arrested me! Cops???? Farg `em.
Anyways, welcome back, bros. Just don't send me a CD! Just kidding.
East 146 CD Release: The band has just released their new CD and it is now on available at various locations across town.
Seether/Crossfade: I love outdoor concerts. They rule. So I knew this concert was going to be fun. Derby Eve outside, partying with hundreds of people I know and like.
It was great fun that I didn't want to end. A band from Lexington started out the night with a horrible set of inappropriate soft music that hardly anyone got into. Who hooked up these guys? So I can beat you into oblivion! Then Breckinridge got onstage and received ultra-hideous sound from the PA, a band's worst nightmare. Helen Keller on the soundboard! It sounded very muddy and the band unfortunately got the shaft on this gig. It did sound a bit better into a few songs though.
Crossfade kicked in with some good time radio rock music that had the crowd going. Mysteriously, the sound got much better when the nationals went up. Fishy -
Seether wrapped up the night with a tight set of pretty good radio rock, leaving everyone happy and wanting more. But then the Jillian's crew kicked our azzes out the door. I hate it when concerts end early before I'm ready. THAT really makes me angry.
Machinehead/Devildriver: If you missed this show, you should be bummed. The night started out with an unexpected surprise and disappointment: I learned that The Haunted wasn't playing and that a local group was gonna play instead.
It bummed me out, because I like The Haunted, but the pleasant surprise came in the form of a new local metal band that I saw for the first time. Let's put it this way: Descention was good enough to ease my disappointment about the cancellation.
These young dudes were heavy, low-tuned, doom-y slow, thrashy fast and always chunky sounding. Kinda reminded me of 13th Level's guitar sound.
Anyways - I like this new band quite a bit, even so that I used the singer for Feature Musician Of The Month! (Louisville Rock Closeup)
Then a band from New York called It Dies Today played and were really good, but something was throwing me off a little, maybe the vocals.
Then Devildriver, featuring Dez from Coal Chamber, a band I was never really into, hit the stage and shocked me. Truthfully, I was expecting Korn part 3, or a Korn Chamber combo, but what I got instead was a metal smorgasbord of downright evil and thrashing chit.
No more pussyfooting around with LA's latest musical trend, Dez is really to get medieval.
I underestimated Devildriver. I'm a clown.
Then Machinehead exploded in musical triumph! It was sounding killer up in that mofo. The sound guys at Headliners are some bad muthas. The sound in Headliners was way fat and Machinehead pleased the crowd of diehard metalheads to the max.
I tell you, Rob Flynn is a very talented musician. Makes it look easy, like a walk in the park. Playing and singing at the same time is very difficult on the heavier guitar stuff, but the dude pulled it out just fine - it sounded tight. I had a great time!
Thanks to Terry Harper for undoubtedly setting this supa-heavy show up. You rock, bro!
Jefferson County Drunktank's New CD: The Louisville metal veterans JCD have just finished their new CD and will be having their CD release at the Phoenix Hill on Friday June 3. This is one great Kentucky metal band. These guys have impressed me for many years and still do. Can't wait to hear the new stuff. Send me a fargin copy ASAP!
Black Crowes "Secret" Concert: Mr. Crowes Garden huh? uh - ok.
I heard bout this "super-secret" mofo two hours before the show, so I hightailed it down to Headliners, ready to see the legendary hippie rockers in action.
I waited in line for an hour, watching as people tried in vain to get tickets in front of the club. They were soooooo desperate, you'd have thought they were trying to get crack money! The going rate at it's highest was $140 a ticket! The show was sold out weeks ago, I'm told, so that's why peeps were so desperate to get in. It was hippie fest `05.
It was packed like sardines in Headliners, so I was quite uncomfortable and didn't stay the whole set, but I did stay for about 80% of the show, during which they played stuff no one had ever heard. People were getting kinda mad about not hearing their favorite songs.
Song after song was unrecognizable to me and BC fans, as they waded through a set that sounded straight-up like some Woodstock material. It was some killer blues, Southern-rockish, hippie type music that had the crowd dancing even though no one knew the songs. The Black Crowes were gearing up to do a tour, so they need some guinea pigs to jam to. That was us. And we were happy about it!
Finally, after being squished between peeps for a good time, and not hearing one single song I knew, I decided it was time to depart, thinking they didn't intend to play any of their hits at all.
After I left, I heard that they played several of their hit songs from their career.
Figures! They wait until I leave to break out the really good stuff. Grrrrrrrrrrrr. What I did see impressed me musically, as it sent me to another time an era. All of a sudden, I was a flowerchild in 1969, sitting on the grass and getting high.
Well - it almost felt that way, to hear that music.
Alas, the Black Crowes fans were happy just to be so close and to see them in a much smaller venue than what they were used to. They were happy seeing them play unfamiliar songs, so I imagine they were ecstatic about hearing the hits, too!
Props to Bill Barringer for makin' the old school hippies of Louisville a happy and appreciative bunch of Derby concertgoers.
Rahul's Seven: Rahul, the guitarist for Breckinridge, has a new band called Seven that kicks butt. I finally saw them and was quite impressed with the weirdness, darkness and overall mood of the new music. It's way different from Breckinridge. It's way darker and heavier, which to me is cool. It's energy, and the troublesome/tormented vocals from ole Rahulio sure reminded me of some old Jane's Addiction. Rahul's got some punk psycho in him. Do yourself a favor. Check out Rahul and Seven.
Strapping Young Lad Is Coming! Yup, that crazy Canadian Devon Townsend is coming back to town. Better prepare to cover your ears, because his band is the epitome of all-out, original heavy metal/speed metal blasts of fury. Armed with one of the best metal drummers alive, Gene Hoagland and the screaming madman/genius/producer/engineer Devon Townsend, this is a duo you don't wanna miss, even if you've never heard of SYL.
Go to this show if you love brutally precise, intricate speed metal, you'll thank me later. The show is on July 11 at Headliners. Trust Mr. Metal, Don't miss it.
13th Level Reunited! Well - three of five members of 13th Level, including the main songwriters (Billy Burton and me) , have decided to get the band back together again, so it will still be "the real" 13th Level you will be hearing. We jammed recently for the first time in a year-and-a-half and boy ,am I stoked. Playing guitar rules!
We will be needing a dedicated down-tuned monster second guitarist and bassist. We can't wait to play out again. Contact Eddymetal1@aol.com
Descention Kicks Azz: As I mentioned above, there's a newer band of young guys you people need to check out. Descention rocks with that ultra-heavy sound that all metalheads would more than likely get into. I saw them and am ready to fill you fargers in on what they are about: Brutality. So if you get a chance, don't pass it up, this is real metal.
Poetry Of The Dead: Ex-One with Misery band members Jason (vocals/guitars) and Anthony (bass/guitars) have started a project called Poetry of the Dead and are currently at DemoKing putting the finishing touches on a full length album to be released in June. This is a huge project featuring fourteen songs and an incredible array of instruments for a local rock release - acoustic and dirty guitars, hand drums, pianos, string ensembles, keyboards and female backup singers, all of which will be attempted live (including the string ensembles).
Keep your eyes open for shows to be announced here. Because of such a big production, only a few shows a year are planned right now. They are also writing and practicing new metal material separately, too, with some new members and you should be hearing that around mid-summer. Keep your eyes open, these guys are a great team and are doing some incredible things right now that you don't want to miss. No matter what anyone says, the Louisville music scene is the place to be right now for great new music.
After The Fall Seeking Singer: These guys are back to work looking for a singer who is dedicated and RELIABLE. So if you sing and are looking' to rock, give my boys After The Fall a ring. Super cool and talented dudes. ATF502@aol.com
False Seeks Drummer! The band False is currently looking for a drummer. They need someone with experience and who can shred the double bass, is ready to record, play shows in Louisville and once or twice a month go out of town. False currently has a full CD worth of songs that are just needing the drums, then they will head into the studio to record their second album.
The album will be followed with all new merch and an onslaught of shows to promote. Anyone interested or anyone who knows anyone can send them an e - mail at falsetheband@yahoo.com
FiveSecondZero Working On CD: The band has informed me they are currently at DemoKing recording a three-song EP that will be done in a month or two. Keep your eyes open for the release date. I'll keep you posted.
Too Far Gone CD Release:
Lexington rockers Too Far Gone have just released a brand new CD entitled Amanita Muscaria and will be having a big CD release show at Headliners on June 1.
Get out and support these out of town bands people, they need us! Lexington is dead as a doornail these days, I hear.
Metal Marriage: Shawn Rued, the drummer for Jefferson County Drunktank (formerly Faceplant), and his girlfriend Heather are getting married on June 11 and I'd like to congratulate them and wish them the best of luck. These are two really cool people whom I am proud to know. Imagine their future kids! The kid will be pierced and play drums by age two.
Upcoming Shows
Bowman Field Bikefest 05
Friday June 3 - Phearus, XS, Big Rock Show and Crazy Train.
Saturday June 4 - Big Rock Show, Great White and Warrant.
Bluegrass Tavern
June 10 - 11 XS.
Free Downtown Punk Show
The Dead City Rejects kick off June with a FREE 91.9 "Live Lunch" radio show at WFPK studios in downtown Louisville on Friday, June 3. The show will start promptly at noon and last an hour
If you are in the Louisville region, then come downtown for this free performance; or tune your radio to 91.9 FM from 12-1 p.m. EST. If are not in Louisville, then listen live online at www.wfpk.org. Just follow the link for "Listen Live."
Headliners
Wednesday,, June 1- Too Far Gone CD Release, FiveSecondZero and Tomorrow's Greyest Sky.
Friday, June 3 - Relay 4 Life, Surviving Thalia, Incursion502, Descention, Antikythera, Fallen Oddity, Dominion and N - Cision. All ages. $10.
Sunday, June 5 - Dead City Rejects, Skindred, FiveSpeed and the Spunks.
Sunday, June 26 - Reflux, O.B.W and Ion Dissonance.
Wednesday, June 29 - FATA, Norma Jean, Throwdown and Madball.
Oscar Brown's
Sunday, July 3 - SevenDaySun CD Release with Surviving Thalia and two bands T.B.A. All ages!
Ozfest `05
July 31 in Noblesville IN. - Black Sabbath, Iron Maiden, Mudvayne, Rob Zombie, Black Label Society and Killswitch Engage. And a slew of other metal bands as well!
Phoenix Hill Tavern
The Original Rock showcase series. On the first Friday of every month in the Roof Garden.
Friday, June 3 - Jefferson County Drunktank, Inner Blue, Surviving Thalia, SevenDaySun and Wasted Days.
Friday, July 1 - Evil Engine # 9, Intheclear, FiveSecondZero and one more band.
Outtatownerz and Others
Saturday, June 18 at Beechwood Park in Scottsburg, Indiana. - Surviving Thalia, Antikythera, Crimson Cloud, Queen City Knights (NY) , Tomorrow Is Forever (NY) . All Ages. $5.
Friday, June 24 at the Alrosa in Columbus Ohio - FiveBoltMain.
Saturday, June 25 at the Sound Factory in Charleston, WV - .FiveBoltMain.
Props Of the Month
This month's props go out to newcomer promoter Frank DiMaggio, the guy who booked Great White and Warrant at the upcoming BikeFest at Bowman Field on June 4.
This show sounds like a blast and I will be there to get the lowdown for you folks to read about. Frank is from Las Vegas, but intends to move here soon.
That's fine by me, because if this is his first show in Louisville, think of the killer rock concerts to come! He's starting out here with a big bang and he's got my 100%. Support. I only talked to him on the phone, but he sounds like a cool mofo.
So welcome to Louisville Frank DiMaggio, on behalf of LMN, the scene and myself. We are hereby counting on you to now hook us up with killer concerts from time to time. You can dooooo it!