Jazzin'
RECENT CONCERTS
Ryan Cohan at the Jazz Factory
Chicago's Ryan Cohan Quartet returned to Louisville for two nights at the Jazz Factory, Friday and Saturday, January 21 and 22. Returning with Cohan were saxophonist Geof Bradfield and bassist Lorin Cohen, with George Fludas (previously here with Bobby Broom) handling the drum chair. Cohan has been writing new music in anticipation of a new recording to follow his Sirocco Jazz release, Here and Now and he noted in a pre-show e-mail that he will be in the studio soon to work on this project. I caught the Saturday night performance, which began with a fast-paced Cohan original entitled "Checkmate." After a Tyneresque opening, there was a swinging piano solo, which led first into a sax solo and then into a subtly accompanied bass solo, which led back into the theme. Next up was an original tune from Here and Now, "Looking Glass," followed by another original, a tribute to Thelonious Monk entitled "Monkin' Around." Throughout these songs and, indeed, throughout both sets, Fludas' drumming was busy yet tasteful. Another Cohan original, "Double Agent," brought the energy level up, with an intense soprano solo by Bradfield. Cohan then performed an extended unaccompanied version of Billy Strayhorn's classic "Lush Life," which began with a statement of the melody and then went through numerous variations which summoned up everything from Western classical music to cocktail lounge playing (appropriately enough for the lyrics of the song) and even a touch of ragtime. The crowd was rightly awed by this display of virtuosity. The band returned for the only non-original of the first set, Clifford Brown's "Daahoud ." Noteworthy here was a Fludas solo with an extended high-hat section reminiscent of Max Roach. After a well-deserved break, the band returned for a second set. Cohan covered more material from other composers this time, including Richie Powell's "Powell's Prances," Donald Brown's "Waltz for Monk," and, after Cohan's own bluesy "Steppin' Out," a trio version of Duke Ellington's "Don't You Know I Care." During "Powell's Prances," Bradfield took a tenor solo with hints of John Coltrane, followed by a "dramatic pause," which led into a drum solo.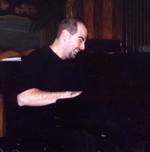 Cohen's bass was featured in the "Waltz," which also included Bradfield on soprano, in which he emulated the smoothness of a clarinet rather than the sometimes-reedy sound associated with the soprano. "Steppin' Out" was enhanced by a very full-sounding duet between Bradfield and Cohen. The stop-time theme of this song was reminiscent of Freddie King's blues instrumental of the same name, but with a very different melody. Two Cohan compositions closed the second set, "Easy for You To Say" and "Think Again." Cohan introduced the former as a feature for Bradfield and the saxophonist indeed pushed the group into one of those "moments" where everything came together with emotional impact. The final number offered a lengthy opening for bassist Cohen to stretch out, including a segment where he was accompanied by Cohan plucking the strings inside the piano. Cohan's performance demonstrated again that performing original jazz compositions and entertaining an audience are not mutually exclusive concepts. Cohan's skills as composer, musician and bandleader, as demonstrated here, should continue to take him on an odyssey of ever-increasing respect in the jazz world. We Louisvillians who have been able to watch him over the past few years will no doubt be able to say that "we knew him when." If you missed him this time, be sure to keep an eye out for his next visit here. For more information on Cohan, his website is www.ryancohan.com.
NEW RELEASES
Guitars, Guitars, Guitars
The Pat Metheny Group: The Way Up (Nonesuch 79876-2)
For years I have believed that Pat Metheny was most interesting outside of the context of the Pat Metheny Group (PMG ). His early group recordings, such as The Pat Metheny Group and Offramp displayed an adventurousness that seemed lacking in some of the later PMG efforts, while side projects such as his work on Jack DeJohnette's 1990 Parallel Realities and the more recent Pat Metheny Trio recordings sounded fresh and inventive. Fortunately, this new PMG album, the first for Nonesuch, is in many ways a return to form. Throughout this 68-minute epic, Metheny and keyboardist and long-time collaborator and co-composer Lyle Mays show imagination, a sweeping and panoramic sense of musical possibilities and the rare ability to make long-form jazz sound vibrant. Bassist Steve Rodby, who has been part of the PMG since 1980's Offramp, provides excellent support with enough variation to keep his contributions interesting throughout. Chromatic harmonica player Gregoire Maret, previously a member of the Charlie Hunter Quintet, is particularly evocative on the second half of Part 2. The trademark PMG wordless vocals enhance Part 3. Drummer Antonio Sanchez adds rhythmic excitement throughout, while trumpet player and occasional vocalist Cuong Vu is, like Maret, reserved for relatively few passages. If you have written off PMG as too "lite," this is the album to bring you back into the fold. For an in-depth look at the making of this album, the cover story for the March 2005 issue of JazzTimes is recommended.
Return (ESC 03690; distributed as Tone Center 4036 in the USA)
Bill Connors
Bill Connors first came to prominence in the first "post-Brazilian" edition of Chick Corea's Return to Forever, as the group moved into a more rock-oriented sound. His solo career has been marked by a mere handful of recordings, ranging from the solo acoustic Theme to the Gaurdian [sic] to the electric fusion of Step It!. His new recording, aptly entitled Return, finds Connors moving more into the mainstream, rather than revisiting either the fusion or "new acoustic" genres. His tone is more rounded and restrained than on his fusion works, as befits the more Brazilian flavoring of this outing. He is joined by Bill O'Connell (piano), Lincoln Goines (bass), Kim Plainfield (drums) and Mayra Casales (percussion; Louisville jazz fans saw her with Regina Carter at the Kentucky Center back in August of 2003). "Minor Matters" comes as close to fusion as anything on this disc, but has more of a bluesy swing feel to it. The opening number, "On the Edge" (one of three O'Connell compositions), is straight ahead and generally helps to set the tone for this album. The CD concludes with a lesser-known John Coltrane composition, "Brasilia," transformed into a gentle bossa nova. All in all, this CD is not only a "return," but also an enjoyable shifting of gears from Connors' earlier works.
Snake Charmer (Earth Sounds ES-1125)
Rez Abassi
Rez Abassi is a guitarist who has been on the New York scene for a while. His new release, Snake Charmer, according to the accompanying press materials, is the first recording in which Abassi attempts to link his heritage with his love of and proficiency in jazz. Saxophonist Dave Liebman adds soprano accents to "Pearl" (for the slain journalist Daniel Pearl) and gets a chance to stretch out on "Rumi" (dedicated to the 13th Century poet whose popularity has surged in recent years). Kiran Ahluwalia provides occasional tanpura (drone) accents, as well as vocals on "Pearl" and the haunting closing song, "Thanks for Nothingness." Otherwise, Abassi is joined by the versatile Gary Versace on organ and Danny Weiss doubling on tabla and drumset, for a series of songs which at first listening sound like the late 1990s organ trio work of John Abercrombie, albeit with an Indian accent. "Tantra" seems like a cousin to some of the funky, Indian-influenced work of Garaj Mahal. "Motherland" begins with sampled voices, evoking a street or playground scene, before moving into a gentle tabla/organ/sitar-guitar piece. The original incarnation of John McLaughlin's Mahavishnu Orchestra provides a reference point for the next song, "Kismet" Throughout the 56 minutes of this CD, Abassi shows a high level of ability in merging the improvisational aspects of both American jazz and Indian and Pakistani improvisational forms. Highly recommended; available at the following sites if you can't find it locally: www.cdbaby.com and www.abstractlogix.com.
(Zoho ZM 200409)
Vic Juris:
Vic Juris was in Louisville back on October 29, 2002 as part of Dave Liebman's quartet, for a concert at the University of Louisville. Late in 2004 this recording as a leader was released, featuring Joe Locke on vibes and marimba, Jay Anderson on bass (and producer/engineer of the CD), Adam Nussbaum on drums and Jamey Haddad (a former colleague in Liebman's group) on percussion. The album opens with the one song featuring the wordless singing of Katie Baker, "Dancing Shadows," sounding vaguely like something Pat Metheny might do; the rest of the album is strictly instrumental. Haddad is given a long solo on tabla (or a similar drum) on "Sunset on Vega," before the song turns into a quiet meditation for acoustic guitar with subtle accents by the other musicians. While Juris' liner notes give a nod to the classic Gary Burton Quartet recordings such as Duster and Live at Carnegie Hall, regarding the interplay of his guitar with Locke's mallet work, this is no "Duster Revisited." Throughout there is an emphasis on Juris' acoustic playing, setting a different frame of reference altogether from Larry Coryell's groundbreaking electric guitar work with Burton. Additionally, by utilizing marimba as well as vibes, there is a greater variety of melodic percussion here. Additionally, Juris adds to the variety of this album by engaging in short duets with the others, such as "Gojo Duet" with Locke and "Domo Duo" with Nussbaum. The title song is the second-to-last of the compositions here and is airy and spacious. Altogether, this is a recording that should help bring Juris wider notice in the jazz community. It is available through www.zohomusicnews.net if you can't find it locally.
Two Masters Unite: Joe Williams and Ben Webster
Joe Williamsand Ben Webster - does it get any better than this for a swinging small group session? Joel Dorn's Hyena label has worked out arrangements with the Hamilton College Jazz Archive to release some previously unissued Joe Williams performances and the maiden voyage is Joe Williams: Havin' a Good Time! (Hyena TMF 9331). Recorded sometime during "the winter of 1964" at Pio's, in Providence, RI, this features Joe Williams with his trio of Junior Mance on piano, Bob Cranshaw on bass, Mickey Roker on drums, together with Ben Webster, who according to the liner notes, just happened to show up at the gig and asked to sit in. The result is a perfect example of the energy which can be generated in a situation where an established soloist (Webster) joins a working group already familiar with the material and the styles of the fellow members. Right off the bat, Williams and Webster swing into "Just A Sittin' and Rockin'," and the group shows that it is the "rockin'" which deserves emphasis, with Williams calling on "Brother Ben" to solo after the first vocal verse. Joe Turner's classic "Kansas City Blues" is next and Webster lays out long enough for Williams to get through several verses and allow a solo by Mance before blowing more warm and strong blues. Webster is absent from "By The River St. Marie" and the ballad "That's All." "Brother Ben" is called back by Williams for a brief solo on an uptempo take on "Alone Together." Webster provides accompaniment rather than only soloing on "The Great City" and again on A Hundred Years from Today," adding an eloquent second voice to Williams'. Apparently feeling more comfortable, Webster also joins in on a Fats Waller tribute consisting of "Ain't Misbehavin'" and "Honeysuckle Rose." Joe Williams, of course, owns "Alright, OK, You Win," and storms through this version like nobody's business. The sound quality is nothing to write home about, but it is certainly adequate; all instruments can be heard, although the bass tends to be a little muffled. While probably not recorded with the intention of making a commercial release, we can thank the lucky jazz stars that this one-of-a-kind club date was taped and preserved and now, finally, released.
Briefly Noted
A few new CDS arrived too late to provide detailed reviews, but they are worthy of your attention. As you probably know by now, organist Jimmy Smith recently passed away. In what may have been his final recording, he teamed up with Joey DeFrancesco, for Legacy (Concord CCD-2229). For some 73 minutes, these two masters of the might Hammond B-3 interact with verve and obvious joy. It is excellent and a fitting memorial to Jimmy Smith. There is excitement and fire here, without any hoopla or pop music guests to help sell the album. James Moody does show up for a guest shot on tenor, for "Jones'n for Elvin." DeFrancesco's regular bandmates Paul Bollenback (guitar) and Byron Landham (drums) are primarily responsible for the accompaniment. John Ellis is the saxophonist and multi-reedman for the Charlie Hunter Trio. He has just released his first solo CD (to my knowledge), One Foot In the Swamp, on Joel Dorn's label (Hyena TMF-9330). Recorded in New Orleans, it features Jason Marsalis on drums, Roland Guerin on bass, Aaron Goldberg on keyboards. The CD also provides guest spots for chromatic harmonica player Gregoire Maret, trumpeter Nicholas Payton and, on two songs, guitarist John Scofield. Unlike some of his extended solos with Hunter, Ellis' focus here is more on composition; all songs are originals, except for two Ellis arrangements of traditional childhood songs. Look for more on this next month, in conjunction with more details on Ellis' gig at the Jazz Factory in April. Previous Jazz Factory guests Avishai Cohen and Lexington native Zach Brock have also just released new albums, both sharing the imaginative keyboard work of Sam Barsh (formerly Bar-sheshet). Zach Brock and the Coffee Achievers: Chemistry (Secret Fort 60202), available at www.cdbaby.com, combines elements of fusion and straight ahead. Avishai Cohen: At Home (Razdaz SSC4602) features Cohen's eclectic compositions in trio and expanded ensemble settings (for more information, see: www.avishaimusicnews.net).
A Love Supreme Revisited
In an interview for the upcoming San Francisco Jazz Collective performance (see "On the Horizon," below), Joshua Redman stated that John Coltrane's magnum opus, A Love Supreme (Impulse/Verve), "is the quintessential Coltrane composition, such a complete and perfect work that I just can't conceive of this band or any band tackling that." Nonetheless, over the years there have been a few such projects and there are now two new entries, coincidentally by the Marsalis brothers. The following discussion of new releases presupposes a familiarity with John Coltrane's original masterpiece. If unfamiliar with A Love Supreme, please go to your favorite music outlet and buy it without further delay. It is available in both a standard and deluxe version, the former being a remastered single-disc reissue of the original vinyl album, while the deluxe version includes a second disc with the previously-unreleased (except on bootlegs) only known concert performance of the suite by the John Coltrane Quartet, plus previously unavailable alternate takes of portions of the studio recording, including the long-lost versions which added saxophonist Archie Shepp and bassist Art Davis to the Quartet of pianist McCoy Tyner, bassist Jimmy Garrison and drummer Elvin Jones. The original recording is an impassioned and prayerful jazz work like no other and continues to inspire people throughout the world.
Coltrane's A Love Supreme Live in Amsterdam (Marsalis Music/Rounder)
Branford Marsalis Quartet:
This marks the second time that Branford Marsalis has interpreted the suite in its entirety, the first being the studio recording from 2002, Footsteps of Our Fathers. From that time to this more recent (March, 2003) club performance, it is clear that Branford, together with Joey Calderazzo (piano), Eric Revis (bass) and Jeff "Tain" Watts (drums) have grown into the music. They take chances during their solos and communicate with one another through visual as well as auditory interaction. Altogether, this group demonstrates how such a risky proposition as tackling a revered work with the same instrumental lineup as the original recording can shed new light on the original. In particular, none of the musicians attempts to recreate the performance of Coltrane, Tyner, Garrison and Jones; they are all too strongly individualistic to do so. Yet if John Coltrane left any lessons, surely one of the most important was that exploration must continue and that jazz artists must continue to evolve. Coltrane's A Love Supreme Live in Amsterdam clearly shows how Branford Marsalis and his colleagues have internalized this message. The package includes both a DVD and a CD of the complete performance, so that the listener may experience this group's interpretation with or without recreating the visual experience of sitting in the club. The DVD itself also feature several "bonus" segments, most interestingly a conversation between Alice Coltrane and Branford Marsalis.
A Love Supreme(Palmetto p.m.-2106)
The Lincoln Center Jazz Orchestra with Wynton Marsalis:
By arranging A Love Supreme for jazz orchestra rather than small group, Wynton Marsalis has taken a very different approach from his brother Branford's new quartet interpretations. Some in the national jazz press have already condemned it for, essentially, being a big band rather than combo performance. However, while Wynton has previously performed the suite in a quartet setting (for a Lincoln Center radio broadcast), he has moved to a conception that requires both the musicians and the listener to approach an iconic work with fresh ears. The question becomes not whether the new piece is "true" to the original, but rather, does it stand on its own as a legitimate work of art; or, in the alternative, does it become mere pandering by removing itself so far from the roots that it lacks legitimacy. In this instance, Wynton's respect for both the original Coltrane recording and for the big band genre make it clear that he has found an original way to approach this masterwork. He has reinterpreted the masterpiece in a way to shed new light on some of its compositional elements, by giving the Lincoln Center Jazz Orchestra a role that is arguably larger than that of the big band led by Oliver Nelson in the famous Africa/Brass sessions by Coltrane. That is, here the LCJO provides not only a big band backdrop for soloists, but also functions as an ensemble whose rich colorations add to the reinterpretation. This recording provides further evidence that John Coltrane's legacy continues to inspire, almost four decades after his passing.
ON THE HORIZON
As a preliminary matter, I urge you to sign up for "Jennifer's Jazz E-News," the successor to Lil Gascoyne's weekly jazz updates. Contact Jennifer at Jenjenjazz@louisvillejazz.org. Musicians, take note (no pun intended): if your gig is not listed through the venue, you may want to contact her to keep her up with your performance schedule. As I have noted before, there are so many opportunities to hear live jazz that it is both impossible for me to try to provide a complete listing here and it would be duplicative in any event. Also, Louisville Music News' monthly music listings are carrying more jazz events than ever, in both the print and online editions (www.louisvillemusicnews.net). Thus, as I have for several months now, I will simply attempt to highlight a few performances which I find of particular interest.
The full March schedule for The Jazz Factory, (815 W. Market St. in The Glassworks, www.jazzfactory.us) 502-992-3242 was unavailable at press time. A few highlights for the first half of the month include 3/4/2005 The Jamey Aebersold Quartet (March 4), followed by the return of the following night. Kevin Keller teams up with keyboard player Pete Petersen and drummer Floyd Buckner in the new organ trio: "Q," on March 8. The Harry Pickens Trio returns for the weekend of March 11-12. A heads up for April is the first appearance of Charlie Hunter Trio's saxophonist John Ellis, on April 5. More next month.
The Jazz Factory and the Kentucky Center Concerts skips this month and concludes with Frank Morgan and Cyrus Chestnut on April 8 and 9. For show details, go to www.kentuckycenter.org or www.jazzfactory.us. The San Francisco Jazz Collective (SFJC) will come to Louisville as part of its first national tour on Thursday, March 31, 2005, at the Brown Theatre, sponsored by the Kentucky Center. As a disclaimer, I have written new pieces for the Kentucky Center's Back Stage Pass magazine on these two shows. However, I would certainly be covering them here with or without this new forum for my writing. The SFJC is led by saxophonist/composer/bandleader Joshua Redman. Among the members is the giant of progressive vibraphone playing, Bobby Hutcherson, whose work over the years has graced the albums of everyone from McCoy Tyner to Eric Dolphy, in addition to his own recordings as a leader.
During back-to-back interviews in December, both Redman and Hutcherson sounded excited about the prospect of their first national tour with the SFJC. They will perform new compositions by the members of the SFJC and also will play original arrangements of material by John Coltrane. Notwithstanding the renewed interest in A Love Supreme, Redman indicated that this composition would not be part of the repertoire. Likewise, when asked about the classic Coltrane album with vibraphonist Milt Jackson, Bags and Trane, Hutcherson replied that he thought the SFJC's work would be more representative of the later "classic quartet."
The Seelbach Jazz Barfeatures the Dick Sisto trio, a/k/a The Tri-tones (with Tyrone Walker and Jason Tiemann). If any guest musicians are announced later, look for updates on www.louisvillemusicnews.net.
On Friday, March 18th, the Dirty Dozen Brass Band will perform at The Dame, 156 W. Main St., Lexington, KY 40507, 859-226-9204, dameonmain@yahoo.com.
CODA
As always, I am interested in your comments. Contact me at mzkjr@yahoo.com.