Louisville Rock Lowdown
Welcome to the final edition of Louisville Rock Lowdown. It has been a great run over the past few years, but I am hanging up my hat. You may still see pieces from me from time to time, but they will be on a sporadic basis. It was an extremely hard decision for me to make, but for several personal reasons, I think it is time to step down.
I have enjoyed a long-running column that has given publicity to a plethora of local bands, an outlet for me to express my thoughts and ideas and a medium to connect with the local music scene. I have met great people along the way (made a few enemies too) but the experience I have gained while at Louisville Music News is priceless. I could not have worked with a better editor/mentor/friend, Paul Moffett. He has taught me so much over the years and I owe him more than I will ever be able to repay.
Please continue to give LMN your support; it is truly a wonderful publication that exemplifies a dedication and commitment to serving local musicians and the community alike. There is no big paycheck involved for anyone; it is done out of love for music and those who choose to embrace it.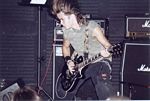 Photo By Photo from Kylemeredith.com
With that being said, there are a few things to plug in this edition...
So young, yet so talented...
There is a great young (very young, 15 years old to be exact) guitarist on the scene that you may have heard of by the name of Kyle Meredith. His is playing a gig at the Bulldog Café (Fairdale) on March 19. This will be Kyle's second performance there, but he has played several shows prior to this in Louisville at venues such as Phoenix Hill, Coyotes, Iroquois Amphitheater, Mom's Music, Swiss Hall, etc. I saw him perform at Tek World one time with us and the kid can wail! The Bulldog gig, put on by Shane White (www.thashow.com), is a gathering of Black Label Society fans before their March 25 show in Covington. Kyle's playing technique has been compared to that of Zakk Wylde. His father, Scott, is working hard to promote his son's musical talent and career. It is good to see parents actually being supportive of their children's interests, even if it is that rock and roll music of the Devil! Check out www.kylemeredith.com for more info on this up-and-comer. Good luck, Kyle...
Good drummers are hard to find...
David Kisselbaugh, formerly of Caustic, is on the search for an "above average" rock/metal drummer (ages 20-30) available to practice 2-3 times a week, for his new project. He states, "We're looking for the regular stuff..." That would include someone who is hard working, dedicated, easy going, has equipment and transportation, etc. If you think you've got what they are looking for, email David at scrmnglspl@yahoo.com.
Rap artist, "Bangs Copolla," passes away...
Though he was not a musician that fit the mold of my rock genre column, I passing this information along without hesitation. No one can deny the impact that the death of a musician brings to the lives of fans and the community. A few weeks ago, I received an email from Richard J. Herrell, co-owner of CD Warehouse on Hurstbourne Pkwy. In it, he told me about the death of Keith Miller (a.k.a. Bangs Copolla). Copolla was a rap artist here in Louisville and Herrell was a co-producer and friend of the late performer. Copolla lost his life on February 9 due to a long fight with lymphoma/cancer, a much too familiar disease these days.
"He was not only a great rapper, but also a great producer and the local rap community will miss him greatly," said Herrell.
A resource for local bands...
Fellow LMN writer David Lily tipped me off to this web site a while back as a good resource for local bands to educate themselves on topics A-Z. Feel free to give it a whirl, you just might learn something that will help get you closer to that big break we are all chasing after... www.bmusicnews.net.au/links/lessons/recordin/default.htm.
Big show in the works...
I have been in contact with a gentleman by the name of Benjamin Arterburn about a big show coming up called Sigmapalooza. The date is April 16 and it will be held at the Iroquois Amphitheater. Some big acts are coming together for this one and will be announced soon, so stay tuned to LMN for all the details. It will be worth the wait, trust me...
And now back to your regularly scheduled programming...
OK, so it is more about me, I know. But this last column is pretty important to me. I have spent many hours in front of the computer doing this thing throughout the years and I am sad to let it go. I know that there will be (hopefully) someone to take my place and pick up the local rock scene torch. There are so many great acts in this town and we just have to work together to achieve the things we want. This means bands, newspapers, venues, etc. It can be done.
In my first LRL, I wrote about a band called Andy's Kitchen. A beautiful lead singer named Harmony fronted the band and though the band does not exist anymore, I know she is still playing music just as I am still writing. For old time's sake, check out her new solo project at www.harmonyd.com.
Since that "pilot" of sorts, I have covered numerous bands and topics that are too plentiful to name. I hope that it has done some good for the bands and I hope it has entertained the readers of Louisville Rock Lowdown/LMN. All the letters and appreciation I have received has made it worthwhile. Keep that love flowing, Louisville. Go see local bands, buy their merchandise, spread the word about your favorite groups, send them an email letting them know you enjoy their music, call the radio stations and request the locals! You can make a huge difference.
Bands, you also have responsibilities. Do not rely on others to do it for you - nothing is handed to you. We have to work 1000 times harder than the return we get; it is a known fact. Enjoy what you do for the right reasons and it will pay off in the long run. Even in bad times, know and embrace the reasons you play music. It will keep you going strong.
One last time, until we meet again... rock on, Louisville!
[Thanks for all the good work, J. - Ed.]