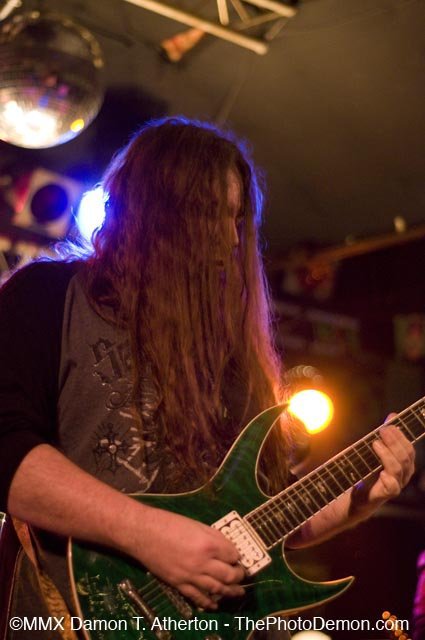 News From the Pit
Man, this scene changes a lot! It's a twisting winding roller coaster from hell.
First of all, it's been deader than a doornail round this town lately and it's starting to get to people, including me. No "good" national acts in two months or so! I think Ministry is the last good show we had up in this mofo. That's weak.
Several months back, it was kickin' and we were gettin' tons of shows. Now - we couldn't get Hootie and the Blowfish if we wanted them!
A friend recently told me to check out Louisvillemojo.com to check out the single women and I found quite a bit more than that. The Louisville music scene absolutely thrives on this website!
I have found numerous old friends that I haven't talk to in awhile, as well as a bunch of really cool new people. Talk about music related! There're all kinds of people on there who are into this music scene and they all are pretty cool people.
The site has forums, profiles, news, forums, job classifieds, mojo gatherings at various clubs and basically too much stuff to list.
The best part of all this is that it's all pretty much aimed at the wild "single" folk! This chit is better than a fargin' expensive online dating club and it's FREE!
Mind you, "it's not for all of us. There are lesbians abound, sex discussion forums, underground chaos, dudes that wear makeup, vampires, tons of hot "floozy" chicks and a limitless supply of superfreaks on mojo."
And - you can say whatever you feel like. There's no holding back on mojo.
So I plan on networking my shows and newspaper article on there, to get the word around a bit better. I'd like to thank Louisvillemojo and its creator for contributing so much to this scene. It's a fun handy website "for the freak in all of us." Rock on!
The 2005 Tsunami Benefit: To all the bands who played the multi-venued Tsunami Benefit - good job! You did a great job of raising over 11,000 dollars. I think the benefits cause was a good one, but call me an icehole or a redneck, but I've always believed in the "take care of your own people, before others" philosophy. In my opinion, we (the USA) need to take care of the needy here first! We coulda fed the homeless here in town, provided blankets at a shelter, or sent a few local Terminal children to Disneyworld. Any of those!
Aside from that, I feel a few heavier bands could have been added to the Tsunami bill. These bigger, highly promoted shows always seem to leave out the heavies and it burns me up. Everytime there's a big show with big sponsors, radio support and exposure, does this instantly mean "No Heavies Allowed?" Well - that's what it seems! And I'm sure a lot of you will agree with me. It' s almost like they are thinking, "who are the prettiest mofos we can get?" I think they should invite a big, ugly, dreaded, combat boot wearin', forehead pierced, death metal Crowbar/Lemmy lookin' dude with coco puffs on his face to play one of these shows. Just to add some spice to the show! We metalheads may not be "prettyboys" or teen beats "face of the day," but at least we got the cojones to do it OUR WAY! No compromise. No watering down what we believe in.
And to the promoter who I called out a few months back, because people were complaining he wasn't doing "good and fair" business. Dude. People are still calling me about this! I don't know why. I guess they think I'm the promoter police or something, but the fact is: apparently you are pi**ing quite a few people off.
I'm not saying you are guilty. I'm merely saying that people are crazy nowadays and that if you keep angering these bands that trusted you, one day you will anger the wrong person and they will retaliate. I'm sure you can get the general idea of the unpleasantness that could occur.
I'm just trying to relay what the bands said, dude, so don't chug that bottle of Hate - or - Rade on my account. I'm trying to save you from potential unpleasantness.
I'm actually trying to help you. Peace.
THE METAL GRAPEVINE
Message From Louisvillemojo.com:As you know. I have become a "mofo."
I talked to the operators of the site and they want me to tell all of you that Mojo is for all of us musicians and fans. Here is what they had to say to you:
Mojo is a Great Promotional Tool for Musicians: Mojo is all about community and local music is a big part of what we consider community. We've paid special attention to the needs of local bands and musicians by creating a number of tools that you guys can use and best of all, they're absolutely FREE:
The 'Happenings' Calendar:
Mojo's event calendar is labeled `Happenings'; just click it to see what's going on.
You can jump to other days or further filter the types of events you see by choosing from categories on the right hand side of the screen. Anyone can post a gig in the HAPPENINGS calendar, just choose the 'Post' option and fill out the form that appears.
Mojo Live: If you're an active musician or band, we created 'Mojo Live' especially for you. You can quickly set up a 'Live' group and then add pictures, links, audio and video files and more. Once other folks start to see your group, they can join and become 'groupies' and you can send a broadcast to all your fans at once. If you have a Mojo Live group and you add an event to the Happenings calendar, the site will ask you if you wish to associate that event with your group. If you do, your gig shows up both on the Happenings page and in your group - dual promotion!
Classifieds:
The Mojo classifieds include a special 'Music and Musicians' category. There are sub - categories for 'Equipment', 'Services' and 'Wanted'. If you have something you'd like to add, just choose POST at the top of the page.
All of these tools are available to any Mojo member (who we affectionately call MoFos) at no cost.
During the month of January, Mojo served 27.5 million page views and on any given day there will be 15,000 to 25,000 visitors to the site. It definitely has the 'eyeballs', so it's a good place to start networking with other locals and promoting your gigs. Mojo supports itself via advertising, if you're a club or venue and would like to talk about the possibilities, please don't hesitate to contact us: sales@metromojo.com.
Buzz About Vent: Hey man. What's the word on the street about that new band with the dude from Flaw singing in it? I'll tell you. People like it. I've heard nothing but good stuff about the new Louisville band Vent. And that's the official word from the street.
You can see them Friday March 4 @ PHT.
After The Fall Reunites With Former Singer: The guys have apparently worked out their differences and I'm glad. I liked the old singer Josh, much better. The newer guy wasn't bad, but in my opinion, he didn't blend well with the music. You can see them in action again on April 1 at PHT.
99MPH Vocalist In New Original Band: Jack Briz, the former vocalist for 99MPH, the former top cover band in town, has informed me that he has a new original band in Cincinnati, called BECOMING. He says he is extremely excited about the new music they are writing. Go to WWW.puredemise.com and click on becoming, on that page you can listen to the tune "My Friend." Jack says everyone has his or her own character and personality that bleeds very well into the stage show, which includes some wild stuff and gimmicks. Influences include Pantera (R.I.P Dime), Sevendust, Slipknot, Godsmack, Ozzy/Zack Wild, Steve Vai, Mudvane, Coalchamber, etc. You can see BECOMING on Friday April 1 @ PHT.
In The Clear's New CD: The band In The Clear are set to release a new 6 song EP entitled "dirty cheese and the hoodie thieves." It will be available on Saturday March 19 at Bulldog's Cafe in Fairdale and on Friday April 1 @ PHT.
Don't miss this show. These guys have been working hard lately and I'm thinking a deal may be in their future.
7DaySun Hittin' The Road and Studio:The band will be heading down to good ole Florida in late March to do a few shows in St Augustine, Orlando and Daytona. Sounds like a great time! Have fun and good luck, guys!
And they will also be mixing their upcoming release down in Florida with Bobby Burns (Soulfly). I will keep you informed when near completion.
And last but not least, the band will be shooting a video for their song "slowly sinking" at the Fern Creek Community Center on March 19. So come on out and be there for the guys!
Sabbath and Maiden @ Ozzfest `05! Black Sabbath and Iron Maiden are confirmed I'm told. That is enough to make me go - right there! Maybe this year a hurricane won't drench me to where fish live in my tennis shoes.
The Future Of Bulldogs: Some gentleman who runs a business near Bulldogs is trying to destroy what has become a staple of the current all-ages Louisville metal scene. Apparently, this guy is a kid-hater and doesn't like all the young kids hangin' out around his valuable and wonderful parking lot. He is trying everything in the world to end all-ages metal shows at the Bulldog.. He hangs out in his parking lot at night, and runs off anyone who may happen to park there inadvertently! He complains to police and to anyone who will listen.
Perhaps he would prefer seeing kids out getting in trouble, getting pregnant, or doing drugs, other than being in a decent place with adult supervision, watching good local music. The fact is: The Bulldog Café has brought business to your community! So embrace it - and give these youngsters a break and let them have one little thing: a place to go and be themselves.
New Band Alert!There's a new band from Southern Indiana called XS that is `Old School' Eighties hair metal to the core. I met them recently at a show and they are way cool dudes.
They do `hair metal' everything from glam to Iron Maiden to Zeppelin. They are supposed to be real good. I can't wait to see them play, being an Eighties fan myself. If they can play Iron Maiden and Judas Priest solos to a T, they got my vote! You can see them at Shooters in Indiana on March 4. Check out XS-rocks.com.
Thought I'd Never See This:Ok. I never thought I would see this in my lifetime: Sean Rude, the drummer for Faceplant/Jefferson County Drunktank is now playing drums, on the side, for a cover band! They are called Slam Circus. It seemed like he was holding back big time, as you could tell he was wanting to kill the drums! But no killing of drums is required in cover band music, so I guess he'll hafta hold back a lot.
Pettiness Unbridled: I have learned that a member of a band I have been trying to help and get exposure, is being an A - hole because of a confrontation several years back, over a girl. Dude - we both did rude stuff that was wrong, but I have been willing to forgive and forget and to continue to help in anyway I can.
You haven't. And you have even brought your band, which I like, into our problem.
Fans of your music want to see your band play my shows and have even asked when you will. A few times! But you are being petty and downright wrong by still harboring ill feelings so many years later. Your band wants to play, your fans want you to play - so you are the only one holding progress up! Let it go. Life moves on. I have. You should, too. It's ok that you don't like me. I don't really like you either. But I'm gonna do my job of covering local metal, regardless of whether I like you or not. Because it's the right thing to do.
Artificial Zero Recording:After acquiring new female vocalist Kimberly Miller, a.k.a. "Invidia," the band Artificial Zero is currently recording their second CD entitled Rebirth, which is to be released in July. I haven't heard much of this band but I received a CD and liked it. You can see them at the PHT on April 1.
Unity Of Solz: I saw this new band Unity Of Solz recently and I am impressed by the emotion conveyed. This band used to go by Sacred Soul, but had to change their name because someone else had the rights. (I had to go through this too, with my band Inhuman; it sucks.) Newcomer vocalist Christy McAllister impressed me quite a bit. Not only is she cute, but she hits every note right on the nose, and the music was good and memorable. I predict she will give the other female rock vocalists in town a run for their money, especially if she and the guys kick it up a notch or two.
Too Far Gone Set To Release CD: Louisville based rock band Too Far Gone will be releasing Aminita Muscaria, an eight-song debut album. It will be available at local record stores as well as Amazon.com, cdbaby.com and cdnow.com. The album is set for release in early April. You can check out www.toofargonemusicnews.net
UPCOMING SHOWS
The Bulldog Cafe
Friday, March 4 - Jefferson County Drunktank, Slowkill and Renault.
Saturday, March 5 - Four, Second To Scribner, Bombshell Crush and Dead City Rejects.
Sunday, March 6 - EMO Show.
Saturday, March 12 - Pain Link, N-cision, Miseo, Descention and Surviving Thalia.
Friday, March 18 - In The Clear CD Release Show with Inner Blue and FiveSecondZero.
Saturday, March 19 - Berserker Ball with Kyle Meredith, Violenza, War Dogz, Sixth Floor, Swage and 1 TBA.
Friday, March 25 - Klinch, FiveSecondZero, The Zoo and Cricket.
Saturday, March 26 - Halfway Hollow, Coldshovel, Hollow and Incursion.
Dutch's
Saturday, March 5 - Farewell To Kings, End Of Me and Retrospect. 9 p.m.
Fern Creek Community Center
Saturday, March 19 - MSD, Surviving Thalia, 7Day, Sun, Beneath The Sky, Evil Engine # 9, N-cision and From Within. 6 p.m. $ 7 All Ages.
Headliners
Friday, March 11 - (National Acts) Atreyu, Unearth, Norma Jean and Scars Of Tomorrow.
Phoenix Hill Tavern
The Original Rock Showcase Series. On the first Friday of every month in the Roof Garden.
Friday, March 4 - Vent (featuring Chris Volz of Flaw) , Inner Blue, S.O.L (featuring members of Outspoken) and From Within. 9 p.m.
Friday, April 1 - In The Clear, After The Fall, Becoming (featuring vocalist Jack Briz of 99MPH) and Artificial Zero. 8 p.m.
Tailgaters
Friday, March 4 - Fivesecondzero.
PROPS OF THE MONTH
This month's props goes out to a guy named Deron Hayden. A nice guy and newcomer promoter who has done pretty good here lately. Although he's only 18 years old, Deron has quite a few shows under his belt, including putting shows on at Pappy's and Bulldog Cafe. He is currently working on a big show, The Bleedz Metal Fest 2, at Bulldog Cafe.
There will be about 20-plus bands involved. An all-out marathon of metal for two days in a row! I haven't seen a two-day metal fest like that since I had the popular Unsigned Xtreme shows at the Toy Tiger! So good job, dude!
He also operates Odyssey Entertainment, a promotional company that benefits younger metal bands around town. Deron is a credit to the all-ages genre and the metal scene. If you don't know him, give him a call, or email and maybe you and him can set some stuff up, as he is easy going and ready to participate in some joint promotional projects. Teamwork. Something many in this town know nothing about. I can say that Deron has that capability and then some.
Give him a shout. Oddceo13@hotmail.com.