I've Got A Mind To Ramble
Boogie with Ed
One of the best kept secrets of Louisville's jazz scene is the trio of veteran musicians that plays every Tuesday and Wednesday evening at Jack Fry's. Crammed along a narrow passage between the front and back dining rooms next to the door to the kitchen is where you will find Ray Johnson on piano, standup bassist Ben Ingram and David Wilson on tenor sax. Collectively, these jazzmen have logged a total of 160 years playing professionally. Ben and Dave have been making music since the Forties, starting in high school. Ray was featured in the February, 2003, issue of Louisville Music News. They play an easy listening style of familiar jazz instrumentals. Unfortunately, it's just background music to the ongoing conversations in the cozy, now smoke-free, restaurant and bar. These musicians should be performing front and center, getting the applause of appreciation they deserve after each number. Recently when I was there enjoying the music and a delicious dessert another veteran pianist, Boogie Morton, was sitting in for Ray. We got reacquainted during a break and agreed to get together for an informal interview.
When I arrived at Boogie's neat, white frame house in the 2400 block of Dumesnil, a dark green Buick pulled up behind me. To my pleasant surprise, Ed Chestnut, Sr. got out. Boogie had also invited Ed to our interview. Ed moves a little slowly, as he has arthritis in one leg. Boogie's front door was unlocked and open, so we walked into a genuine musician's pad. An upright piano was by the door, two saxophones were over in the corner, a bass guitar in the other corner, a flute was on the mantle, records, tapes and sound equipment were everywhere and there were plaques and pictures of musicians and family all over the walls. Boogie wheels and deals with autos and he had to excuse himself momentarily to assist someone who had just locked themselves out of their car with the motor running.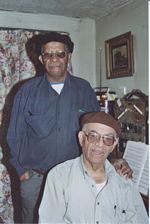 Photo By Photo by Keith Clements
Ed started by telling me that he was born in Louisville on January 14, 1924 near 6th St. and Kentucky. Later his family moved to 6th St and York, near Bessie Allen's Orphanage (Kentucky Home Society for Colored Children). This was where several well known performers like, Dickie Wells, Jonah Jones and Mary Ann Fisher got their first musical inspiration, in Mrs. Allen's Sunday School Marching Band. Ed's family moved to Jeffersonville when he was six. His father, Coleman, played guitar and banjo in various bands including Lockwood Lewis, Henry Miles and the pit band of the Gaity Theater. Coleman got Ed started on mandolin, playing popular songs at school programs. He switched to a four-string and later purchased his own six-string guitar at S.E. Davis Pawn Shop when he was twelve. Ed took it with him when he joined the Navy at eighteen. While Ed was living in Jeffersonville, his father's cousin, Fred Smith, who was also a musician, and Hallis Brown taught Ed various chord progressions. Ed recalled lots of bootleg joints and house parties where old time blues men like Lawrence Stokes, George Mattingly, Rufus Jones and Fathead McGill would play on Saturday nights. During the Fifties, there was a lady named Rick - a member of an all-girl band called Sweethearts of Rhythm - who ran a bootleg place out of her home.
When Boogie returned, my first question was how he got his nickname. He said, "the doctor looked at me the day I was born (October 7, 1937) and said I looked like a little booger." "Boogie" has stuck ever since and has nothing to do with his piano playing. His real name is Barrington, which is what Ed calls him. Boogie's mother played gospel tunes on an old upright player piano that she bought and paid off in 25-cent-per-week installments. Once when Boogie was practicing, Joe Golden, a very talented but strange piano player, overheard him and began to teach him some bebop tunes, which Boogie's mother wouldn't do. Joe had a coal shed behind his house where he would practice piano. Ed confirmed that Golden was a little strange. Once when they did a gig together he noticed that Joe was wearing his socks inside out. Joe replied, "I dig the fuzz."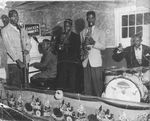 Photo By Photo Courtesy of Boogie Morton
Boogie is a multitalented musician, as he also learned to play alto and tenor saxophones in junior high. Boogie's first gig was at Belgian's with Mary Ann Fisher in the late Forties when he was 15 years old. They performed with sax player Big Sam Williams and would travel to Paris and Georgetown playing blues. Boogie got a crash course to be a bassist in 1956 when Ray Johnson needed a bass player for a gig. Lessons were at the YMCA. They formed the Good Times Quartet that played bebop at the Club Morocco at 19th St. and Cedar.
When Ed was in the Navy from 1942 to 1945, he served in Chicago and got to see T-Bone Walker at Club Elisa on State St. Later he was relocated to Staten Island, where he worked on a signal tower. He would go over to 52nd St. to hear Charlie Parker and Billie Holliday and Art Tatum at the Onyx Club and Three Deuces. After the war, Ed returned briefly to Louisville and then moved to Bardstown for two years. He joined a band called the Smith Brothers that was led by trumpet player, Governor Smith, playing danceable bebop at clubs in Elizabethtown, Springfield and Lebanon Junction.
Chestnut returned to Louisville, living at Beecher Terrace across from the Top Hat on Walnut St. and playing regularly there and at the Brown Derby at 10th St. and Chestnut. The Brown Derby was on the second floor and he was in an eight-piece band, playing five or six nights a week. Ed said, "Folks were getting out quite a bit at that time." Before the war it was known as Hailey's, then Tripper Brown changed the name to the Brown Derby. This was Ed's favorite club to perform because he could play bebop. He also liked the Top Hat because he would play jazz there. Ed remembers seeing the tenor sax player, Lynn Hope (with turban), Helen Humes and Snooky Young performing at the Top Hat. These gigs led to playing with Henry Miles, which was not his usual jug band. Ed said, "whatever the gig called for, that's what determined what kind of band it was." Ed, bassist Ben Ingram and Henry did several gigs at the River Valley Country Club and for the Binghams on the river, plus Derby parties at Audubon Country Club and Locust Grove. After Henry died, they got Billy Rudolph a part to play on piano and occasionally they had Leonard Fields on alto sax. Ed also played with the Palmer Quintet and the Odel Baker Quartet at white clubs like Bitzers and the Evergreen Inn and at black clubs like the Orchid Bar.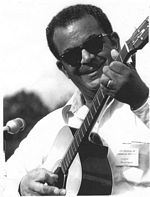 Photo By Photo Courtesy of Ed Chesttnut Sr.
Ed went on to say, "You could play some of the standard tunes at the white clubs, but you had to be prepared to play quite a bit of blues at the black clubs. Like the Top Hat and places like that, you had to put a little jazz into it to make it." Singer and WLOU D.J. Cliff Butler played a lot of white clubs and black dances. Ed would occasionally play with Cliff when his regular guitarist, John Wood, couldn't make it. According to Ed, both he and John stuttered at that time and when they got together no one could figure who was saying what.
Morton recorded "Rent's Too High," which came out on the Kit label, with Cliff in Nashville in 1956 He recalled that Spike Vaughn, Benny Holton, Everett Hoffman, Dicky King and a guitarist and bassist from Nashville recorded twelve other tunes that were mostly made up in the studio but were never issued. Boogie said, "If you worked in Cliff's band, everyone didn't make the same, he paid everybody off in a different corner." Ed remembered when Mary Ann Fisher sang at the Orchid Bar near 9th St. and Walnut, before she left with Ray Charles. He said "she was pretty tight with the owner and when his wife found out somebody had to go." Five musicians from Indianapolis, including a guitarist name Tweedlin' Tom, worked with Mary Ann. Ed said "he was a good articulate, clean-picking blues musician and could play slow blues or any tempo you wanted." He settled in Louisville along with his bass player, Jack Bridges, but unfortunately Tom died young.
Johnny (Hammer Hands) Hammond was another musician who hung out at the Orchid Bar. He lived at 24th St. and Cedar and played piano. Later, he switched to organ, recorded and became well-known in jazz. Johnny taught Boogie to play organ but they were always fussing, going back to when they were kids playing marbles together.
The Orchid Bar had a 40-foot-long bar in the front; the club in the back that held 200 people and had a bandstand in the corner. This place attracted the working class (folks who made their living by their wits), while the Brown Derby and the Top Hat were a little more sophisticated. Charlie Moore's, formerly the Moon Glow, was another club on Walnut between 9th St. and 10th St. near the Orchid Bar. It was a large place where Ed played for several months. It was known for its Blue Mondays. Ed said, "That's when you don't feel like going to work on Monday and you're going to party a little bit. Monday is always a hard day to go to work, so folks said, I'm going to take a Blue Monday, to hell with work. The choice of the club was dictated by the mood you were in."
Ed remembered another blues guitarist, Eggie Porter, who influenced Foree Wells. Porter played at a club in Little Africa on 36th St. and Jackson's Chauffeur Club at 16th St. and Walnut. Ed said, "He was a little slender, brown-skinned fellow and wore what they called a process. Sometimes we'd be on the stand together. I used to try a little blues but he was strictly blues." Eggie had a three- or four-piece band and played a real string-bending style of blues while Tweedle was more melodic. Everyone who remembers Porter said he played his guitar loud and could be heard blocks away. Once when Morton was playing with Eggie at the Labor Temple on Broadway, he took all the tubes out of Eggie's amp when he took a break because he had his guitar turned up so loud. Eggie returned and started to play and his guitar went click, click. He took a bunch more tubes out of a box to replace the missing ones and was back to full strength again.
When Boogie went to California, Eggie invited him to a jam session. Boogie couldn't believe it, as Eggie was playing soft like Wes Montgomery, but when he returned to Louisville playing at Syl's, he was back to his usual `wang dang doodle' stuff. Eggie played what people in Louisville expected to hear. He now lives in California and is a preacher. When Eggie came back on Derby Day seven years ago, he wouldn't go inside Syl's.
Ed recalled the club called New Meal on Cane Run Road where musicians touring in big bands like Stan Kenton, Gene Krupa, Lionel Hampton and Wes Montgomery would come out there to jam after their regular gigs. Besides all the club activity in the Walnut and Cedar St. areas, there were several clubs in Smoketown, including the Three Sixes on Jackson, The Hurricane, Shirley Mae's at Clay and Lampton, J&H at Hancock and Caldwell and the Blue Moon at Hancock and Breckenridge. Ed played after hours following gigs at the Blue Moon during the Sixties and Seventies, when it was run by Joe Richardson. They used a trio or quartet and others would come in and jam. Ed said, "Sometimes we would be leaving so late we would be running into folks going to church."
The first time Boogie played piano with Ed was for a dance in Bardstown during the winter in the late Forties. Ed was asked to put together a band that included Boogie and Joe Golden. The owner, Gene Smith, had a little barrel-house whiskey to get the boys started. Golden got a little too much of that stuff and when they looked out the window, he was out in the cold, walking across the snow.
Ed and Boogie both played on different occasions with the Morgan Brothers. Ed noted that Luther Morgan had an unusual style on his piano. Boogie remembered way back when Luther, Hammer Hand and Buddy Bridgewater used to do piano duels together. Both Luther and his brother Dave, who played drums with the band, are still alive. Dave is at the James Taylor Nursing Home.
While Ed was performing around Louisville, Boogie spent nearly twenty years off and on in other cities and on the road. After early gigs at the Diamond Horseshoe and the Casablanca in the late Forties and the Club Rialto in the early Fifties in Louisville, he went to Milwaukee in 1957, playing at the 100 Club, and to Cleveland, performing at the Music Box. Boogie, Tommy Walker and Louis Jackson once took off to Texas to play with Big Daddy Pat. Morton went on the road for six months, starting in Detroit touring with Jackie Wilson and Little Willie John. Once, after finishing a long organ gig at the Galt House, he got a call to go to Bowling Green to play with the Ink Spots and stayed to tour with them for two years. At that time none of the original members was still with the group. When they were in Cincinnati finishing up a week's gig at the Madrid getting ready to go to New York, Boogie saw an ad in the local paper that said "Ink Spots performing in Frankfort, KY." It turned out to be the California version of the Ink Spots. That group later had a bad auto wreck that killed three members.
When Boogie moved to New York in 1958, he looked up Mary Ann Fisher, who had just started her solo career after her stint with Ray Charles. She was singing at the Baby Grand. He said, "She had them in the palm of her hand."
Morton recalled that Preacher was a Falls City drinker. Boogie told a story about the times he and John "Preacher" Stephens, plus several other local musicians, would march together in a brass band each year in Eminence, KY for a day-long festival. Preacher would beat the bass drum and another musician, Little Man, played the snare drums. The band started at the front, marching slowly next to some older women. Little Man kept picking up the tempo on his drums and the band started marching faster and ended up running. When they finally looked back, they were a block ahead of the rest of the parade. A man pulled up with a flatbed truck and put the band on the back and backed it up to the rest of the parade. The driver said, "the band can play as fast as it wants to but this truck ain't goin' no where." Preacher would play his trumpet and sing the blues for the dance that night. They still have that annual festival in Eminence.
Morton also played with Preacher at Belgians and Tisket-A-Tasket at 15th St. and Breckenridge. The Tisket was a big house with a porch across the front.
Morton played saxophone on five or six cuts of Foree Wells and the Walnut St. Blues Band CD, It's A New Day, Brother. The license rights are back in the hands of Jim O'Neal from Rooster Records and I am hopeful that it will finally get released. When Foree was playing his B-3 organ in the Seventies at the Holiday Inn in New Albany, Boogie sat in for him for a couple of nights. Fortunately, Winston Hardy encouraged Foree to get out of the lounges and go back to playing blues on his guitar.
Ed Chestnut retired from Mammoth Insurance Co. after fifty years and has cut back on performing. He played with Kid Pete's band until Pete died in 2002. That band included Ernest Threlkeld, Billy Rudolph and Ken Tyler. Bobby Edwards replaced Ken on trumpet when Ken died in 2001. Since a gig last year at the Retired Servicemen's Club, Ed has not played much lately but hopes to join his son, Ed Jr., who is also a talented guitarist. Ed, Jr. has been playing the second Fridays at Syl's with James Taylor on keyboards and backed up Mary Ann Fisher on her Songbird of the South CD
Boogie and Friends can be heard the first Friday each month at Syl's. Boogie said, "Friends is anyone I can get." Recently Roger Dane, Darryl Cotton, Norman and Benny Higgins, Dave Clark and a female vocalist, Casey Davis, have become Boogie's friends.