I've Got A Mind To Ramble
Rockin' Is Marcia''s Business
Every time Marcia Ball comes to Louisville - which goes back to her first appearance at the Lonesome Pine concert in 1988, the Waterside and 6 Flags concerts and her recent shows at Jim Porters - she always plays and sings her heart out. Over these years, she has built up a legion of "Ballers" that follow her to blues festivals and concerts throughout the region. The reason is simple: Marcia always puts on a hell of a performance that pleases the crowd. On Thursday, March 31, Jim Porters was nearly filled 30 minutes before show time, as the general admission tickets were on a first come first served basis. The Tuesday night boppers were there in force already out on the ballroom dance floor doing their smooth moves to the recorded music.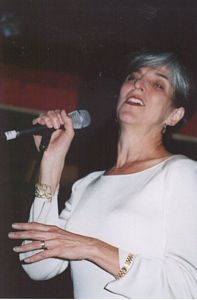 Photo By Photo by Keith Clements
Sue O'Neil opened the show, packing a lot of energy in her condensed, thirty-minute set. Sue paid tribute to the divas and their songs, which influenced her, including KoKo Taylor's "VooDoo Woman," Helen Humes' "Million Dollar Secret" and Etta James' "Damn Your Eyes." Midway through her set, she slipped in a nice original ballad, "Sometime In My Lifetime," which will be coming out on her future CD. Sue closed her set with a romping version of Susan Tedeschi's "Rock Me Right." Sue's band, Blue Seville, included Frank McCubbins on drums, Larry Holt on bass and his brother Sam, who took several extended, slashing solos on his guitar. Sue admitted before the show that she was a little nervous because it had been awhile since she had sung in front of such a large audience, but she quickly won the crowd over and had them primed and ready for the headliner.
Marcia displays a distinguished streak of white in her hair, which she doesn't try to conceal. She doesn't have to, for she is at the height of her musical career and has perfected her craft. She opened the show with a few lines of "Rockin' Is Our Business" by way of an introduction of what's to come. Then she sashayed over to her Kurzweil keyboard, crossed her long legs, rolled her fingers over the keys and proceeded into seventy-five minutes of boogies, ballads and blues. Marcia mixes the backbeat rhythms of Louisiana, having absorbed the Zydeco and Cajun sounds she heard as a girl growing up in Vinton, Louisiana. But Texas blues and R&B are also a big part of her repertoire, having been on the Austin scene since 1970. After an ill-fated recording start on Capital with Circuit Queen, which was heavily country influenced, she has had a long string of records on Rounder and recently with Alligator. Every album is loaded with songs that evoke love, yearning, lust, loss and her inevitable sass. She played many of those songs that evening, closing out the first set with "Fingernails" which has the opening lyric, "I keep my fingernails long, so they click when I play the piano." There was a lot of fast clicking as she percolated on her boogie woogie solo.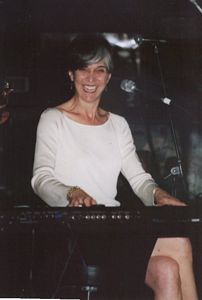 Photo By Photo by Keith Clements
A new live album is due out in a month and she gave us a preview of some of the new songs, including the title track. "Down the Road," and "Snake Dance," which has a creepy voodoo sound that ironically quickly cleared the dance floor.
At break time, most performers retreat to their dressing room to relax, but not Marcia. She was out mixing with her fans, signing autographs and enjoying every moment. The last time we saw her was during the Madison Ribberfest Blues Festival in August. She mentioned on the stage that she was trying to kick the smoking habit. My wife asked her how she was doing. Marcia replied, "I was doing OK until the election, but I'm back off now."
The second set was like rockin' down Marcia's memory lane or marching in a Zulu parade: "Big Shot;" "The Right Tool For The Job"; "I'm Comin' Down With The Blues"; "American Dream"; "La Ti Da"; the moving "St. Gabriel"; "Crawfishin'," which had a wailing sax solo; "So Many Rivers to Cross"; "Count The Days" and "Let Me Play With Your Poodle." As the equally long set was coming to a close, it was clear that Ball had put the crowd under her spell. The dancers gradually stopped dancing and closed in around the stage in appreciation of this consummate performer. The audience had been converted to Marcia's `second liners.' Naturally, there had to be an encore and she floored the remaining converts with "Hot Tamale Baby" that went on and on. I wish it never stopped.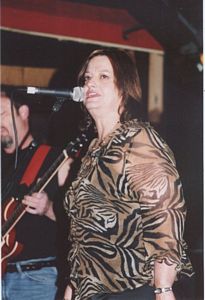 Photo By Photo by Keith Clements
Marcia's band features guitarist Pat Boyack, who is also a bandleader and has recorded three disks for Bullseye with his band, The Prowlers. His most recent release, Voices From The Street on Doc Blues includes some vocals by Marcia. Boyack brings a strong Texas roadhouse blues influence to the band. Don Bennett has been backing Marcia on bass since her first Rounder recording twenty-two years ago. The next time Marcia and her band play Jim Porters or anywhere in the region, be there and have yourself a ball.
American Folk Blues Festivals
When it comes to the latest audio and video technology, I'm way behind. It took a long time for me to make the transition from vinyl LPs to CDs with some cassette tapes in between. It was just a few months ago I purchased a DVD player, which now sits next to a videocassette recorder that is already collecting dust. The DVD medium opens several doors to the blues. One of them is a three-volume series of the American Folk Blues Festival. These historic black and white films document performances of the cream of the crop of America's blues musicians from 1962 to 1969. Two Germans, Horst Lippmann and Fritz Rau, promoted these concerts and studio sessions with the help of Chicago blues anchorman Willie Dixon. These performances had a tremendous influence on the Brits and audiences throughout Western Europe. This idea of showcasing a troop of blues musicians to a new audience was way ahead of its time. What started out as a one-time tour in 1962 became an annual event.
The tapes were kept in storage for forty years and have held up very well. The camera work of the musicians is excellent, with interesting close-ups and artistic angles. The studio settings are a little hokey with mocked up juke joints and front porches. The German studio audiences were shown emotionally impassive, politely clapping in their coats and ties, which is incongruous to what these musicians had experienced in the states.
What makes these DVDs so mesmerizing is the opportunity to see and hear so many of the blues legends from the Sixties perform in their prime. The liner notes are twenty-four-page booklets, providing several personal pictures of the musicians during the tours and a text filled with interesting background information.
The highlights of Volume 1 include Otis Rush's long falsetto cry on "I Can't Quit You Baby," Lonnie Johnson's strong resonate voice on "Another Night to Cry," John Lee Hooker's solo moan on "Hobo Blues," and Junior Well's soulful pleas on "Hoodoo Man Blues." Anytime you can experience Mississippi Fred McDowell's slide and singing as he does on "Going Down To The River, it's country blues at its best. The grand finale was having the entire 1963 tour group of Otis Spann, Big Joe Williams, Sonny Boy Williamson, Willie Dixon, Lonnie Johnson, Victoria Spivey, Muddy Waters, Memphis Slim, Bill Stepney and Matt "Guitar" Murphy on stage together doing "Bye Bye Blues."
Volume 2 is just as good. Just to see T-Bone Walker showing his impressive guitar showmanship with style and confidence is worth the price of the DVD. The sequence of Howlin' Wolf's three songs, "Shake For Me," "I'll Be Back Someday" and "Love Me Darlin'" shows the force of the Wolf's mighty voice. This finale included Big Mama Thornton, when she was still big, doing "Down Home Shake Down" with Shakey Horton, J.B. Lenoir, Doctor Ross and even John Lee Hooker taking turns on harp solos, backed up by Buddy Guy, Jimmy Lee Robinson and Fred Below.
Volume 3, which came out in 2004, is my favorite which covers the whole blues spectrum with Mississippi bluesmen Skip James, Bukka White and Son House and the Piedmont duo of Sonny Terry and Brownie McGhee complete with Sonny's whoopings. Hound Dog Taylor and KoKo Taylor represent Chicago with a little supporting help on harp from Little Walter. A youthful Buddy Guy unleashed a little of his guitar pyrotechnics on James Brown's "Out of Sight." Performances by Dr. Isaiah Ross and Big Joe Turner romped and jumped respectively and Louisville's own Helen Humes closed out the video with "The Blues Ain't Nothin' But A Woman," with an all-star cast.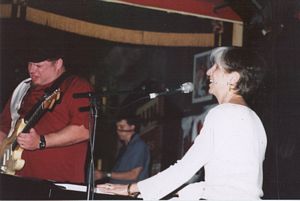 Photo By Photo by Keith Clements
It is the bonus tracks on each of these DVDs that are the keepers. Volumes 1 and 2 show Earl Hooker dazzling his audience with his guitar acrobatics. Sadly, he died just six months later from tuberculosis. The bonus tracks of Magic Sam on Volume 2 doing "All Your Love" and "Magic Sam's Boogie" were also documented just a few months before he died of a heart attack. The Muddy Waters' songs "Long Distance Call" and "Got My Mojo Working" on Volume 3 show the power of his blues band, especially Paul Oscher's creative harp.
Whether you are a blues novice or a blues fanatic, these DVDs are the best way to open your door into the house of blues and experience so many of these legends playing and singing together.
Nick Stump & Friends Concert is Cancelled
Last month when I interviewed Nick about his past, present and future, a concert was planned for Nick and his friends on May 11. Unfortunately this show has to be cancelled or, I hope, merely postponed, to sometime in the near future. Nick needs to care for his father who is ill and has to be moved from Florida to Louisville. As Nick said, "Right now I have the duties of a son to attend to and though I love nothing better than playing music, I have to put my father first." Amen.