Jazzin'
APOLOGIA
A wretched respiratory infection, day job crises, no babysitter blues, a bad knee and more than you care to know about, left me unable to get to several performances I had planned to see this past month, including concerts by both Avishai Cohen and Murali Coryell at the Jazz Factory,, as well as a concert by Jacob Duncan with Craig Wagner at the Seelbach. At least I could listen to some CDS. So, to coin a cliché, what you see is what you get. Regarding the following two concert reviews, as a disclaimer, I previously wrote extended previews for the Kentucky Center's Backstage Pass magazine.
RECENT CONCERTS
The San Francisco Jazz Collective at the Kentucky Center
Joshua Redman and Bobby Hutcherson, together with saxophonist Miguel Zenon, trumpeter Nicholas Payton, pianist Renee Rosnes, trombonist Isaac Smith, bassist Matt Penman and drummer Eric Harland performed at the Center's Bomhard Theater on March 31 as part of their first national tour. As previewed here last month, the concert included both original compositions by many of the band members as well as several compositions by John Coltrane, all arranged by Gil Goldstein. Curiously, for all the fire and passion which one customarily associated with Trane, especially in his middle and late periods, the SFJC seemed to be more energized during their own songs. It was as if the need to be democratic and allow ample solo space for each of these talented musicians worked against the pursuit of freedom and spiritual questing exemplified by the late jazz giant. The SFJC began with a version of Trane's "Moment's Notice," during which Zenon soloed in a style more reminiscent of Charlie Parker than Coltrane. Another Coltrane piece followed, "Crescent," which offered stronger solos. A Payton original, "Cracking [?] the Eggs," was next and seemed to owe more to last year's SFJC featured artist, Ornette Coleman, than to John Coltrane, although a brief quote of Trane's "Giant Steps" did emerge. Zenon was featured on flute in a Smith composition, "Umm," after which Zenon's "Too Too [?]" which featured a spare opening section by Hutcherson on vibes and solos by both saxophonists. The SFJC returned to the Coltrane songbook with the lesser-known work entitled "26-2," which Redman introduced as having been based on Charlie Parker's "Confirmation." It featured a very fast introduction by Payton, backed only by Penman and Harland, before giving way to improvisations by Payton and Smith. An all-too-brief version of Coltrane's lovely ballad "Naima," with a slightly rearranged bass pattern, was a feature for Hutcherson's exquisite vibes. Perhaps the most intriguing Coltrane arrangement was up next, "Africa," which began with shakers and a sort of "Headhunters play `Watermelon Man'" vibe. Harland let loose with his most Elvin-ish playing of the night, especially during a lengthy and crowd-pleasing solo; all the more remarkable given his use of a stripped-down drum set. The encore was a piece by Penland, "Say the Names,' which had something of a Spanish martial air to it, reminiscent of some of the early work by Charlie Haden's Liberation Music Orchestra. All in all, this was an evening of high musicianship, which stopped just shy of reaching its potential due to a sense of being over-arranged, especially in the Coltrane numbers. In this regard, it seemed more of a piece with the recent Lincoln Center Jazz Orchestra's recording of A Love Supreme than with Branford Marsalis' less-arranged but more passionate version [both reviewed here in March].
Frank Morgan and Cyrus Chestnut at the Jazz Factory
"Intimate" is a word that may be subject to overuse, but it amply describes the performance and atmosphere of the concerts by saxophonist Frank Morgan and pianist Cyrus Chestnut. Morgan, the veteran who has overcome much adversity and Chestnut, an established younger play, seemed to read each others' minds throughout the course of two sets on Saturday, April 9 [they also performed the previous night]. Morgan opened the first set by saying: "I think it's only fair to dedicate the entire performance to Ray Charles - and those others who are no longer with us." With that, he launched into a somewhat abstract solo which led into Hoagy Carmichael's evergreen "Georgia," which also opens his latest quartet recording, City Nights (HighNote). Keeping with the theme of honoring those who have left us, next up was John Coltrane's "Impressions," also on City Nights. This was a version which, rather than pushing the energy level up, was slower and very warm and engaging. Two Duke Ellington songs were also the first set, "Prelude to a Kiss" [which followed "Impressions"] and the set closer, "In a Sentimental Mood," both of which showed how respect for the past and the need to keep fresh to remain relevant in the present, could peacefully coexist. Thelonious Monk's "Well You Needn't" was fun and an encore of Monk's "I Mean You" kept the theme alive. Morgan asked Chestnut to perform a solo after "Well You Needn't," and Chestnut obliged with a gorgeous rendition of "A Nightingale Sang in Berkeley Square," which elicited well-deserved applause. The second set continued to pay tribute to the departed, with more Ellington ("Come Sunday," the encore), Monk ("`Round Midnight"), Miles Davis ("All Blues") and Charlie Parker (two pieces, including "Cherokee" which, though not a Bird original, was the basis for his "Koko"). The set actually began with a reworking of Dizzy Gillespie's "A Night in Tunisia," dubbed "A Night in Louisville" by Morgan. His grace and serenity allowed him to bring this off without it sounding like a cheap attempt to achieve rapport. More importantly, it provided an excellent example of how Chestnut could go form simple comping to more elaborate playing in his solo, during which Morgan could be seen swaying back and forth with his eyes closed, enjoying the moment. The evening ended all too quickly with the previously mentioned "Come Sunday." In a brief conversation between sets with Morgan, I asked if there had been any rehearsal time; his succinct response was "No, that would spoil it." And, upon reflection, he was right.
RECENT CD RELEASES
MARIAN McPARTLAND with FRIENDS and MORE FRIENDS
After many years of listening to the superb "Marian McPartland's Piano Jazz" series on the radio, it seems somehow odd to have to listen by way of a CD. Unfortunately, since WFPK dropped "Piano Jazz "during its great Dumbing Down the Programming Purge, it is the only way to listen to Ms. McPartland's conversations and performances with a wide range of guests. Previous entries in the CD reissue series include Ms. McPartland with Oscar Peterson, Bill Evans, Mary Lou Williams and others. The most recent stretches the boundaries to include one of rock music's most jazz-influenced bands, Steely Dan. On Piano Jazz: Marian McPartland/Steely Dan (Jazz Alliance/Concord TJA-12048), the conversation and music range from Duke Ellington to Louis Armstrong and Charlie Parker, as filtered through the sensibilities of Donald Fagen and Walter Becker, who together are the core of Steely Dan. They show their musical abilities in such songs as Ellington's "Limbo Jazz" (from his collaboration on Impulse with Coleman Hawkins) to others from the Ellington canon, such as "Things Ain't What They Used To Be" and "Mood Indigo." Ms. McPartland joins in on vintage Steely Dan numbers, such as "Josie" and "Black Friday." All in all, this album is a worthy addition to the Piano Jazz series and should make us Louisvillians long for "those thrilling days of yesteryear," when "Marian McPartland's Piano Jazz" was a weekly feature on WFPK, our once-beloved radio station.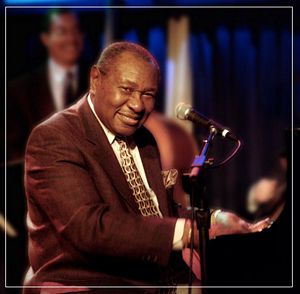 Another release by this venerable pianist is Marian McPartland & Friends: 85 Candles - Live in New York (Concord CCD2-2218), recorded live at Birdland, on March 21, 2003. This 85th birthday celebration, which also celebrated a quarter-century run of the Piano Jazz series on National Public Radio, features some two dozen guests, ranging from her contemporaries such as Dr. Billy Taylor and Clark Terry, to representatives of a younger generation, such as Dave Douglas and Ravi Coltrane. According to the liner notes, this was a four-hour affair, some two hours of which are reproduced on this two-CD set. A press release noted that this music has been previously aired on NPR; regrettably, not here in Louisville since the once jazz-oriented WFPK dropped "Marian McPartland's Piano Jazz" in its anti-jazz putsch back in the fall of 2003. Fortunately for us backwater types, as well as those who enjoyed the music as broadcast and wish to add it to their CD collections, this release allows us to listen to Ms. McPartland in many different contexts, ranging from duets with fellow pianists George Wein (the Newport and New Orleans Jazz Festival impresario) on Billy Strayhorn's "Take the `A' Train," and Jason Moran (on the Gershwin classic "Summertime," to ensemble player (with a group featuring violinist Regina Carter and guitarist Jim Hall on "I Can't Believe That You're in Love with Me" and a different group featuring Chris Potter's modern sax on "Tangerine." There are several cuts on which she defers to other pianists, such as Bill Charlap (including Cole Porter's "I Love You" with Dave Douglas, Phil Woods and Ravi Coltrane; and "Last Night When We Were Young," again featuring Woods' alto sax); Dr. Billy Taylor (a rousing version of Lester Young's "Lester Leaps In" with Jon Faddis, Clark Terry and saxophonist Loren Schoenberg); and "All Blues," with the late James Williams, Douglas, Woods and Coltrane). Vocal highlights include Nnenna Freelon on Ellington's "What Am I Here For" and a respectful take by Norah Jones on Hoagy Carmichael's "The Nearness of You." The breadth and depth of this collection make it truly unique and well worth adding to the library of any mainstream jazz fan. McPartland herself truly encapsulates much of the history of jazz and by surrounding herself with some of the finest players and singers of many different generations, both for this concert and on her weekly shows, she may have discovered the jazz equivalent to the fountain of Youth.
OLD MASTERS, NEW LABELS
In the continuing tradition of such improvisational artists as Dave Douglas and the Grateful Dead, both covered here over the past few months, Dave Holland and Jack DeJohnette have each begun their own labels, each linked with more established labels for distribution purposes. Holland's first release offers a new recording by his big band, while the first two releases by DeJohnette showcase some of his musical interests outside of what would be considered "jazz." In a way, this is fitting, inasmuch as the artistic purpose of starting one's own label would be to present what is most important to the artist, regardless of whether the recordings are within the mainstream of that artist's work or offer new perspectives which were not previously made available to the public. In the case of both Holland and DeJohnette, their recordings bear witness to the vision and integrity of each musician.
Dave Holland's label, Dare2 Records, recently issued its first release, the Dave Holland Big Band: Overtime. It begins with a four-part Holland composition "The Monterey Suite," the final movement of which was composed just after the horrific events of September 11, 2001, but which attempts to find. While this CD only came out earlier this year, it was actually recorded back in 2001. It features the energetic drumming of Billy Kilson, who has since left the band and the vibes and marimba of Steve Nelson, as well as a serious group of horn players. In addition to the 50-minute suite, other highlights include the relaxed "Ario," featuring Nelson's marimba and the fast-paced "Mental Images," with a straightahead feel notwithstanding Kilson's funky syncopated drumming.
While Dave Holland's first self-released CD shows his previously recorded big band in a superb new recording, Jack DeJohnette's initial two releases on his Golden Beams label (distributed by showcase the noted jazz drummer/pianist/composer in non-jazz settings. On Music From The Hearts of the Masters, DeJohnette joins forces with Foday Musa Suso, a griot from Gambia who is perhaps best know to jazz fans for his 1985 collaboration with Herbie Hancock, entitled Village Life. Suso plays an instrument called the kora, frequently described as a Gambian version of a harp, but with a sound akin to a lute. The melodies played by Suso are complemented and accented by DeJohnette's drumming. Frequently, as in the opening song, DeJohnette's drumming sets up rhythmic patterns which, while not "jazz," can help listeners not familiar with the African-style melodies to follow Suso's improvisations more easily.
Music in the Key of Om is ambient music, intended by DeJohnette for use with meditation, yoga or other similar pursuits. Those of you who enjoy the music of Brian Eno, Robert Rich, Steve Roach and other such artists who are featured on John Diliberto's "Echoes" (formerly broadcast on local public radio), will find this hour-long spacescape to be most enjoyable. DeJohnette uses Tibetan bells and other subtle instrumentation to create intriguingly atmospheric music.
SAXUAL HEALING
Veteran saxophonist and composer Charles Lloyd continues to make vital music which is centered in spirituality while never losing touch with the jazz idiom. On his new CD, Jumping the Creek (ECM-B0004121), Lloyd is joined by pianist Geri Allen, bassist Robert Hurst and drummer Eric Harland, for some 69 minutes of mostly original compositions. The only non-Lloyd songs are the opener, "No Me Quitte Pas (If You Go Away)," by Jacques Brel and Duke Ellington's "Come Sunday." "No Me Quitte Pas" is played as an invocation of sorts, seeming to call upon the spirits for good fortune. Lloyd revisits one of his best-known earlier songs, "Sweet Georgia Bright," this time pairing it with a new composition, "Pythagoras at Jekyll Island," for a 13½-minute journey. "The Sufi's Tears' showcases the arco bass artistry of Hurst. The closing piece, "Song of the Inuit," also gives Lloyd and his younger colleagues more room to express longing of a spiritual nature. On a personal note, as one whose very first jazz albums bought back in 1968 included two by Charles Lloyd, it is wonderful to see how an artist of this stature continues to reach for new heights of expression, remaining musically vital and inspiring.
Summer is approaching, so it must be time for Bela Fleck and the Flecktones to hit the festival circuit. Or not, as he is on the road with other colleagues this time and a different approach. That leaves room for his saxophonist, Nashville-based Jeff Coffin, to perform with his Mu'tet. His latest release is Bloom (Compass 4395). Coffin starts with two N'awlins-flavored pieces, "Move Your Rug ... processional (Blues for Otha [Turner])" and "Better Do Your Thing," both of which feature guest trumpeter Rod McGaha (reviewed here in February 2005). From there, Coffin travels all over the musical map, from the title song "Bloom," featuring a student chorus, to the twisted funk of "The Mad Hatter Rides Again" (in 17/4 time, no less - shake yo' groovethang to that!). Throughout, Coffin is able to draw the listener in to a wide variety of music, often in odd meters, with energy, humor and chops. This is an album which is fun and deep in turns.
JAZZIN' AND JAMMIN'
Assuming for the sake of argument that there is a need to draw lines demarcating styles of music, where does one draw the line between jazz and rock-influenced jazz; between rock-influenced jazz and jazz-influenced rock; and between jazz-influenced rock and rock? I have addressed this previously in my January 2005 and December 2004 columns. When Carlos Santana recorded and toured with jazz vocalist Leon Thomas (Welcome and Lotus), did he doff his rock hat and become a jazz cat? What about the Carlos Santana/Wayne Shorter Band, still not officially documented on CD or DVD? And on it goes. Carlos Santana's jazz influences were not as noticeable in the first self-titled Santana album, but became more apparent soon after, as he recorded Tito Puente's "Oye Como Va" and segued Peter Green's "Black Magic Woman" into Gabor Szabo's "Gypsy Queen," a medley which remains part of the Santana Band's repertoire over thirty years later. Thus, the recent reissue of the self-titled Santana as a two-CD Sony Legacy package provides even more insight into the jazz roots of both the bandleader and his band. CD I begins with a remastered version of the original 1969 album and is followed by a series of outtakes from the same recording sessions. CD II includes, for the first time on an official release, the entire fiery performance at Woodstock in August of 1969, as well as sessions which predate those for the first album. Willie Bobo's "Fried Neckbones and Some Home Fries" show how Santana could translate the Latin dance rhythms of "pre-salsa" into a rock vocabulary while remaining true to the jazz underpinnings of the piece. Similarly, the "Studio Jam" shows how Santana could turn a jazz waltz into a fast-paced and fascinating exploration. While much of the two CD-set is, for lack of a better label, "Latin rock," both Santana fans and fans of Latin jazz should find much to savor here.
Next month, Jazzin' and Jammin' will look at the new 5-CD set of the soundtrack to the Grateful Dead Movie, whose DVD release was reviewed here several months ago.
ON THE HORIZON
The complete lineup for May for The Jazz Factory, (815 W. Market St. in The Glassworks, www.jazzfactory.us) was not available at press time. Selected highlights from the first half of the month would include Freddy Cole on May 5-6; FattLabb on May 10; Jerry Tolson on the 10th; and Boogie Morton the following night. Look for the return of the Lynne Arriale Trio on June 4.
The Seelbach Jazz Bar features the Dick Sisto trio (with Tyrone Walker and Jason Tiemann). The May schedule of guests is: May 5-7, Chuck Marohnic; May 13, the Craig Wagner/Jacob Duncan Quartet; May 14, Jacob Duncan; May 20-21, Mike Arthurs; and May 27-28, the Jason Tieman Quartet.
The Bellarmine Jazz Guitar Workshop and Concert
Professor Jeff Sherman of Bellarmine is bringing in John Stowell and Peter Bernstein as featured faculty and performers at the Bellarmine Jazz Guitar Workshop, scheduled this year for Monday and Tuesday, June 6 and 7. As is traditional with this annual event, Sherman, Stowell and Bernstein will perform for the public on Monday night. Stowell has a new CD out, Resonance, on his own label, Origin Records (www.origin-records.com). It is a 13 song, 63+ minute collection of solo renditions of originals, jazz and American songbook standards, with something of an ECM "chamber jazz" feel to it. Bernstein is probably best known as an accompanist, having worked with Joshua Redman and others. Together, Stowell and Bernstein should provide some intriguing contrasts in style and approach. More next month.
Seventh Annual Indy Jazz Fest
The 2005 Indy Jazz Fest will take place June 17-19 in downtown Indianapolis. The performers, as of deadline time, are (in order of appearance): Criminal Justice Institute Stage: Friday - Buselli Wallarab Jazz Orchestra, Adam Birnbaum Trio, The Manhattan Transfer Saturday - Kwyjibo, Susan Tedeschi, Chris Botti / The David Sanborn Group, The Commodores Sunday - Gary Burton's "Generations," Mavis Staples, Tony Bennett; Jazz Central Stage: Friday - The Indy Jazz Legends, Orquesta Bravo!, Tad Robinson; Saturday - Slide Hampton's "Slide Plays Jobim," The Bad Plus, Brenda Williams; Sunday - Cool Chilies, The Joey DeFrancesco Trio, Steve Allee. For details, go to www.indyjazzfest.net.
CODA
As always, I am interested in your comments. Contact me at mzkjr@yahoo.com.