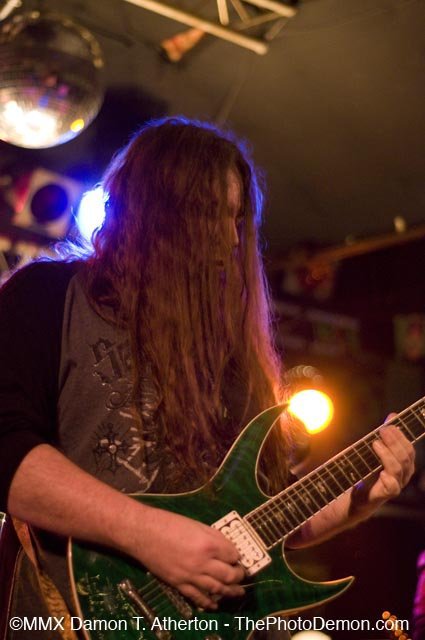 News From the Pit
News From The Pit - May 2005
May and the Kentucky Derby is here! Yay. A time for partying and celebrating the coming of summer. Hell, yeah.
That's a thing I wouldn't mind getting a dose of. This has been one long, cold winter and I'm looking forward to some warm weather and fun. To be honest, I've been quite depressed for months, but as summer approaches, I see a faint ray of sunshine in the dark and dreary clouds of losing someone special. But - Derby is here and I live three blocks from Churchill Downs! Oh, yeah. I've seen some wild stuff, living down here.
I really miss the Central Block Party. Anyone remember that? The drunken revelry, the fights, the hot South End redneck chicks. It was the personification of the blue-collar version of the Kentucky Derby.
The scene has been warming up a bit too. More shows, bigger shows, bigger crowds, new bands that slam, newer venues drawing crowds, all kinds of scat. Specifically, there's been one hell of a show here recently that deserves some attention and appreciation from this music scene.
It was at Expo 5 on April 15 and 16 and was put on by Bobby Howell and Louie "the Local Guy" from 100.5 The Fox. Here's what went on: the Derby Rocks show at Expo 5 featured forty bands on three stages. As a promoter, this sounds like a straight-up nightmare to manage and a stressful financial risk for sure. Co-promoter Howell said, "It took four people a month to organize. We had sponsors, vendors and sixteen hundred people through the door. I'd like to thank all the bands that handled themselves professionally. All in all it was a great experience! We already have a date for next year, so get ready for Derby Rocks 2."
I didn't get to go, but I've been hearing a bunch of stuff about it, both bad and good.
First of all I heard that the schedule was off and that kinda made things rough, which I suspected was going to happen. With that many bands, something will go wrong at least two or three times during the event. I was on a local music website and there were some beeyotches complaining about the promoter and crying about this and that. It angered me how this person didn't see the work and time put into this event by the promoters and their helpers. I swear - some people don't appreciate chit!
These ungrateful iceholes were complaining about sound, times, PA problems, electrical problems, schedule, weather, money, the bitter new taste of Midol and the alignment of the sun.
Like - waaaaaaaaaaaaaa and stuff. I heard that a few of the bands were very unhappy about some things, some ugly stuff happened and the sound guy was almost - or maybe even - attacked. C'mon people - grow up.
Surviving Thalia supposedly stole the show, as Sailor was in good form. Trivium sounded really great too, according to others.
Bobby, Louie and their helpers put some serious time into this big show and did you bands even say "thanks?" Let's face it: original music is not a money maker here in Kentucky. Hell - It's hard to get shows, let alone make good money at it. I know. I get contacted all the time by good bands looking for gigs. My point is: you should be happy that you got guys like Bobby Howell, Louie "the Local Guy," Scott Clark, Terry Harper, Julie McGrath, Deron Hayden and, yes, me, in this scene putting shows together.
WE ARE NOT here to steal yer money. We could, I suppose, but we are all about the music, having fun and making the bands and fans happy!
So quit whining. Cease the complaining and show some appreciation! Bands - be happy yer on the bill. And don't act like ungrateful idiots over petty cash issues. I know you wanna go to Denny's, or Waffle House after the show and chow down, but sometimes you gotta settle for plain hamburgers at White Castle.
THE METAL GRAPEVINE
Ozzfest Lowdown: Okay, here's this year's lineup and where you could possibly check out a show. The Main Stage: Black Sabbath (if you didn't go last year, you messed up bad, but you still have a chance to see the legends live, don't be a moron), Iron Maiden (yes!), Mudvayne (I'm gonna nut), Shadows Fall and Black Label Society (Zak's back!). Second Stage: The Haunted (from Sweden)' Rob Zombie (kicks rump); Killswitch Engage (a very good newer band); As I Lay Dying; Mastodon; In Flames; Arch Enemy; The Black Dahlia Murder; Bury Your Dead; Soilwork and Trivium (bad azz).
You can catch the tour I Noblesville, Indiana, on July 31 at the Verizon Wireless Center or in Antioch, Tennessee, on August 31 at the Starwood Amphitheatre.
Vent to FiveBoltMain: New Louisville metal powerhouse Vent has officially changed the name to FiveBoltMain and is in the midst of some really good things. They recently signed with Rock Ridge Music and are set to record an album that will be out in the fall of 2005 if all goes as planned. I have seen these guys several times recently and they are sounding really, really good. Especially at the Headliners show with Ugly. Wow.
This group maybe even be better than Flaw! So, if you haven't seen these guys, you better see them before they hit the studio and start touring. `Cuz it won't be long.
Expect a story on them from me real soon! Hear me, FiveBolt? Give me a call.
You can see them at Headliners on Friday the 13th of May. Check their website at www.fiveboltmain.com.
New Mudvayne Supposedly Rocks! The new CD from Mudvayne is unreal, according to several folks who have heard it! I've loved Mudvayne ever since I heard the song "Dig" several years back. I haven't heard the new stuff yet, but I been hearing tons of good stuff about it.
Seems like everyone is bugging me to death asking if I heard it. so I reckon I'll hafta take my big butt down to Circuit City and buy one. If you dig the Mudsters, you may want to, also.
Get Yer Motley Crue Tix Fast! A good buddy from 100.5 the Fox told me to tell you fargers that if you want to go to the Motley Crue concert on September 20 at Freedom Hall, you better get your tickets now, or soon, because they are going fast! Just thought I'd warn you. Ain't I a sweetheart?
Machinehead and Devildriver Coming! On Sunday, May 15, metal monsters Machinehead and Devildriver will be invading the Louisville area with It Dies Today and Sweden's The Haunted. The show is at Headliners and is All Ages and starts at 7:30 p.m. Be There! No local opener? Um - ..Terry, what up wit dat?
Agnostic Front Coming! Here's a moshfest if I ever saw one! Agnostic Front will be at Headliners on Saturday, May 21, with special Guests Martyr AD, Hardchord, Champion, Full Blown Chaos, A life Once Lost and If Hope Dies. It an all ages show starting at 5:30 p.m.
Boba Flex - Signed! The band Boba Flex has officially signed with TVT Records and the world's largest booking agency, The Agency Group. The Boba guys have been doing very well on their tour with Sevendust and Skindred, selling out almost every show. The band will also be finishing up their new CD in May and will be looking at a July or August CD release date.
Look for a music video in the near future as well. Congrats guys!
After The Fall Drama: I feel so sorry for these guys. As many of you know, these guys recently reunited with their old singer and had another go at it. Unfortunately, the singer never showed up at a show they were supposed to play. Left the band and all their fans hanging, not to mention that he did all this at the last possible moment, causing chaos within the schedule.
Why would someone keep doing this to people? Wasting time and money on advertising, recording music and friendships that obviously mean nothing to this person. No answer was given. No reason. WTF? Dude - that's raw as hell.
This has happened twice by the same guy! So I vow this dude won't get another shot at playing the ORSS as long as I'm booking it. On the other hand, my friends in ATF will NOT be denied because of one guy's actions.
UGLY review: I finally got to see the new Louisville rock band UGLY, which consists of former Outspoken members Kevin McCreery, Donnie Highland and Frank Green plus newcomer vocalist from Detroit, Geo "the man-whore" Von Teubl. Outspoken was a very talented band, so I knew I'd be in for a wild ride from the start. What I ended up seeing was the Eighties reborn. Good time rock and roll madness in the form of gutsy, in-your-face anthems of old!
Von Teubl is a motor-mouthed madman who doesn't give a damn. I heard later on in the evening, after I left, he was climbing on the lighting trusses and mooning the crowd in a drunken haze! He is Axel Rose, Scott Weiland and Vince Neil all rolled into one.
Even if you don't like this band or Geo's singing, I believe you would still be entertained by his ranting and memorable songs such as the p***y song and "Sex, Drugs, Rock and Roll," an anthemic rocker of a tune. These guys play extremely well. Guitarist Kevin McCreery is unreal on guitar, having already been in several signed bands, including Tantric.
You could say that he's kicking some arse these days. The only problem is: is Louisville, a city that's always been musically trendy and clique infested, ready for such a roll and roll party monster in Ugly? I hope so. We need a breath of fresh air musically in this mofo! I get sick of seeing good bands change their style just to try to fit in with today's musical trends. It makes me ill. But Ugly is definitely not trendy, which is good. So, if you are open-minded and wanna hear some good rockin', sleazy-azz party music, then give Ugly a listen. Ugly is fun.
My Original Showcase On Friday The 13th: Every May, because of the Derby, my shows at the Phoenix Hill are on the second Friday, not the first. Ugly, Seven, Unity Of Solz and Boozer will be playing. Not the first Friday, so make a note of this. Don't forget!
Scared Of Metal: A venue that I tried to book at a few years back is back to their "scared of metal" routine. Louie tried doing shows there as well, but now they are giving him the same treatment I was given. Going spastic and freaking out when metal comes forth from the speakers. A little advice to this venue. If you are going to blacklist metal music from your venue, you may as well go ahead and cut all Louisville music there, because that is over half this scene! This scene thrives on the metal! This column and Black Frank's radio show is proof of that! So quit being wussies and chit or get off the pot!
Never The Man News: The band Never The Man is seeking a bassist. If interested, contact Nevertheman@insightbb.com. They just recorded a CD in New Jersey, which, they hope, will be out by summer. I love Never The Man. They rock.
Deadsun Hits The Road: The band Deadsun is hitting the Tennessee/Georgia club circuit very soon and we wish them the best of luck. They will be playing Memphis, Atlanta, Nashville and a few other places. Sounds like a lot of fun.
New Band Alert - Killing Hill: Louisville-based metal band Killing Hill has been playing since November of 2004. If Pantera, Megadeth and Metallica had a bastard child, this would be the result. Dudes have been clocking in and putting in their allotted time to bring something a bit different to the table. Due out in mid-May. Beware!
Jimmy Walker Texas Ranger! JWTR is a new cover band featuring Kevin, Donnie and Frank of the bands Ugly, Outspoken, Tantric and Whatever Will. I went and saw them recently at T.K.'s and it was good fun. I loved the songs they chose. Very different for a cover band. They played Rush, tons of old Van Halen (which was great), The Doors, Hendrix, Cheap Trick and a bunch of really cool older material. They played great.
My only complaint was that the vocals were a little lacking compared to the quality of the music, but they went over well and sounded good anyway. If they added an old school front man, it would be really awesome. I think Jack from 99mph would have been perfect. Unfortunately, he lives in Cincinatti now.
Vocalist Needed: Vocalist needed for the new hard-hitting, heavy metal band Caldera. Caldera features former members of 13th Level, Execrate and 16 Penny Nail. Must be reliable and totally down with the brutal stuff. Contact 957 - 6886.
The Last Goodbye: As many of you know I've had the same girlfriend for the past two-and-a-half years. Well, she's moving back to her home state of Iowa very soon and we recently went through a very ugly and rough ending, both of us doing and saying very mean things to each other. Instead of fanning the flames, I'm going to do the opposite and say what I feel from the heart, regardless of what anyone else thinks.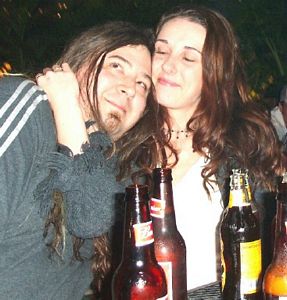 A final message from Eddy: "Kara, I just want you to know that I am truly sorry for the way things ended and for my part of the meanness we both inflicted. That is not what I wanted. I also want you to know that our time together truly meant a lot to me and that I loved you and I will always remember all the good times we had, more than likely - till I die. Goodbye and good luck back home in Iowa." Love Eddy.
UPCOMING SHOWS
The Bulldog Cafe
Tuesday, May 3 - Church Bomb, Straight Line Stitch (TN) and two TBA
Friday, May 6 - Church Bomb, Antikythera, False and Incursion (This is Van and Tiffany's B - Day, show)
Friday, May 13 - Jefferson County Drunktank, The Zoo.
Saturday, May 14 - Ugly, Seven, From Within and one TBA.
Friday, May 20 - P.Y.L.O.T, Ncision and two TBA
Saturday, May 28 - Seven Day, Sun, Four, From Within and one TBA
Hard Rock Cafe
Friday, May 19 - FiveBoltMain and Wasted Days.
Headliners
Friday, May 13 - FiveBoltMain, Bobaflex, Incursion502.
Saturday, May 21 - Agnostic Front, Hardchord, If Hope Dies, Champion, Full Blown Chaos and A Life Once Lost. All Ages. 5:30 p.m.
Jillian's
Friday, May 6 - Breckinridge, Crossfade and Seether. 8 p.m.
Phoenix Hill Tavern
The Original Rock Showcase series, on the first Friday of every month, except this May, when the show is on the 13th.
Friday, May 13 - Ugly (former Outspoken members), Seven (Rahul of Breckinridge's new band), Unity Of Solz and Boozer.
Friday, June 3 - SevenDaySun, Jefferson County Drunktank, Surviving Thalia, Wasted Day, s and Inner Blue.
Uncle Pleasants
Monday, May 2 - Churchbomb, Surviving Thalia, Hatecast and Straight Line Stitch. 7 p.m.
Outtatownerz and Such
Saturday, June 4 - 7 p.m. at The Spot, 205 West Market Street, Salem, IN 47167 - $5 All ages with Antikythera, Year of Desolation (Indy), Churchbomb, Ten Year Winter (Lexington) .
PROPS OF THE MONTH.
This month's props go out to Bobby Howell and Louie "the Local Guy" from 100.5 The Fox for their recent large show at Expo 5. While not a big fan of Expo 5, I can clearly see that this was a massive undertaking that required a lot of planning and scheduling. I can imagine what a pain in the butt that kind of show could be.
I'm sure they did the best they could and should definitely be appreciated for giving so much of their own time for the good of the scene.
Hey guys, "good job," and next time, let me know, I'd like to be involved.