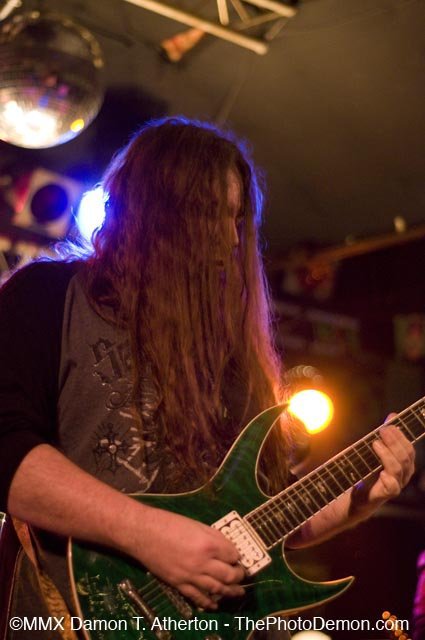 News From the Pit

Aight. Mr. Metal is back in full force and ready to deliver the metal goods. I've been a concert-going mofo since I got back from California. Seems that that was just what the doctor ordered. It's been Eighties heaven since I've returned. Aside from dealing with a psycho stalker evil fatal attraction type chick and almost having my crib burned down, I've had a blast! Motley Crue, Krokus, Queensryche to be specific, All of which were excellent shows. And Ill Nino was killer too.

And it was great seeing all of you old school, cool metal people out at the shows. I love to be able to talk to a lot of you rock/metal fans and readers of LMN, except for a drunken idiot at Headliners - I was nearly driven to violence.

Anyways, you make me feel special by supporting and even spoiling me on occasion, for what I do and write about. It's really cool and makes me feel good about what I do. Therefore I have another cool idea I'm pushing around in my noggin.

A party for Louisville's Rock and Metal scene. I'm gonna have a first ever Louisville Music News "News From The Pit" Gathering! On the first Friday in January at the PHT will be the first ever "News From the Pit Bash."

I'm inviting EVERYONE who reads the column, including all genres of music, to please come out and say hi, mingle, party and network with others who also enjoy the rock and metal scene here in town. I'd like to see promoters, DJs, musicians, writers, sound guys, managers, fans, hot babes, family and anyone else remotely interested in this music scene. This will hopefully be "A Rock/Metal Gathering" to remember. I'm booking bands now, so interested bands contact me.

Eddymetal1aol.com

The Metal Grapevine

Intheclear Wins 5K In Band Battle!

Well, The Phoenix Hill band battle is over and we have a victor. Intheclear came out victorious and collected a $5,000 prize. I knew long ago that this band had talent, hence the May LMN cover story on them. Congrats to the guys and good luck in the future.[Correction: Visionary Entertainment staged the event and awarded the prize.]

Queensryche Mindcrime Review:

Holy cow, this show was the bomb! First of all , who ever heard of a band touring in support of an album that is over twelve years old?

Yes, it's weird, but Eighties headlining act Queensryche did just that and pulled it off in a superb manner. And the Palace is a kick-azz venue for sure. The medieval gothic castle look was trippin' me out. Way cool. I saw Queensryche last year at Jillian's, but the sound was poo compared to the Palace. The Seattle boys were back as they should be: on a big azz stage! Geoff Tate was the man as he hit every fargin note vocalwise that there was to hit. The band waded through songs off of Empire, including "Empire," "Jet City Woman" before diving into their best material ever, from the highly touted Operation Mindcrime CD. The show was unreal and I'm so glad I was fortunate enough to go.

Performancewise, it was basic Queensryche. No mess-ups, sloppiness, nothing of that sort. Professionalism at it's finest. The coolest songs were "Sister Mary," "The Needle Lies" and "Speak." They even had the female vocalist who recorded on Mindcrime singing a duet with Geoff! The sound was incredible. Those sound guys at The Palace don't fool around! I do wish they would have played the two classics "The Lady Wore Black" and "Queen Of The Reich" which was the very first song I ever heard by them.

The band featured all original members except guitarist Chris Degarmo, who was replaced by Mike Stone. I was a little hard on the replacement for Degarmo in my last Queensryche review, being a Degarmo fan, but the new guitarist seems to be a bit more at home now and performed much better this time around, with not such a muddy guitar sound this time. He must have switched amps or something. Special thanks to the Palace for having Queensryche and a big thanks to Charlie Steel for taking care of us here at LMN.

A Wrench In Five.Bolt.Main's Engine?

Disaster. This engine blew a head gasket! I guess that's what you get when you push things too far, by revving up your engines to full max. Three of the members of Five.Bolt.Main have decided to leave the band. Ben, Aaron and Chandler were unhappy with things and they decided to get out.

A ruckus of half-truths/lies has been stewing on the Web, some ugly stuff that is not good for the scene. Let's face it: the road doesn't suit everybody, particularly dealing with people 24/7 in confined spaces. I admit that's probably how I would be, too. be ready to choke a mofo. And some people can't seem to get past their own personal demons. Fortunately for them, Chris and Ivan got an instant replacement band in the form of three touring mates in the band Alton, one of whom was one of the former members of Primer 55, who learned the entire set in two days. Five.Bolt.Main is not dead and I'm sure replacements can and will be found.

On the other hand, the guys who left are starting a new project and currently looking for a singer. Very nice guys and great musicians, so interested vocalists give Aaron a call at 432-4604.

Hatebreed At The Gate: Saturday November 19 at The Gate.

Hatebreed with Most Precious Blood, Full Blown Chaos, If Hope Dies, Gizmachi and Mantis. This show should be off the hook. The Gate will be packed for this one. BTW, the Gate is the old Butchertown Pub.

Ill Nino Reviewed: Another Killer Show from Terry Harper at Headliners.

Ill Nino is one kick-a** band. With the Latin bongos kickin', heavy groovin' riffs and dude's seriously melodic voice, these guys got the melody going on! The song "Unreal" is one of my favorites by them.

They performed excellently and openers DieCast (NYC) were unbelievable as they even played some Slayer "Reign In Blood," which sounded awesome. Very brutal. Very fine musicianship. Their originals were good too. Killer vocals. If you like stuff brutal, check out DieCast. I sure will. I thought there would have been more people there than there was, but it was still a great show that I'm glad I attended.

Seven (Now The Red Nova) Debut Reviewed:

Damn these guys remind me of Jane's Addiction!

The new CD by this also-renamed band (now The Red Nova) seems to originate from the Smashing Pumpkins/Jane's Addiction-type punk/grunge sound of a few years back. There are pretty and cool sounding keys, cool guitar riffing with cool effects, with both clean strumming and heavy powerful parts, fine drumming and Rahul Borkar's Billy Corgan-esqe/Jane's Addiction-type vocals sound pretty darn good professionally recorded.

This album must have cost a pretty penny to make. It sounds like a lot of time was spent on the mixing and mastering. I like the songwriting and feeling conveyed in the music. The acoustic sounds are pretty sweet and the vocals speak of unhappy souls letting off team by way of rocking out big time. I liked the guitar tones very much. Very pro sounding music all around.

It reminds me of Foo Fighters a little bit as well. Powerful, melodic and rockin' in that memorable fashion. The guitar/keyboard combo on Track 5 is a very pretty intro. I really liked tracks 11 and 12. The CD definitely ends on a heavier note.

If you like a punk melodic sound with a bit of heaviness thrown in, the these guys are for you. And Rahul does put on one good show. He's always been the hyper type on stage. I remember when he dove off a five-foot stage, hoping to be caught and carried, but unfortunately that time the crowd parted and poor Rahul about broke his neck, with his guitar in hand during mid-song! Funny thing was, he wasn't hurt and jumped right back up and hardly missed a note. I admit that I'm not a big fan of this type of music, but I no doubt recognize the talent and musicianship put forth by this project. See The Nova Red on Friday December 2 at the Phoenix Hill Tavern.

Fire Dept's 20 Year Reunion

I went to the Fire Dept 20-year reunion bash at the Phoenix Hill and had an excellent time. Those guys put on a very memorable show , having dug up some crazy costumes to entertain folks with: including vocalist/drummer Perry Scroggins dressed up as Alice Cooper, James Brown, Garth Brooks and a very old streaker with a giant stuffed penis. The band loved their toys and played with them.

Perry was quite the showman/ringleader and the crowd loved the originality and goofiness of the whole Fire Dept enigma. We need more cover bands that are this much fun.

It seems these younger cover bands are much too serious these days. They should take a lesson from the old party warhorses Fire Dept. Because they know how to give you the extra kick in the a** that you should be getting all along in a real rock show!

They have certainly left their mark in this city as one of Louisville's most well-known cover band....ever! I think they should consider re-grouping on a regular basis. Once every few months? C'mon guys.

Mudd Returns With A Vengeance!

Mudd, former DJ with LRS has been promoted to local music DJ supreme, as the host of "Louisville Rocks" on 93.1 the Fox! That is a the best news I've heard in a while because they couldn't have gotten anyone better to fill Scott Clark's shoes. LRS, you messed up bad. Really bad, because Mudd is truly the most laid-back, unbiased and fair-minded person in the scene. He gives new music a chance. Unlike some radio DJ's who only kiss certain bands rumps (not you, Scott). He also is liked by many and deserves his new position.

So congrats Mudd! And to all you bands who may have been ignored in the past, you definitely might want to TRY AGAIN, now that the Muddster has arrived.

And props to Scott Clark for his choice of successor. Excellent!

Some DJs in this town would have felt threatened and maybe even concocted lies to keep a good rival away, but Scott is a good guy and knows Mudd is the best choice by far. Give Mudd a holler at Louisvillerocksmudd@yahoo.com

Kosair Benefit Results:

Wow! We raised a thousand dollars more than my goal. With the killer sales going on at Toys R US, we raised over $3,600 worth of toys. All the bands were good and people showed up and supported the cause and the bands. I have decided to make this an annual event. The people at Kosair were greatly appreciative that people really care about the kids. Kosair spokesman Doug Middleton came to see what we were doing. I met him early in the evening: he was dressed in a business suit and looked, as a local woman put it "like a doctor."

We started hangin' out talking and after a few frosty beverages he slowly became a rock-and-roll madman like the rest of us. Needless to say, everyone had fun, guitars were won by very, very happy fans, a vacation was given away and we made many, many kids happy by doing this. See Props of the Month BELOW.

Riding The Southside Hellride!

Former My Own Victim vocalist Vic Hillerich kind of disappeared when he and Victim parted ways some years back. Vic enjoyed a reputation as a frontman for Louisville metal veterans and former top metal dogs My Own Victim. Well, Vic's back and he's ready to make up for lost time. He's raisin' hell, gaining momentum and seems to be the same Vic of the old MOV days.

So I asked the boy a few questions about his new projects Odesa and the Southside Hellride.

Eddy: So Vic, you seem to have become somewhat of a recluse since you parted ways with MOV? What have you been doing?

Vic: "I took a much needed seven-year break. I just got sick of the business part of it and really missed the days where it was tons of fun. I enjoyed everything that we did as a band. No regrets at all. I got married and divorced and I have a six-year-old daughter who lives with me named Reagan and I just dedicate everything to her and love every minute of it. I bought a house five years ago [and have] been at the same job for years that I still enjoy, and now is the right time for me in my life to focus on my first love, music.

"I missed the creative part the most - well, that and getting off on the crowd, it's an amazing feeling and a gift to share. And I must say that I'm totally amazed by the Louisville music scene these days. It's come along way. I remember the days of being able to count the number of bands with your fingers. Now there's like hundreds of great bands in this small town and that blows my mind and makes me feel proud that I was there in the day of its creation."

Eddy: And what do you have to say about your new band Odesa?

Vic: "I really enjoy jamming with the guy's in Odesa. They rock! "

"The style is a mix of rock, southern rock and early punk. We like to call it "Kentucky Dirt Rock."eTo me it feels like 70's music that's been corrupted." www.odesa.cjb.net

Eddy: Has your vocal style changed any and what are your future plans for Odesa?

Vic: "Yes it's changed with the style. With M.O.V. everything was fast and I couldn't do the stuff I can do with Odesa. With Odesa, there's no limit vocal wise, because it's a totally different feel and flow.

"The future plans? Go with the flow. Keep writing the music that me, James , Javier, Rob and Jason love and to rock the crowd when we are given the stage."

Echos Aim Rocks!

I was very impressed when I saw these guys for the first time at the Kosair benefit. They have a melodic, heavy-type groove sound that is commercial, but way catchy and fun. It's not super heavy, but that's fine by me, because I like these guys. Excellent musicians, nice guys, too! Their vocals were very good. Can't wait to see them again.

The End Of End Of Me:

The band End Of Me, featuring rocker/dentist Brian Fox is no more, but I talked to Brian recently and he says he may be doing the solo thing. It's rough keeping things together these days bandwise, so sometimes doing the solo thing is preferable.

New Band Alert, Dyin Kind:

Ok, there's another new band out that is made up of veterans. Dyin Kind features guitarist Scott Cox from Factor 9, TJ Thomas from Engrind on vocals and a few of the guys from 1080 on the bottom end. The music is supposed to be pretty darn heavy, so don't be expecting Factor 9 Part Two. You can see their debut on December 10 at The Bulldog Cafe with Inner Blue and Eulogy Of A Traitor.

Eddy's Band Index

With the scene changing, bands breaking up, new bands arriving, time passing, I need to seriously re-do my band index to see who's new, broke-up, still around and most importantly, who's ready and available to play The Original Rock Showcase Series. So contact me , even if you've played before, if you are interested in being part of the fun. Eddymetal1@aol.com

Send your band name, two phone numbers, band members and two email addresses. This is important, so don't get left out.

Cricket = That 70's Show!

These guys make me think of that 70's show. The band Cricket has sort of a Hendrix/Nirvana 70's heavy sound that is pretty darn groovy. You can actually picture those guys in one of the TV shows!

The music was rockin and the pounding bass lines were particularly sweet with an oh-so-sweet groove. It was the first time I had seen and met them and I'm impressed with the originality and overall positive energy put forth. You haven't seen Cricket yet? Seek them out. They are fun.

Metal At Dutch's?

The former all-yuppie/hippie bar in Saint Matthews has now started to book original music, including metal. Echos Aim and Phearus just played and Inner Blue is coming up, so give them a call to see if you can get your band in there before the full stampede begins.

Into Another:

The new band Into Another, which has all-veteran metal players including two former members of Flatlyne, one from Incursion and one from Flaw, is looking to debut in December. BUT....drummer Chris Ballinger has been approached by the New York-based, national touring band Gizmachi to fill in on drums. Ballinger is contemplating the offer. I guess we'll see what happens.

Frank Says Thanks

Black Frank of 93.1 the Fox has informed me to tell you people thanks for supporting the Hurricane Katrina benefit he threw about a month ago. He didn't tell me much about it, but asked me to relate his gratitude to the fans and bands at having raised over a thousand dollars. So thanks to everyone who helped in any way, with any of these benefits. You may be rock and roll/metal demons on the outside, but deep down, you are a bunch of decent people doing a good thing. Rock on!

From the looks of it, Hurricane Wilma is on a serious rampage, too I guess we should get ready for Wilma benefits, too.

Caldera's Buzz

:

The new demon metal monsters Caldera have been doing well lately, getting out, playing several shows, paying some dues and earning some respect in the process. As I said before, there's a lot of talent in this band and they exceeded my expectations live, so that should tell you something. If you like low vocals of death and heavy guitar grooves old-school style, check `em out.

Empyrean Asunder To Industrialize:

"Less Metal, more electronics" says Louisville industrial death metal merchant Jerry Barksdale of the band Empyrean Asunder, which recently went through lineup changes. He added: "We are taking the industrial thing to an all-new level and different style." See the new EA at The Bulldog Cafe on November 12. Expect new CD in mid to late November!

Art Zero Looking For Vox:

Artificial Zero, a local industrial rock group is looking for a new lead singer, either male or female. Samples of their music is at www.artificialzero.com

For more information. Contact artificialzero@yahoo.com

My New Policy

:

I've been in a good, positive mood, but now I gotta be me and let off some steam. I've dealt with some crap lately so I'm implementing a new policy.

The problem? Bands are trying to demand time spots, double booking, even sometimes lying to get the time they want and bands have been canceling shows at the last minute. You can't lie to me, fargers! I've heard em all!

Excuses like they got to get up early the next day, they don't get off work until it's the perfect time for them to play (coincidence?), they forgot they booked it and a bunch of other nonsense.

From now on, it's a take-it-or-leave-it deal. I don't care if you gotta work ninety hours a week. If you agree and book the show: All bands who play should expect to be here from 8:30 p.m. sharp until after you play, which will be whatever time spot I feel is most beneficial to the shows success. No complaining/bellyaching. No exceptions.

With over ten years of experience putting on shows, I like to think I know what I'm doing, so to eliminate this BS, I'm starting this "No Nonsense" policy immediately.

Upcoming Shows

The Bulldog Cafe

Sunday, November 6 - Tomorrow Greysky, Eulogy of a traitor, Buried But Breathing, Phoenix Perdition, Gathered Here Today,.

Saturday, November 12 - Incursion, False and Empyrean Asunder.

Saturday, November 19 - Murder By Death with The Life and Times and William Elliott Whitmore

Friday, December 10 - the debut of Dyin Kind with Inner Blue and Eulogy Of A Traitor.

The Gate

Saturday, November 5 - Hatebreed with Most Precious Blood, Full Blown Chaos, If Hope Dies, Gizmachi and Mantis.

Headliners

Wednesday, November 2 - The Blood Brothers with MeWithOutYou.

Sunday, December 11 - Headliners: Surviving Thalia CD Release Party. Surviving Thalia, Descention, From Within, Buried But Breathing, 1 TBA. All Ages, $10 - (CD with ticket purchase).

Main Street Lounge

Friday, December 2 - Empyrean Asunder.

Phoenix Hill Tavern

The Original Rock Showcase Series.

On the first Friday, of every month in the Roof Garden.

Friday, November 4 - Echos Aim, Evil Engine # 9, 7DaySun and E-Flat.

Friday, December 2 - Seven, Cricket, Puc and Sixth Floor.

Friday, January 6 - "The first ever" Louisville Music News/News From The Pit Gathering." A rock concert and socializing convention for Louisville rock and metal fans...

See band order next month.

Rustic Frog

Friday, November 18 - Eulogy Of A Traitor, Inner Blue, MSD, Lost In Life.

Outtatownerz and Others

Saturday, November 12 - Beechmont Park in Scottsburg IN. Surviving Thalia, Antikythera, Pharoah, Escaping Memory, Disco $5 AA

Saturday, December 3 - The Natural Option, 113 East Lexington Ave, Harrodsburg, Kentucky. Angerstrike, Created To Kill, Scars of Suffering, Aeons of Eclipse, and Red Eye Eclipse.

Props OF The Month

This month's props goes out to those who helped and supported the first annual Rock For Kosair Benefit that I put on at the Phoenix Hill on October 14.

Thank you very, very much: Jeff and Pam at Uncle Samms Jamms for donating a guitar; Willis Music (thanks Scott) in the Jefferson Mall, for donating a guitar; Paul Moffett at LMN for providing a free ad; Chris Cassetta at Canyon Studios for donating a cash sum to the toy-buying cause; Bobby Howell for acquiring Willis Music's sponsorship for the show; Bizkit for helping me run the show; Scott Clark for providing free FOX swag and a vacation to Belterra Casino to a lucky winner; Doug Middleton and Jo Barret at Kosair for being super cool people; Courtland, Ben, Jeanette and Kim at the PHT for the great support and attitudes towards the whole idea; Michelle and Melanie and the staff at Toys R Us at Jefferson Mall for helping us find the great deals available and stretching our dollar to the full extent, with the excellent deals and sales at Toys R Us, they got us an EXTRA $400 to $500 worth of free toys and to every one of the bands who played: you are very unselfish and did a great thing by raising around $3,600 dollars worth of toys for sick children in need of a bit of happiness and believe me, Kosair assured me NOW is when they needed help the most. And you delivered.

The praise goes to you.

Participating bands: Ugly, High Road Crown, Jefferson TARC Bus, Intheclear, E-Flat, Seven, Echos Aim, Wasted Days, Jefferson County Drunktank, Descention, Ariszen Enemy, Cricket and Slokill.